Celebrate St Patrick's Day
On St. Patrick's Day, everybody's Irish! This is a holiday that should be celebrated with plenty of green and incorporate the spirit of Ireland. If you are wondering what to do on St. Patrick's Day, Moms Who Think has some great ideas.
Four Leaf Clover T-Shirts: If you are celebrating with little ones, St. Patrick's themed arts and crafts will be the perfect way to enjoy your day. And what could be more appropriate than these Four Leaf Clover T-Shirts? We give you step by step directions on exactly how to make them. Then, look forward to wearing them on St. Patrick's Day to let everyone know you're ready to celebrate.
Irish Potato Candy: Food is a great way to celebrate any holiday! For St. Patrick's, think of making some Irish themed sweet treats like this Irish Potato Candy. We provide an easy to follow recipe that your family will love making and eating to celebrate this special day.
On St. Patrick's Day, there may also be a lot of activities going on in your neighborhood so be sure to keep your eyes open for local events.
St. Patrick's Day is a great day for celebrating the Irish and for having fun in general. These activities can make for a great time for you and your loved ones. Which will you be doing to enjoy some luck o' the Irish on this special day?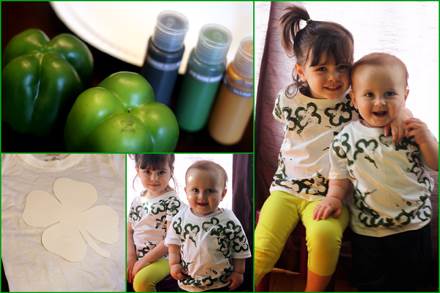 Four Leaf Clover T-Shirts Supplies Needed: Plain White T-ShirtsCut-out silhouette of a 4-leaf cloverScotch tape1 or 2 bell peppers with 4 bumpsT-Shirt paint in different hues of green (or mix your own hues as I did with yellow, green, and black)Paper plates Directions: 1. Tape clover silhouette to t-shirt. (Right-click to save then print to […]
Read more »
/
Irish Potato Candy Recipe If you've never eaten Irish Potato Candy, what are you waiting for? Though a candy made from potato may not sound like the most delectable treat, you may be surprised to find out that these are neither authentically Irish nor are they made from potato. Rather, these potato looking treats originated […]
Read more »