Beef Crock Pot Recipes
Crock pots, or slow cookers, have been helping people make convenient meals for years. They are easy to use allowing you to just throw in a bunch of ingredients and turn on your pot. Then you can go about your business while your crock pot does its work, making a delicious, nutritious meal.
Beef and crock pots can go hand and hand.  A crock pot works to tenderize meats making even less expensive cuts taste succulent. Beef is a versatile meat which is an excellent source of protein and vitamins and makes for a healthy meal when combined with grains, vegetables and other healthy ingredients.
If you have a crock pot in your home and are looking for creative recipes you can make with your slow cooker, Moms Who Think have a variety you can choose from. Game Day Chili, German Sauerbraten with Cabbage and Apples and South of the Border Tamale Pie are just a few that you can choose from.
Most recipes require very little prep time. Just chop up food, do a bit of heating, then dump everything in your crock pot and wait for your ingredients to reach perfection.
A crock post meal is a great thing to come home to in the winter, when the whole house is warm and filled with the aroma of food. It is also saves you from hot hours slaving over the stove in the summer. Use your slow cooker to prepare beef for easy to make meals your family will love.
Updated:
If you're looking to jazz up your dinner routine, look no further! Not only will this crock pot recipe save you time in the kitchen, but it's a delicious take on the traditional corned beef recipe. Bursting with flavor, this dish is the perfect way to enjoy a hearty and satisfying meal. From tender meat […]
Read more »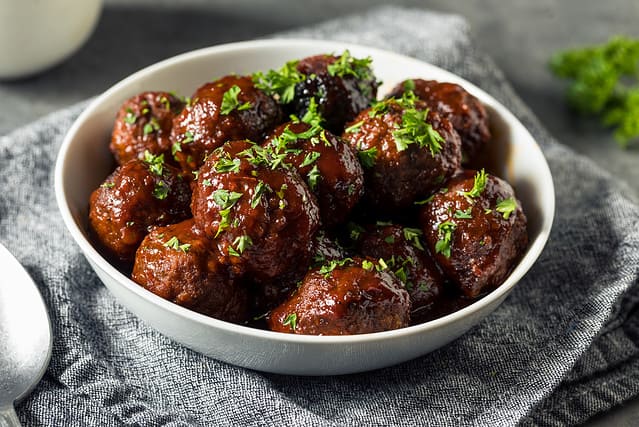 Updated:
Meatballs are a great dish that many people love. Crock pots help make cooking easier and less time-consuming. If you're tired or low on time, throwing dinner together in the crock pot is an excellent idea. Check out this unique meatball recipe for your crock pot. Tangy Grape Jelly Meatballs Ingredients: 1 1/2 cups chili […]
Read more »
Updated:
This crock pot pot roast recipe is a fantastic comfort food, and cooking in the crockpot simplifies it all. Crock pot cooking is especially great for cooking beef, because it cooks it thoroughly. This recipe is a tried and true family favorite. Crock pots are a must have; they are an easy way to create […]
Read more »