While there are subtle similarities in the debate of prosciutto vs. Jamón Serrano, like the fact that they both come from similar breeds of white pig, there are also stark differences. Among them is the fact that they come from different parts of the pig and that they have a different flavor and texture.
Let's dive into their differences so next time you're looking for dry-cured ham you can choose the meat that's right for you.
Prosciutto vs. Jamon Serrano: What is the Difference?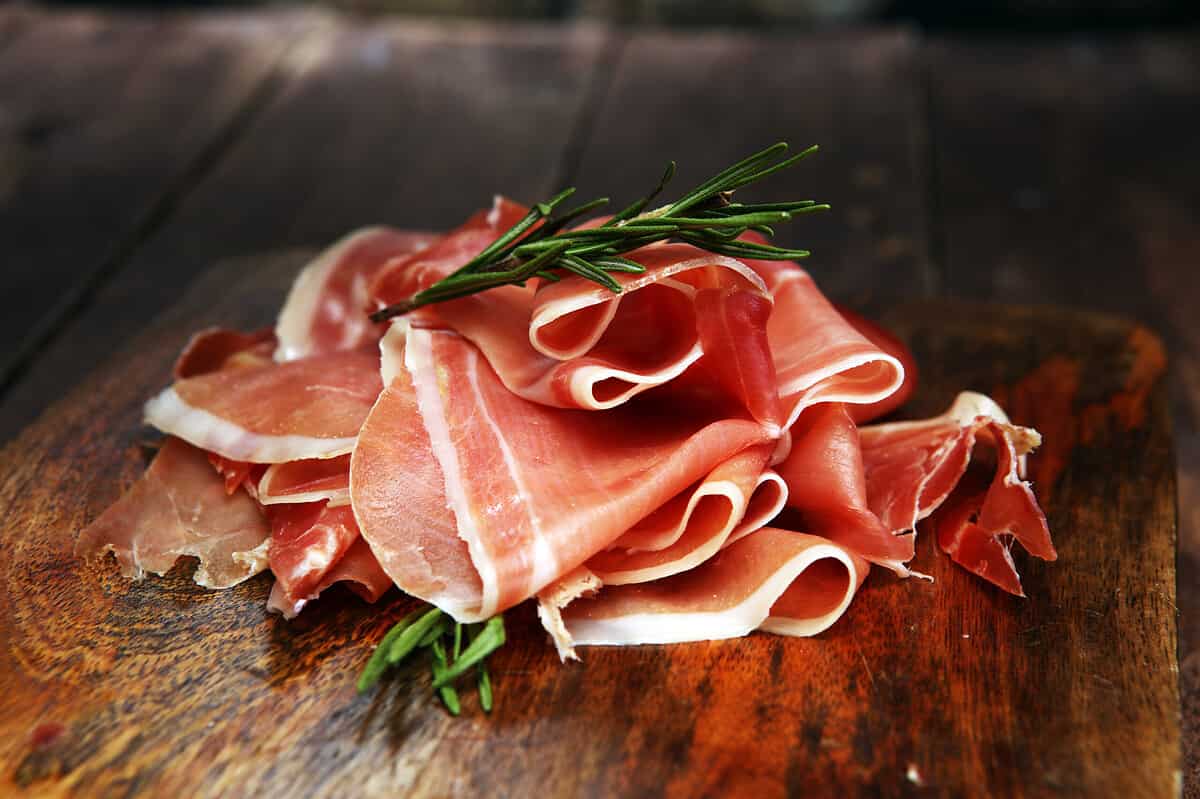 The primary difference between prosciutto and Jamon Serrano is their flavor. Prosciutto is sweet and tender with more of a melt-in-your-mouth texture, while Jamon Serrano has a slightly tougher texture and a more intense flavor that's savory.
Other differences between the two include prosciutto originating in Italy, while Jamon Serrano comes from Spain. Prosciutto has many times that include Proscuiutto di Parma and Posciutto di San Daniele and is aged for 1-2 years. Jamon Serrano is a type of cured ham made from a different breed of pig and is cured for up to 18 months (although with both types of meat, certain brands may extend longer).
We'll explore each of these differences in more detail below.
Where They Come From
First is the fact that prosciutto is cured ham from Italy while Jamon Serrano is cured ham from Spain.
Then, while both come from the white pig, there are differences in how the pigs are raised, which can affect the flavor. In order to produce Jamon Serrano, the white pig is fed Oak acorns, while prosciutto comes from pigs that mostly eat fruit, corn, and whey.
The Curing and Cooking Process Is Different
The way that both foods are prepared is also different. To create prosciutto, it's put in storage areas where there's a lot of humidity. When curing Jamon Serrano, the storage area is instead a dry environment. Because of the different processes, Jamon Serrano hams will come out tough and dry, while prosciutto will be more moist and soft when eaten. Also, the raw meat of Jamon Serrano is not treated, while prosciutto is often boiled before salting.
The aging period is also different between the two meats. Jamon Serrano aging period is generally about a year but can reach longer. The prosciutto aging period can stretch even longer, with some brands of Prosciutto di Parma aging for up to 36 months.
These differences also affect the price of both products. In the battle of prosciutto vs. Jamon Serrano, prosciutto is more affordable, and Jamon Serrano is typically more expensive.
Jamon Serrano vs. Prosciutto Nutrition Differences: Calories, Fat, Vitamins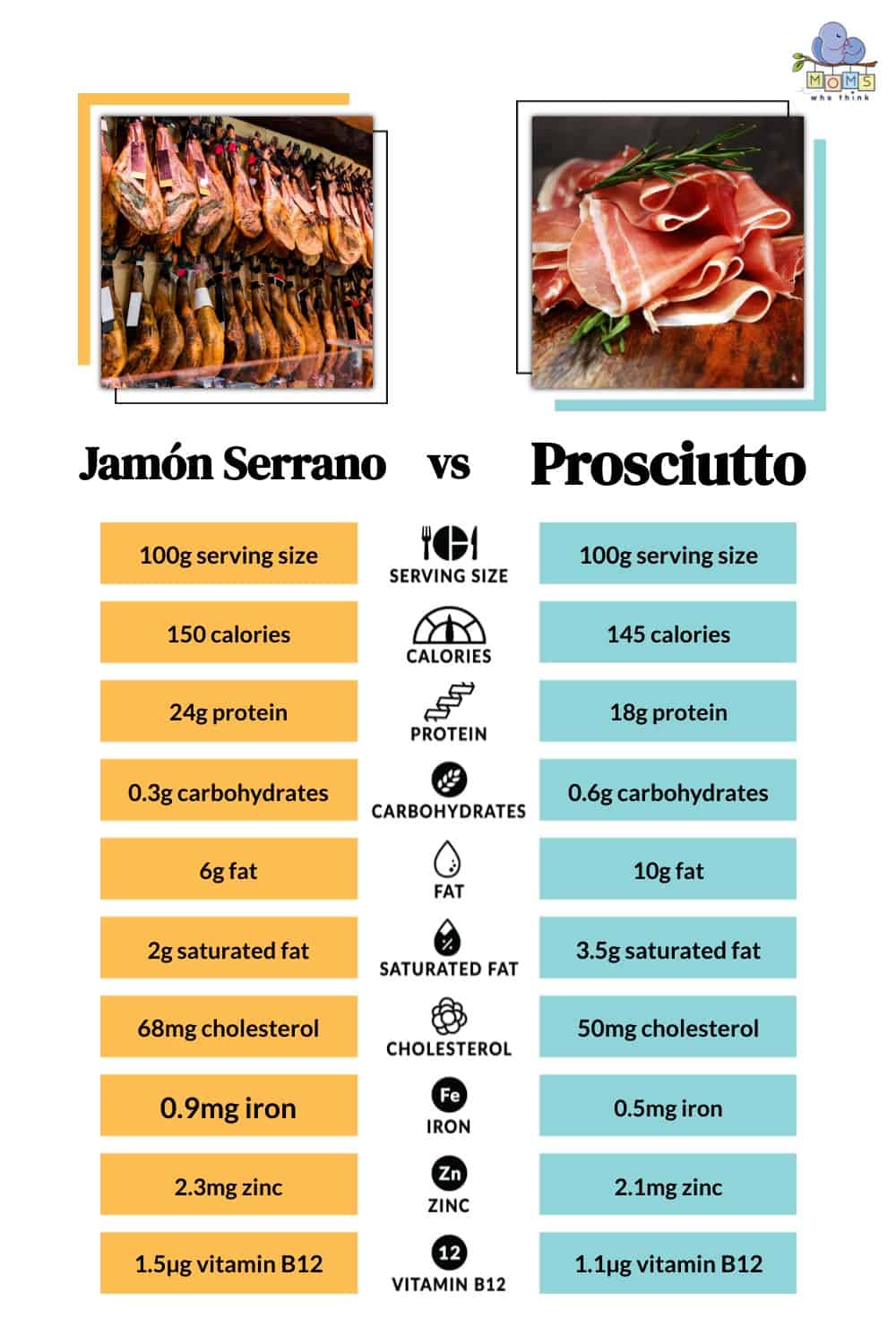 Both Jamon Serrano and prosciutto are similar in calories per serving. The biggest difference is that Jamon Serrano is denser in protein while more calories in prosciutto come from fat. Both foods are good sources of vitamins like B12 and are also sources of zinc. If you're on a low carbohydrate diet like keto they're ideal foods to consume.
Preparing Prosciutto vs. Jamon Serrano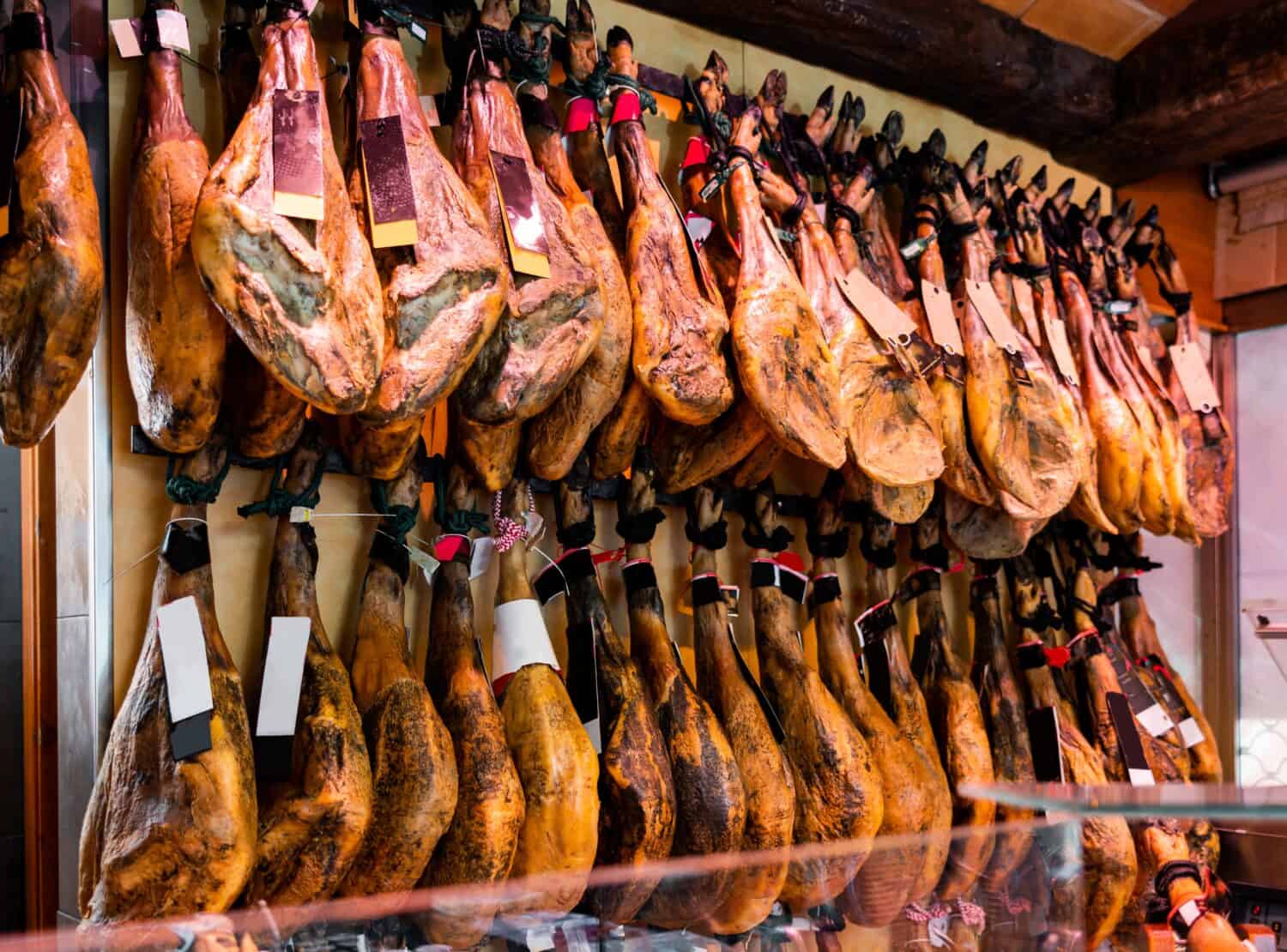 While we've discussed some of the differences in the cooking process of these two meats, if you want to prepare one or the other, you should follow these steps.
Steps to Prepare Jamon Serrano
The meat is cut from the white pig's shoulder. Then, it is rubbed with salt and then placed in a humid room for anywhere from 20 hours to two days. This process allows a generous amount of salt to absorb.
Next, a layer of salt is rinsed in order to remove any possible bacteria and water that was absorbed.
Then, the meat would be hung in a cellar where the conditions change from humid to dry to cold. This process is essential to preserve the ham, melt the fat, and provide the meat with its unique flavor.
Steps to Prepare Prosciutto
Prosciutto ham is cut from the leg of the white pig. Then, it would be generously rubbed with salt.
Next, the ham is left to rest for a period of one to three weeks. While this happens, the salt absorbs the excess water and any blood that remains. This is also when the bacteria is wiped clean.
After that period, the ham is washed off to remove the first layer of salt, and then a new layer is applied. Depending on the chef, they may also apply garlic, thyme, and other herbs to add extra flavor.
Finally, the ham is left to age in a cellar that is cool and dry for between 14-36 months. During this process, the meat matures and gets its unique flavor.
What are Substitutes for Prosciutto?
Whether you plan to cut it into thin slices to eat raw or you want to incorporate it as an ingredient into a dish, there are many tasty uses for prosciutto. However, if you aren't so keen on the taste, then there are many alternatives to consider.
Standard Ham
If you're looking for a similar taste, then your standard ham will do the trick. The primary difference is that ham is much less salty than prosciutto.
Bacon
Bacon is also thinly sliced, so it offers a similar texture to prosciutto. It can also be eaten raw or added as an ingredient in a dish. To get the closest taste, smoke the bacon first.
Pancetta
Often referred to as Italian bacon, pancetta offers a similar taste because it's also cured with salt and spices. Keep in mind that pancetta must be cooked before it can be consumed. This ingredient is great on salads and cold dishes.
Salami
Although it doesn't look like prosciutto, salami is another meat that comes from Italy and offers a similar taste. While it is similar, salmi shouldn't just be thrown into any dish as a replacement for prosciutto, unless you're not a stickler for the flavor.
Capicola
Capicola is a tasty meat that is easy to find in supermarkets, and it has a similar taste to prosciutto. It can be cut into thin slices like prosciutto and it has a similar appearance.
Guanciale
This tasty meat comes from the cheek of pork, and it is similar in its preparation and taste. Be cautious, as it contains a lot of fat. It can be eaten raw for salads or cooked into a larger dish.
Culatello
This pork meat comes from the filet or loin of the leg and it offers a similar taste and texture to prosciutto. This is a great option if you are looking for a slice of saltier meat. However, it can be overpowering, so add it to your meal in moderation.
Cheese
No, it's not meat, but if you're a vegetarian, then many cheeses can take the place of prosciutto. Swiss, romano, asiago, and parmesan cheese are all smoked and aged cheeses that will provide a similar taste and texture.
What are Substitutes for Jamon Serrano?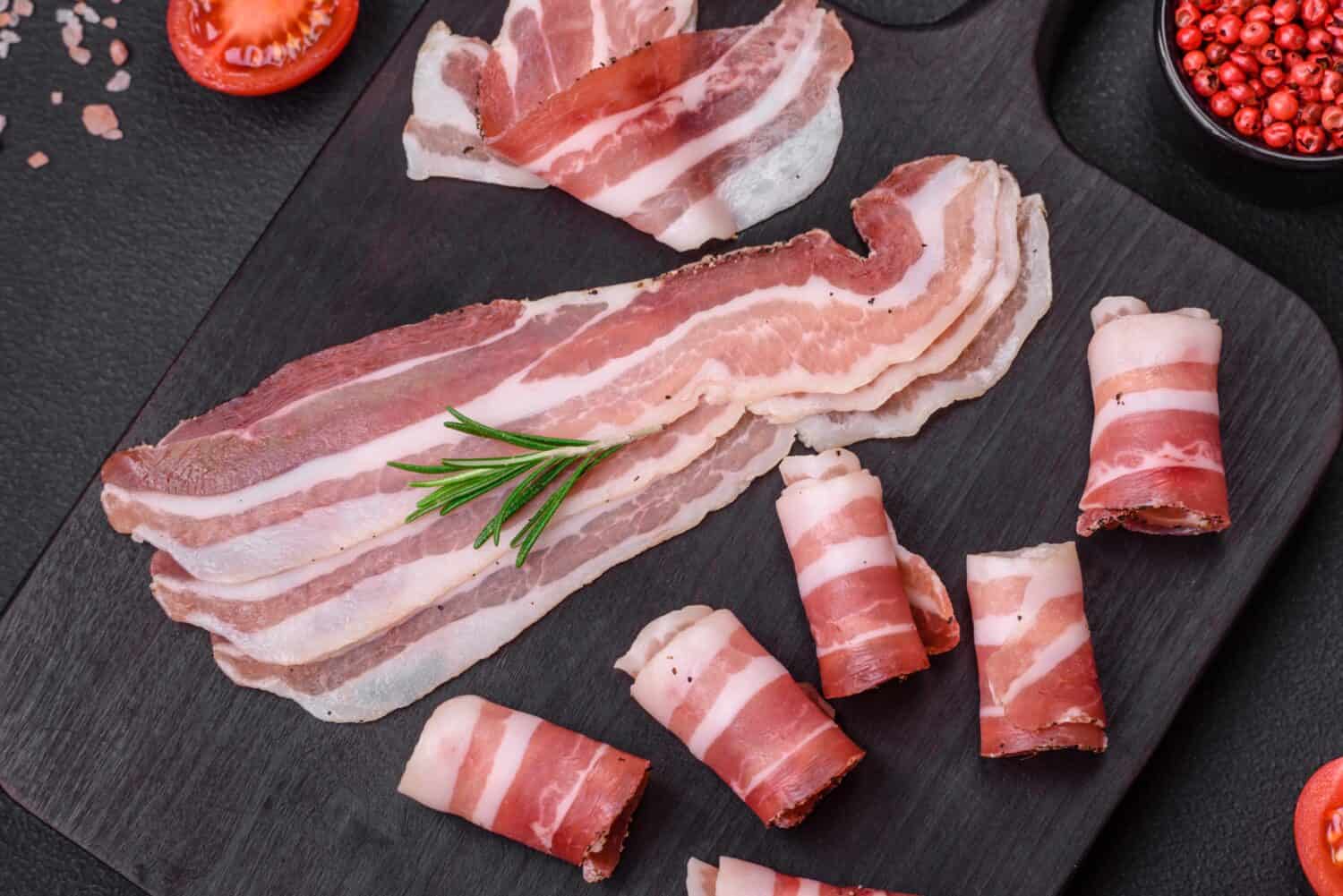 If you're on the Serrano side of the prosciutto vs. Jamon Serrano debate, but you still aren't too keen on the meat, then there are substitutes that could hit the spot, including:
Speck
This is a popular Italian meat that's very similar to Serrano ham in flavor and texture. However, it's less expensive, so it may be good if you're on a budget. Speck is well-marbled and very flavorful, and it goes great with bread.
Pancetta
While we mentioned it as a substitute for prosciutto, pancetta is also a great alternative for Jamon Serrano because of the salt and seasoning. Pancetta is great when mixed with apples and onions on a salad. It's also tasty when cooked into stews and pasta.
Bayonne Ham
Cut from pig thighs and the sides of the back, Bayonne ham is cured with salt, but it provides a milder taste that is also a bit sweet. It goes great when served with crackers and bread or with fruit at breakfast.
Prosciutto Recipes
While it tastes great on its own, prosciutto is truly an amazing ingredient in many savory dishes that your family is likely to enjoy. Some great recipes include:
Print
Chicken Saltimbocca with Mushroom Sauce
---
Author:

Yield:

8

servings

1

x
1/2 cup all-purpose flour
1/4 teaspoon salt
1/2 teaspoon pepper, divided
8 boneless skinless chicken thighs (2 pounds)
2 Tablespoons olive oil, divided
2 cups sliced fresh mushrooms
2 thin slices prosciutto or deli ham
1/2 cup chopped shallots
2 garlic cloves, minced
1 cup white wine or reduced sodium chicken broth
1 cup reduced sodium chicken broth
1/3 cup half and half cream
3 Tablespoons fresh sage or 3 teaspoons dried sage leaves, divided
1 can (15 ounces) white kidney or cannellini beans, rinsed and drained, divided
1/4 cup water
---
Instructions
1. In a large resealable plastic bag, combine the flour, salt, and ¼ teaspoon pepper. Add chicken, a few pieces at a time, and shake to coat.
2. In a large skillet over medium heat, cook chicken in 1 Tablespoon oil for 6 to 8 minutes on each side or until juices run clear. Remove and keep warm.
3. In the same skillet, sauté the mushrooms, prosciutto, shallots, and garlic in remaining oil until tender.
4. Stir in wine. Bring to a boil; cook until liquid is reduced to about ⅓ cup, about 10 minutes.
5. Stir in broth. Simmer, uncovered, for 5 minutes or until slightly reduced.
6. Stir in cream and 2 Tablespoons sage; heat through (do not boil).
7. Meanwhile, in a small saucepan, lightly mash ½ cup beans; add the water. Stir in the remaining pepper, sage and beans. Heat through.
8. Add chicken to the mushroom mixture and heat through. Serve with beans.
Nutrition
Serving Size:

1 serving

Calories:

290

Sodium:

371mg

Fat:

13g

Saturated Fat:

4g

Carbohydrates:

14g

Fiber:

3g

Protein:

26g

Cholesterol:

84mg
Fettuccine – Mix prosciutto into your pasta for added taste.
Conclusion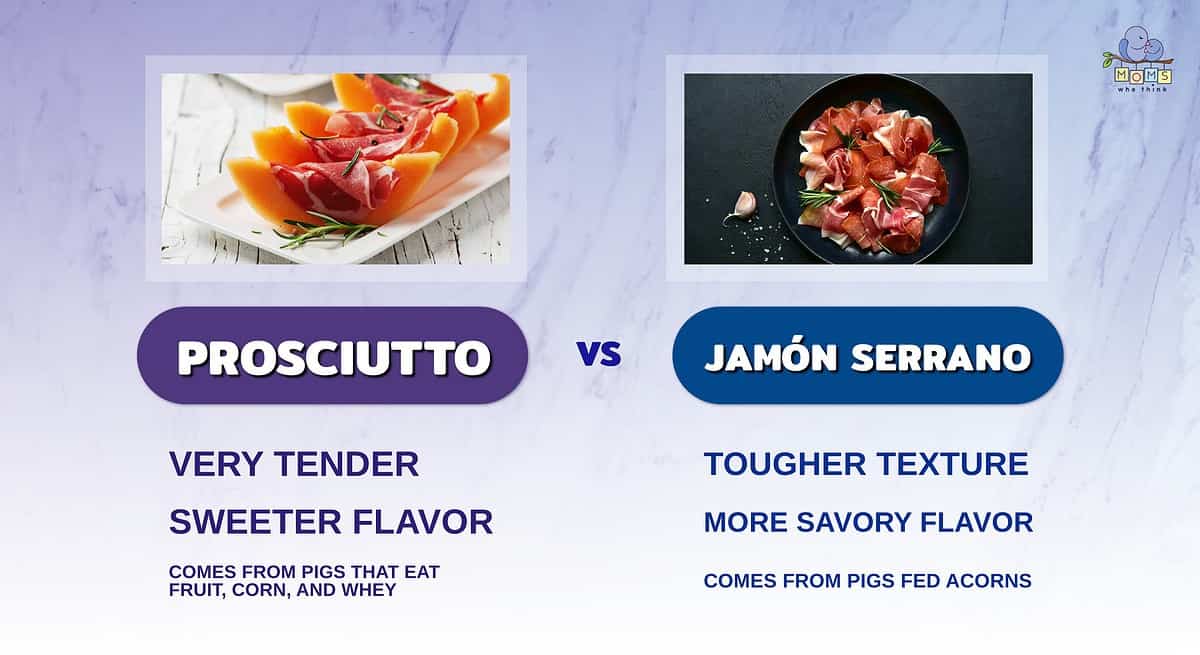 Prosciutto has a wonderfully tender texture that almost melts in your mouth. The texture of Jamón Serrano is tougher.
The flavor of prosciutto is on the sweeter side, while Jamón Serrano is on the savory side.
Prosciutto pigs are fed fruit, corn, and whey during their lives, while Jamón Serrano comes from pigs that are fed acorns.
While both are versions of ham taken from the white pig, there are plenty of differences between prosciutto vs. Jamon Serrano. However, each is delicious and brings its own charms, so try either one when you get the chance. You won't regret it.