A classic comfort food, chicken cordon bleu is a delicious trio of chicken, ham, and cheese. The boneless and skinless chicken breast is wrapped around the ham and cheese and coated with breadcrumbs. As fancy as it appears, chicken cordon bleu is amazingly easy to prepare. The necessary tools to ensure delicious, tender chicken cordon bleu are a mallet (or rolling pin) to prepare the chicken breast and an instant-read thermometer to easily check the internal temperature. But what about side dishes for chicken cordon bleu?
Chicken cordon bleu pairs remarkably well with a variety of side dishes. Your choice of sides comes down to your preferences, how much time you have, and what is available locally. Many recipes listed here require seasonal ingredients, while others can be made entirely from common pantry items.
Layered Salad
Chicken cordon bleu can be a little rich and heavy, so it's nice to pair it with something light. Consider fixing this quick and easy layered salad to go alongside. This salad looks like an impressive and time-consuming side dish, but nothing could be further from the truth. It's actually quite easy to put together!
Chopped Salad with Buttermilk Dressing
Another quick and easy salad option is chopped salad with buttermilk dressing. While prepackaged salad options are easy to find, spending a little time whipping up this chopped salad is worth the commitment. The homemade buttermilk dressing is simple and pairs well with the cheesy goodness of chicken cordon bleu.
Easy Vegetable Salad
If you are looking for an eye-catching side to serve alongside your chicken cordon bleu, consider this easy vegetable salad. With bright chunks of broccoli, red onion, and bell peppers, the bright appearance matches its flavor. Your family will love how the tangy vinaigrette and feta cheese bring out the salty quality of the chicken cordon bleu.
Cheddar Corn Bake
If you love cheese, pairing chicken cordon bleu with this amazing cheddar corn bake is the perfect meal. Easy to prep ahead of time, the cheddar corn bake is a nice choice when you are feeding a hungry crew.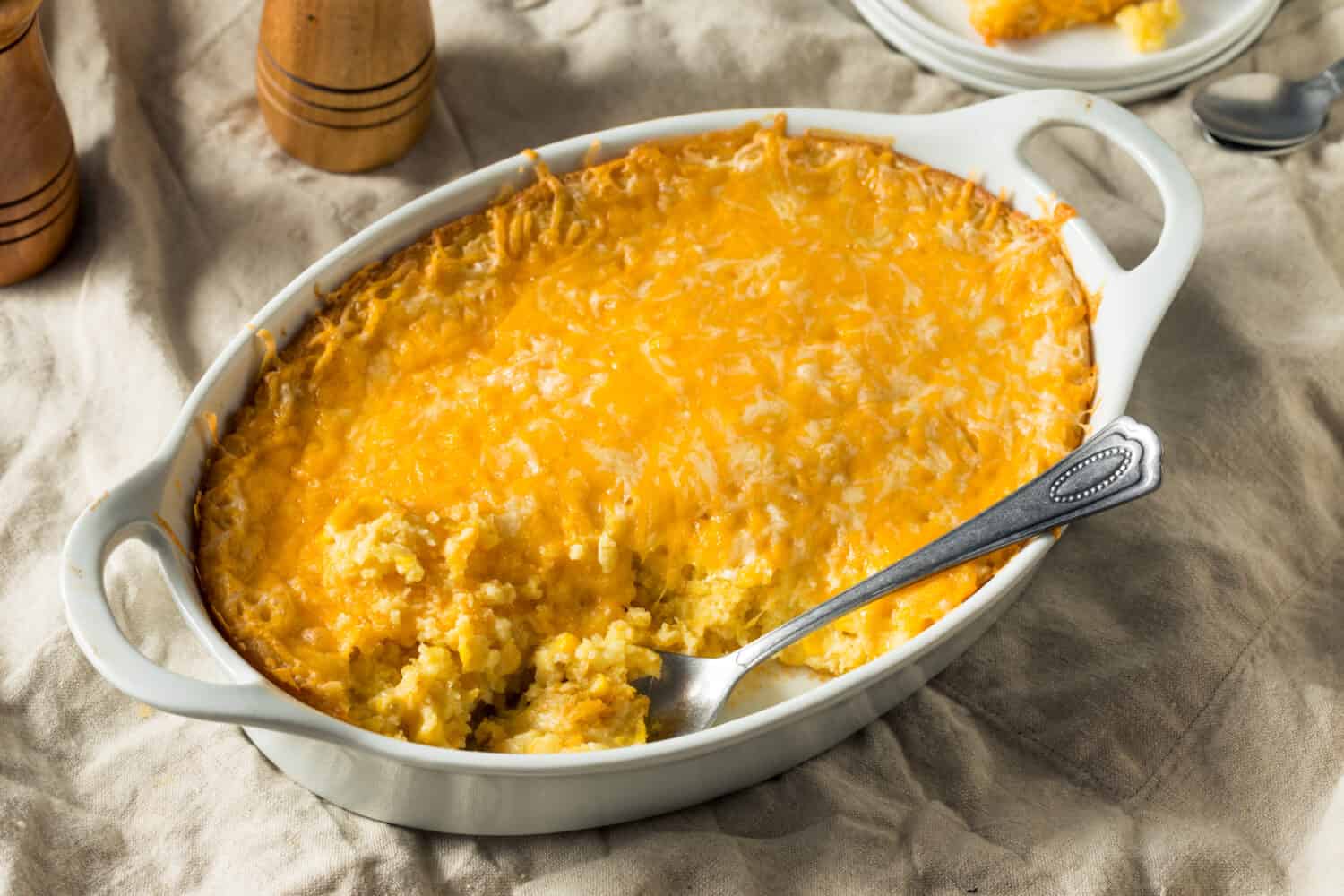 Fried Cabbage and Egg Noodles
Fried cabbage and noodles is a hearty side that pairs well with chicken cordon bleu. An added benefit of this side is that it is economical to make. If you are keeping an eye on your grocery budget, adding this substantial side is a good way to get great value for your money.
Loaded Baked Potato Salad
For a more laid-back side dish option, consider having a loaded baked potato salad. It is easy to make this dish ahead of time, and the ingredients pair well with chicken cordon bleu. As an added bonus, you are likely to have enough leftovers for another meal later in the week.
Scalloped Potatoes
A traditional side dish, scalloped potatoes pair well with chicken cordon bleu. They do require a bit of prep work, but once you get them in the oven, you are free to turn your attention to other things.
Garlic Butter Rice
Quick, easy, and inexpensive, garlic butter rice is a terrific side option for busy nights. Once you have the chicken cordon bleu in the oven, this side comes together quickly. And don't let the simple name fool you; this rice is loaded with flavor.
Broccoli Cheese Bake
Broccoli cheese bake is a popular side that goes well with chicken cordon bleu. Pairing a nutrient-rich vegetable like broccoli with cheese ensures that even your pickiest eaters will be willing to give this winning casserole a try.
Pan-Fried Asparagus
For more sophisticated palates, pan-fried asparagus is a great choice as a side for chicken cordon bleu. Unlike many side dishes, pan-fried asparagus adds plenty of flavor without stacking up the calories. If you are watching your weight, this choice allows you to enjoy chicken cordon bleu without guilt.
Garlic Mashed Potatoes
A flavorful twist on a classic, garlic mashed potatoes add the perfect amount of zest to this traditional chicken dish. Easy to make, garlic mashed potatoes are filling and go with many different main dishes.
Skillet Zucchini and Yellow Squash
The perfect side for warm weather, skillet zucchini and yellow squash is easy to prepare and is a perfect accent for the heavier main of chicken cordon bleu.
Corn Fritters
A fun side dish perfect for summer, corn fritters are popular with all age groups. The sweet taste of the corn accents the cheesy richness of chicken cordon bleu.
Sweet Potato Casserole
If you are looking for a heartier side dish, try this sweet potato casserole. Filling and easy to make, this vitamin-rich side provides a great contrast to the traditional chicken cordon bleu.
One Pan Broccoli Cheese Wild Rice Casserole
This easy-to-put-together side is hearty enough for a main but perfectly accompanies chicken cordon bleu. In this one pan broccoli cheese and wild rice casserole, shallots and fresh herbs add a depth of flavor to an otherwise conventional dish. The addition of Gruyere and sharp cheddar cheese pull the flavors together.
Zucchini Cheese Bake Recipe
If you are looking for another perfect summertime option, give this zucchini cheese bake a try. Zucchini is at its best during the summer months, making this an affordable, seasonal choice.
Pomegranate Cranberry Salad
For something a little fancier, prepare a pomegranate cranberry salad to serve as a side. The rich, jewel-like colors are lovely for fall and look great alongside chicken cordon bleu. And the unexpected tart flavor perfectly contrasts the chicken.
Glazed Carrots
For a simple side dish that the whole family will eat, try this glazed carrot recipe. Healthy and affordable, it is a great side to go alongside the more time-consuming chicken dish.
Baked Parmesan Cream Corn
If you are looking for a comfort dish to go alongside your chicken cordon bleu, look no further than this baked parmesan creamed corn recipe. Conveniently pull it together with ingredients from your pantry.
Green Bean Casserole
A traditional choice, green bean casserole is the perfect companion for chicken cordon bleu. Often relegated to the holidays, green bean casserole is fine for any time of year. It pairs great with the cheese, ham, and chicken combination of your main dish.
The image featured at the top of this post is ©iStock.com/Olga Mazyarkina .