Fried pork chops are one of the most popular family favorites because of their versatility. When you think about it, there are few dishes that don't pair well with pork chops. The crispy exterior from frying is nicely offset with a tender, juicy interior.
1. Scalloped Potatoes with Ham
Scalloped potatoes with ham, although often served as a main dish, are perfect as a side. The cheese and ham, combined with the potatoes, create a smooth texture that brings out the flavors. This side is easy to prepare quickly when you're short on time.
2. Jalapeno Cornbread
Jalapeno cornbread is a spicy take on a popular Southern staple. Adding jalapenos makes the cornbread a perfect combination of spicy and sweet. Red bell peppers and cheddar cheese also enhance the flavor in the cornbread.
3. Sweet Potato Casserole
Sweet potato casserole is one of the most versatile sides to serve with any meal. The brown sugar and cinnamon offer a nice contrast to the meatier flavor of the pork chops. Serving the casserole with butter further enhances the rich flavors.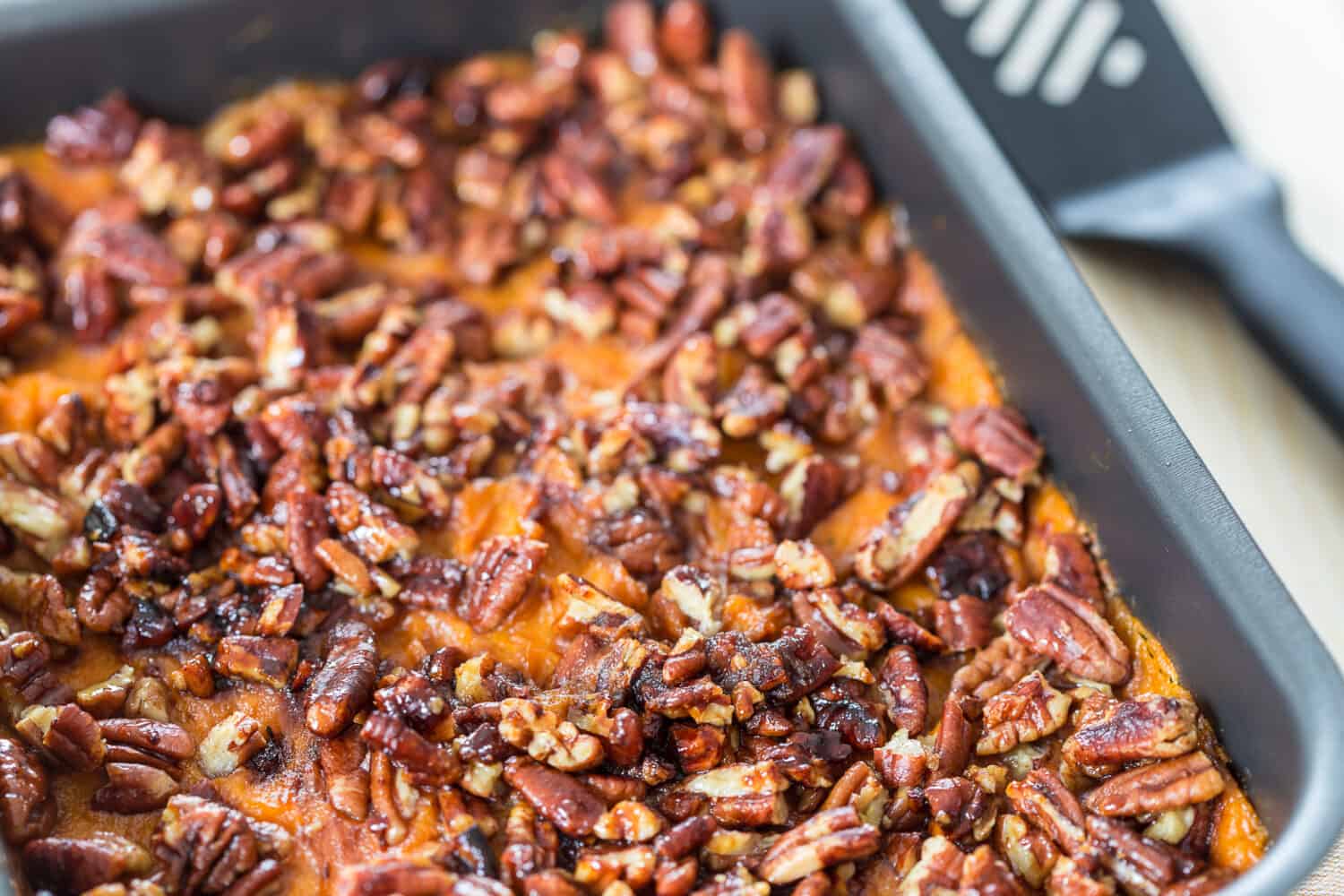 4. Maple-Bacon Brussels Sprouts
Maple-bacon Brussels sprouts combine savory, smoky, and sweet flavors. Although not a common pairing, bacon, and maple syrup offer a tasty contrast. Other ingredients enhancing the flavor include dried cranberries and apple juice.
5. Honey Baked Apples
Honey-baked apples are a favorite certain to please all ages. One of the best things about this recipe is its flexibility, letting you use the apple variety you enjoy the most. You can also make easy substitutions, such as whipped cream instead of ice cream or maple syrup instead of honey.
6. Roasted Fingerling Potatoes
Roasted fingerling potatoes are an excellent crispy side to accompany fried pork chops. One of the secrets of this recipe is the addition of cornstarch for a better texture. If you have kids that you're trying to move away from less healthy sides like chips, these potatoes are a great alternative.
7. Sweet Potato Puff
Sweet potato puff is an excellent way to get more fiber into your diet. This recipe has similarities to mashed potatoes but with a fluffier texture. Brown sugar, ginger, and lemon zest all add to the unique flavor.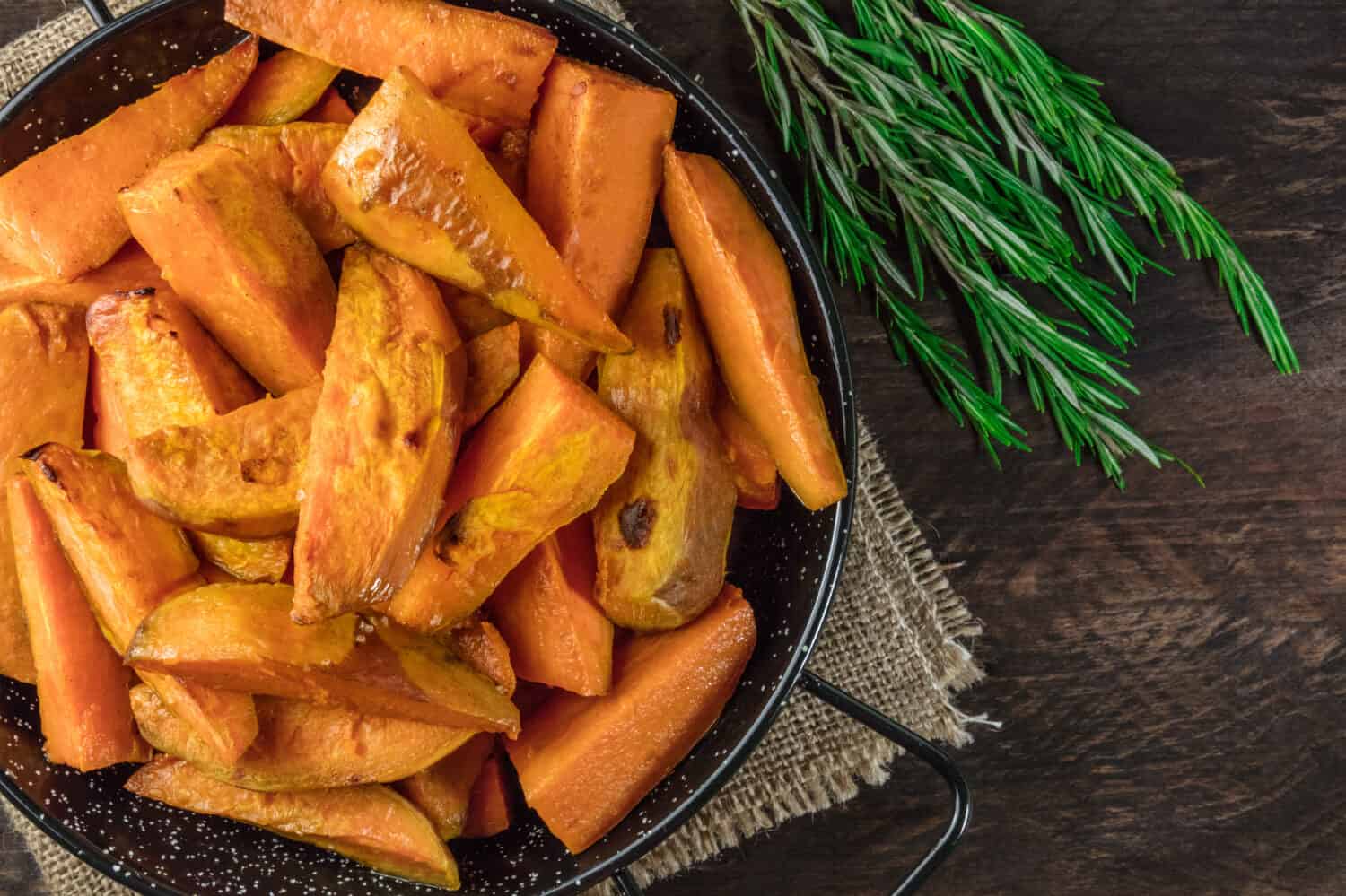 8. Arugula Salad with Apple and Pecan
Arugula salad with apple and pecan is one of the best ways to get a taste of fresh seasonal ingredients. Regardless of whether your pork chops are part of a special or everyday meal, this salad is a great addition. One of the most significant advantages of this side is how easy it is to prepare.
9. Garlic Mashed Potatoes
Garlic mashed potatoes are a tasty twist on a popular favorite. Some of the potato varieties best for this recipe include Inca Gold and Yukon Gold. The garlic helps give these potatoes some extra zest that keeps everyone hungry for more.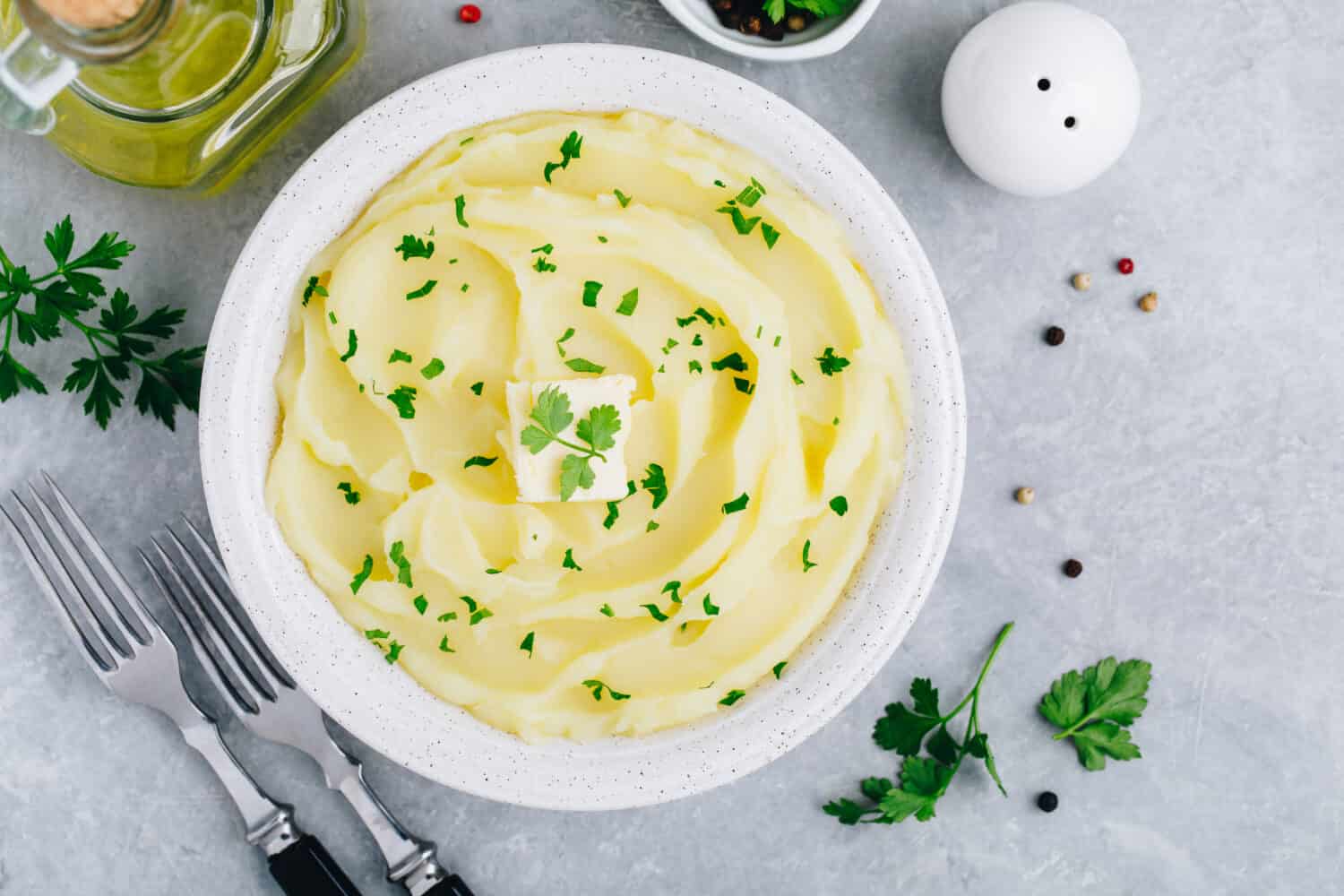 10. Roasted Carrots
Roasted carrots are one of the simplest sides, containing only three ingredients. Maple syrup offers a sweet taste that nicely blends in with the butter. These carrots can give your meal a special-occasion type of touch.
11. Green Bean Casserole
Green bean casserole is a holiday favorite that has also become popular for everyday use. This casserole is easy to make and will be ready to serve alongside your pork chops. Another thing that makes this dish so popular is how easy it is to customize according to your preferences.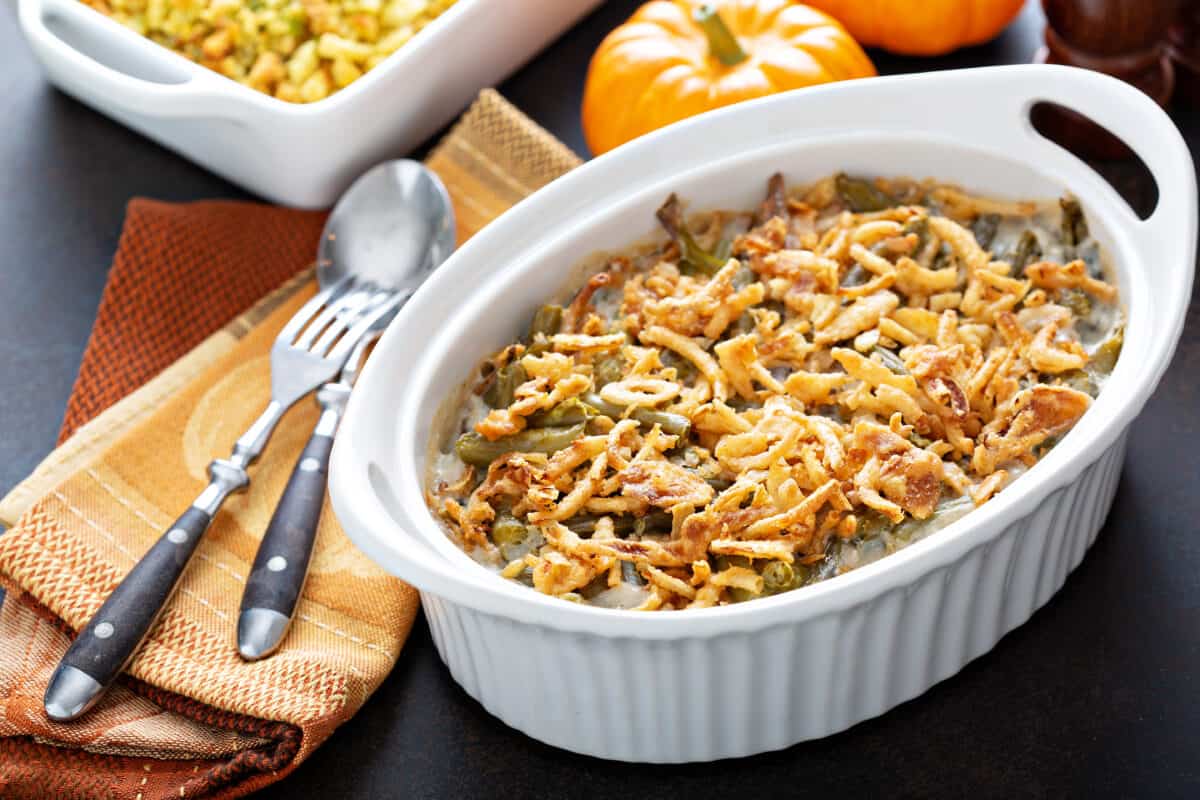 12. Cracker Barrel Fried Apples
Cracker Barrel fried apples are easy to make in as little as 30 minutes. The sauce uses an apple juice base for a richer flavor overall. An allspice, cinnamon, and nutmeg blend increases the flavors to a considerable degree.
13. Skillet Macaroni and Cheese
Skillet macaroni and cheese is a homestyle favorite easy to prepare in 30 minutes or less. The mixture of Monterey Jack and cheddar cheese make this variety more flavorful than most kinds of macaroni and cheese. A touch of Tabasco sauce adds a bit of spice that everyone will appreciate.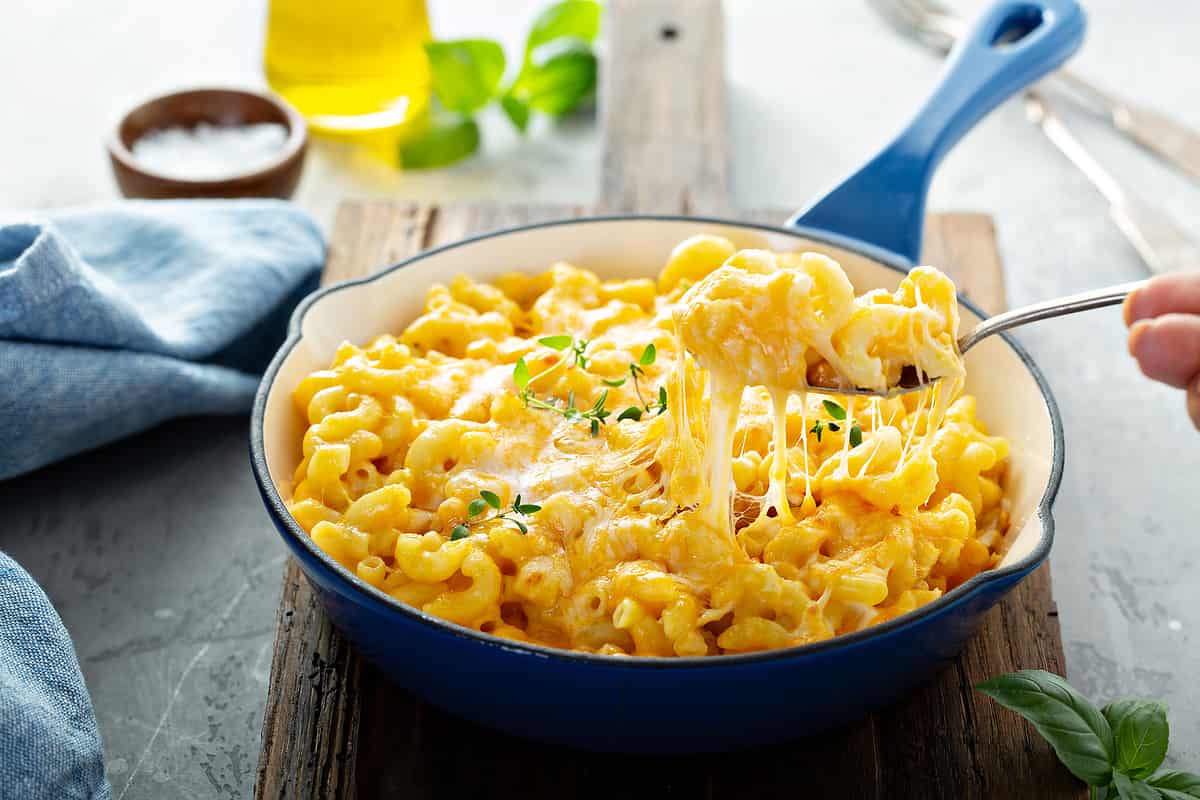 14. Succotash
Succotash is one of the oldest side dishes in American cuisine, making a good match for fried pork chops. Succotash stands on its own as a side, especially with flavor enhancers. However, this dish also goes well with lima beans and corn.
15. Easy Macaroni Salad
Easy macaroni salad is a simple dish to prepare. After mixing the ingredients, the salad only requires an hour in the fridge. This salad is a winner whenever you serve fried pork chops during the summer months.
16. Spicy Broccoli Sauté
Spicy broccoli saute offers a spicier option for a popular vegetable side. Homemade breadcrumbs give the saute some extra body. This ingredient is a perfect way to use up leftover bread.
17. Pork and Pears in Peppercorn Sauce
Pork and pears in peppercorn sauce add some extra personality to your fried pork chops meal. Using pork in a different way serves as an excellent complement to the pork chops by offering a different type of texture. Pears offer a nice serving of fruit with a sweet flavor.
18. Applesauce
Applesauce is a perfect pork chop side, especially when homemade. Using a variety of three or four types of apples provides a greater variety of flavors. Cinnamon is a great addition, along with sugar.
19. Pasta with Sausage and Cherry Tomatoes
Pasta with sausage and cherry tomatoes pairs nicely with fried pork chops. The cherry tomatoes add a little extra flavor. Hot pepper, thyme, and parsley add extra seasoning to this dish to give it some extra kick.
20. Irish Colcannon
Irish Colcannon is a classic dish that pairs nicely with virtually any entree, including pork chops. The most basic recipe for this dish requires little preparation time. However, this is a versatile side, allowing you to easily add ingredients to the potatoes, kale, and cabbage for extra flavor.
The image featured at the top of this post is ©Jacek Chabraszewski/Shutterstock.com.