What would Americans do without fried chicken? It is so tasty and satisfying, so inexpensive, so easy to find and easy to make, whether from a recipe you created yourself or a recipe passed down from your great-great-grandma. Best of all, fried chicken can be paired with just about anything. Here are 20 of the many sides that can enhance your fried chicken experience.
The very look of this dish makes you want to dive into it, and it is surprisingly easy to make. All it takes is a can of chicken broth, a package of diced potatoes and onions, milk and shredded cheddar cheese. Though you can make the bread bowls to serve them in, you don't even have to do that. Just buy them at the store with the other ingredients.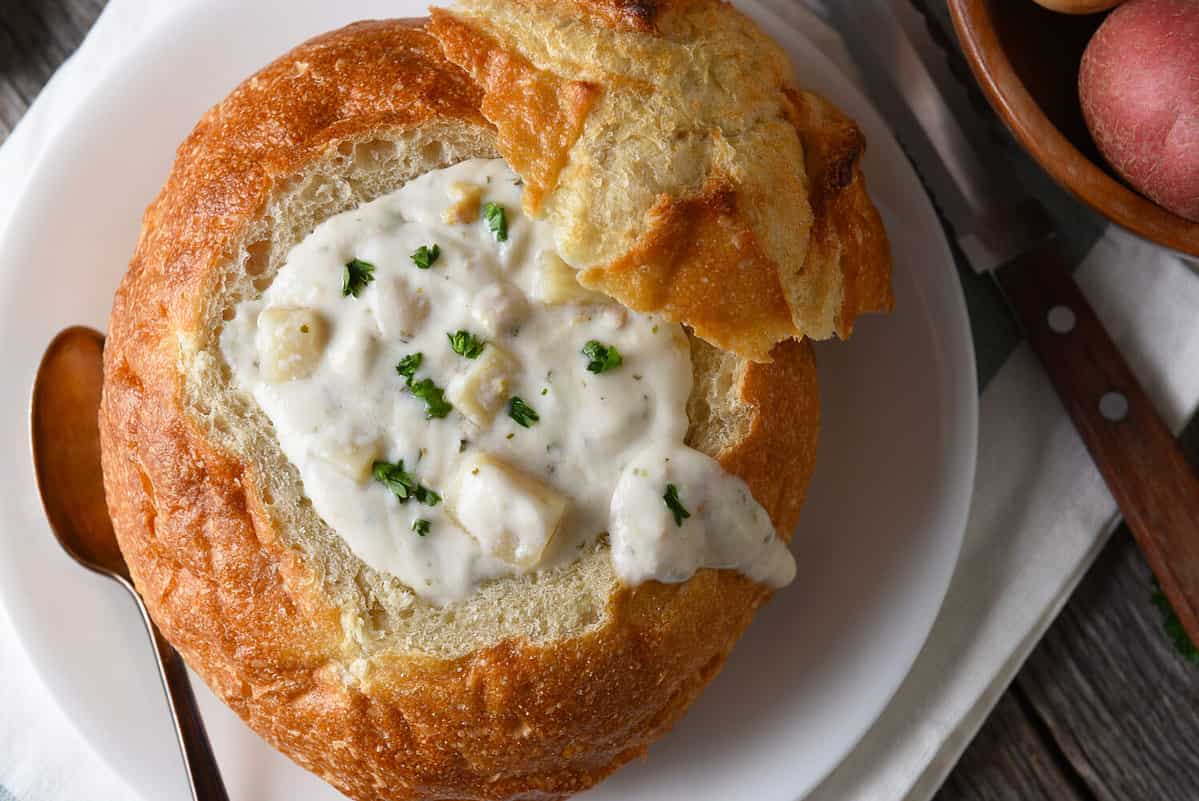 This Greek staple is made of grapevine leaves stuffed with herbed rice. You can usually find grapevine leaves at Middle Eastern food stores or get them online. Since they'll come in brine, you'll need to soak them in water for a bit then drain and rinse them. The tenderness of the dolmades contrasts beautifully with the crunch of fried chicken.
There's no reason not to serve fried chicken with a hot, comforting bowl of soup rich with tomatoes, onions, celery, garlic and herbs. Most enticing of all, this bisque is made especially luxurious by as much as half a cup of heavy cream. You might be tempted to dip one of your wings in.
The cool elegance of these sushi rolls goes well with the warm homeyness of fried chicken. Feel free to use all kinds of vegetables in these sushi rolls, including avocados, red cabbage, carrots and cucumbers. Serve with some soy sauce and pickled ginger. Both the rolls and the fried chicken are even better with a bit of sriracha mayonnaise.
Yes, this potato is good for breakfast, but why stop at breakfast? You can have this for lunch as a fried chicken side order with cheddar cheese, scrambled eggs, scallions and bacon. Though the recipe says bake the potato for an hour, you can take a shortcut. Pop it in the microwave for about five minutes, flip it over, and microwave it for five minutes more.
This salad is just the thing to go with fried chicken. Indeed, you can peel the skin off the chicken, and toss slivers of meat into the salad if you want. But this dish, which not only sports avocados and asparagus but red onions, zucchini, tomatoes, mushrooms and herbs, is fantastic just as it is.
Few sides are simpler than this one. Just toss the mushrooms with some olive oil, the vinegar of your choice, some garlic, shallots, herbs and other seasonings and a bay leaf. You can cook the mushrooms or leave them raw, but raw mushrooms will need to sit in the fridge overnight to absorb all the flavors.
Since chickens lay eggs in the first place, deviled eggs automatically go with fried chicken. This recipe couldn't be simpler. Just boil some eggs till the whites and yolks are firm, then scoop the yolks out and mix them up with mayo, white vinegar, yellow mustard, salt and black pepper. Mound them back in the egg whites, and dust with smoked paprika.
There are places where serving fried chicken without potato salad doesn't make sense, and this potato salad is among the easiest to put together. For the best flavor, let this salad rest for at least half an hour before serving it with your chicken. Yukon golds, which combine the best of both new potatoes and starchy potatoes, are ideal to blend with the mayo, mustard, relish, celery, onion and seasonings.
We can thank the Colonel for inspiring this recipe where the cabbage is finely chopped instead of shredded. According to him, this lets it hold on to the mayo better. Other ingredients are sugar, shredded carrots, milk, mayo, buttermilk, celery seed, hot sauce, dry minced onions and seasonings.
What else do you get at KFC along with cole slaw? Biscuits, of course. These delectable biscuits originate in the deep South and are ever so simple. You just need a couple of cups of flour, baking soda, baking powder, salt, bits of butter and buttermilk. Pop them in a hot oven for 12 to 13 minutes, and you'll have the perfect partner for your fried chicken.
You may wonder 'What on earth is this?' Monkey bread is simply bread where you pull bits off with your fingers and eat them, much like, one supposes, a monkey. Served at get-togethers that often feature fried chicken, this recipe is delightfully easy. You whisk an egg into eggnog, cinnamon and vanilla, dunk store-bought biscuits into the mix and stack them in a crock pot. Let them cook on high for a couple of hours. When it's done, the tradition is to put the monkey bread on a platter and cover it with syrup or powdered sugar.
Like mushrooms, cauliflower is a champion at absorbing the flavors of the foods and seasonings it's cooked with, and what could be more flavorful than cauliflower cooked with chickpeas, sweet potatoes, tomatoes, full-fat coconut milk and all manner of herbs and spices that go into a rich curry? Serve this curry with slices of fresh lime.
This salad served with fried chicken epitomizes everything good about summer. It not only features corn, strawberries and avocados but cherry tomatoes, an English cucumber, feta cheese and chopped fresh basil.
Along with coleslaw and biscuits, bread rolls are a popular side order with fried chicken. You can even open them up and tuck your fried chicken inside for an impromptu sandwich. These rolls take a bit of work, but it's always good to maintain your bread-making skills, especially when it comes to delicious rolls like these.
Someone once said it's OK to eat junk food as long as you make it yourself. But these fries are the opposite of junk food. One of the reasons they're healthy is that they're not fried. You just julienne your potatoes, put them in a plastic bag with veggie oil, salt and pepper, shake and bake them. Then, eat them with your fried chicken.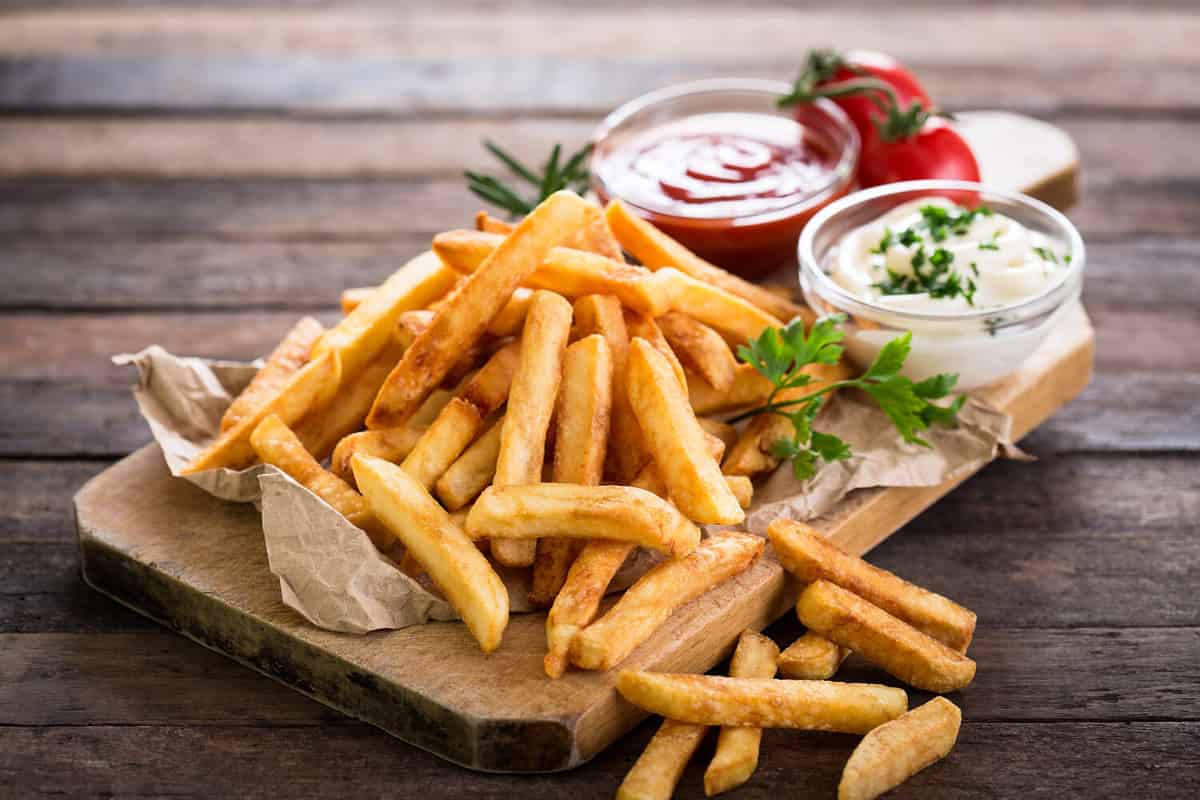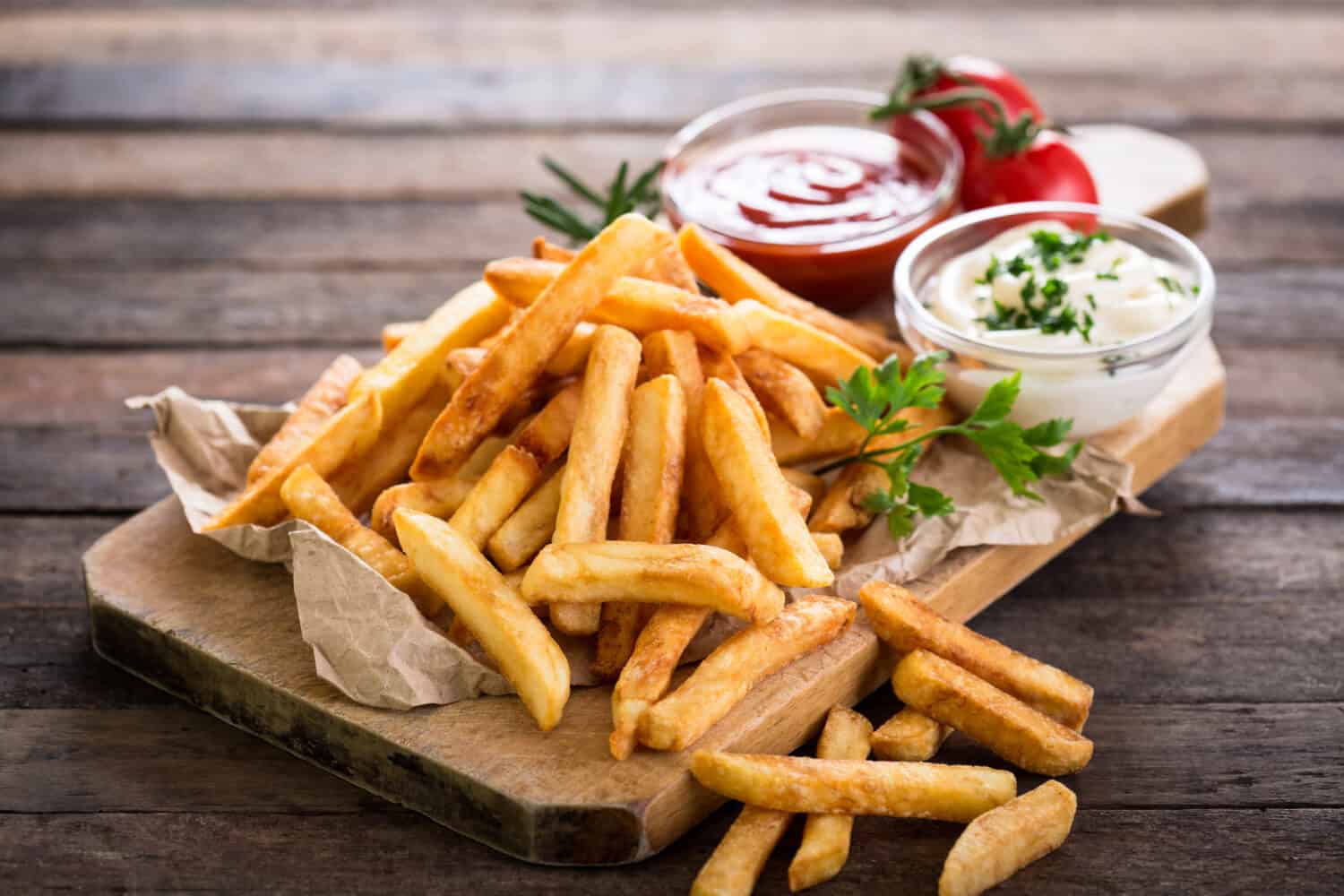 Ratatouille can be arranged to look like a work of art whose beauty makes you hesitant to eat it, but it's usually just veggies layered in a way that makes your mouth water. This one calls for two eggplants, six Roma tomatoes, two yellow squashes and two zukes cut paper thin with a mandoline or really sharp knife. Arrange them on a bed of tomato sauce and season with herbs. It's perfection when served with fried chicken.
The sweet tenderness of this dish makes a wonderful contrast with the crunchiness, saltiness and animal protein of fried chicken. This dish is often served for Thanksgiving, but it's good anytime with its mashed sweet potatoes, crushed pineapples, brown sugar, sultanas, shredded coconut, chopped walnuts and ubiquitous pumpkin pie spice and secret ingredient. What's that? A half a cup of bourbon.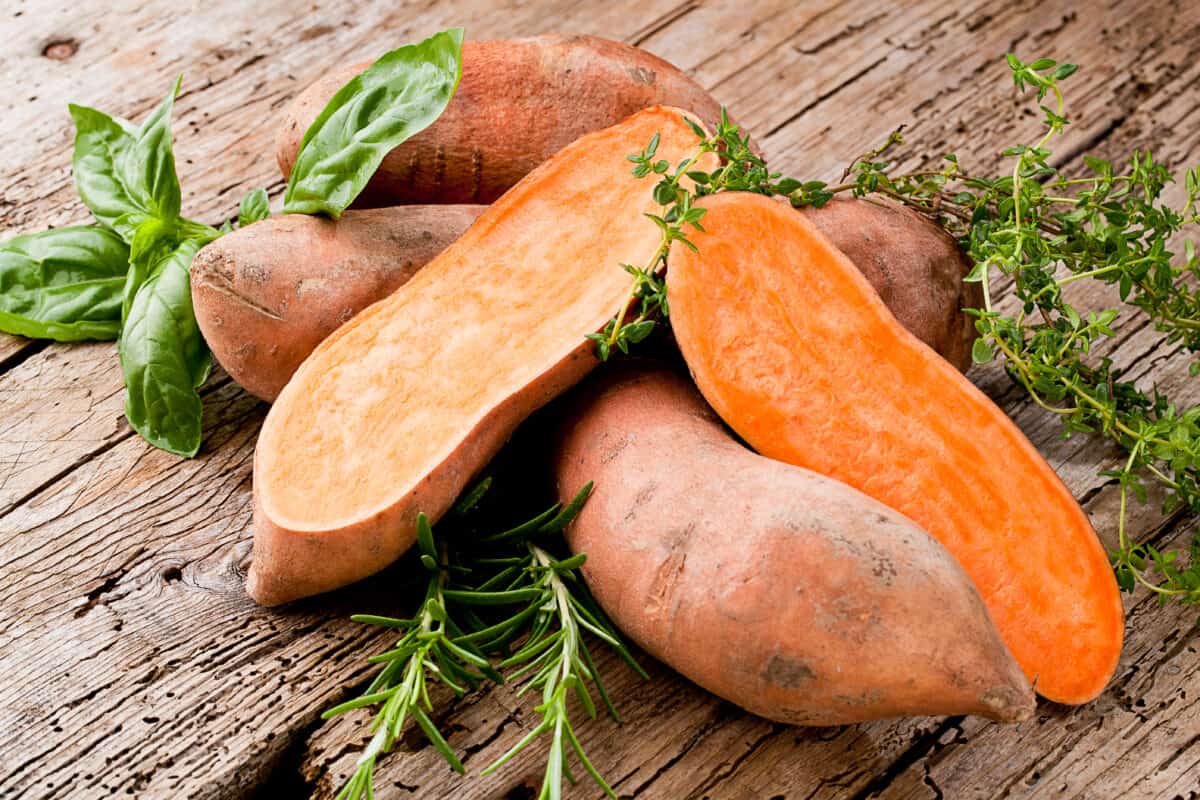 This robust side dish is just right for a dinner starring fried chicken. It couldn't be simpler to prepare. The veggies and sliced shallots are arranged on a baking pan, tossed with a little olive oil and salt and pepper and put in a 425 degrees Fahrenheit oven for 45 to 50 minutes. You'll add the walnuts 15 minutes before the veggies are done, and then you add the feta when you're ready to serve.
Last but certainly not least, no fried chicken dinner or feast is complete without macaroni and cheese. In this recipe, you can use any cheese you fancy as long as it melts properly. One tip is to shred your own cheese and avoid those bags of pre-shredded cheeses in the supermarkets, for they don't melt as beautifully as they should. Another tip is to eat the mac and cheese immediately with your fried chicken before it loses some of its creaminess.
The image featured at the top of this post is ©Fierman Much/Shutterstock.com.