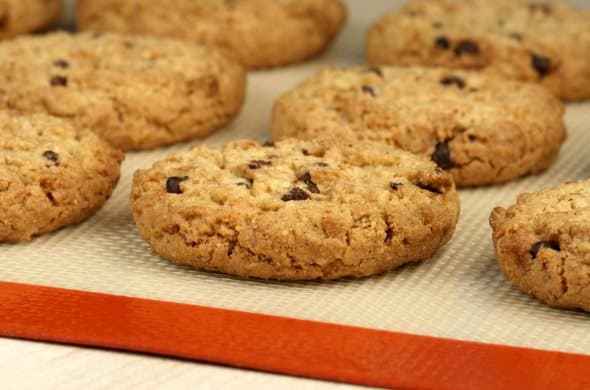 Mrs. Fields Chocolate Chip Oatmeal Cookie Recipe
Let's Get Ready for Baby!
Sign up for our monthly pregnancy email series, and you'll get regular updates on your baby's development, helpful timelines to get ready for their arrival, must-have baby needs and so much more! PLUS, you'll get instant access to the MomsWhoThink "Ultimate Guide to Baby Naming in 2022."
CLICK HERE
to get started!
Mrs. Fields cookie recipe is one of the best, it makes wonderful cookies that are a cross between an oatmeal cookie and a chocolate chip cookie. The texture is much finer than an oatmeal cookie because of the step involving grinding the oats finer. They taste just like the store bought Mrs. Field's cookies at a fraction of the price.
Mrs Fields Cookies
Ingredients:
1 cup butter, softened
1 cup packed brown sugar
1 cup white sugar
1 teaspoon vanilla extract
2 eggs
2 cups all-purpose flour
2 1/2 cups rolled oats, finely ground (run through a blender until fine)
1/2 teaspoon salt
1 teaspoons baking powder
1 teaspoons baking soda
12 ounce bag semisweet chocolate chips
4 ounces finely grated chocolate bar
1 cup chopped walnuts
Directions:
1. Cream the butter, brown sugar, and white sugar until well blended.
2. Add the teaspoon of vanilla and 2 eggs to the mixture. Mix well.
2. In a separate large bowl, mix together the flour and the finely ground oatmeal.
3. To the flour and oatmeal, add the salt, baking powder and baking soda.
4. Combine the butter-sugar mixture with the flour mixture.
5. Add the 12 ounce bag chocolate chips, the grated chocolate bar and chopped walnuts.
4. Make large ball shapes from the dough, place on cookie sheets 2 inches apart.
5. Bake at 350 degrees F for 8-9 minutes.
Makes 4 Dozen Cookies