Who doesn't love a good cookie?! Even better, who doesn't love a yummy cookie in giant form?! This cookie is both delicious AND the size of a cake platter! It is so easy to make and makes a great neighbor gift or can be a gift for your child's teacher. I will definitely keep this recipe in mind as the holidays come, but for now my family decided to slice ours up and make it into a "giant cookie pizza." You can practice true pizza-making by selecting different toppings for your cookie like whipped cream, sprinkles, or candy. My family decided to go the traditional route with some classic M&M's and chocolate chips. Have fun with it and enjoy!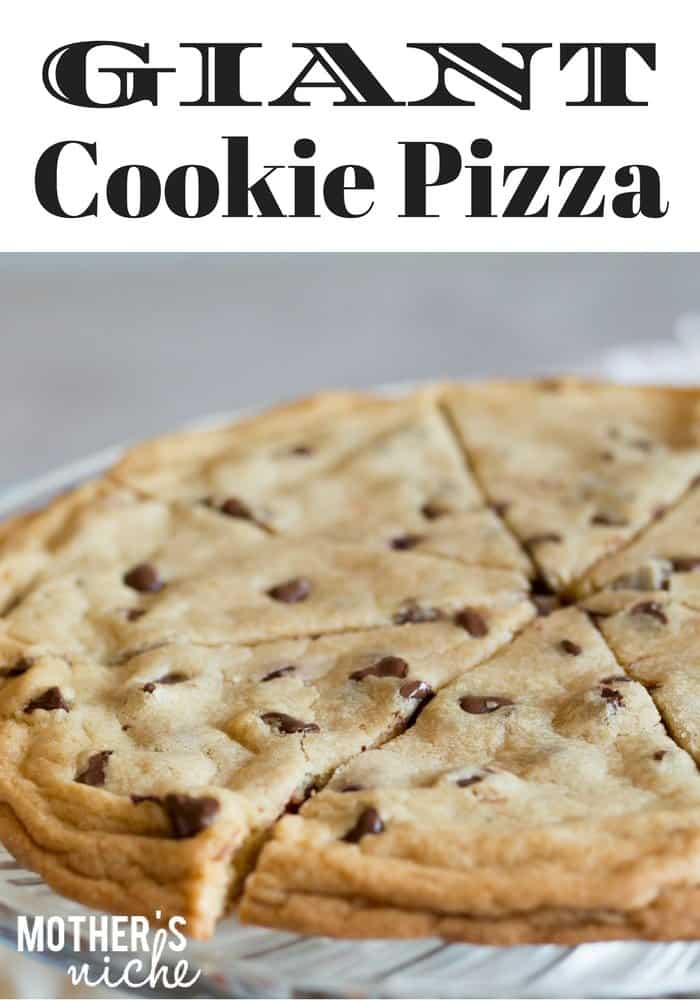 Giant Cookie Pizza
Ingredients:
1/2 cup white sugar
1/2 cup packed light brown sugar
1/2 cup butter, melted
1 egg
1/2 teaspoon soda
1/2 teaspoon salt
1/2 teaspoon vanilla
1 1/2 cup flour
Heaping 1/2 cup chocolate chips, M&M's, or whatever candy you desire
Instructions:
1. Preheat the oven to 350 degrees.
2. Cream together the butter and sugars, mix in eggs, and vanilla.
3. Next add in the flour, salt, and baking soda. Then fold in the chocolate chips and candies.
4. Refrigerate the dough for at least 1-2 hours. This allows the melted butter to firm up a bit. If you skip this step it may cause your cookie dough to spread a bit too much during baking.
5. Use a silicone baking mat (like this one here) and press the cookie dough into a 9 inch circle and about 1/2 inch thick. The cookie will expand/spread a bit while cooking so don't spread out too thin!
6. Bake for 13-16 minutes or until the cookie is a light golden brown. Do not remove the cookie from the baking mat until it is completely cooled. It will continue to bake and firm up as it cools and will lift off of the pan more easily without breaking if you wait until it has completely cooled.
7. Add additional toppings if desired and cut into pizza slices! You can also leave it as a giant cookie and make someone's day by taking it to them as a gift! Enjoy!
What are YOUR suggestions for making a giant cookie?!
Recipe inspired by: Mel's Kitchen Cafe
Pin it for later: