When looking to buy cookware, there are so many available options. How do you know which one to choose between cast iron, stainless steel, ceramic, non-stick, glass, and aluminum? Well, all of these options have pros and cons. Today, let's take a deeper look at ceramic-coated cookware, the reasons why you should be cooking with ceramic, and possible cons to be aware of.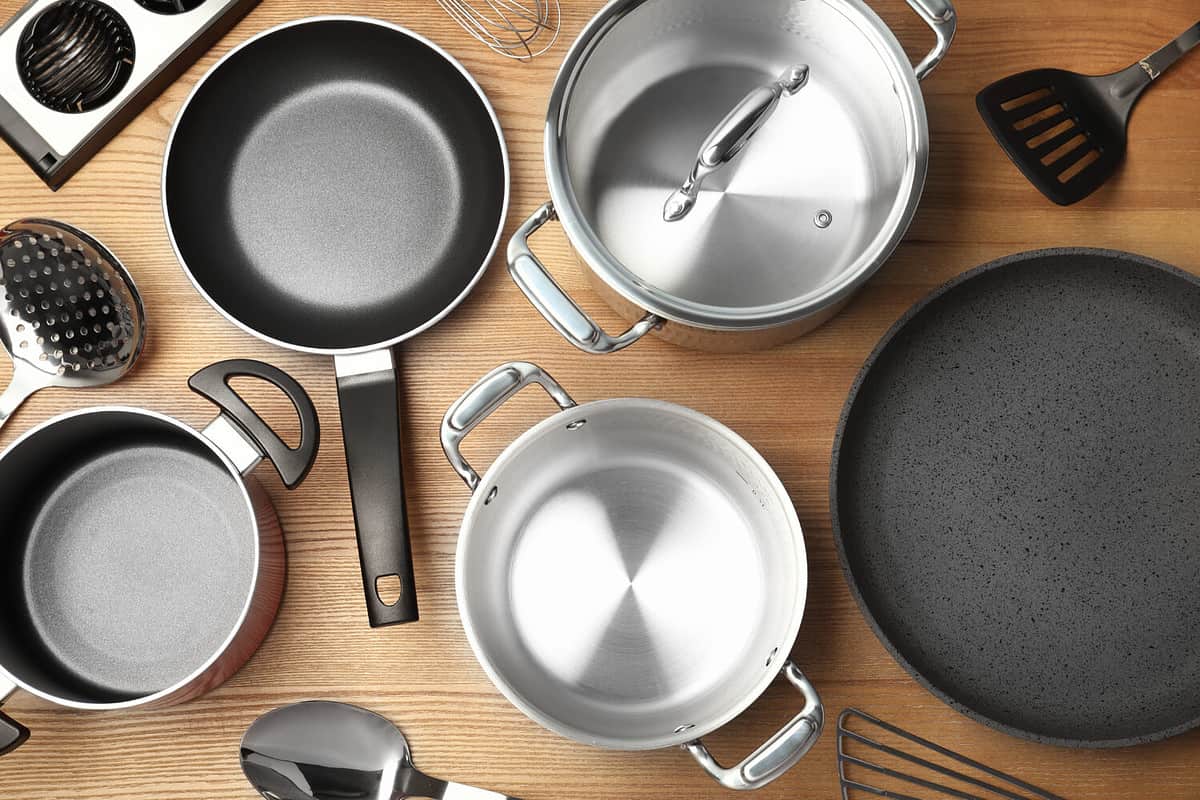 Non-Toxic
A major benefit of ceramic cookware is that it is non-toxic. It is not made with any chemicals like PFAS, PFOA, PTFE, cadmium, lead, or any other chemicals used to coat other cookware. So you don't have to worry about any harmful chemicals seeping into your food. Because of the properties ceramics are made from, they are non-reactive and can also do well with acidic foods. This means your cookware won't stain or absorb any of the food cooked on them.
Nonstick Ceramic Cookware Set
13-Piece, Kitchen Cooking Set, Non-toxic, Stay-Cool Handles, PFAS and PFOA Free, Silicone Tools and Pot Protectors.
We earn a commission if you make a purchase, at no additional cost to you.
Naturally Non-Stick
Ceramic cookware is going to offer a non-stick experience without harmful chemicals. It is non-stick because of a gel made from silicone and oxygen. Non-stick cookware has a handful of benefits that some other cookware does not. These include the ease of cleaning and the reduction of oil consumption.
Easy To Clean
Because these pans are non-stick, food cannot bind to the pan when cooking. This makes clean-up significantly easier. When using pans that aren't non-stick, you often have to soak them before you can even use any elbow grease to scrape away the food.
Reduces Oil Consumption
Using non-stick pans also reduces the need for using oil or fats to coat the surface of your pan. These are used to prevent the sticking of food when cooking. Although you can still choose to use oil, it often is not required when using a non-stick pan.
Artisan Healthy Ceramic Nonstick
Greenlife, 12 Piece Cookware Pots and Pans Set, Induction, Dishwasher Safe, Oven Safe, Turquoise, Stainless Steel Handle, PFAS-Free.
We earn a commission if you make a purchase, at no additional cost to you.
Lightweight
Having lightweight cookware is a great benefit when you're busy cooking in the kitchen. It will allow you to easily move things around on the stove and maneuver all your cookware with less effort. Once there is food in your pots and pans, it makes them much heavier. So having lightweight cookware so you only need to worry about the weight of your food while cooking is a nice pro. This also comes in handy if you're transporting food in your pots and pans on the go.
Appearance
Ceramic cookware is great if you're looking for aesthetic pots and pans. They offer a very appealing look, different than your average metal pot or pan. This means that you can keep your kitchen aesthetic even while you're cooking since you'll be using gorgeous cookware. It also means that you don't have to transfer your food from a pot or pan into a serving dish. Ceramic cookware is pretty enough that you can cook and serve your food in them.
Heat Distribution and Resistance
Because of how ceramic cookware is constructed, it transfers heat quickly and efficiently, so you'll have a more even distribution of heat. This is helpful to make sure that your food gets cooked evenly, but it also reduces the chances of burning. Ceramic is also great for heat resistance. It has the ability to withstand higher heat compared to some other cookware. Ceramics can withstand up to 850 degrees Fahrenheit. This makes it a great choice for cooking foods that need to be seared. It also makes it a great option to use in the oven, just make sure all components of your cookware (like the handles) are heat resistant as well.
Works On Induction Stoves
Another benefit of ceramic cookware is that it works on induction stoves. Induction stoves work by heating cookware through electrical induction instead of the typical thermal conduction that gas or electric stoves use. To explain it a little further, thermal conduction transfers heat from one surface to another through direct contact. Electrical induction sends electric currents through a magnetic field from the stove to the cookware. With electrical induction, the heat bypasses the burner and is transferred right to the cookware. To make electrical induction work, you have to use cookware that is compatible. This includes stainless steel and cast iron. Stainless steel is commonly used as a base for ceramic-coated cookware.
Cons For Ceramic Cookware
Although there are a lot of benefits to having ceramic cookware, there are some cons to be aware so you have a full understanding of what you're purchasing. Ceramic cookware is known for being less durable and having a shorter lifespan. They can be less durable because the ceramic coating can be delicate. It is more susceptible to normal wear and tear, like chips and scratches. Although it can withstand high heat, as mentioned previously, this will make it break down faster. But don't let these cons scare you away from the great benefits of ceramic cookware. As long as they are used with care, they can have a good lifespan.
The image featured at the top of this post is ©Elena Hramova/Shutterstock.com.