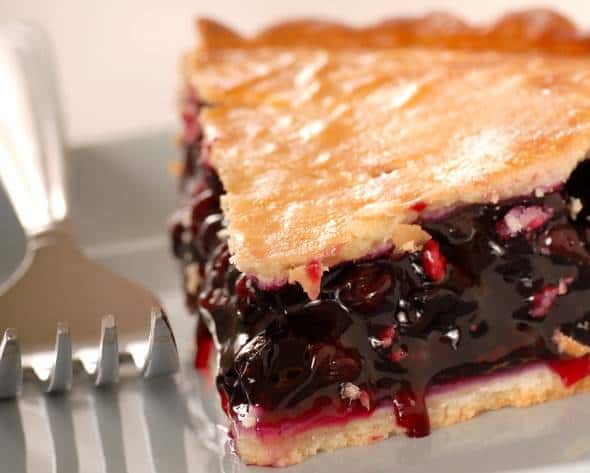 Blueberry Pie Recipe
Let's Get Ready for Baby!
Sign up for our monthly pregnancy email series, and you'll get regular updates on your baby's development, helpful timelines to get ready for their arrival, must-have baby needs and so much more! PLUS, you'll get instant access to the MomsWhoThink "Ultimate Guide to Baby Naming in 2022."
CLICK HERE
to get started!
This blueberry pie recipe uses a hand-rolled pie crust. It's made with fresh blueberries, the perfect amount of sugar for sweetness, and a touch of flour for just the right thickness. It is absolutely divine, a great holiday or picnic pie!
Blueberry Pie
Ingredients:
Crust Ingredients:
2 cups all-purpose flour
2/3 cup cold butter or margarine
1/4 teaspoon salt
4 to 5 Tablespoons cold water
Filling Ingredients:
2 Tablespoons all-purpose flour
1/2 cup granulated sugar
1/4 teaspoon ground cinnamon
1/4 teaspoon ground nutmeg
6 cups fresh blueberries
Directions:
1. Preheat oven to 400 degrees F.
2. Combine the salt and flour in large bowl; cut in butter until mixture resembles coarse crumbs. Add enough water (stirring with a fork after each tablespoon) just until flour is moistened.
3. Divide dough in half; shape each half into ball then flatten slightly. Wrap 1 ball of dough in plastic wrap and refrigerate.
4. Roll out with a floured rolling pin on lightly floured surface, the remaining ball of dough into a 12-inch circle.
5. Place into a 9 inch pie pan, pressing firmly against bottom and sides. Trim crust to 1/2 inch from edge of pan and pinch to flute edges.
6. Combine 2 tablespoons flour, sugar, cinnamon and nutmeg together. Stir in the blueberries.
7. Spoon blueberry mixture into prepared pie crust.
8. Roll out with a floured rolling pin on lightly floured surface, the chilled ball of dough into a 12-inch circle.
9. Cut out leaf shapes in dough using small knife or cookie cutter. Place dough over filling. Cover edge of crust with 2-inch strip of aluminum foil.
10. Bake for 35 minutes; remove the aluminum foil from around the edges. Continue baking for an additional 10 to 20 minutes or until crust is lightly browned and juice begins to bubble through cut-outs in crust.