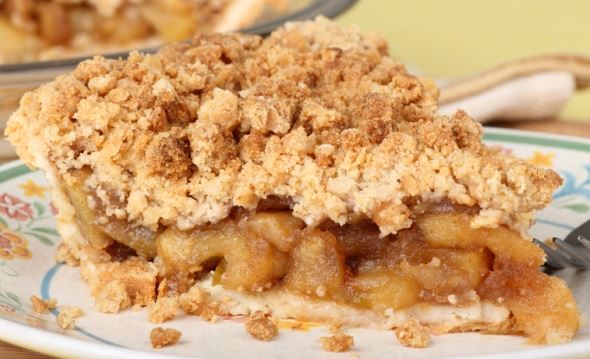 Apple Crumb Pie Recipe
Let's Get Ready for Baby!
Sign up for our monthly pregnancy email series, and you'll get regular updates on your baby's development, helpful timelines to get ready for their arrival, must-have baby needs and so much more! PLUS, you'll get instant access to the MomsWhoThink "Ultimate Guide to Baby Naming in 2022."
CLICK HERE
to get started!
Apple pie is such a delicious recipe, it's no wonder that there have been many variations over the years. One of these is the apple crumb pie.
Those that make this dessert may argue that the crumb topping is the most delicious part of the recipe. While the ingredients can vary in making this topping, brown sugar is a preferred main ingredient and can be combined with nutmeg, flour, butter, cinnamon… and the list goes on.
It is not uncommon for the crust to start to brown early while you are baking this pie. If this happens, place a small square of foil over the middle.
Another cooking hack…try using a deep dish pie plate set on a parchment lined baking pan to bake. This makes it easier to get the pie in and out of the oven and it will catch any drips and spills that occur when the pie bubbles over.
Cut apples thinly and stack them nice and high. They will begin to shrink down as they bake.
Apples with the skin on can become tough and chewy. Peeling your apples in advance will make your dessert nice and tender. It is best to use an apple peeler to make the job quick and easy.
This apple crumb pie recipe gives you the wonderful taste of apple pie with a change from the standard pie crust. A brown sugar spiced crumb topping gives each bite extra delicious flavor.
If you make the pie in advance, you can put it back in the oven for a few minutes to make it warm for serving. Then add a slice of vanilla ice cream, a bit of caramel sauce, and voila, you have a dessert that is sure to make their mouths water.
Apple Crumb Pie
Ingredients:
Crust Ingredients:
1 cup flour
1/3 cup vegetable shortening, chilled
1/2 teaspoon salt
1/4 cup water, ice cold
Filling Ingredients:
3  1/2 pounds Granny Smith, Cortland, Jonagold apples, peeled, cored, sliced
1 Tablespoon lemon juice
1/3  cup sugar
3/4  teaspoon cinnamon, ground
1/4  teaspoon nutmeg, ground
1/4  teaspoon salt
Crumb Topping Ingredients:
3/4 cup brown sugar, firmly packed
1/2 teaspoon nutmeg, ground
1 cup flour
1/3 cup butter, chilled, cut in pieces
Directions:
1. Preheat oven to 375 degrees F.
2. To make crust: mix together flour and salt in a medium bowl.
3. Use a pastry blender or 2 knives to cut the shortening into the flour mixture until coarse crumbs are formed.
4. Add water, 1 tablespoon at a time, tossing with a fork, until a dough forms.
5. Shape into a flat circle then wrap in plastic wrap and chill for 30 minutes.
6. On a floured surface, roll dough with a floured rolling pin into a 12″ circle. Fit into a 9″ pie pan. Trim excess dough, leaving a 1 inch overhang; pinch edges to flute.
7. To prepare filling:  in a large bowl, toss together lemon juice, apples, sugar, nutmeg, cinnamon and salt. Spoon mixture evenly into crust.
8. To prepare topping: mix together brown sugar, nutmeg and flour in a small bowl.
9. Use a pastry blender or 2 knives to cut the butter into the brown sugar mixture until coarse crumbs form.
10.  Sprinkle the crumb topping evenly over the filling to cover completely.
11. Place foil around crust to prevent burning. Bake, rotating halfway through for 40 minutes, remove foil and bake an additional 20 minutes.