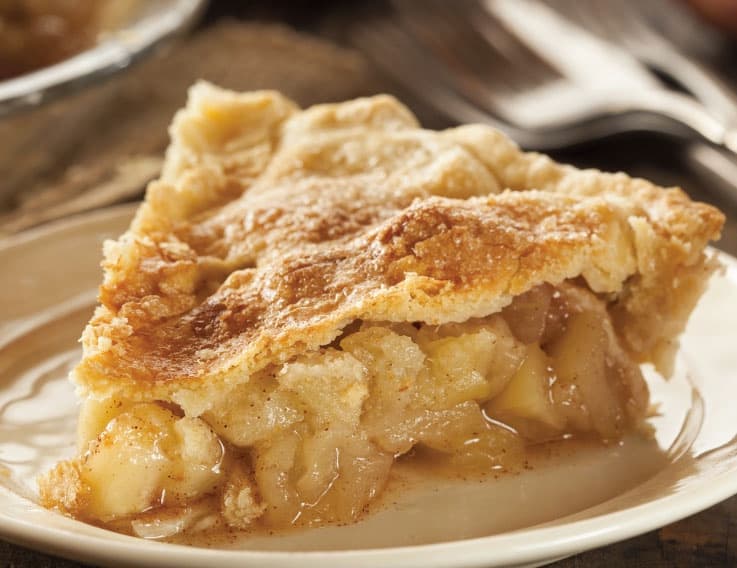 Let's Get Ready for Baby!
Sign up for our monthly pregnancy email series, and you'll get regular updates on your baby's development, helpful timelines to get ready for their arrival, must-have baby needs and so much more! PLUS, you'll get instant access to the MomsWhoThink "Ultimate Guide to Baby Naming in 2022."
CLICK HERE
to get started!
You may have heard the expression, 'as easy as apple pie'. But is apple pie actually easy to make? It is when you follow this delicious recipe.
Our recipe starts with a premade pie crust. Then, just mix all the ingredients and fill the crust for a great dessert.
Now, of course, many of you might be skeptical that a pie that is easy to make won't taste nearly as good. And while it's true that some may prefer a homemade crust, we checked off all the other boxes to make sure our dessert was delicious.
Experts say that cinnamon offers the perfect flavoring for an apple pie, but too much is overwhelming. It should be balanced by nutmeg for best results. Well, our recipe contains both nutmeg and cinnamon giving it the ideal combination.
Apple pies can also be overly juicy. You can prevent this from happening by using the right amount of flour. We found the recommended ¼ cup in our recipe was just perfect.
You want apples to be firm in texture and medium sweet in taste. The firm texture will keep it from coming out too mushy after it is cooked.
The taste of an apple will break down a bit when it is cooked. But apples that are exceptionally tart will not break down enough. That's why a medium sweet taste will be perfect.
We find the best apples for pies are Jonathan, Winesap, Jonagold, and Pippin.
Now that you know you have everything necessary to make a delicious apple pie, you can feel confident that this will turn out just as good as it would if you spent hours slaving in the kitchen.
Serve with a whipped cream topping or some creamy vanilla ice cream and see how their eyes light up when they get a forkful of this delectable dessert.
Old Fashioned Apple Pie Recipe
Ingredients:
2 9-inch pie crusts (one for the top crust, one for the bottom crust)
1/4 cup all-purpose flour
3/4 cup brown sugar, packed
1 1/2 teaspoons ground cinnamon
1/2 teaspoon ground nutmeg
Dash of salt
2 Tablespoons butter
6 cups (about 5 medium) peeled, cored, thickly sliced apples
Directions:
1. Preheat oven to 425 degrees F.
2. Mix brown sugar, cinnamon, nutmeg, flour, and salt.
3. Cut each of the apple slices in half. Stir the apples into the sugar mixture.
4. Place into pie crust, dot with butter. Cover with top crust, and slit evenly to let steam escape. Seal the top crust to the bottom by pinching the edges together.
5. Cover edge of the crust with a three inch strip of aluminum foil.
6. Bake 40-50 minutes, until crust is brown and juice begins to bubble through top.
Easy Recipes Main Page