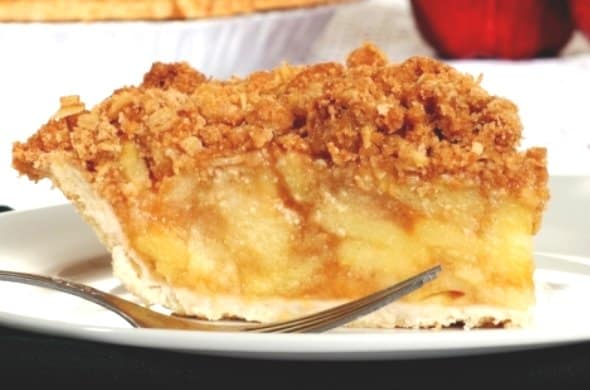 Dutch Apple Pie Recipe
Dutch Apple Pie might just sound completely wrong to those who think of apple pie as being American. However, the recipe has origins in British culture and wasn't brought to America until years later, well after the dessert became popularized in several other cultures…including Dutch culture.
In fact, it was the Dutch, along with the English and Swedes, who brought the pie to America in the 17th and 18th centuries.
This was years after the first Dutch apple pie was made.
The first Dutch apple pie dates back to the Middle Ages. Back then, the pie was made from a simple recipe that used only apples, pie crust, cream and several spices.
Since then, chefs had worked with the recipe to come up with two main Dutch varieties, crumb and lattice, which refer to how the pie is topped. However, in American culture, a Dutch apple pie specifically refers to one with a crumb streusel topping.
This Dutch Apple Pie recipe is a wonderful change from standard two crust apple pies. Topped with a cinnamon brown sugar streusel topping, it adds extra flavor to the rich, juicy apple filling.
It can be served warm or cold and is delicious with a dollop of whipped cream or a healthy scoop of vanilla ice cream.
Of course, there are many variations of the apple pie beyond the Dutch and American varieties.
The French version is upside down with the crust on the bottom and the apples are caramelized. In Sweden, apple pie is more of an apple crumble than a traditional pastry pie. In England, the apples are layered into a dome shape and then topped with butter or lard and baked until done.
With so many kinds of apple pie out there, those with a sweet tooth certainly have their work cut out for them when it comes to choosing the dessert they prefer. We think this Dutch apple pie is one worth trying and can't wait to find out what you think! Which will be your favorite?
Dutch Apple Pie
Ingredients:
1 9-inch pie crust (recipe here)
8 crisp, medium apples
4 Tablespoons lemon juice
Streusel Topping:
1/4 cup brown sugar
1/3 cup white sugar
1/2 cup + 2 Tablespoons flour
1 teaspoon nutmeg
1 teaspoon cinnamon
1/2 teaspoon salt
1/2 cup butter
1/2 cup chopped walnuts
Directions:
1. Preheat oven to 375 degrees F.
2. Core, peel and slice apples. Place apples and lemon juice in a bowl, mix well.
3. Mix brown sugar, white sugar, flour, nutmeg, cinnamon, and salt.
4. Cut in butter with pastry blender, then add chopped walnuts.
5. Add half the mixture to the apples and mix to coat.
6. Place apple mixture into crust, then evenly sprinkle the rest of the struesel crumbs on top.
7. Put foil around crust. Bake at 375 degrees F for 40 minutes; remove foil and bake an additional 20 minutes.