Both evaporated and condensed milk are in the supermarket's dairy aisle, but how do people use them? How are they similar? How are they different? Well, the short version is that both are non-perishable versions of milk. What truly separates them is their sweetness. Condensed milk has added sugar, while evaporated milk does not. Let's explore evaporated vs. condensed milk and discover not only the pros and cons, but the best uses of each product.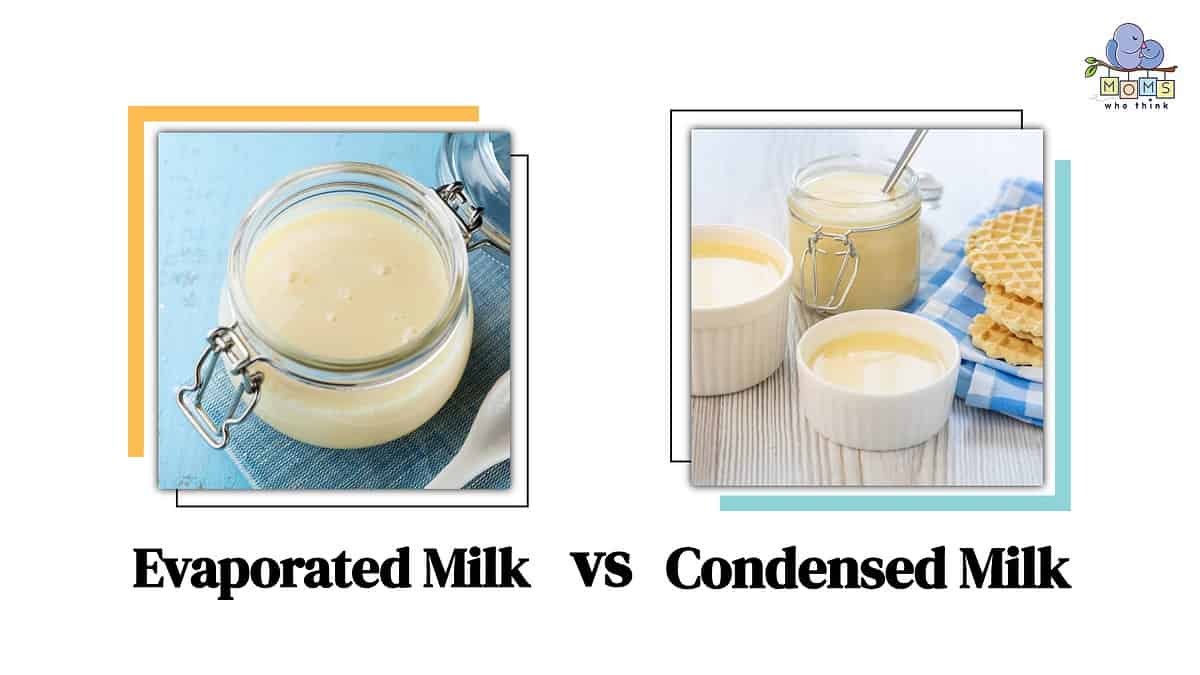 Evaporated vs. Condensed Milk: What is evaporated milk?
Manufacturers heat regular milk until sixty percent of its water evaporates, transforming it into evaporated milk. Afterward, they homogenize and sterilize the milk before canning and selling it. This process results in a milk that lasts longer than regular milk without the need for refrigeration. Furthermore, people typically store evaporated milk in the pantry for up to sixteen months.
Created in the 1800s, evaporated milk became popular because fresh milk was so hard to transport and preserve. Today, in the aftermath of disasters, people rely on evaporated milk because it doesn't need to stay cold. After adding water to evaporated milk, people use it as a dairy substitute in a multitude of recipes. To rehydrate, add one and a half cans of water to the evaporated milk. Evaporated milk replaces regular milk in coffee, hot chocolate, and oatmeal without a noticeable difference.
However, even without rehydration, many people enjoy the taste of evaporated milk. Despite no added sugars, it is sweet because of the concentrated lactose content. Additionally, it has a rich and creamy caramelized texture. Some folks believe that evaporated milk enhances dishes more than ordinary milk by adding a richness and velvet-like texture to dishes.
Evaporated vs. Condensed Milk: What is condensed milk?
Manufacturers produce condensed milk using the same process as evaporated milk. However, during the heating process, sugar is added to create condensed milk. Moreover, the sugar content is five times higher than the amount found in evaporated milk. One ounce of condensed milk has fifteen grams of sugar, while evaporated milk has less than one gram in every ounce. However, it still has the benefits of milk, including vitamins, minerals, and calcium.
Condensed milk is thicker and darker in color than evaporated milk. It richness and intense sweetness make it too sweet to replace regular milk in recipes. Nevertheless, it is common in baking sweet treats and casseroles. Elevate your regular coffee by sweetening it with condensed milk, a practice common in Southeast Asia, where people add it to hot and cold coffee beverages. You can also use condensed milk to make a delicious, no churn, homemade ice cream.
Evaporated vs. Condensed Milk: Nutritional Information
Now let us look at the nutritional comparison for evaporated milk vs. condensed milk.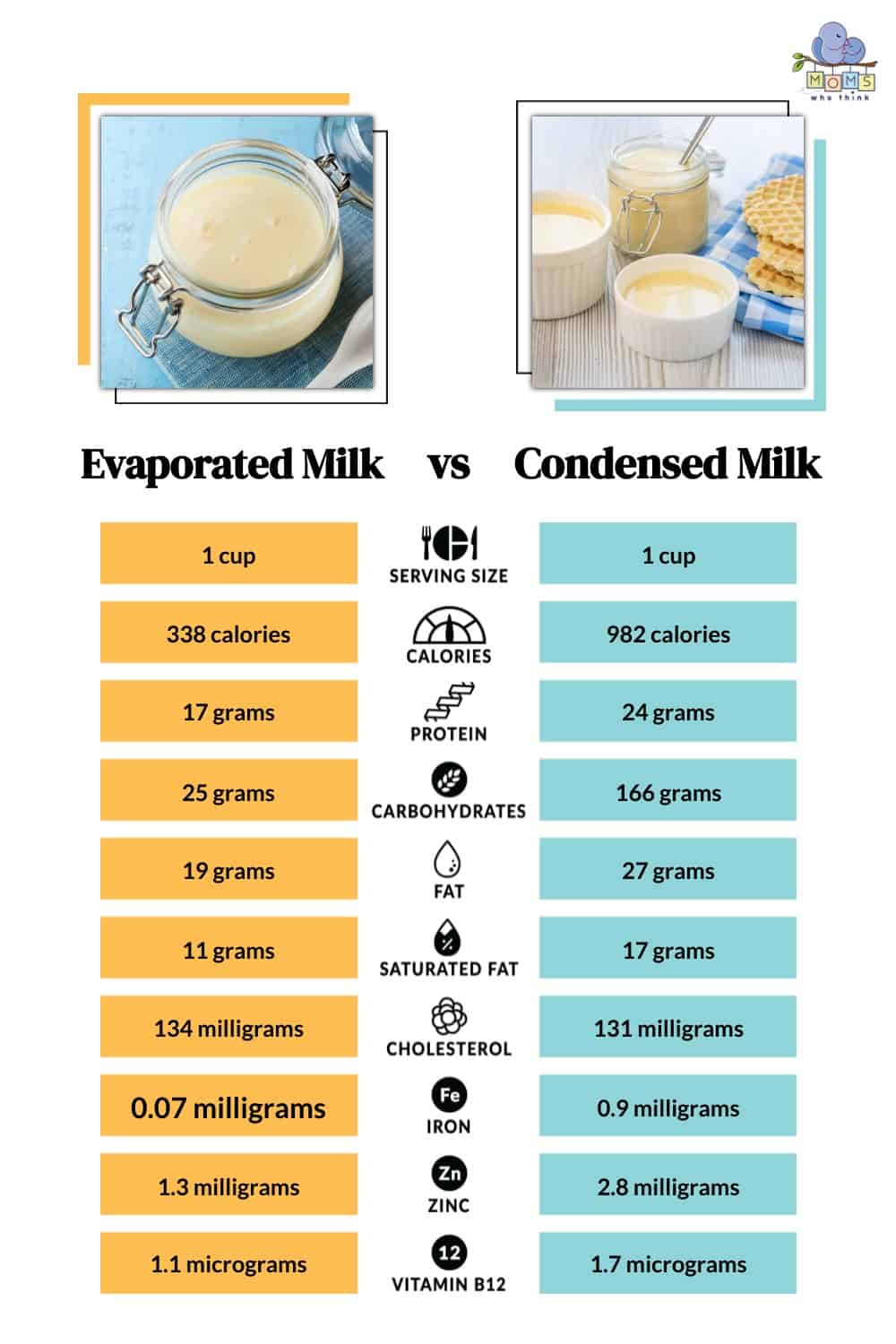 Condensed milk tends to be much higher in calories and carbohydrates due to the added sugar. On the other hand, evaporated milk has fewer calories, carbohydrates and saturated fat. Condensed milk has slightly less cholesterol and more zinc than evaporated milk. However, nutritional information varies depending on the brand. Always read nutrition labels to get accurate information for your personal dietary needs and goals.
Evaporated vs. Condensed Milk: The Pros and Cons of Evaporated Milk
Let's look at these two kinds of milk and see how they compare. First, let's examine evaporated milk.
| Pros | Cons |
| --- | --- |
| It has a rich, slightly caramelized flavor and creaminess that enhances recipes. | Evaporated milk isn't as sweet as condensed milk, which makes it less ideal in sweet recipes. |
| Evaporated milk has a long shelf life and can be easily stored. | The creaminess of the milk may be overpowering for some recipes. |
| Versatility is one of the best things about evaporated milk. It can be used in a variety of ways. | Additionally, the texture may not work in some recipes. |
| Its shelf stable nature makes it an ideal milk for emergency situations. | Water has to be added to it to drink it. (Although some people do enjoy the taste of evaporated milk.) |
Table examining the pros and cons of evaporated milk
In general, evaporated milk offers convenience and boasts a long shelf life; however, it usually requires hydration to drink and use it. Also, while it is extremely versatile in cooking, it may not be the right milk to use in some recipes because of its creaminess and texture.
Evaporated vs. Condensed Milk: The Pros and Cons of Condensed Milk
Now, let's look at the pros and cons of condensed milk.
| Pros | Cons |
| --- | --- |
| The sweetness of condensed milk makes it a key ingredient in some confections. | The sugar content is extremely high, making it unsuitable for those watching their sugar intake. |
| Condensed milk makes excellent fudge and homemade ice cream. It is also excellent in coffee drinks. | Additionally, the thick texture and high sugar content makes it hard to use in recipes that aren't sweet. |
| Its thick consistency makes it an excellent binding agent in no bake desserts. | Unfortunately, its flavor can be overwhelming in some dishes. |
| Many underweight people use condensed milk in their weight gain plan. | Condensed milk has a lot of calories, so if you are concerned about your caloric intake, you may want to avoid it. |
Table examining the pros and cons of condensed milk
Like evaporated milk, condensed milk has a long shelf life. However, its sweetness limits its use far more than evaporated milk. While it adds a unique texture and sweetness to desserts, the downside is its high caloric intake.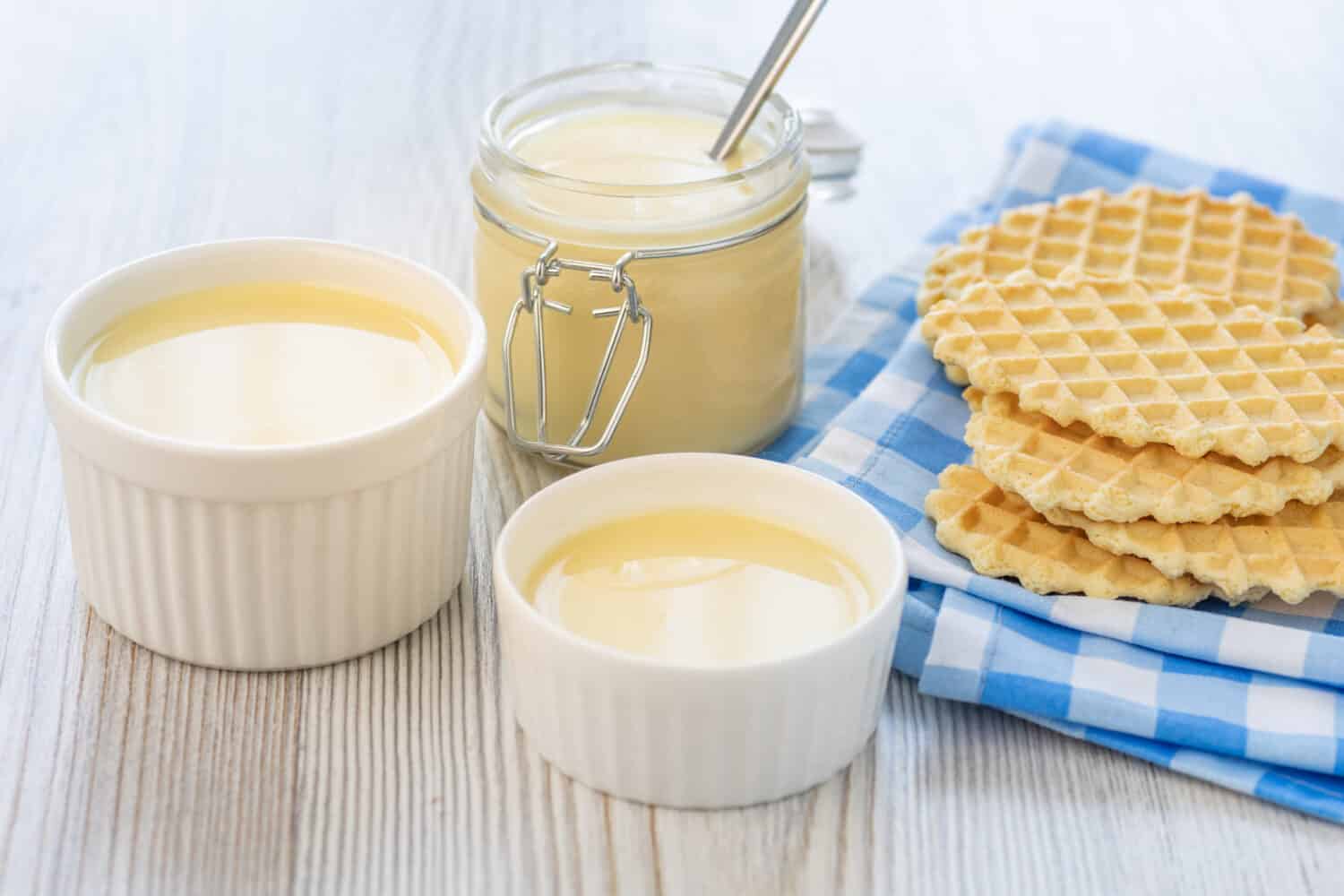 One Final Note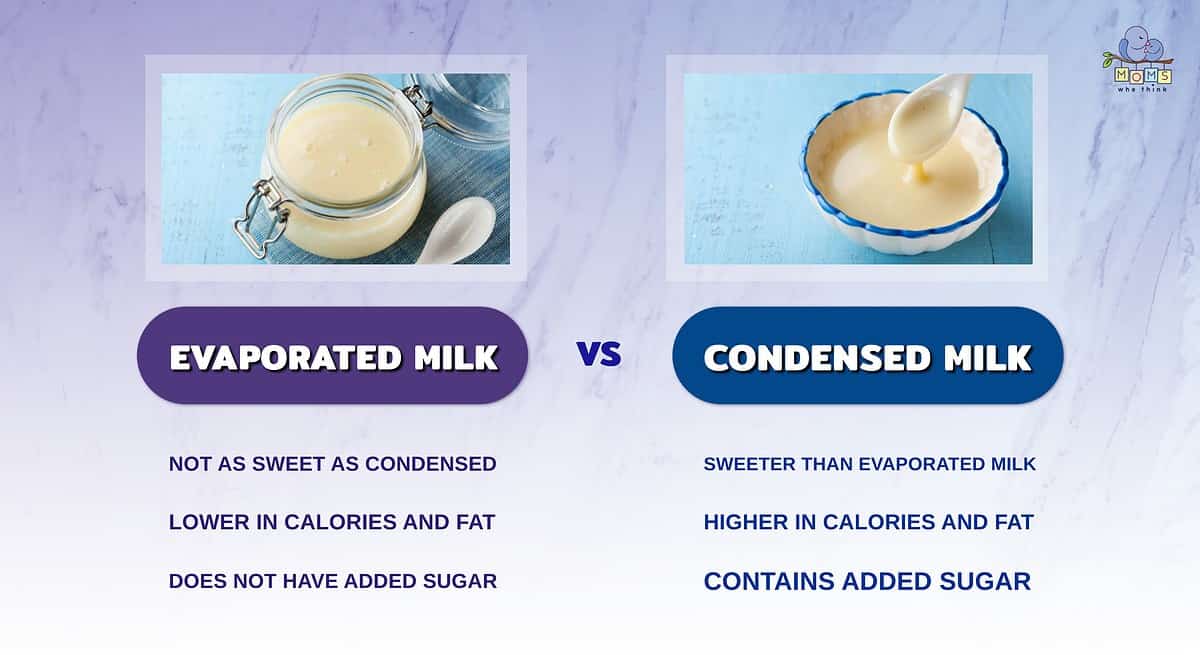 Condensed milk is sweeter than evaporated milk, making it suitable for different kinds of recipes.
Evaporated milk is significantly lower in calories and fat compared to condensed milk.
The added sugar in condensed milk is what gives it a sweeter taste. Evaporated milk does not have any added sugar.
While removing water from milk produces both evaporated and condensed milk, there are distinct differences between them. The most significant difference is their sweetness. Condensed milk's thick syrupy texture and intense sweetness comes from the sugar added to it before or during the heating process. While this makes it a delicious addition to desserts, it has a lot of calories and a taste some find overwhelming. Conversely, evaporated milk becomes a dairy substitute after adding water to it. In coffee and recipes, most would be unable to tell they were drinking evaporated milk. Both dairy products boast long shelf lives and versatility, making them a popular pantry staple.
This great recipe uses evaporated milk:
Print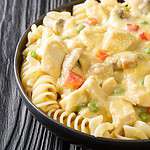 Chicken a la King with Evaporated Milk
---
Author:

Yield:

8

servings

1

x
8 ounces uncooked wide egg noodles
1 can (10 3/4 ounces) reduced fat reduced sodium condensed cream of chicken soup, undiluted
2/3 cup fat free evaporated milk
6 ounces cubed reduced fat process cheese (Velveeta)
2 cups cubed cooked chicken breast
1 cup sliced celery
1/4 cup chopped green pepper
1 jar (2 ounces) diced pimientos, drained
1/3 cup dry bread crumbs
1 Tablespoon butter, melted
1/4 cup slivered almonds
---
Instructions
1. Cook noodles according to package directions.
2. Meanwhile, in a large saucepan, combine the soup and milk. Cook and stir over medium heat for 2 minutes. Reduce heat; stir in cheese until melted.
3. Add the chicken, celery, green pepper, and pimientos to the soup mixture.
4. Drain noodles; add to chicken mixture and mix well. Transfer to a shallow 2 qt. baking dish coated with cooking spray. Cover and bake at 400° for 20 minutes.
5. Toss bread crumbs and butter; sprinkle over the top. Sprinkle with almonds. Bake, uncovered, for 10 15 minutes or until heated through and golden.
Nutrition
Serving Size:

1 cup

Calories:

306

Sodium:

405mg

Fat:

9g

Saturated Fat:

3g

Carbohydrates:

31g

Fiber:

2g

Protein:

24g

Cholesterol:

72mg
The image featured at the top of this post is ©Julia Sudnitskaya/Shutterstock.com.