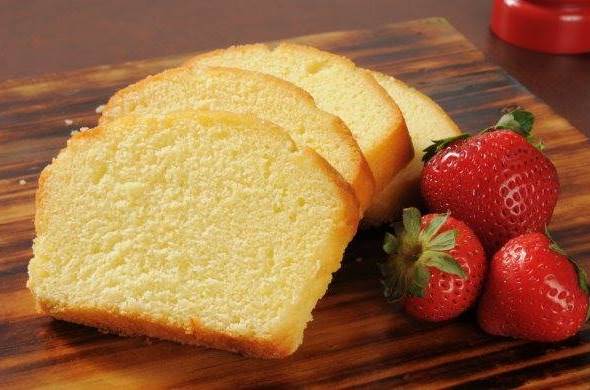 [addtoany]
Many of us know the famous Van Halen song where Sammy Hagar sings, "I just love my baby's pound cake." I'm not sure if he was actually talking about the dessert, but whatever the case may be, we think we are providing a recipe worthy of a song.
Pound cake is so named because it is traditionally made with a pound of each of the following ingredients:
It is then shaped into a loaf or Bundt mold. It can be topped with powdered sugar, lightly glazed or coated with icing.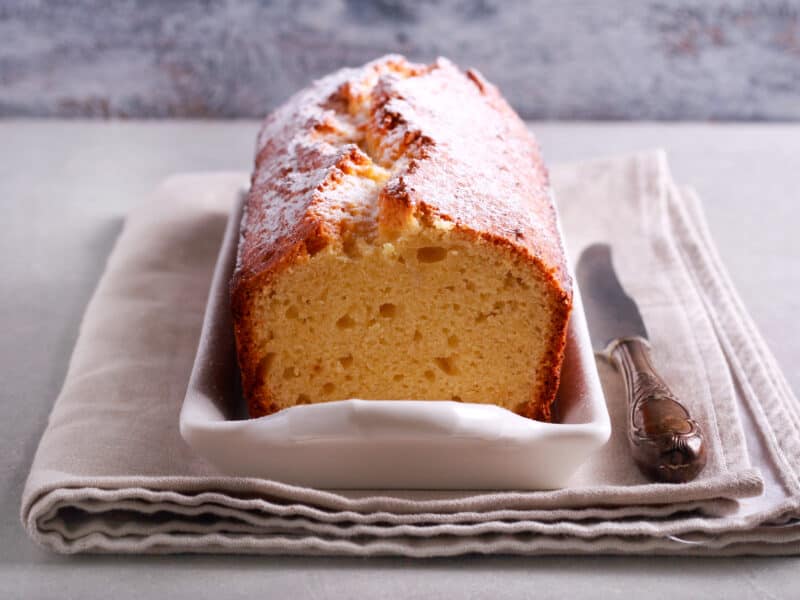 Although the cake is traditionally made with a pound of those four main ingredients, several variations have been made on the recipe. Some add lemon or orange juice. Some have substituted the flour with cornmeal. Some add whipped toppings…. And the list goes on.
The dessert is popular around the world and different cultures use different ingredients that represent their regions. In Mexico, raisins and walnuts are added. In Venezuela, the cake is wine drenched and served with a cream or sugar coating. Other cultures may serve the cake with or without fruit and flavoring agents or alter the basic recipe to change the texture of the cake.
Evaporated Milk Pound Cake
Evaporated milk is a shelf stable canned milk that has about 60% of the water removed as compared to fresh milk. Many confuse it with condensed milk but unlike condensed milk, it does not contain any sugar. It is a great to cook with because it lasts a long time and does not need to be refrigerated. When the right amount of water is added, it can substitute for real milk.
Evaporated milk is used in recipes to add creaminess. It is good for thick sauces, puddings and crockpot recipes. It can also be used as a coating for meats, fish and poultry.
Pound cake does not require milk of any kind. In fact, those that are lactose intolerant will prefer a no milk pound cake, but it can be added to make the cake creamier. It can also be used in glazed toppings on the cake to produce the right amount of thickness.
The pound cake we have here includes evaporated milk in the mix as well as the tell tale ingredients of flour, butter eggs and sugar. It also includes baking powdered which is added to induce leavening making the cake less dense and giving it a lighter, flakier texture. It works well as a base to which toppings and other ingredients can be added.
Old Fashioned Pound Cake
As stated earlier, the first pound cake recipes were so named because they included a pound of the basic ingredients, flour, eggs, butter and sugar. This a British recipe that originated in the 1700's and, as you can imagine, it made a cake that was quite large!
Even though the recipe was created in Britain, it became quite popular in the United States and is a common dessert in Southern dishes. The first American recipe that was published can be found in 'American Cookery'. Published in 1796, this was the first cookbook authored by an American and published in the United States and it contains two pound cake recipes.
Recipes for pound cake can also be found in 'What Ms. Fisher Knows About Old Southern Cooking'. This cookbook was the first cookbook written by an African American. Specifically, it was written by a slave named Abby Fisher. The story goes that Fisher could not read or write but she told her recipes to friends who helped her write and publish the book.
Today, modern recipes preserve the ratio of old fashioned pound cake but make the portions smaller so the cake is a more reasonable size. Baking soda is also often added to make the cake lighter in texture.
Of course, there have been several other variations made since the first pound cake recipes were published. Flavorings and fruits can be added, butter can be substituted with cooking oil or sour cream to make the cake moister. Some even add chocolate or nuts.
The cake we have here features variations on the old fashioned pound cake but we feel the ratio of ingredients provides the perfect taste and texture. Known as the comfort food of desserts, this can be the ideal thing to serve with coffee and tea, for the holidays or at picnics and cookouts. Add the toppings you prefer and watch the faces of your family and guests light up when you bring it out after your next meal.
Print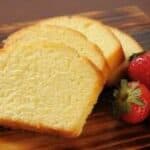 Pound Cake Recipe
---
Author:

Total Time:

95 Minutes
Description
This is a buttery pound cake recipe that we've used for picnics, holidays and as a coffee break treat.
---
3 cups

all-purpose flour

1 teaspoon

baking powder

1/4 teaspoon

salt

2 3/4 cups

sugar

1 1/4 cups

butter, softened

1 teaspoon

vanilla extract

5

eggs

1 cup

evaporated milk
---
Instructions
Heat oven to 350 degrees F. Grease and flour a 12-cup fluted tube cake pan or 10-inch angel food (tube) cake pan.
Mix flour, baking powder and salt; set aside.
Beat sugar, butter, vanilla extract and eggs in large bowl with electric mixer on low speed 30 seconds, scraping bowl constantly.
Beat on high speed 5 minutes, scraping bowl occasionally.
Beat in flour mixture alternately with milk on low speed. Pour into pan.
Bake 1 hour 10 minutes to 1 hour 20 minutes or until toothpick inserted in center comes out clean.
Cool 20 minutes; remove from pan to wire rack. Cool completely, about 40 minutes.
Prep Time:

20 Minutes

Cook Time:

75 Minutes

Category:

Dessert

Method:

Baking

Cuisine:

American
Keywords: evaporated milk pound cake, old fashioned pound cake recipe