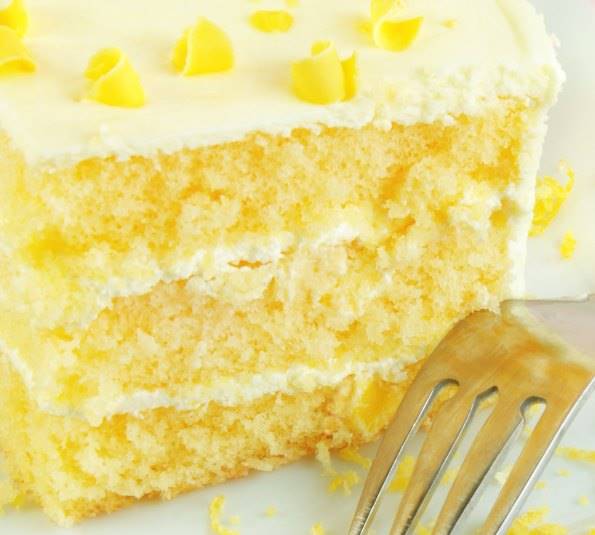 Lemon Cake Recipe
If you like cake with a light, fruity taste, lemon cake is probably one that tops your list. It's dense and full of flavor.
Lemon can be used to flavor cakes, but when we think of lemon cake, we think of a loaf cake with a tighter grain and more elastic crumb as compared to a bundt, angel food or white cake. It is closest to a pound cake in description.
We do not know the exact origin of lemon cake. It was likely a variation on the pound cake which was first baked in England in the early 1700's. Back then, cake was less of a dessert and more of a way of feeding large groups of people, much like bread.
Cake was also heavier at that time, but the Industrial Revolution introduced leavening agents to make cakes, lighter, simpler and less expensive to bake. Because the cost of making the cake decreased, it became a more popular dessert.
Lemon cake is usually topped with a glaze, syrup or light frosting. It can be made with a lemon zest, juice or a combination of the two.
Over the years, several variations of lemon cake have been created by adventurous chefs. Those who prefer a heavier topping can try the cake with lemon Bavarian cream. Lemon Velvet Cake is a take-off on the well known Red Velvet. Or you can add lemon flavor to other cakes to make a Lemon Bundt Cake or a tasty lemon pastry.
Our recipe is a pretty simple version of the cake and includes directions for a buttercream frosting that we think makes the perfect complement to the dense cake. It is a moist and rich lemon cake recipe that combines the tart taste of lemon with the traditionally sweet taste of cake.
Frost with lemon buttercream frosting for a fresh, tangy treat.
Lemon Cake
Ingredients:
1/2 cup butter, softened
1-3/4 cups sugar
6 egg yolks
2-1/2 cups sifted cake flour
2-1/2 teaspoons baking powder
1 cup plus 3 Tablespoons milk
1 Tablespoon grated lemon rind
Directions:
1. Preheat oven to 350 degrees F. Grease and flour two 9-inch cake pans.
2. In a mixer, cream the butter then add the sugar, beating well.
3. Reduce speed to medium and add the egg yolks, one at a time, beating well after each addition.
4. In a separate bowl, combine the flour and baking powder.
5.  Add to the creamed mixture alternately with the milk, beginning and ending with the flour mixture. Stir in the lemon rind.
6. Pour batter into prepared cake pans, and bake for 25 to 30 minutes or until cake tests done with toothpick or cake tester.
7. Cool layers in pans for 10 minutes. Remove from pans, and cool completely before frosting.
Lemon Buttercream Frosting:
Frosting Ingredients:
1/2 cup butter, softened
1 egg yolk
1-pound box (3-3/4 cups) confectioners sugar
1 teaspoon grated lemon rind
5 to 6 Tablespoons fresh lemon juice
Directions:
1. Cream the butter until light and fluffy.
2.  Add the egg yolk, beating well, and gradually beat in the sugar with the lemon juice until desired spreading consistency is reached.
3. Spread frosting between layers and on top and sides of cake layers.