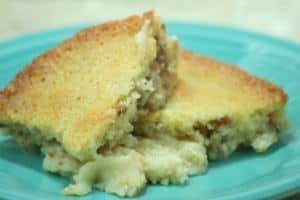 Old Time Creamy Puff Pudding
Let's Get Ready for Baby!
Sign up for our monthly pregnancy email series, and you'll get regular updates on your baby's development, helpful timelines to get ready for their arrival, must-have baby needs and so much more! PLUS, you'll get instant access to the MomsWhoThink "Ultimate Guide to Baby Naming in 2022."
CLICK HERE
to get started!
Ingredients:
¼ cup butter
½ cup sugar
1 teaspoon lemon rind; grated
2 egg yolks
3 Tablespoons lemon juice
2 Tablespoons all-purpose flour
¼ cup Grape Nuts cereal
1 cup milk
2 egg whites
Directions:
1. Thoroughly cream butter with sugar and lemon rind.
2. Add egg yolks; beat until light and fluffy.
3. Blend in lemon juice, flour, cereal and milk. (Mixture will look curdled, but this will not affect finished product.)
4. Fold in beaten egg whites.
5. Pour into greased 1-quart baking dish; place the dish in pan of hot water.
6. Bake at 325 degrees F for 1 hour and 15 minutes or until top springs back when lightly touched. When done, pudding has a cake-like layer on top with creamy custard below.