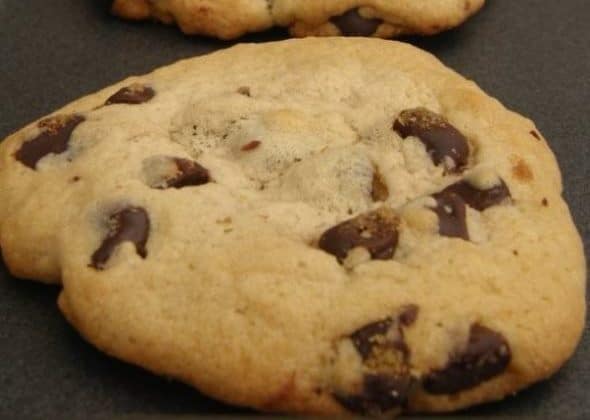 Chocolate Chip Cookie Recipe
For years we searched for a great chocolate chip cookie recipe. After dozens of test recipes, we created the perfect chocolate chip cookie. This is it. Not too chewy, not too crispy, not too cakey…just right.
Chocolate chip cookies like these are addicting, so throw away the scale and make extras for the cookie jar!
Chocolate Chip Cookies
Ingredients:
2 cups + 3 Tablespoons all-purpose flour
3/4 teaspoon baking soda
3/4 teaspoon salt
3/4 cup (1 1/2 sticks) butter, softened to room temperature*
1 Tablespoon milk
1 cup packed light brown sugar
1/2 cup white sugar
1 large egg
1 large egg yolk
2 teaspoons vanilla extract
1 1/2 cups (9 ounces) semisweet chocolate chips**
*melt the butter if you prefer chewier textured cookies
**increase to 2 cups (12 ounces) if you like a lot of chips in each cookie (this will also increase the overall sweetness of the cookies)
Directions:
1. Preheat oven to 375 degrees F. Line two large baking sheets with parchment paper.
2. Sift together the flour, salt, and baking soda, set aside.
3. Using a mixer; cream together the butter, milk, brown sugar, and white sugar until thoroughly blended.
4. Add in the egg, the egg yolk, and vanilla and mix until well blended and smooth (about 1 minute).
5. Slowly blend in the flour mixture and mix until just combined. Do not overbeat.
6. Add the chocolate chips, and mix until they are evenly distributed throughout the batter (about 30 seconds).
7. Drop by rounded 2 Tablespoons (use a cookie scoop or combine 2 Tablespoons of dough into a rounded drop) onto the prepared cookie sheet, about 2 inches apart. Repeat until all dough is used.
8. Bake for 9 to 11 minutes in the preheated oven. The cookies should have golden brown edges and soft centers.
9. Remove from oven, and let cool on baking sheet for 1 minute. Transfer to a wire rack, and let cool completely.