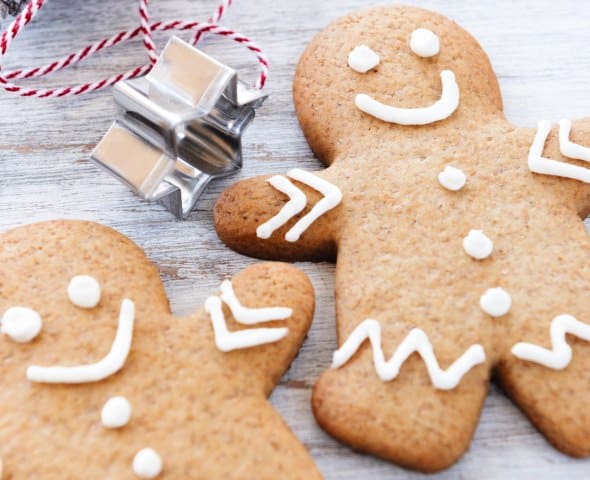 Gingerbread Cookie Recipe
Let's Get Ready for Baby!
Sign up for our monthly pregnancy email series, and you'll get regular updates on your baby's development, helpful timelines to get ready for their arrival, must-have baby needs and so much more! PLUS, you'll get instant access to the MomsWhoThink "Ultimate Guide to Baby Naming in 2022."
CLICK HERE
to get started!
Nothing says home like a good gingerbread cookie recipe filling the air with the wonderful spices that smell like the holidays.
This recipe makes a firm dough for rolling, but don't be afraid to generously flour your rolling surface and rolling pin. Inexpensive pastry cloths and rolling pin covers work fabulously for cut-out cookies.
We've had tremendous success with them even with dough that used to stick to everything in previous attempts. You can buy the cloth and cover at most discount stores or Amazon.com.
Gingerbread Men
Ingredients:
3 cups flour
1 1/2 teaspoons baking powder
3/4 teaspoon baking soda
1/4 teaspoon salt
1 Tablespoon ground ginger
1 3/4 teaspoons ground cinnamon
1/4 teaspoon ground cloves
6 Tablespoons unsalted butter
3/4 cup dark brown sugar
1 large egg
1/2 cup molasses
2 teaspoons vanilla extract
Makes 24 Cookies
Directions:
1. In a small bowl, whisk together flour, baking powder, baking soda, salt, ginger, cinnamon, and cloves until well blended.
2. In a large mixer bowl beat butter, brown sugar, and egg on medium speed until well blended.
3. Add the molasses and vanilla. Continue to mix until well blended.
4. Gradually stir in dry ingredients until dough is smooth.
5. Divide dough in half and wrap each half in plastic. Let stand at room temperature for at least 2 hours.
6. Preheat oven to 375 degrees F. Line cookie sheets with parchment paper.
7. Place 1 half of the divided dough on a floured surface.
8. Roll dough to a little over 1/4″ thickness. Flour your work surface and rolling pin as needed to keep the dough from sticking.
9. Cut out cookies with cookie cutters.
10. Place cookies 1 1/2″ apart on prepared cookie sheet.
11. Bake one sheet of cookies at a time for 7-9 minutes, do not overbake. Cookies firm up after cooling.
12. Remove cookie sheet from oven and allow the cookies to cool until firm enough to move to a wire rack. Decorate your gingerbread men with icing, candies, or colored sugar when fully cooled.