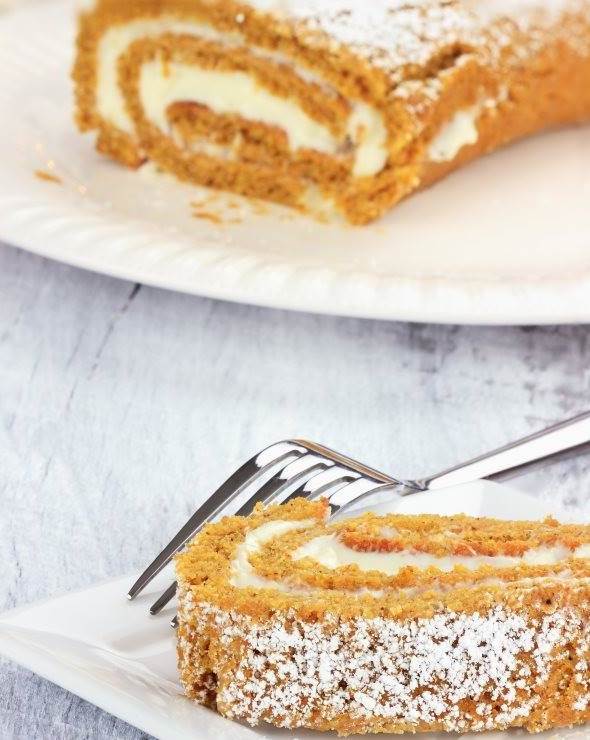 Pumpkin Roll Recipe
Let's Get Ready for Baby!
Sign up for our monthly pregnancy email series, and you'll get regular updates on your baby's development, helpful timelines to get ready for their arrival, must-have baby needs and so much more! PLUS, you'll get instant access to the MomsWhoThink "Ultimate Guide to Baby Naming in 2022."
CLICK HERE
to get started!
This pumpkin roll recipe is the original moist pumpkin cake filled with a creamy, delicious filling and rolled so it looks as good as it tastes. The smell of pumpkin and spices as this bakes is one of those aromas that create memories, a smell that identifies a particular occasion or feeling it produces.
Pumpkin roll is the perfect substitute for pumpkin pie as a dessert and for cake when you want something special. A 1/4 teaspoon of allspice can be added to the pumpkin roll recipe if you prefer more of a spiced flavor, without overwhelming the pumpkin taste. Allow enough time for cooling and refrigeration, the wait is worth it!
Pumpkin Roll
Ingredients:
Cake Ingredients:
3 eggs
1 cup sugar
3/4 cup pumpkin
1 teaspoon lemon juice
3/4 cup all-purpose flour
1 teaspoon baking powder
1/2 teaspoon salt
1/2 teaspoon nutmeg
1 teaspoon ginger
2 teaspoons cinnamon
powdered sugar (needed for a towel, to keep the cake from sticking)
Cream Cheese Filling Ingredients:
1 cup powdered sugar
1 8-ounce package of cream cheese, softened
4 tablespoons butter
1 teaspoon vanilla extract
Powdered sugar for topping
 Directions:
1. Preheat oven to 375 degrees F. In a large bowl, mix together eggs, sugar, pumpkin, and lemon juice.
2. In a separate bowl, mix flour, salt, baking powder, cinnamon, ginger, and nutmeg.
3. Add the egg mixture to the flour mixture and stir until well blended.
4. Spray a 10 1/2″ by 15″ non-stick cookie sheet with cooking spray. Pour the batter onto the cookie sheet, spread evenly.
5. Bake 12-15 minutes or until a toothpick inserted into the center comes out clean.
6. Prepare a clean kitchen towel by sprinkling heavily with powdered sugar.
7. After baking, turn the cookie sheet onto the towel, the cake should slide out onto the towel. Starting at one end, roll up the cake into the towel. Cool 30-40 minutes.
8. For the filling, stir together the cream cheese, powdered sugar, vanilla and butter. Mix well.
9. After the roll has cooled, unroll it and spread the filling evenly. Roll back up without the towel. Wrap in foil or plastic wrap and refrigerate for at least an hour, or until filling is firm.
10. Sprinkle with powdered sugar before serving.