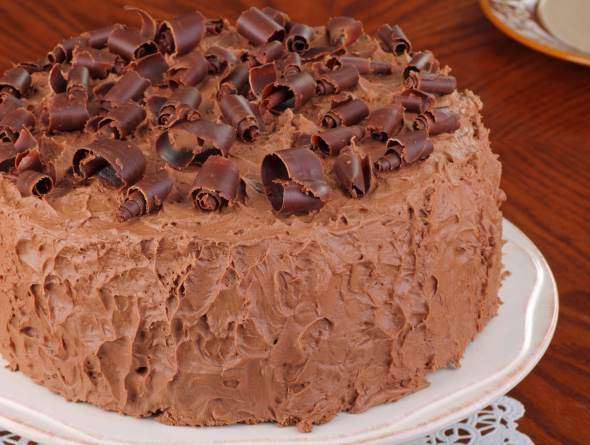 Chocolate Cake Recipe
Let's Get Ready for Baby!
Sign up for our monthly pregnancy email series, and you'll get regular updates on your baby's development, helpful timelines to get ready for their arrival, must-have baby needs and so much more! PLUS, you'll get instant access to the MomsWhoThink "Ultimate Guide to Baby Naming in 2022."
CLICK HERE
to get started!
This is a wonderfully rich chocolate cake recipe that has been passed through generations of family members. It is absolutely luscious, and very easy to make.
Frost with the homemade chocolate frosting recipe for a cake that will become everyone's favorite for any occasion.
Triple Layer Chocolate Cake with Chocolate Frosting
Cake Ingredients:
1 cup cocoa powder
2 cups boiling water
1 cup (2 sticks) butter, softened
2-1/2 cups sugar
4 eggs, at room temperature
2-3/4 cups all-purpose flour
2 teaspoons baking soda
1/2 teaspoon baking powder
1/2 teaspoon salt
1-1/2 teaspoons vanilla extract
Chocolate Cake Directions:
1. Preheat oven to 350 degrees F. Grease and flour three 9-inch cake pans.
2. In a medium bowl, stir the boiling water into the cocoa until smooth, and set aside.
3. In a separate bowl, combine the flour, baking soda, baking powder and salt, and set aside.
4. At medium speed of an electric mixer, cream the butter and sugar  for 4 to 5 minutes.
5. Add the eggs, one at a time, beating well after each addition.
6. Turn mixer down to low speed. Add the flour mixture to the creamed mixture alternately with the cocoa mixture, beginning and ending with the flour mixture.
7. Stir in the vanilla, and do not over-beat.
8. Pour an equal amount of batter into each of the three prepared pans.
9. Bake for 20 to 25 minutes or until a cake tester comes out clean.
10 Cool in pans set on racks for 10 minutes. Invert pans on racks, remove pans, and allow layers to cool completely before frosting.
Chocolate Frosting Ingredients:
1 6-ounce package semi-sweet chocolate chips
1/2 cup half-and-half
3/4 cup butter (1-1/2 sticks)
2-1/2 cups sifted confectioners' sugar
Chocolate Frosting Directions:
1. Combine the chocolate chips, half-and-half and butter in a heavy saucepan.
2. Cook over medium heat, stirring constantly, until chocolate chips melt. Remove from heat.
3. Gradually add the confectioners' sugar, stirring well.
4. Set the saucepan in a large bowl filled with ice, and beat at low speed with an electric mixer until frosting begins to lose its gloss and holds its shape. If necessary, add a half-teaspoon or so of half-and-half to achieve perfect spreading consistency.