[addtoany]

When we think of cake flavors, chocolate and vanilla are the most common. But those of us who like to deviate from the norm may want to experiment a bit. That's where red velvet cake comes in.
Red velvet cake was believed to have originated during Victorian times. During that time, cakes were often referred to as 'velvet' to let people know they had a smooth, velvety texture. Read on to find out more about how the cake evolved over time.
Is Red Velvet Cake Chocolate?
Yes.
Red velvet cake can be described as a cherry-flavored, crimson or scarlet chocolate cake. Often, red dye or beetroot is added to give it its color but the red color was originally due to the use of non-Dutched, anthocyanin chocolate.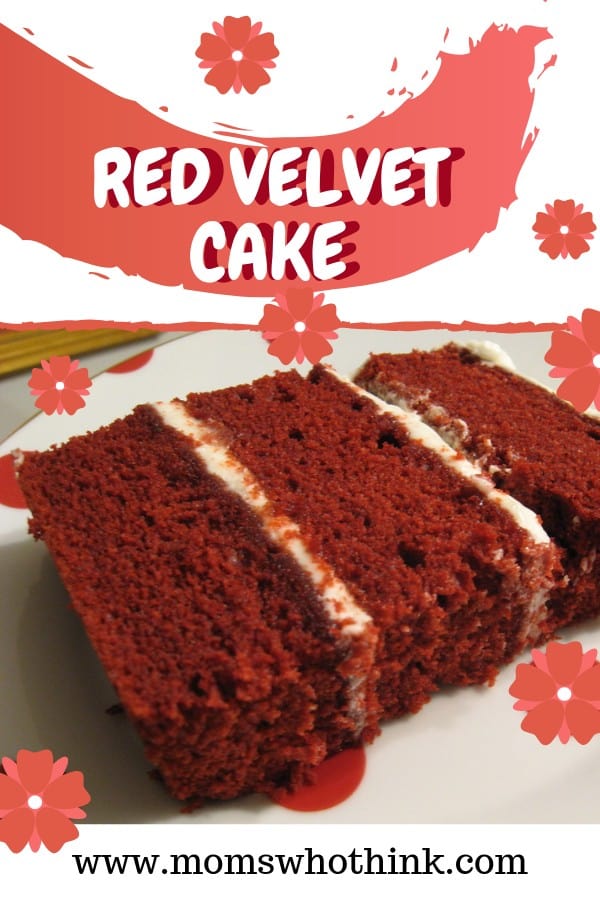 Today, common ingredients for the cake include flour, buttermilk, butter, cocoa, and vinegar.
The cake first came about around the same time the devil's food cake was introduced. The main differences between the two include the color and flavor and the fact that the devil's food cake used chocolate whereas red velvet cake used cocoa. The cocoa serves to soften the flour in the cake to give it a smoother texture.
Although the red velvet cake was reported to originate in the 1800's it became more popular when recipes for the dessert started appearing in cookbooks in the 1900s.
Its popularity continued to grow during WW II when butter and sugar were rationed and beets were often added to cakes to give them a moister texture. The coloring is provided also gave the cakes a more appealing appearance.
Today, beets are not necessarily used in all red velvet cakes, but some recipes do call for them. However, in modern times, most recipes use food coloring instead.
Despite early versions of the red velvet cake, the Adams Extract company credits itself as being the first to introduce the 'original' red velvet cake. The unveiling was said to have taken place in the 1920s at the Waldorf Astoria hotel in New York. From there, it went on to become a popular menu item.
Others claim that the cake started in the South and grew in popularity over time.
Although red velvet cake has long been well-known and well-loved, there has been a resurgence in recent times. This can largely be credited to the fact that it appeared in the movie Steel Magnolia's which came out in 1989 where it was featured as an armadillo shaped groom's cake. Since then, it has been a popular item in many bakeries.
Because red velvet is such a popular cake flavor, it has been used to make a variety of items including cake pops, waffles, Pop-tarts, alcoholic beverages, teas, lattes, and protein powders. The scent has also been used in candles and air fresheners. Due to dietary restrictions, it can also be found in vegan, gluten-free and dairy-free variations.
Best Red Velvet Cake
The recipe for red velvet cake can vary, usually based upon the amount of shortening, butter and vegetable oil that is used. This can make for cakes that can be moist and fluffy or a bit denser. While we can't say which one you will prefer, we think the recipe we have here offers the perfect balance of all ingredients involved.
We have also included a recipe for the icing. Traditionally the cake is topped with a French-style butter roux icing which is also called ermine icing. This icing is very light and fluffy but it can also be time-consuming to prepare. This may be part of the reason why cream cheese and buttercream icings have become more popular choices over time. Chocolate frosting is another common option.
The icing we provide the recipe for is a great buttercream that we think makes the perfect topping for our cake. Cooks also have the option to add pecans to the top of the cake.
Here are some other tips to ensure your cake is a success:
Start with all ingredients at room temperature. This will make for a cake that is thoroughly cooked through.
Once you have whisked ingredients together, remove any lumps of cocoa powder to keep the cake light.
When mixing the butter and sugar, try creaming the two together for about 4 or 5 minutes. This will bring more air into the mixture making the cake lighter and fluffier overall.
Red velvet cake is the perfect cake to serve at special occasions. Its bright festive color provides just the right amount of cheer and its light fluffy taste is perfect for pleasing vanilla and chocolate lovers alike.
But, of course, any occasion can be the perfect occasion for serving red velvet cake, so why not whip one up for your family tonight?
If you enjoyed this recipe, make sure to check out our Chocolate Chip Cake Recipe and our Chocolate Angel Food Cake Recipe.
Print
Red Velvet Cake
---
Author:

Total Time:

55 minutes
Description
Red velvet cake can be described as a cherry flavored, crimson or scarlet chocolate cake.
---
For Cake:
2 cups

cake flour

½ teaspoon

salt

1 Tablespoon

cocoa

1 cup

solid vegetable shortening

1 ½ cups

sugar

2

large eggs

1

(1oz) bottle red food coloring

1 teaspoon

vanilla

1 cup

buttermilk

1 teaspoon

baking soda

1 Tablespoon

vinegar
For Icing:
1 cup

milk

¼ cup

cake flour

¼ teaspoon

salt

1 cup

butter, softened to room temperature

1 cup

sugar

1 teaspoon

vanilla

1 ½ cups

toasted pecans, coarsely chopped (optional)
---
Instructions
Set the oven rack to the middle position. Preheat the oven to 350 degrees F. Line the bottom of three 7 inch cake pans or two 9 inch cake pans with parchment paper and coat with vegetable spray. Dust with flour and tap out the excess.

To make the cake: sift together the flour, salt, and cocoa and set aside.

Cream shortening and sugar in the bowl of a standing mixer fitted with the paddle attachment until soft and fluffy. Add eggs one at a time. Add red food coloring.

Add vanilla to buttermilk. Add sifted dry ingredients to batter alternately with buttermilk, beating after each addition. Add baking soda to vinegar and fold into batter.

Place batter in prepared pans and bake for 30 to 35 minutes, or until a tester inserted into middle comes out clean. Place on a rack and all to cool 20 minutes. Run a butter knife gently around edges and invert cakes onto a second rack. Let cool completely.

To make the icing: whisk milk, flour, and salt in a heavy bottomed saucepan until combined. Stir constantly with a wooden spoon over medium heat until thickened, about 2 minutes. Transfer to a bowl and allow to cool.

Cream butter and sugar in the bowl of a standing mixer fitted with the paddle attachment until fluffy. Add vanilla. Add cooled milk and flour mixture and beat on highest speed for 5 minutes until thick and creamy.

Place bottom layer of cake on a cake round, lined with four small pieces of wax paper, and spread frosting over top of this cake layer with offset spatula. Set top cake layer in position and frost the top and side. (if using three 7 inch layers, ice top of bottom and middle layer only, add third layer, and frost top and sides.) Immediately cover sides of cake with pecans, if using. Store under cake dome or loosely wrapped in wax paper at room temperature.
Prep Time:

20 Minutes

Cook Time:

35 Minutes

Category:

Dessert

Method:

Baking

Cuisine:

American
Keywords: is red velvet cake chocolate, best red velvet cake