Have you ever wondered about the difference between muffins vs. cupcakes? Both baked goods come in a handy waxed cup and can be filled with goodies like chocolate and berries. However, there are a few major differences that really set the two apart. These differences come down to the decoration, the ingredients for the batter, the resulting taste, and the overall texture. Cupcakes are like mini cakes, made with a uniform batter that results in light, and fluffy mini-cakes. These cupcakes can be decorated with all kinds of frosting and sugary additions. Muffins are generally thought of as healthier. They're made with a thicker batter, usually with some kind of fruit, nut, or grain. If cupcakes are mini cakes, muffins can be compared to bread.
In this post, we'll take a look at the history of these baked goods. You'll get some recipe ideas for future muffin vs. cupcake creations, and learn exactly what ingredients you need. We'll compare their nutritional differences, process differences, and flavor differences. By the end of this, you'll never again question which baked good you're craving – it'll be clear if you're more of a cupcake person, or if you prefer its healthier cousin, the muffin. Let's get into the recipes!
Muffins vs. Cupcakes: What Are The Differences?
A good way to think of it is that cupcakes are mini-cakes, while muffins are more similar to breads. Think banana bread, or zucchini bread, not sourdough. Muffins are often made with more ingredient additions. Think blueberry muffins, banana-nut muffins, etc. Cupcakes generally use more sugar, more decorations like frosting or sprinkles, and overall have a very different texture. They are typically light and airy, due to the batter being more smoothly mixed than most muffin recipes call for. Though they have similar appearances, when comparing muffins vs. cupcakes, they are actually quite different overall. 
What Are Muffins?
Muffins are a baked good that is produced quite like bread. It uses a leavening agent like baking powder to get the dough to rise. They are made in lots of ways. You can add fruit, nuts, seeds, and grains. Savory muffins can have meat! You can use all kinds of flour to add fiber and protein to your muffins. Almond flour or buckwheat is quite common in certain muffin recipes.
History And Origin Of Muffins
Muffins have been made for many years. Have you heard the classic "do you know the muffin man," song? It refers to the street vendors of 19th century London when the working class would buy hand pies and muffins from stalls once they finished their 12-hour factory shifts. Chefs in private kitchens would prepare muffins and biscuits for morning meals, and muffins can be traced stateside with the opening of immigrant bakeries around areas like New York City. Replacing yeast with baking powder became a staple of bread-baking, and as early as 1839, a Kentucky cookbook mentions a recipe for muffins (via The Daily Meal).
How Muffins Are Made
According to Allrecipes, a classic muffin requires the following. You'll need all-purpose flour,, baking powder, sugar, salt, eggs, milk, and oil. Most of these ingredients can be changed out to fit your preference for sugar content, gluten sensitivity, veganism, or dairy alternatives. If you're adding in flavor embellishments, consider blueberries, raisins, cheese, bacon, or nuts. These can be chopped up, or added to the raw batter before the muffins go into the oven. 
As for the process, you'll want to combine your dry ingredients and mix them well before forming an indentation in the center. In a separate bowl, beat your egg until the yolk and the whites are properly combined. Whisk in the milk, and the oil, until it's all well combined. Now you can add your wet mixture to the center of your dry mixture. How combined you want them to be is up to you. Some people prefer thicker muffin batter which results in denser muffins. If you really beat the dry and wet ingredients together, you'll get finer muffins that may be fluffier overall.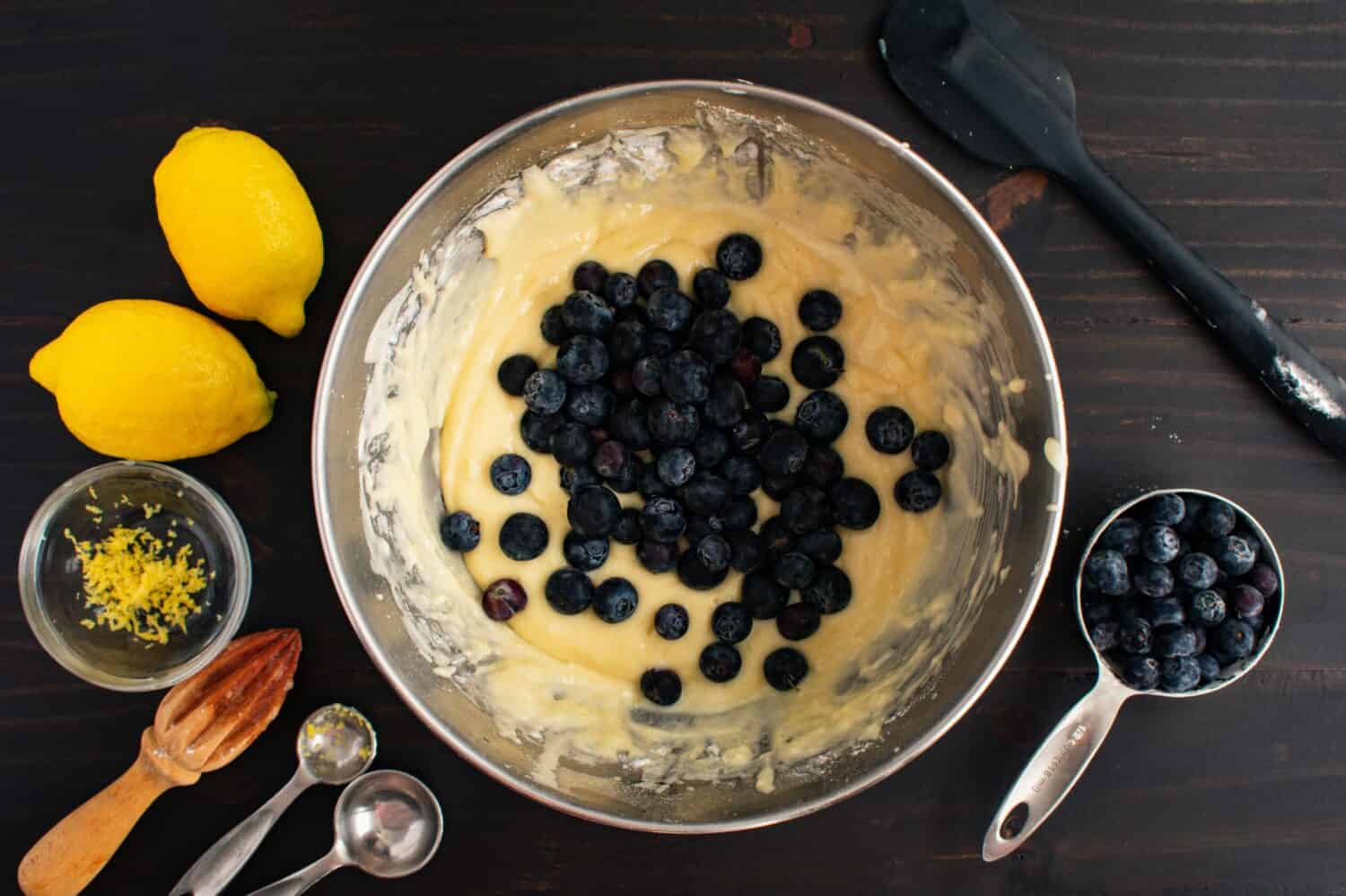 Preheat your oven and get out your baking pan. One with wells is best for muffin formation. Once you're happy with your batter consistency, use a baking pan with muffin cups, or you can grease the pan and pour the batter in directly. Cook until the muffins are golden brown, and either spring back when lightly touched, or when a knife comes out clean from the center of the muffin.
Popular Recipes
The classic muffin recipes are blueberry, pumpkin, whole grain, and other fruit variations. Check out some of these great muffin recipes from our website:
Pumpkin Chocolate Chip Muffins
What Are Cupcakes?
Cupcakes, are light, mini cakes that can be decorated with frosting and made in many flavors. The process of making cupcakes involves ensuring the batter is as smooth as possible. This is what results in the airy, fluffy mini-cakes that have such a different texture than muffins. While cupcakes will use fruit and other sweet ingredients, it's not as common to include nuts, or savory things in the batter of the cupcake. Those decorations are added once the cupcake has already been baked. Typically, they are included on top of the frosting instead of in the cake.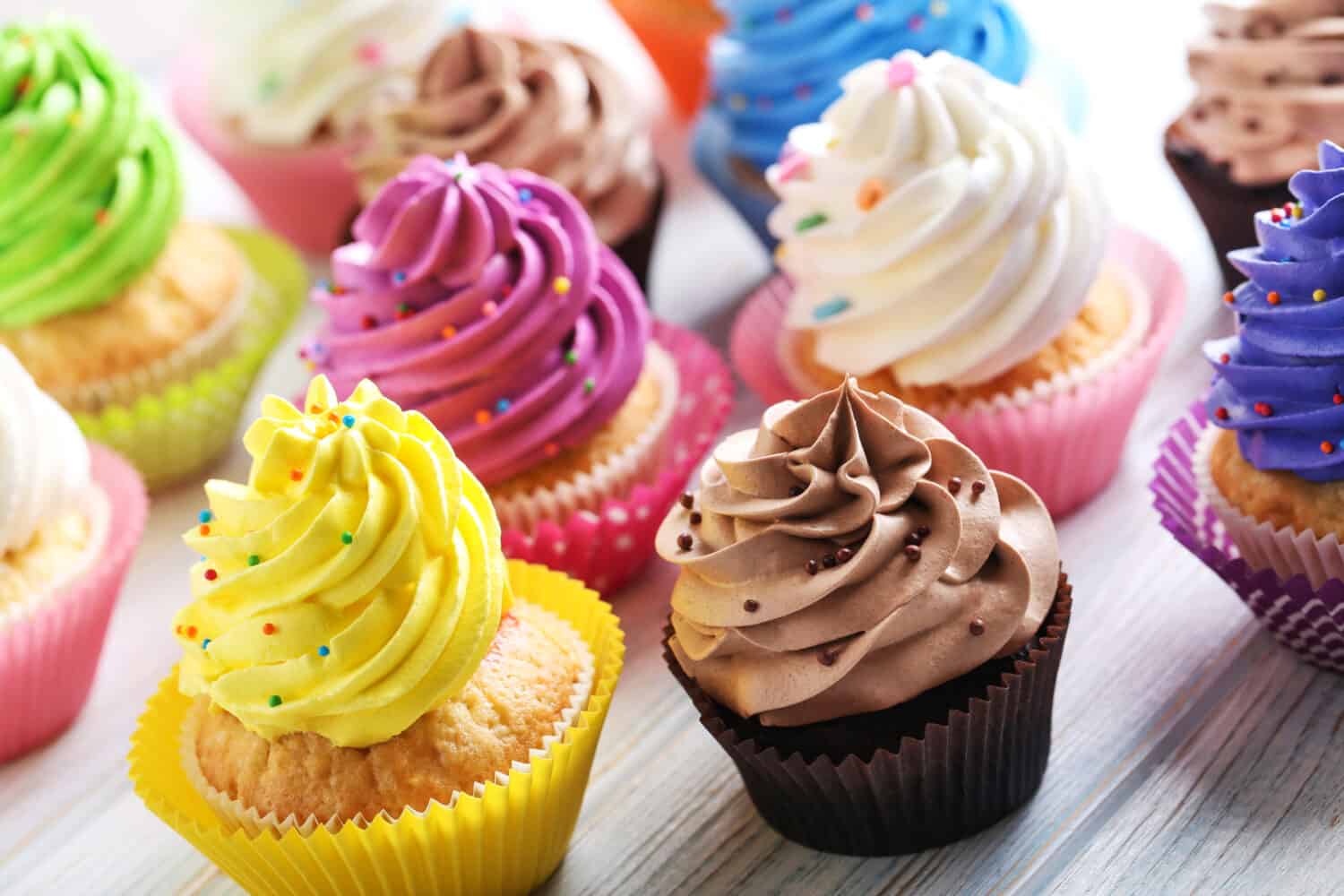 History and Origin Of Cupcakes
According to Food52, the creator of the cupcake is Amelia Simmons, a cook, and author in her own right. She published one of the very first American cookbooks in 1796, called American Cookery. Of the 119 recipes, one of them was " a light cake" that is baked in small cups. It included ½ pound of sugar, ½ pound of butter, and 2 pounds of flour, as well as wine, rose water, all kinds of spices, and hops from beer to provide the yeast for leavening. There were no measurements, and it sounds like it made a lot of mini-cakes!
In 1828, Eliza Leslie, another female cookbook author, used the term "cupcake" to describe a recipe with eggs, molasses, brown sugar, milk, flour, butter, and spices. Over the years, the recipe would evolve into something more similar to our modern definition of the cupcake. In 1919, Hostess started to sell commercially baked cupcakes, alongside box mix. Thus, the cupcake continued its reign in the baking world. Overall, cupcakes are easier to make, require less decorating, and deliver the same joy as eating a regular slice of cake.
How Cupcakes Are Made
As we mentioned before, cupcakes have a different ingredient combination process that results in a smoother batter. This is essential for its fluffy texture alongside creamy frosting and decor. We'll go for an Allrecipes classic chocolate cupcake recipe. For this, you'll need cocoa powder, flour, sugar, butter, eggs, vanilla extra, milk, baking soda/powder, and salt. Many of these ingredients can be swapped out for dietary preferences, and oil can be added to ensure further moisture while baking. 
Cupcake Baking Process
The first step in cupcake batter creation is to cream together the butter and the sugar. Since butter is one of the primary solids in this recipe, it's essential to get it as creamy as possible before combining it with the other ingredients. You'll want to sift your remaining dry ingredients together (salt, cocoa powder, flour, etc.) Next, to your butter, you'll add in the eggs and the vanilla extract. Then, slowly, alternate between adding in the sifted dry ingredients with the milk. Be sure the whole mixture is well combined before you prepare your cupcake pan.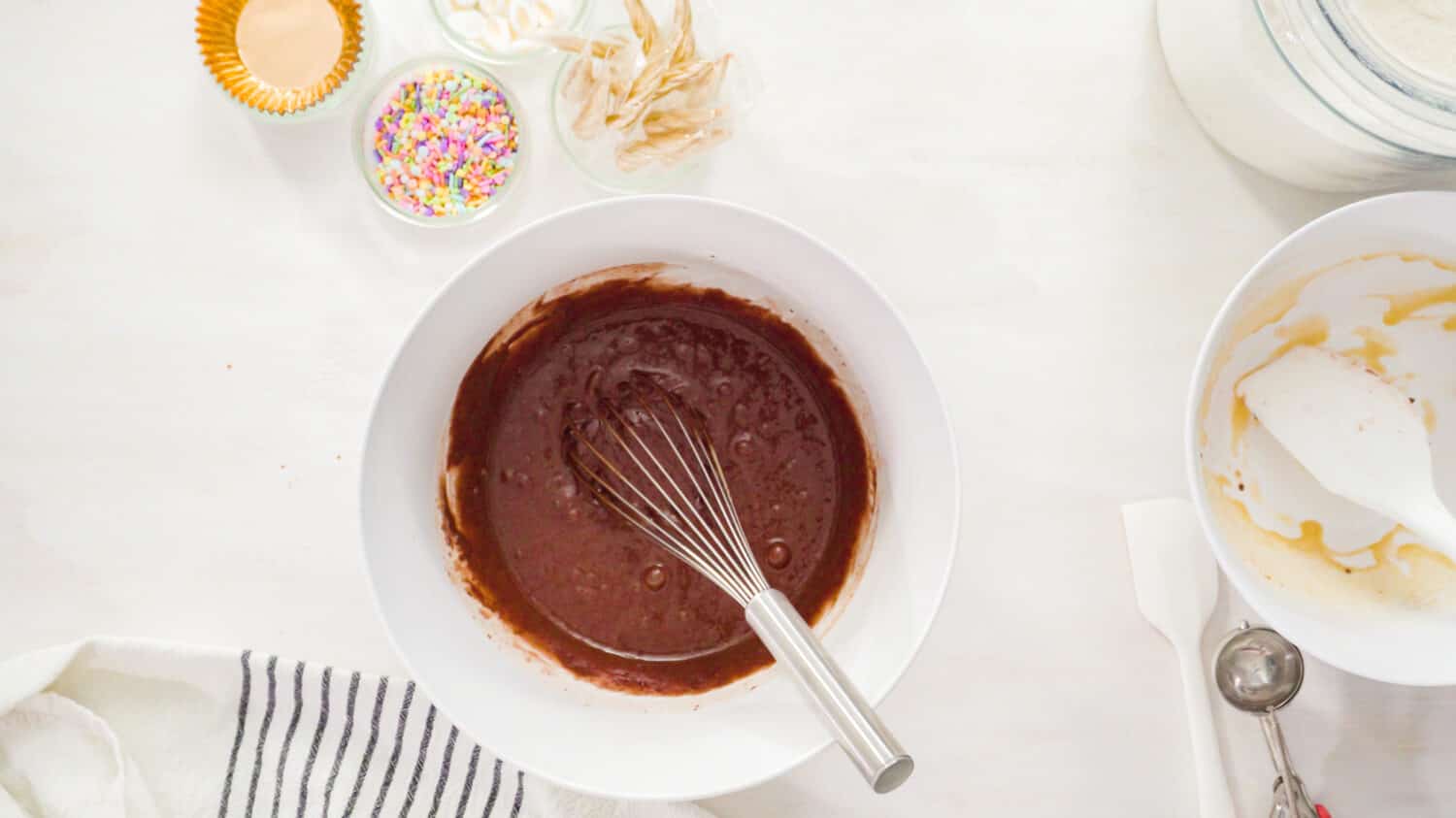 Same as with the muffins you can either use the cupcake cups or grease the wells of the pan and pour the batter in directly. Since this recipe uses two leavening agents, be sure not to fill your cups too high. The batter could rise over the edges more than you want and make a mess. 
Bake until a toothpick or knife comes out of the center clean, and then you can decorate your cupcake however you like. You can make your buttercream, or cream cheese frosting from scratch, or get a jar at the store. Use a knife, spatula, or piping bag to frost the top of your cooled cupcakes, and add sprinkles, fruit, or other candies once the frosting has set. Enjoy!
Popular Recipes
Cupcakes are popular in flavors like vanilla, chocolate, red velvet, confetti, and fruit variations. Check out these great cupcake recipes from our website:
Patriotic Chocolate Cupcakes Recipe
Nutritional Value Comparison
Muffins actually have more calories overall than cupcakes. This is because they often have more ingredients that contribute to their overall calorie count. Cupcakes will often have a higher fat content and sugar content. While muffins and cupcakes can both be unhealthy in their own right, the best way to enjoy nutritious muffins and nutritious cupcakes is to make them at home. In your own kitchen, you can measure how much sugar and fat you use in the recipe, and plan to use quality ingredients overall.
Possible Ingredient Alternatives In Muffins And/Or Cupcakes
There are healthy swaps you can make in both muffin and cupcake recipes. Try swapping out eggs or oil for apple sauce, or mashed banana. You can also use whole wheat flour, oat flour, or nut-based flour instead of all-purpose white flour. Luckily, both muffins and cupcakes are easy enough to make, and they're also easy to personalize to your dietary needs and nutrition goals. Happy baking!
The image featured at the top of this post is ©Impact Photography/Shutterstock.com.