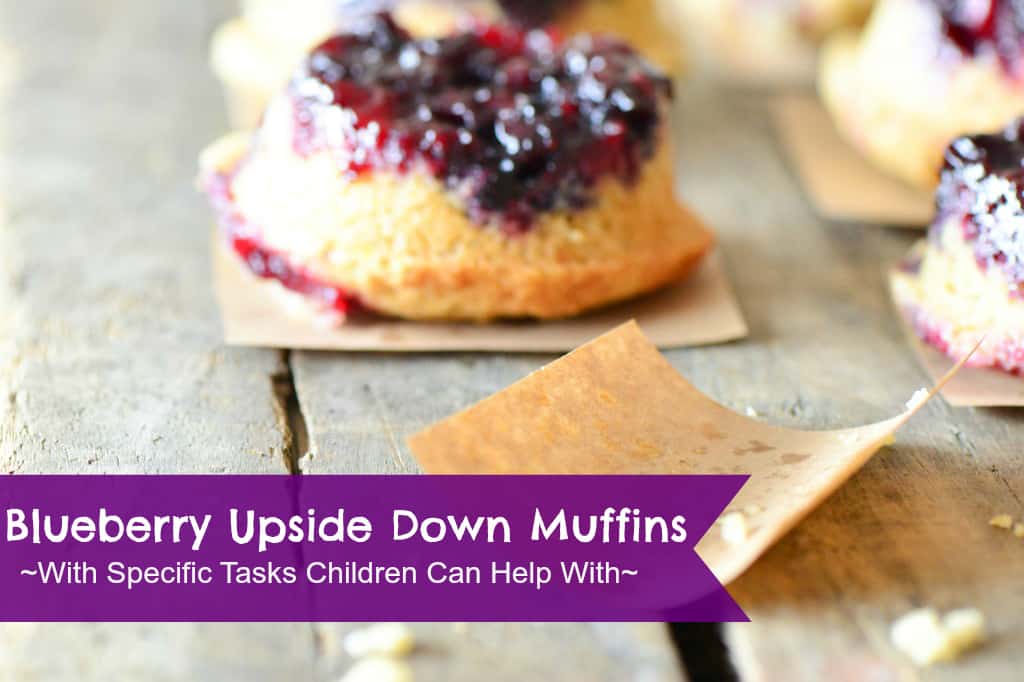 Let's Get Ready for Baby!
Sign up for our monthly pregnancy email series, and you'll get regular updates on your baby's development, helpful timelines to get ready for their arrival, must-have baby needs and so much more! PLUS, you'll get instant access to the MomsWhoThink "Ultimate Guide to Baby Naming in 2022."
CLICK HERE
to get started!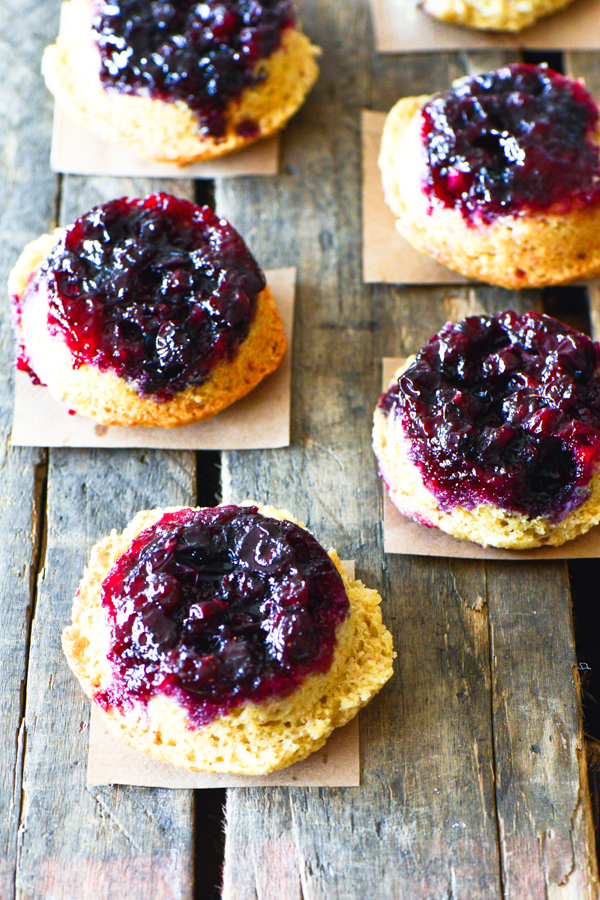 Thanks to Kristina for letting me guest post today. My name is Kristen and my childhood friend, Camille, and I cook up wholesome family dinners and plenty of treats over at Culinary Mamas. Today I am excited to share a recipe with you that your kids can help you make. Notice I said, "help you" not "get in your way and drive you crazy." Cooking with kids is one of those things that sounds really wonderful in theory but is hard to have the patience in practice. But for this recipe, your kids are going to actually make the process easier for you, or at least not harder, as you make these delicious blueberry upside down muffins.

I made these muffins a few weeks ago and then have repeated the recipe since because I actually had fun cooking them with my kids. It wasn't stressful, but enjoyable because there are enough jobs in this recipe to keep even a toddler busy. I believe that good little cooks make good little eaters. It's important to me to get my kids cooking so they will grow up enjoying healthy food and be adventurous eaters.
Now, before I start cooking with my kids, my mindset has to change. If I start my cooking experience thinking "I am doing this for the reward of having a good eater one day," I will not get as stressed as if I am thinking, "I need to make these muffins perfect in 30 minutes to deliver to a friend." I made these with my older kids, seven, ten and eleven and then again with just my two and a half year old. The older kids did actually help and sped up the process. The toddler wasn't quite as useful, but his help did outweigh his hindrance. This recipe is adapted from The Art & Soul of Baking
by Cindy Mushet, a must have for serious bakers.
Blueberry Upside Down Muffins
Here are the ingredients you are going to need:
2 cups all-purpose flour
2/3 cup sugar
2 teaspoons baking powder
1/2 teaspoon baking soda
pinch of salt
3/4 stick butter
2/3 cup buttermilk
zest and juice of one lemon
2 large eggs, at room temperature
1/2 pint blueberries, about one cup
1 1/2 teaspoons vanilla extract
1/4 teaspoon cinnamon
1/2 teaspoon nutmeg
6 tablespoons brown sugar
First you need to zest and juice your lemon. I own a toddler-safe juicer, so I had my toddler juice the lemons for me. If you don't own a juicer, an older child might be more helpful here.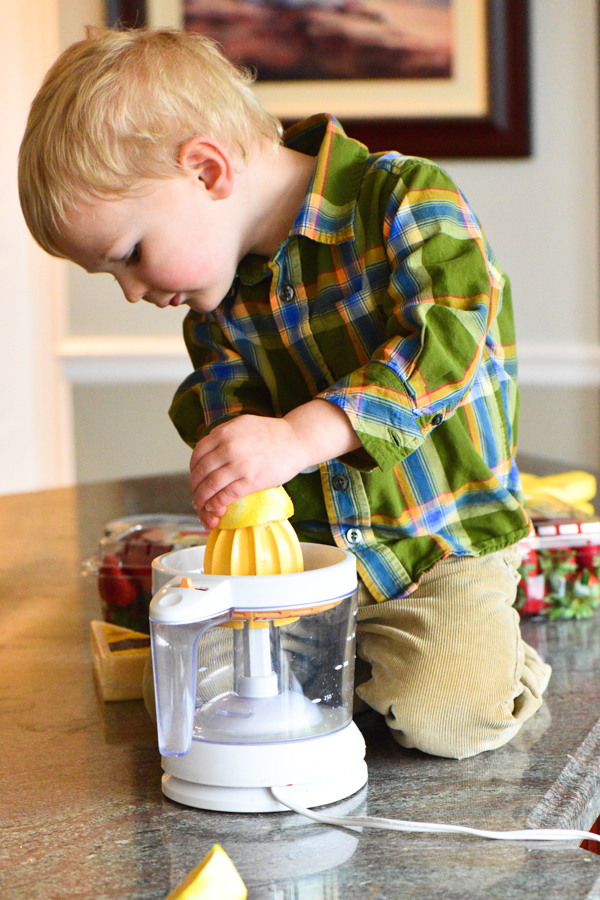 Next, butter your muffin tin. Make sure to get the butter evenly spread around the tin, inside the individual muffin cups and on the top of the tin or these muffins will stick.
Now the fun part: creating the "upside down" part of this glorified breakfast food. Put 1 1/2 teaspoons of brown sugar into each muffin cup and pat the brown sugar into it. My ten year old was able to measure out the brown sugar and dump into each muffin cup. My two year old was able to pat down the brown sugar.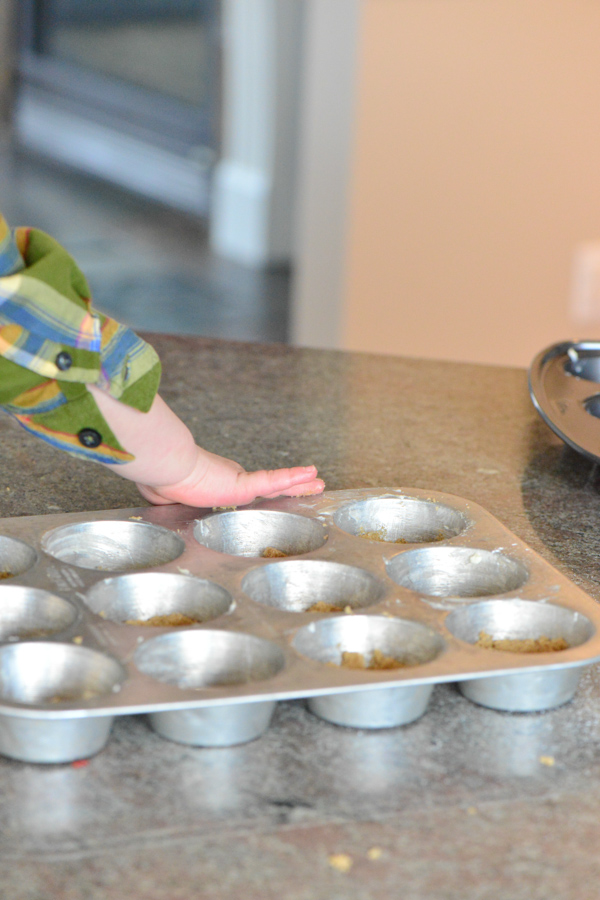 Take 1/2 teaspoon of lemon juice and pour it over the brown sugar. My seven year old did this all by herself.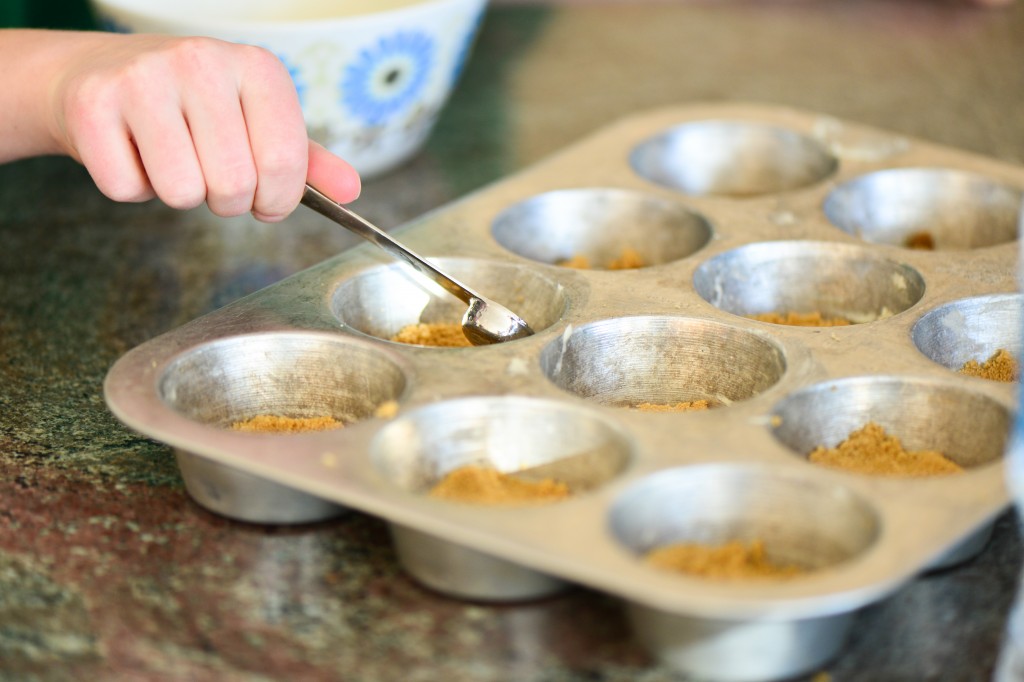 Add one layer of blueberries to the bottom of each muffin cup. My older kids did this by themselves, but when I made the muffins again with the toddler, we dumped the berries in together and practiced counting. (And yes, he found his sister's nail polish and I painted one of his fingernails. But doesn't it match the berries?!)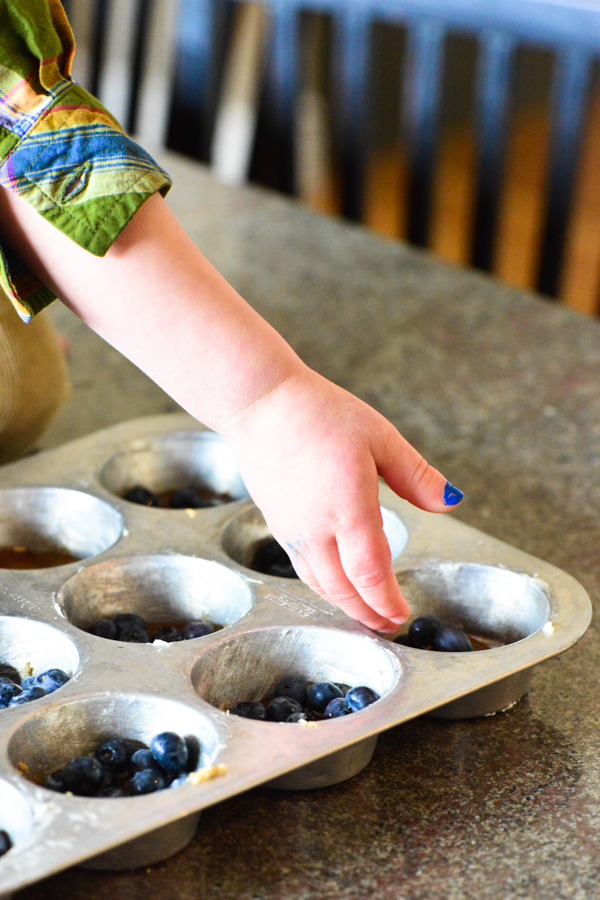 Now it's time to make the batter. In a small saucepan over medium-low heat melt the butter with the lemon zest. When the butter has melted, remove from heat and stir in the buttermilk. When the mixture has cooled to room temperature stir in both eggs and the vanilla.
While you are waiting for the butter mixture to cool, mix the flour, baking powder, baking soda, salt, cinnamon, nutmeg and sugar in a medium sized mixing bowl. (My kids like dumping, and stirring. I try to be nice when a few tablespoons of flour jumps out of the bowl and onto the counter.)
Make a well inside the dry mixture and pour in the butter/egg/buttermilk mixture. Stir until there are no flour streaks but a few lumps is fine. Don't over mix the muffins.
Divide the batter evenly among the 12 muffin cups. Bake at 375 degrees for 15 -18 minutes. The muffins are done when a toothpick inserted in the middle of the muffin comes out clean. If you are using a dark tin, these will cook faster. Check after 12 minutes.
When the muffins have cooled for a minute it's time to get them out of the muffin tin. First loosen the edge of the muffin with a butter knife. Next, place a large baking sheet over the top of the muffin tin, grab the tin and the baking sheet and turn the muffin tin upside down onto the baking sheet. Say a little prayer, and gently hit the back of the muffin tin with the back of a butter knife to pop out the muffins. The muffins should pop out upside down onto the baking sheet.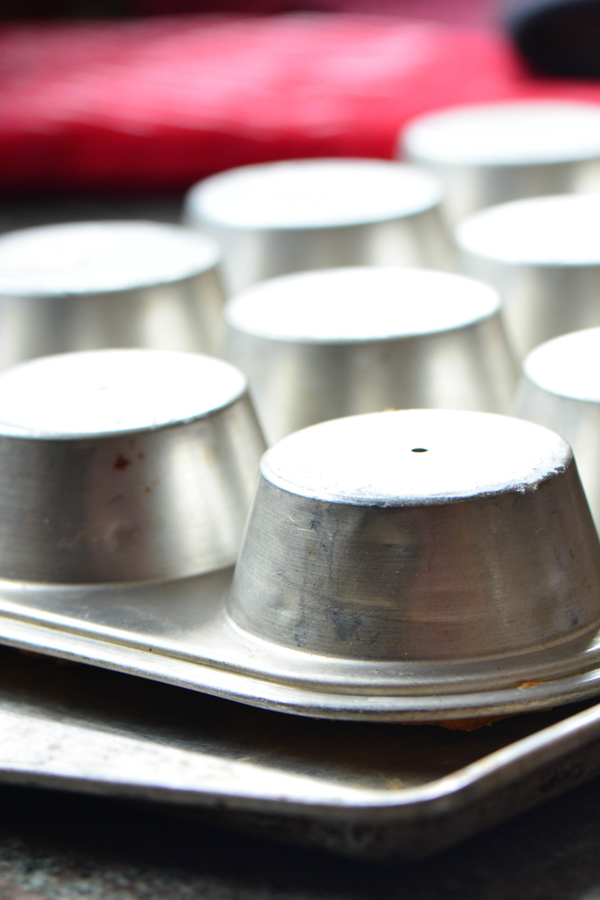 Even though these don't look like your typical blueberry muffins, my toddler eats it right up because he helped make it. I hope that cooking experiences like this will help him be more confident as he explores new tastes.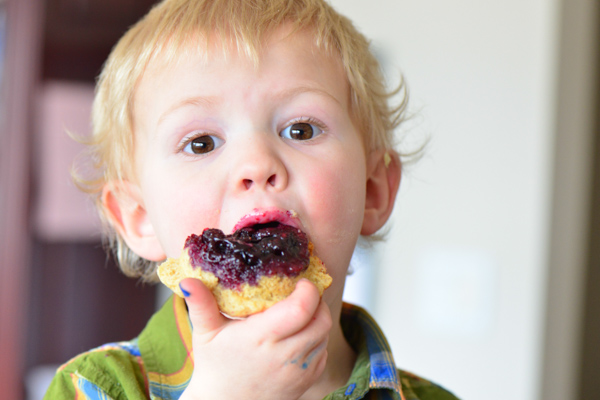 If you are looking for some quick weeknight family dinner ideas, check out some of our posts here:
This Chicken Pesto Quinoa recipe is a healthy and delicious way to get some fiber and lots of veggies into your kids. I've been surprised with how readily kids eat quinoa. If you think quinoa is scary, check out Camille's tips on how to wash it.
Shrimp Tacos with Cilantro Lime Sauce are an easy, delicious, under 30 minute dinner idea that is a little more dressed up than chicken breast for dinner, again…
If you are a breakfast-for-dinner kind of person and want something a little different, try this breakfast strata.