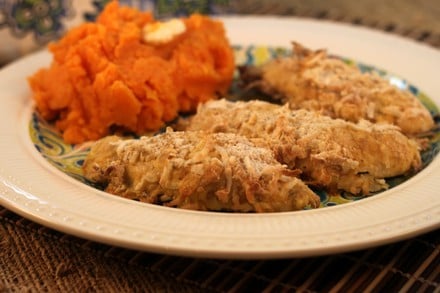 Coconut-Crusted Chicken Strips
Mashed Sweet Potatoes
Let's Get Ready for Baby!
Sign up for our monthly pregnancy email series, and you'll get regular updates on your baby's development, helpful timelines to get ready for their arrival, must-have baby needs and so much more! PLUS, you'll get instant access to the MomsWhoThink "Ultimate Guide to Baby Naming in 2022."
CLICK HERE
to get started!
Coconut-Crusted Chicken Strips Ingredients:
Olive oil cooking spray
2 pounds boneless, skinless chicken breasts
2 cups wheat flour
1 ½ cups shredded coconut
1 teaspoon salt
Pepper, to taste
¼ teaspoon cayenne
1 teaspoon dried oregano
3 eggs
Supplies needed:
1 gallon freezer bag, labeled
Directions:
1. Preheat oven to 350°F and spray 2 rimmed baking sheets with olive oil cooking spray.
2. With the smooth side of a mallet, lightly pound chicken breasts to an even ½ inch thickness. Cut them into 1 inch wide strips. Set aside.
3. In a wide shall dish, whisk together flour, coconut, salt, pepper, cayenne, and oregano. In a second shallow dish, beat eggs.
4. Dip chicken strips in egg mixture, allowing excess to drip off, and then coat on all sides in coconut mixture. Set on baking sheet.
5. Spray chicken strips with olive oil cooking spray. Bake for 25 minutes, rotating pans half way through, or until coating is toasted and chicken is cooked through.
6. To serve now, serve half of chicken strips immediately.
Makes 2 entrees, each entree serves 4
To freeze:
Let one pan of chicken strips cool completely. Leave chicken strips on baking sheet and freeze until solid. Transfer chicken strips to labeled gallon freezer bag, removing as much air as possible before sealing.
Label:
Remove from freezer to defrost overnight in refrigerator. Preheat oven to 350°F. Place chicken on a baking sheet and bake for 10 to 15 minutes or until heated through.
Nutritional facts:
Calories 283
Fat 13g
Cholesterol 95mg
Sodium 417mg
Carbohydrate 11g
Fiber 3g
Protein 32g
Mashed Sweet Potatoes Ingredients:
2 large sweet potatoes (about 1 ½ pounds), peeled and cut into 1-inch pieces
¼ cup low-fat buttermilk
2 tablespoons fresh orange juice
1 teaspoon finely grated orange zest
Pinch of ground nutmeg
1 teaspoon light brown sugar (optional)
Salt to taste
2 teaspoons unsalted butter (optional), cut into 4 pieces
Directions:
1. Place the sweet potatoes in a steamer basket fitted over a large pot of boiling water. Cover and steam until the potatoes are knife tender, 12-15 minutes.
2. While potatoes are cooking, place the buttermilk into a small saucepan and cook over the lowest possible heat until just warm. Be careful not to let it boil or it will curdle.
3. Drain the potatoes and return them to their pot. Add the warm buttermilk and orange juice and mash until smooth. Stir in the orange zest, nutmeg, and brown sugar. Season with salt. Serve the potatoes topped with the butter, if desired.
Serves 4
Nutritional facts:
Calories 157
Fat 0g
Cholesterol 0.5mg
Sodium 110mg
Carbohydrate 36g
Fiber 5g
Protein 3g