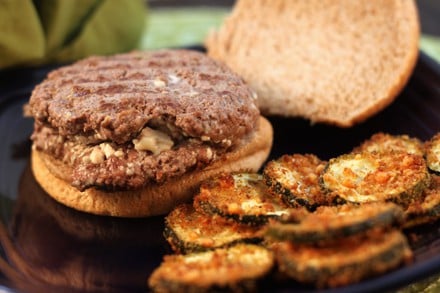 Gorgonzola Burgers
Whole-Grain Bun
Zucchini Chips
Let's Get Ready for Baby!
Sign up for our monthly pregnancy email series, and you'll get regular updates on your baby's development, helpful timelines to get ready for their arrival, must-have baby needs and so much more! PLUS, you'll get instant access to the MomsWhoThink "Ultimate Guide to Baby Naming in 2022."
CLICK HERE
to get started!
These delicious grilled gorgonzola burgers are a fantastic dinner choice on busy nights. When you have extra time, serve them topped with caramelized onions.
Gorgonzola Burgers Ingredients:
2 pounds extra-lean ground beef
½ teaspoon salt
Black pepper, to taste
2 teaspoons Italian seasoning
8 ounces gorgonzola cheese
Supplies needed:
Plastic wrap
1 gallon freezer bag, labeled
Directions:
1. Preheat grill to medium-high heat.
2. In a large bowl, mix together beef, salt, pepper, and Italian seasoning. Shape into 16 same-size thin patties. Note: Make as thin as possible.
3. Place 1 ounce crumbled gorgonzola on 8 of the patties, spreading it out almost to the edges. Place remaining patties on top, pressing down and sealing edges.
4. Oil the grate and grill burgers for 4 to 5 minutes per side or until desired doneness. Serve 4 immediately. Transfer remaining 4 to a wire rack and allow to cool completely.
Makes 2 entrees, each entree serves 4
To freeze:
Place burgers on a baking sheet and freeze until firm. Wrap each burger in plastic wrap and place in freezer bag. Freeze up to 3 months. Note: You may also freeze 4 whole-grain buns in a gallon freezer bag to be used later.
Label:
Let burgers thaw in refrigerator overnight. Preheat oven to 375°F. Place burgers on a baking sheet and cook for 10 minutes or until heated through.
Nutritional facts:
Calories 258
Fat 15g
Cholesterol 96mg
Sodium 616mg
Carbohydrate 1g
Fiber 0g
Protein 31g
Zucchini Chips Ingredients:
Cooking spray
1 pound zucchini (about 2 medium)
1 tablespoon olive oil
¼ cup grated Parmesan cheese
¼ cup plain dry breadcrumbs
⅛ teaspoon salt
Black pepper, to taste
Directions:
1. Preheat oven to 450°F. Coat a baking dish with cooking spray.
2. Slice the zucchini into ¼ inch thick rounds.
3. In a medium bowl, toss the zucchini with the oil.
4. In a small bowl, combine the Parmesan, breadcrumbs, salt, and pepper. Dip each round into the Parmesan mixture, coating it evenly on both sides, and place in a single layer on the prepared baking sheet.
5. Bake the zucchini rounds until browned and crisp, 25 to 30 minutes. Serve immediately.
Serves 4
Nutritional facts:
Calories 105
Fat 6g
Cholesterol 1mg
Sodium 222mg
Carbohydrate 9g
Fiber 2g
Protein 5g