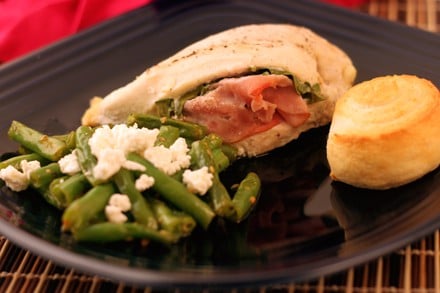 Chicken Stuffed with Feta, Spinach, & Ham
Sautéed Green Beans with Feta and Oregano
Dinner Rolls (100 calories each)
Let's Get Ready for Baby!
Sign up for our monthly pregnancy email series, and you'll get regular updates on your baby's development, helpful timelines to get ready for their arrival, must-have baby needs and so much more! PLUS, you'll get instant access to the MomsWhoThink "Ultimate Guide to Baby Naming in 2022."
CLICK HERE
to get started!
Stuffed Chicken Breasts with Feta, Spinach, and Ham Ingredients:
8 skinless, boneless chicken breasts
Salt and pepper to taste
3 ounces reduced-fat cream cheese
½ cup reduced-fat feta cheese
½ cup baby spinach leaves
8 thin slices ham
Supplies needed:
1 gallon freezer bag, labeled
Directions:
1. With a knife, make a split along one side of the chicken breast to form a pocket; repeat with each breast. Season breasts with salt and pepper.
2. In a small bowl, mix together the cream cheese and feta with a fork. Stuff each chicken breast with the cheese mixture, spinach, and ham.
3. Preheat the oven to 350°F. Place 4 of the chicken breasts on a baking dish coated with non-stick cooking spray, cover with foil, and bake for 40 to 45 minutes until done.
Makes 2 entrees, each entree serves 4
To freeze extra breasts:
Do not bake before freezing. After chicken breasts are filled, wrap individually, label, and freeze for up to 4 to 6 months.
Label:
Preheat the oven to 350°F. Place frozen chicken breasts in a baking dish coated with non-stick cooking spray, and bake, covered with foil, for one hour or until tender. You can also defrost the chicken breasts and bake them, covered for 45 to 50 minutes or until tender.
Nutritional facts:
Calories 197
Fat 5g
Cholesterol 90mg
Sodium 463mg
Carbohydrate 1g
Fiber 0g
Protein 34g
Diabetic Exchange: 4.5 lean meat
Sautéed Green Beans with Feta and Oregano Ingredients:
1 tablespoon olive oil
1 pound green beans, trimmed and cut on the bias into 2-inch lengths
Salt and pepper
3 garlic cloves, minced
¼ cup water
1 teaspoon fresh lemon juice
2 teaspoons fresh oregano, minced
¼ cup crumbled feta cheese
Directions:
1. Heat 2 teaspoons oil in a 12-inch non-stick skillet over medium heat until just smoking. Add the beans and ¼ teaspoon salt and cook until spotty brown, 4 to 6 minutes.
2. Clear the center of the skillet and add the remaining teaspoon oil and garlic.  Cook, mashing the mixture into the pan, until fragrant, about 30 seconds. Stir it into the beans.
3. Add the water, cover, and cook until the beans are bright green and still crisp, about 2 minutes. Uncover, increase the heat to high, and cook until the water evaporates and the beans are crisp-tender and lightly browned, 3 to 5 minutes.  Off the heat, stir in the lemon juice and oregano, season with salt and pepper to taste, sprinkle with feta, and serve. Serving size: ¾ cup, serves 4
Nutritional facts:
Calories 90
Fat 5g
Cholesterol 5mg
Sodium 230mg
Carbohydrate 9g
Fiber 4g
Protein 3g