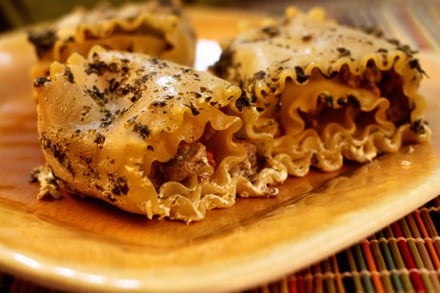 Lasagna Roll Ups with Pesto Cream Sauce
Cherry Tomato and Greens Salad
Lasagna Roll Ups with Pesto Cream Sauce Ingredients:
1 onion, chopped
1 teaspoon minced garlic
½ pound sliced mushrooms
½ cup finely chopped carrots
1 pound ground sirloin
1 cup reduced-fat ricotta cheese
1 (16 ounce) can diced tomatoes, drained
1 egg white
1 teaspoon dried basil
1 teaspoon dried oregano
Salt and pepper, to taste
1 pound lasagna noodles
½ cup prepared pesto
1½ cups fat-free half and half
Grated Parmesan cheese, optional
Supplies needed:
Two 8×8 foil pans
Directions:
1. In a large nonstick skillet coated with nonstick cooking spray, sauté the onion, garlic, mushrooms, and carrots for 5 minutes over medium heat, until almost tender.
2. Add the sirloin and cook until beef is done. Remove from heat and drain any excess fat.
3. Off the heat, add the ricotta, tomatoes, egg white, basil, oregano, and salt and pepper. Set aside.
4. In a small bowl mix pesto and half and half. Set aside.
5. Meanwhile, prepare pasta according to directions on the package; drain.
6. Spread each lasagna noodle with about 2 tablespoons ground meat mixture. Roll up lengthwise and set in 8×8 foil pans coated with nonstick cooking spray. Pour pesto cream sauce over lasagna.
7. To serve now, preheat the oven to 350°F. Bake, covered with foil, for 30 to 40 minutes. Uncover, sprinkle with Parmesan cheese, and continue baking for 5 minutes.
Makes 2 entrees, each entrée serves 4
To freeze:
Do not bake before freezing. Cool to room temperature, wrap, label, and freeze up to 3 months.
Label:
Remove from freezer to defrost. Bake at 350°F for 30 to 40 minutes. Sprinkle with Parmesan cheese, uncover, and continue baking for 5 minutes.
Nutritional facts:
Calories 418
Fat 11g
Cholesterol 40mg
Sodium 233mg
Carbohydrate 56g
Fiber 4g
Protein 28g
Diabetic Exchanges: 2½ lean meat, 3 starch, 2 vegetable
Cherry Tomato and Greens Salad Ingredients:
1 tablespoon red wine vinegar
1 tablespoon tomato juice
2 teaspoons olive oil
¼ teaspoon salt
⅛ teaspoon black pepper
1 small garlic clove, pressed
1 (5 ounce) package gourmet salad greens (about 6 cups)
1 cup halved cherry tomatoes
2 tablespoons (½ ounce) shredded Asiago or fresh Parmesan cheese
Directions:
1. Combine first 6 ingredients in small bowl, stirring with a whisk.
2. Combine greens and tomatoes in a large bowl; add dressing and toss well. Sprinkle with cheese.
Serves 4, 1½ cup serving
Nutritional facts:
Calories 50
Fat 4g
Cholesterol 3mg
Sodium 233mg
Carbohydrate 4g
Fiber 1g
Protein 2g