In the third week of healthy dinner recipes we include meals that will take you on a trip around the world, from curried noodles to beefy enchiladas. It's a nice vacation for your taste buds without leaving your home.
Make sure you look through all of these recipes carefully before committing to all of them for the week. We've all been there- we plan a recipe out, only to realize day-of that we don't have the right cooking equipment or the right ingredients. By planning ahead and planning carefully, you can avoid these problems.
Feel free to make these recipes individually, too. They don't have to be made as part of a larger, week-long meal plan. This meal plan series is designed to help parents who are struggling to plan dinner for the week, but that doesn't mean others can't find it useful!
If you've been enjoying this series so far, make sure to tell your friends and family about it! We've got many more weeks of dinner plans after this article, so make sure you proceed to week four and go from there. Happy cooking!
Healthy Dinner Recipes Week Three
Day One Healthy Dinner Recipe
HAM AND CHEDDAR PASTA CASSEROLE

Ham and Cheddar Casserole:
Makes 8 servings
Each serving contains:
Calories 290
Fat 23 grams
Carbohydrate 29 grams
Protein 19 grams
Ingredients:
8 ounces uncooked whole wheat linguine, broken in half
2 cups cubed, cooked lean ham
1 3/4 cups (7 ounces) shredded cheddar cheese, divided
1 can (10-3/4 ounces) reduced-fat condensed cream of mushroom soup
1 cup (8 ounces) reduced-fat sour cream
1 medium onion, chopped
1 small green pepper, finely chopped
Directions:
1. Cook linguine according to package directions.
2. Meanwhile, in a large bowl, combine the ham, 1-1/2 cups cheese, mushroom soup, sour cream, onion and green pepper.
3. Drain pasta; add to ham mixture and stir to coat evenly.
4. Transfer mixture to a 13×9 inch baking dish coated with cooking spray.
5. Cover and bake at 350°F for 35 minutes.
6. Uncover; sprinkle with remaining cheese. Bake 10-15 minutes longer or until cheese is melted.
Day Two Healthy Dinner Recipe
BEEFY ENCHILADAS
SPANISH RICE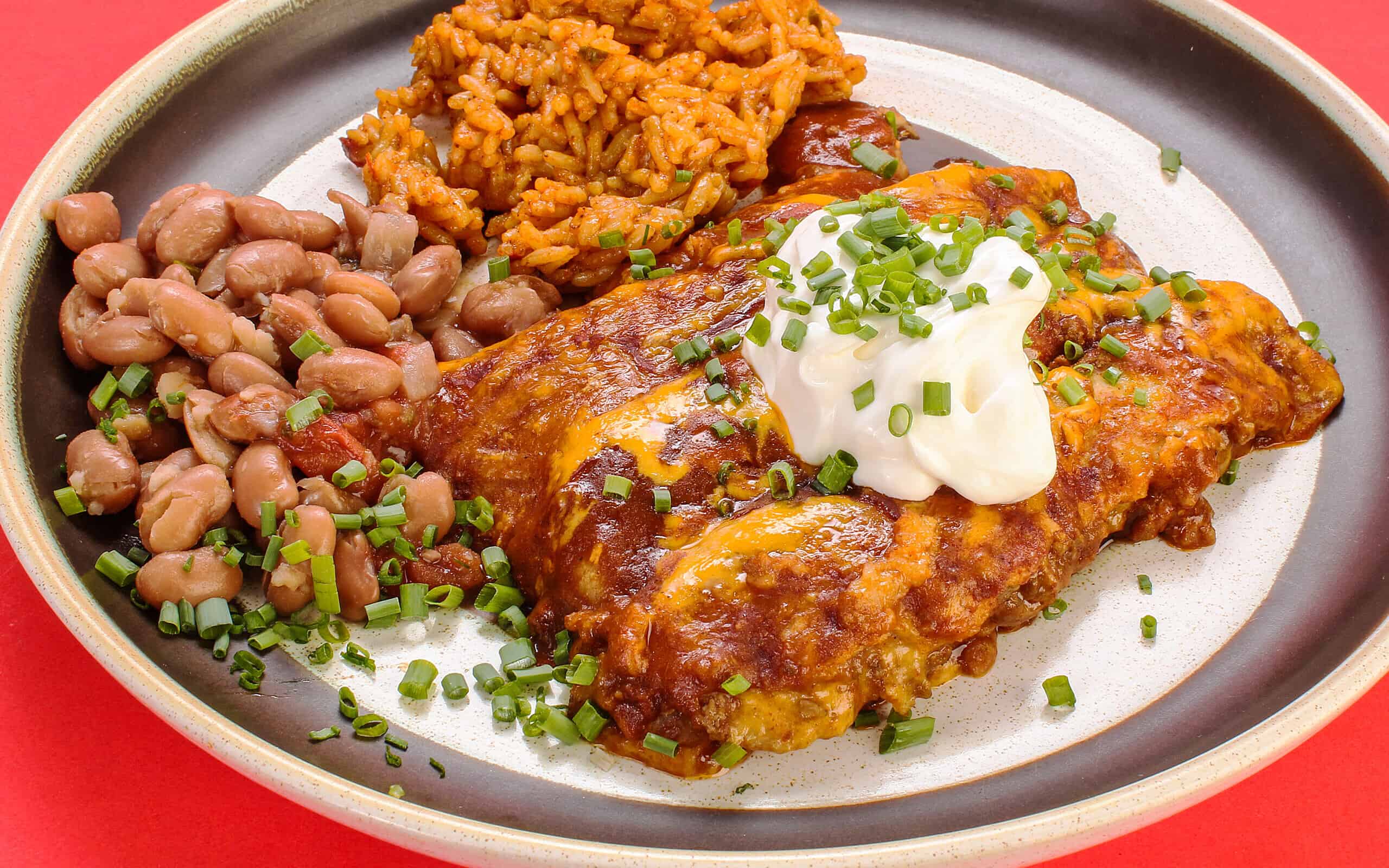 Beefy Enchiladas Recipe:
Makes 4 servings
Each serving of beefy enchiladas contains:
305 calories
18g protein
28g carbohydrate
14g total fat
Ingredients:
½ cup no salt added tomato sauce
½ cup salsa
8 (6 inch) corn tortillas
8 ounces lean ground beef
1 cup canned fat free refried beans
1 teaspoon chili powder
1 teaspoon ground cumin
1/8 teaspoon freshly ground black pepper
½ cup shredded low fat cheddar cheese
Directions:
1.Combine the tomato sauce and salsa in a small bowl, mix well, and brush on both sides of the tortilla, using about half the mixture. Stack the tortillas on a plate and set aside to soften, about 10 minutes.
2. Cook the beef in a large nonstick skillet over medium-high heat until browned, about 5 minutes, stirring occasionally. Pour the meat into a colander set over a bowl, drain, and rinse under hot water. Drain well.
3. Wipe the skillet with a paper towel and return the beef to the pan. Stir in the refried beans, chili powder, cumin, and pepper. Cook and stir until heated through, about 2 minutes.
4. Preheat the broiler, Spoon about ¼ cup of the mixture down the center of the each tortilla. Roll up the tortillas and place, seam down, in a 9 inch square cake pan (2 inches deep) or a 10x6x2 inch baking pan or tempered glass baking dish.
5. Top with the remaining tomato sauce mixture. Broil 4 inches from the heat for 5 minutes, or until browned. Sprinkle with the cheese.
6. Let stand for 5 minutes before serving with a side of Spanish rice.
Day Three Healthy Dinner Recipe
CHEESE STUFFED ITALIAN CHICKEN
TOSSED SALAD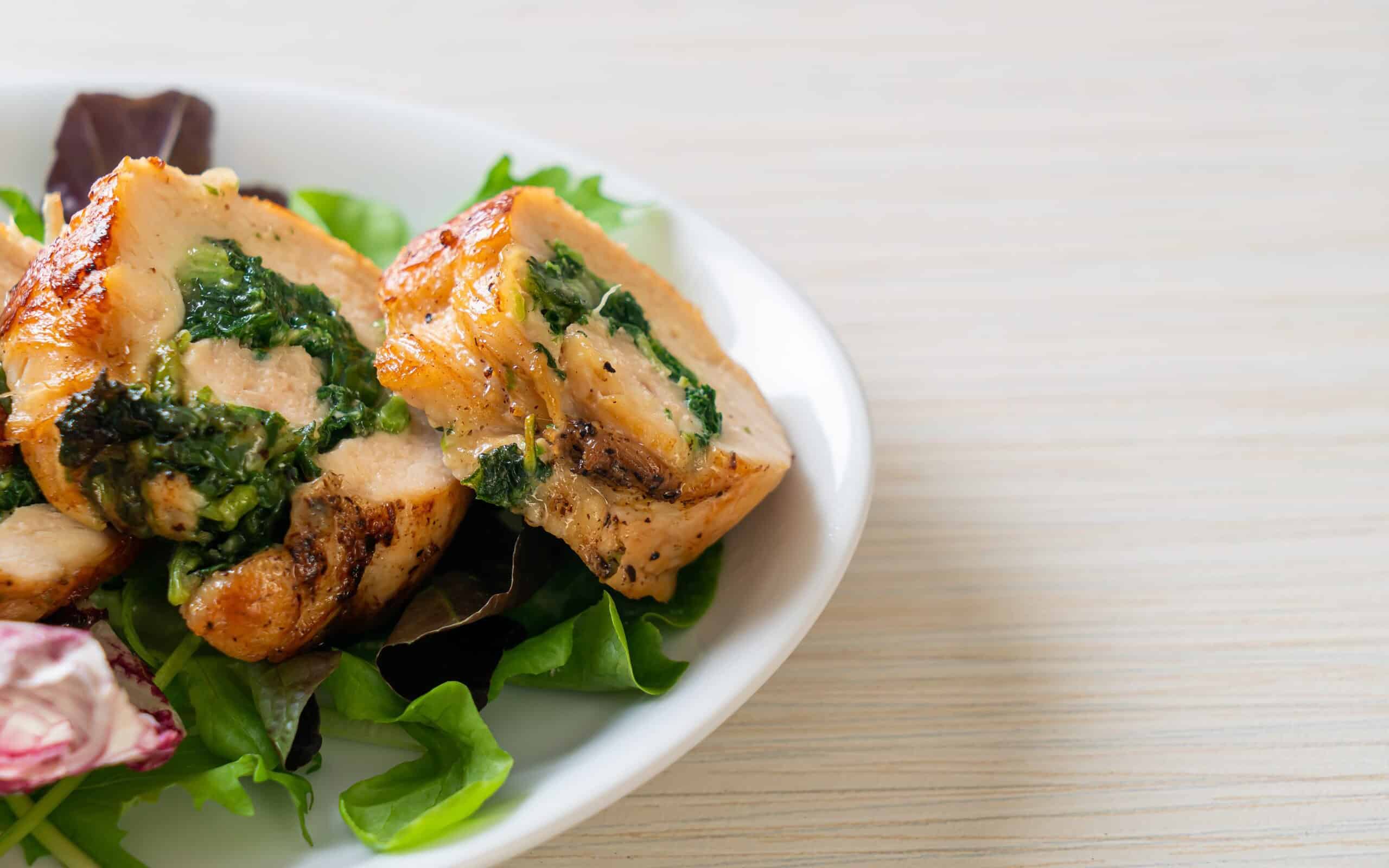 Cheese Stuffed Italian Chicken:
Makes 4 servings
Each serving of chicken contains:
133 calories
15g protein
10g carbohydrate
4g total fat
Ingredients:
1 (6 ounce) can no salt added tomato paste
1 cup water
1 garlic clove, crushed through a press
1 ¾ teaspoons dried Italian herb seasoning mix, crushed
¼ teaspoon freshly ground black pepper
4 (4 ounce) chicken breasts cutlets, rinsed and patted dry
1 cup (4 ounces) low-fat cottage cheese, drained
½ cup (2 ounces) grated part skim mozzarella cheese
Directions:
1. Preheat the oven to 350 degrees F. Combine the tomato paste, water, garlic, 1 teaspoon seasoning mix, and the pepper in a small saucepan and whisk to blend. Heat to boiling over medium heat and simmer over medium-low heat, stirring occasionally, until thickened, about 10 minutes.
2. Place the chicken cutlets in a zip-top plastic bag and pound to ¼ inch thickness using a rolling pin or meat mallet. Lay out flat on a cutting board.
3. Spoon half of the tomato sauce into a 10×6 inch baking dish to coat the bottom of the dish.
4. Combine the cottage cheese and remaining ¾ teaspoon seasoning mix in a bowl and spoon the mixture onto the centers of the chicken breasts, leaving a ½ inch edge all around.
5. Roll up each breast jelly-roll fashion, from a narrow end, and arrange the chicken rolls, seam-side down, on top of the sauce in the baking dish.
6. Spoon the remaining tomato sauce over the chicken rolls, sprinkle with mozzarella, and bake until hot and bubbling, about 45 minutes.
7. Let cool and serve with a tossed salad.
Day Four Healthy Dinner Recipe
EGGPLANT PARMESAN
LETTUCE AND TOMATO SALAD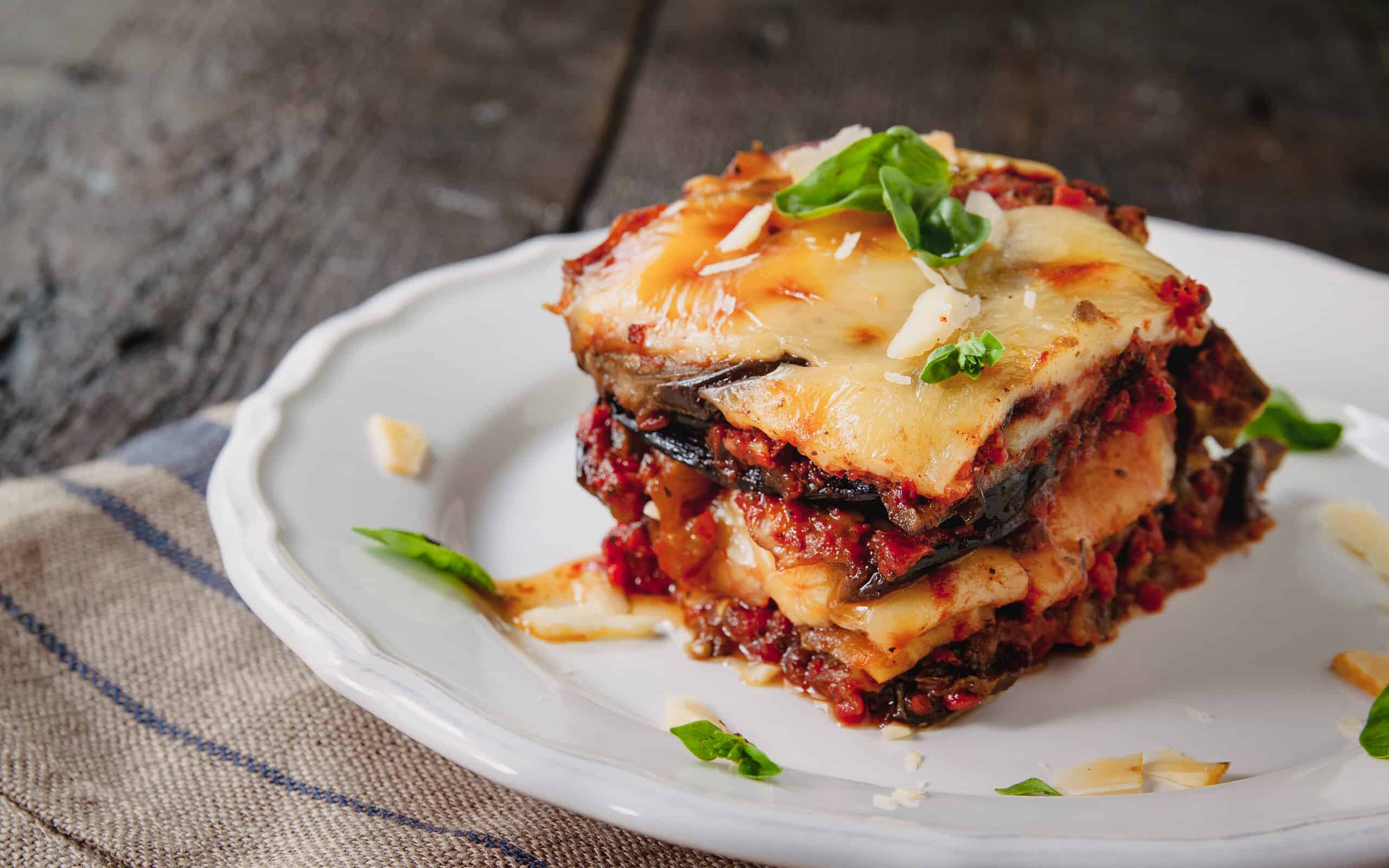 Eggplant Parmesan:
Makes 4 servings
Each serving contains:
Calories 225
Fat 9 grams
Carbohydrate 23 grams
Protein 14 grams
Ingredients:
1 medium eggplant (about 1 pound)
1 teaspoon salt
1/3 cup flour
1 large egg
1/2 cup Italian style breadcrumbs
1/2 cup panko breadcrumbs
1 jar (14 ounces) marinara sauce
1 cup shredded part-skim mozzarella cheese
1/4 cup grated Parmesan cheese
2 Tablespoons fresh basil, finely chopped
Directions:
1. Preheat oven to 425 degrees F. Spray a baking sheet with cooking spray.
2. Slice the eggplant into 1/4 inch slices.
3. Place slices into a bowl, toss with the salt to coat each slice evenly and set aside for 10 minutes.
4. Lightly rinse eggplant and pat dry.
5. In a shallow bowl, mix together the Italian and panko breadcrumbs.
6. In another shallow bowl, beat the egg until frothy.
7. Pour flour into a third bowl.
8. Dip the eggplant into the flour, then the egg (let excess egg drip off), then the breadcrumbs; coating both sides.
9. Place coated slices onto the prepared baking sheet.
10. Bake for 20 minutes, turning each slice over after 10 minutes.
11. Place 3/4 cup of the marinara sauce into a 9×13 inch baking dish.
12. Line the eggplant slices on top of the sauce in the dish, then top with the remaining sauce.
13. Sprinkle the shredded mozzarella and the grated Parmesan evenly over top. Sprinkle basil evenly on top of the entire dish.
14. Bake for 15 minutes, until cheese is melted and sauce is bubbly.
Serve with a salad of fresh cut tomatoes and Romaine lettuce leaves.
Day Five Healthy Dinner Recipe
PEPPER CRUSTED FLANK STEAK WITH MUSHROOM SAUCE
GREEN BEANS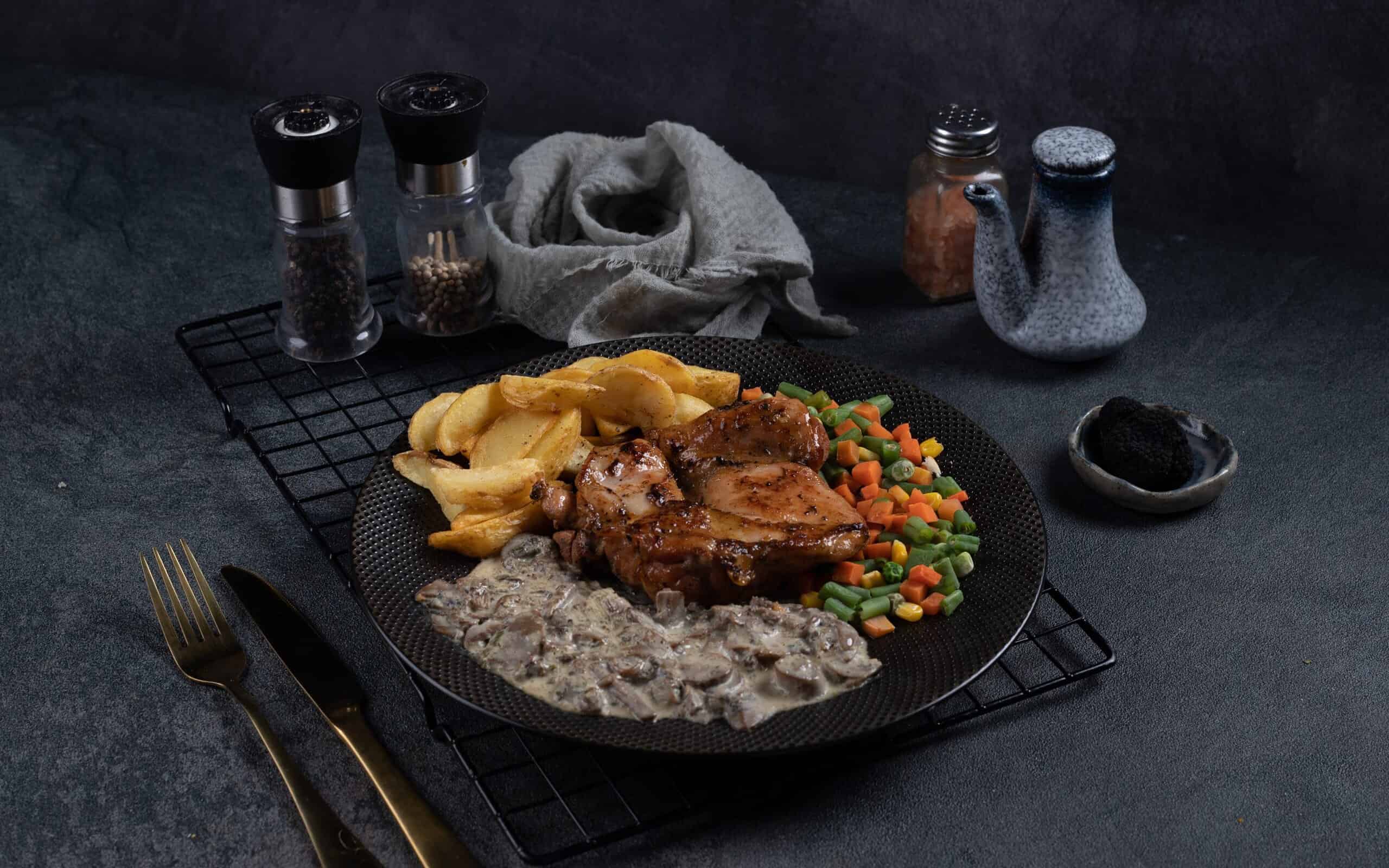 Pepper-crusted Flank Steak with Mushroom Sauce Recipe
Makes 4 servings
Each serving of the pepper-crusted flank steak with mushroom sauce contains:
215 calories
26g protein
6 carbohydrate
10g total fat
Ingredients:
1 (1 pound) flank steak
2 teaspoons coarsely cracked black pepper
2 teaspoons coarsely cracked green peppercorns
2 green onions, sliced
1 small garlic clove, crushed through a press
1 cup slice mushrooms
½ cup low sodium beef broth
½ cup fat free sour cream
1 Tablespoon Dijon mustard
Directions:
1. Preheat the broiler. Score 6 shallow slashes on each side of the meat in a crisscross fashion (three cuts in each direction) and rub the cracked peppers onto each side of the meat.
2. Place the steak on an aluminum foil lined baking sheet and broil 3 to 5 inches from the heat for 3 to 5 minutes.
3. Turn and broil until desired doneness, about 4 minutes more for medium.
4. Meanwhile, grease a medium nonstick skillet with a nonstick cooking spray and heat until hot over medium heat.
5. Add the green onions, garlic, and mushrooms and sauté until the mushrooms are just tender, about 5 minutes.
6. Stir in the broth and heat to boiling.
7. Mix the sour cream and mustard in a cup and add a few spoonfuls of the mushrooms-broth mixture. Stir until blended and pour into the pan. Keep warm over low heat (do not boil).
8. Slice the steak diagonally across the grain. Serve with the mustard sauce and a side of green beans.
Day Six Healthy Dinner Recipe
CREAMY CHILI CORN CHICKEN
MASHED POTATOES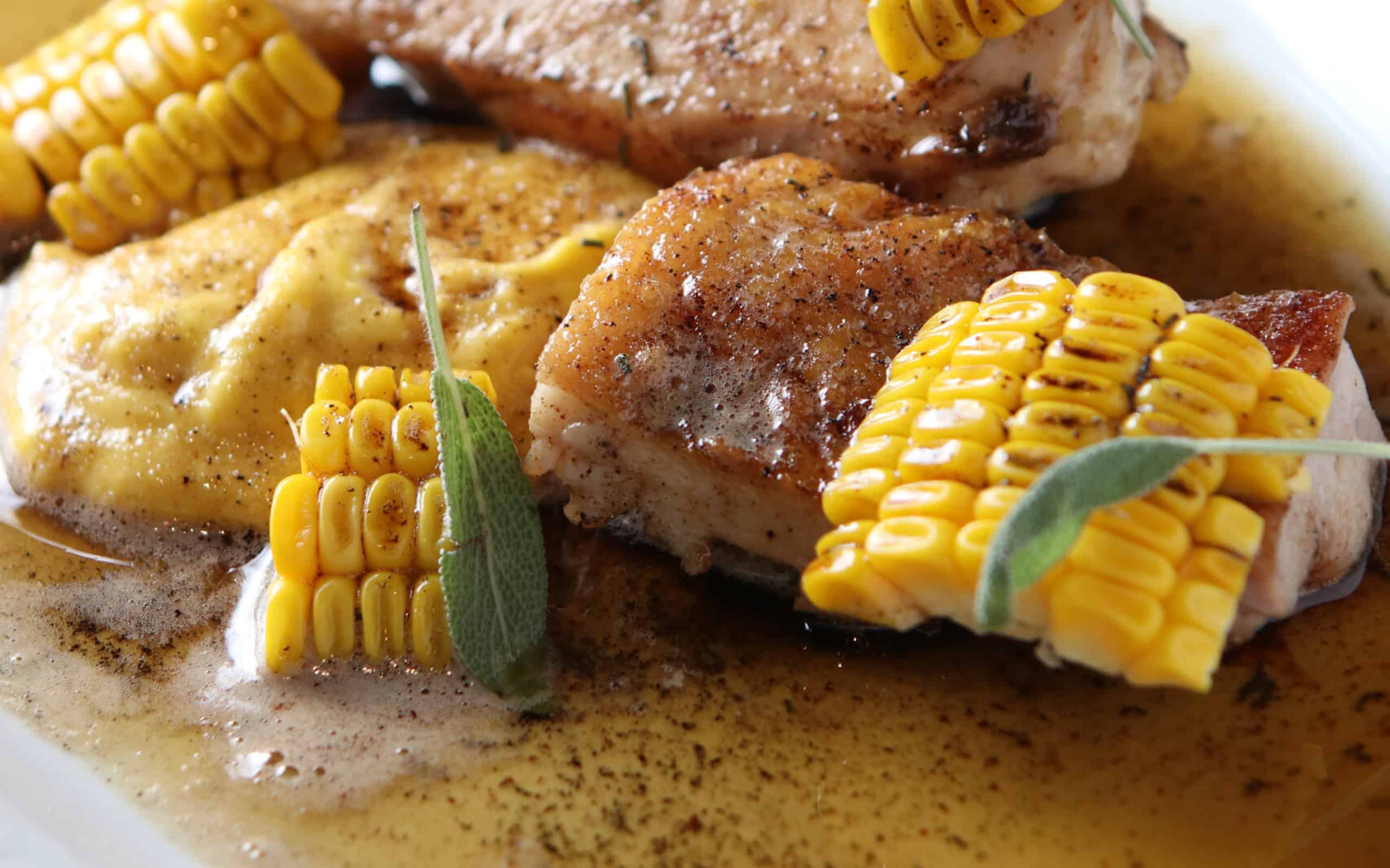 Creamy Chili Corn Chicken Recipe:
Makes 6 servings
Each serving of creamy chili-corn chicken contains:
332 calories
12g protein
25g carbohydrate
22g total fat
Ingredients:
2 egg whites
2 Tablespoons water
1 ½ teaspoons salt
1 teaspoon chili powder
6 (6 ounce) boneless, skinless chicken breast halves
½ cup cornmeal
¼ cup corn oil
1 large onion, thinly sliced
2 (4 ounce) jars chopped green chiles
1 (15 ounce) can Mexican style corn or 1 cup cooked fresh or thawed frozen corn kernels
2 cups ow fat plain yogurt
¼ cup chopped fresh cilantro
Directions:
1. Combine the egg whites, water, salt, and chili powder in a large bowl and whisk until frothy.
2. Cut each chicken breast cross wise into 4 strips and add to the bowl with the egg whites. Toss to coat.
3. Place the cornmeal in a zip-top plastic bag. Add one-third of the chicken strips, seal, and shake to coat. Remove to a plate and repeat with the remaining chicken.
4. Heat 2 Tablespoons oil in a nonstick skillet over medium-high heat and brown the chicken on both sides in batches, 4 minutes each batch, adding more oil as needed.
5. Remove the chicken to a paper towel lined baking sheet as it browns.
6. Add the onion and sauté until soft, 5 minutes.
7. Spoon off the oil from the pan. Add the chilies and their juices and heat until boiling.
8. Add the corn and any juices and heat through.
9. Add the chicken and stir in the yogurt. Heat to simmering but do not boil.
10. Stir in the cilantro. Serve with a side of mashed potatoes.
Day Seven Healthy Dinner Recipe
PORTOBELLO MUSHROOM PIZZAS
OVEN BAKED CRINKLE CUT FRIES

Portobello Mushroom Pizzas Recipe:
Makes 6 servings
Each serving contains:
Calories 274
Fat 16 grams
Carbohydrate 14 grams
Protein 18 grams
Ingredients:
6 large portobello mushrooms (4 to 4-1/2 inches), stems removed
1 tablespoon olive oil
1 pound ground Italian sausage
1 can (15 ounces) pizza sauce
1 medium green pepper, chopped
1 medium onion, chopped
1/2 cup chopped fresh mushrooms
1/4 cup grated Parmesan cheese
2 garlic cloves, minced
1 1/2 cups (6 ounces) shredded part-skim mozzarella cheese
Directions:
1. Place mushrooms, stem side down, on a greased baking sheet; drizzle with oil.
2. Bake at 350°F for 20-25 minutes or until tender, turning once halfway through baking time.
3. Meanwhile, cook sausage over medium heat (break up with a spatula as it cooks) until no longer pink; drain.
4. Stir in the pizza sauce, pepper, onion, mushrooms, Parmesan cheese and garlic.
5. Divide mixture evenly into each mushroom.
6. Sprinkle each mushroom with mozzarella cheese.
7. Broil 3 inches from heat for 1 to 2 minutes or until cheese is melted.
Serve with baked crinkle cut french fries.
The image featured at the top of this post is ©Kwanbenz/Shutterstock.com.