The fifth week of easy dinner recipes includes a variety of tasty dishes your family is sure to love. Included are side dishes and all the recipes to go with the dinner menus.
If you'd like to print the individual recipes (instead of the complete weeks' worth at one time), the link to each recipe is at the end of that day's recipe.
Week Five
Day One Easy Dinner Recipe
CHICKEN WITH GARLIC CHEESE BISCUITS
Garlic cheese biscuits are always a restaurant bread basket favorite, but using them in this recipe makes a chicken filled, creamy, hearty main dish with all the comfort of homemade pot pie but much easier (and tastier).
Ingredients:
2 cans (5 oz each)chicken (or tuna) in water, drained, flaked
1 can (10 3/4 oz.) condensed cream of chicken or cream of mushroom soup
1 ½ cups frozen mixed vegetables, thawed, drained
⅔ cup milk
1 ¼ cups Bisquick
⅓ cup shredded Cheddar cheese
½ cup milk
2 Tablespoons butter or margarine, melted
⅛ teaspoon garlic powder
Directions:
1. Heat oven to 425 degrees F. In ungreased 2-quart casserole, mix chicken or tuna, soup, vegetables and ⅔ cup milk.
2. Bake uncovered 20 minutes.
3. In medium bowl, stir Bisquick mix, cheese and ½ cup milk until soft dough forms.
4. Drop dough by 6 spoonfuls onto hot tuna mixture.
5. Bake uncovered 10 to 12 minutes or until biscuits are golden brown.
6. Mix butter and garlic powder; brush over warm biscuits.
*Chicken with Garlic Cheese Biscuits
Day Two Dinner Recipe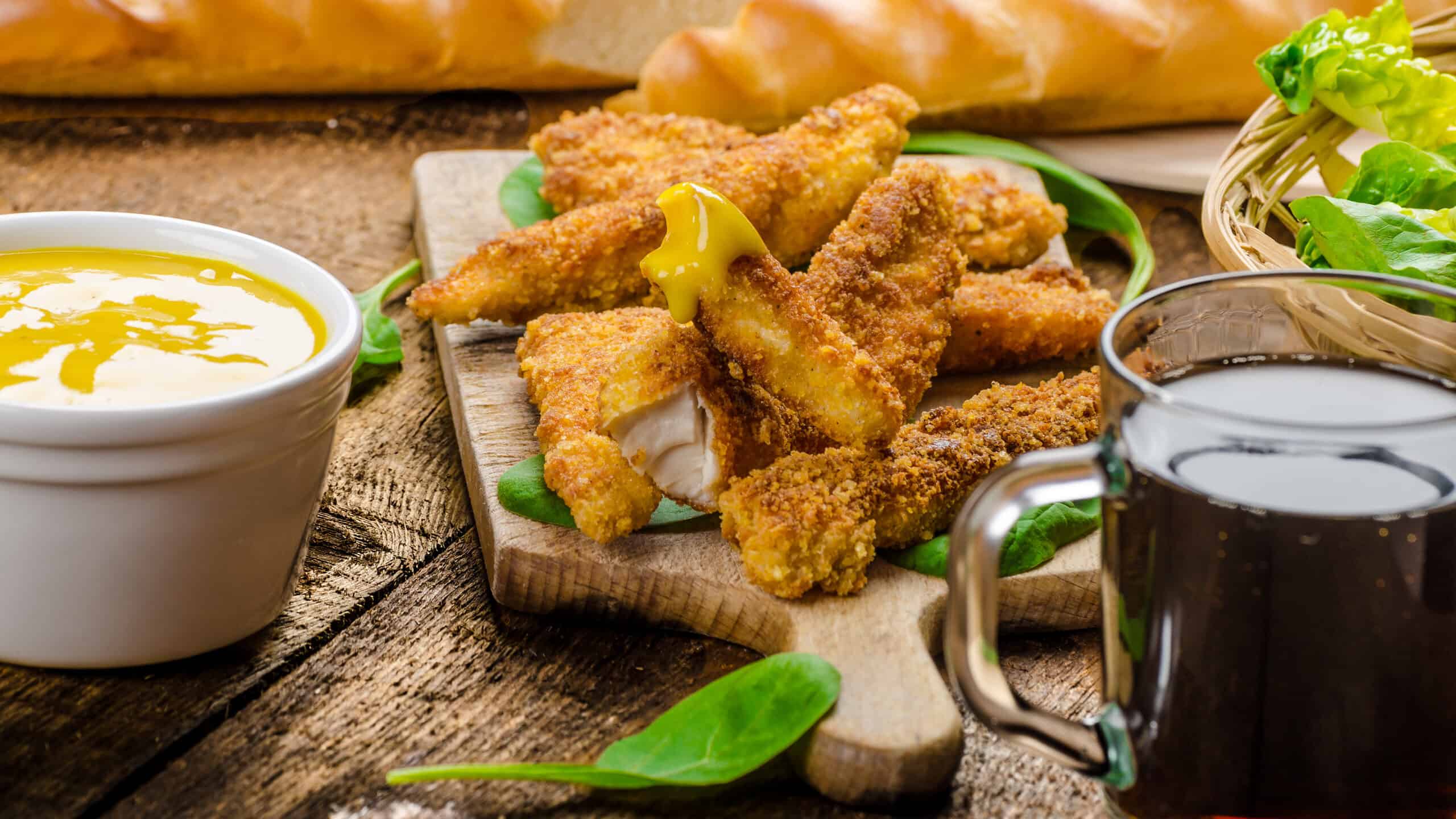 PORK TENDERS WITH HONEY MUSTARD SAUCE
STUFFING
BUTTERED BROCCOLI
These tender strips of pork loin, breaded and fried until golden and dunked in a sweet honey mustard sauce, are a favorite of family and friends young and old.
Ingredients:
For the Pork Tenders:
1 quart peanut or vegetable oil
1 1/2 cups flour
1 1/2 cups cornstarch
2 teaspoons Lawry's Seasoned Salt
1 teaspoon ground black pepper (optional)
2 eggs, well beaten
6 Tablespoons milk
3/4 package Chicken in a Biskit crackers, crushed, or other seasoned crackers
8 4-oz boneless center cut pork chops/pork loin slices, tenderized *cut these into 3-4 strips per 4 oz. loin slice, lengthwise
additional seasoned salt or sea salt for sprinkling post-frying
For the Honey Mustard Dipping Sauce:
2/3 cup honey
3 tbsp yellow mustard
1 tbsp dijon mustard
Directions for Pork Tenders:
1. Heat oil to 350 degrees in a large, heavy bottomed skillet.
2. Combine flour and cornstarch in a large glass baking dish.
3. Add Lawry's and pepper. In a separate baking dish add beaten eggs and milk, mix together.
4. In a third baking dish, add crushed crackers plus 5 TBSP of flour/cornstarch mixture. Mix well.
5. Dredge each piece of tenderized pork in flour, shake excess.
6. Dip in egg/milk mixture, shake excess.
7. Dredge in cracker crumb mixture.
8. Place on clean plate and repeat with other pieces until complete.
9. When ready to fry, be sure oil is 350 degrees.
10. Fry 4-6 pieces or 1 large piece of meat at a time in 350 degree oil, for 2 minutes and until golden brown. Use a meat thermometer to test doneness, at least 145 degrees.
11. Remove to paper towel lined plate. Serve immediately with honey mustard dipping sauce.
Directions for the Honey Mustard Dipping Sauce:
1. Combine honey and mustard in a bowl. Stir well. Serve at room temperature.
*Pork Tenders with Honey Mustard Dipping Sauce
*NOTE* – the reason for the 50/50 cornstarch coating in this recipe: When it comes to coating chicken or pork for cooking, particularly for fried, flour is the common go-to; but if you want very crisp, crunchy skin, cornstarch is the better option. Cornstarch is a pure starch often used as a thickening agent for sauces and soup. When used to fry chicken or pork, it helps with browning and creates a super crisp crust that seals in the juices of the chicken or pork.
Day Three Easy Dinner Idea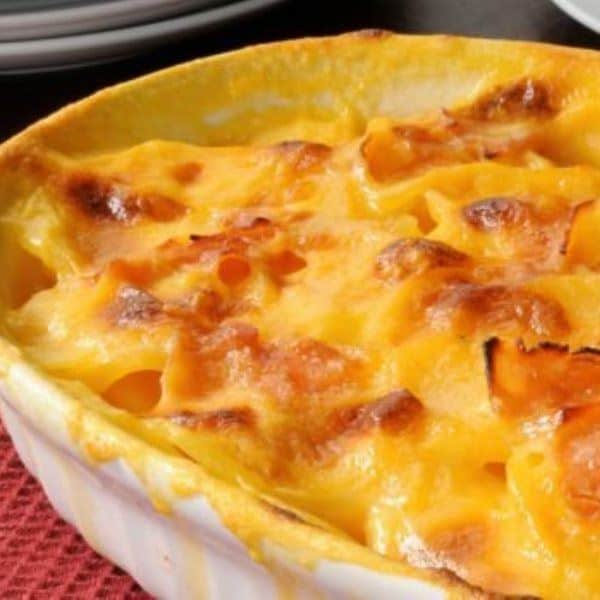 SCALLOPED POTATOES WITH HAM
Scalloped potatoes go from side dish to main meal with the addition of ham in this easy casserole. Gooey cheese mixed with ham and sauce bake together to create the perfect mixture of tastes and textures. This is a great meal for a busy weeknight.
Scalloped Potatoes with Ham Ingredients:
4 Tablespoons unsalted butter
1 large red onion, thinly sliced
4 white potatoes, peeled and thinly sliced
1 pound ham, cut into bite-size pieces
salt and pepper
1 cup milk
1/4 cup sour cream
8 oz. sharp cheddar cheese, grated
2 Tablespoons green onions
Directions:
1. Preheat oven to 350 degrees. Melt butter in a 10-inch skillet over medium heat.
2. Add onions and sauté until soft, about 4 minutes. Remove from heat.
3. Peel and thinly slice potatoes.
4. Place a layer of potato slices in the bottom of 4-qt. casserole dish.
5. Add about one-third of the butter onion mixture, then 4 oz. of ham. Sprinkle liberally with salt and pepper.
6. Continue to repeat this step for three additional layers with no onion butter mixture on top level, and sprinkle salt and pepper on each layer.
7. Mix the milk with the sour cream, stirring well. Pour evenly over entire dish. Place casserole in oven and bake for 1 hour.
8. Remove and add cheese to top of casserole and bake for additional 15 minutes or until cheese begins to brown.
9. Remove from oven and allow to "rest" at least 10 minutes before serving.
10. Sprinkle green onions on top of casserole and enjoy.
Day Four Easy Dinner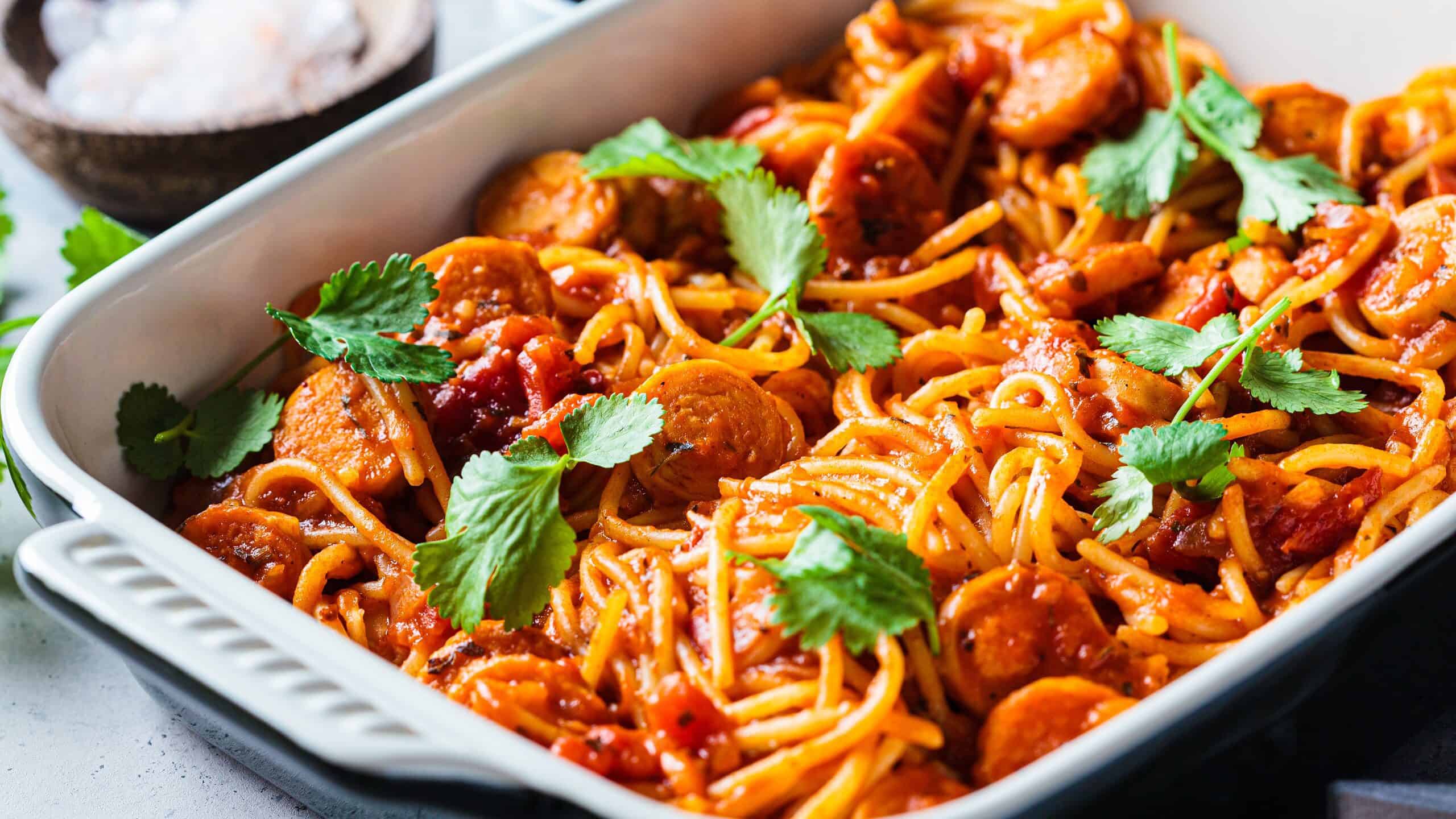 BAKED SPAGHETTI
TOSSED SALAD
ITALIAN BREAD
Baked spaghetti is a richer type of Italian pasta casserole. Similar to lasagna but with smaller noodles so every bit of sauce and cheese is included in each bite you take of this family favorite meal.
Baked Spaghetti Ingredients:
1 (8 ounce) package spaghetti, cooked
2 Tablespoons butter
1 cup grated Parmesan cheese, divided
1 (24 ounce) carton ricotta cheese OR cottage cheese
1 pound ground beef
1 (25.75 ounce) jar Italian-Style spaghetti sauce
1 (8 ounce) package shredded mozzarella cheese
Directions:
1. Preheat oven to 400 degrees F.
2. Line a 13x9x2-inch baking pan with aluminum foil. Spray with non-stick cooking spray (coat well).
3. Combine hot cooked spaghetti with butter; stir until butter melts and coats spaghetti.
4. Add ½ cup Parmesan cheese; stir to coat. Arrange spaghetti in an even layer in foil-lined pan.
5. Spread ricotta cheese over spaghetti. Sprinkle with ¼ cup Parmesan cheese.
6. Brown ground beef, drain; add pasta sauce and heat until bubbly. Spoon over cheeses.
7. Top with mozzarella cheese and remaining Parmesan cheese.
8. Cover with foil. Bake 30 minutes.
9. Remove foil cover and continue baking 15 minutes or until cheese is lightly browned. Let stand 10 minutes before serving. Serve with tossed salad and warm Italian bread.
*Baked Spaghetti with Salad and Italian Bread
Day Five Dinner Recipe
PORK CHOPS WITH APPLES AND CRANBERRIES
CANDIED SWEET POTATOES
DINNER ROLLS
This tastes like a Sunday dinner but is done in less than an hour with minimal prep time. Treat yourself to a good old-fashioned home cooked dinner any night of the week.
Pork Chops with Apples and Cranberries Ingredients:
4 to 6 (3/4 inch) boneless pork chops
Dash kosher salt
Dash black pepper
1/4 cup flour
2 tablespoons butter
1 tablespoon olive oil
1 large onion (halved, sliced)
2 cups apple (coarsely chopped)
1 tablespoon lemon juice
1/2 cup apple cider (or apple juice)
3 tablespoons brown sugar
1/4 teaspoon cinnamon
Dash ground allspice
1/3 cup dried cranberries
Directions:
1. In a large skillet, heat butter over medium heat. Add onions and sauté for 4 to 6 minutes, or until lightly browned.
2. Remove the onions to a plate and set aside.
3. Add olive oil to the skillet.
4. Sprinkle pork chops with salt and pepper then dredge in flour.
5. Brown the pork chops in the hot olive oil for about 2 minutes on each side.
6. Meanwhile, combine the chopped apples with the lemon juice, apple cider, brown sugar, and spices.
7. Pour the apple mixture over the pork chops and add the onions back to the skillet; bring to a simmer.
8. Reduce heat to medium-low and simmer, uncovered, for 5 minutes, then cover the pan and simmer for 20 minutes longer.
9. Stir in cranberries and continue cooking for another two or three minutes, just until heated through.
Candied Sweet Potatoes Ingredients:
1 can (40 ounces) sweet potatoes, drained and cut into 1-inch pieces
2 Tablespoons butter, melted
½ cup firmly packed brown sugar, divided
1 teaspoon pumpkin pie spice
1 Tablespoon maple syrup
2 cups miniature marshmallows (optional topping)
Directions:
1. Preheat oven to 350 degrees F. Place the sweet potato pieces into a lightly buttered 2 quart baking dish.
2. Mix the remaining ingredients and pour evenly over the sweet potatoes.
3. Bake 40 minutes, stirring halfway through cooking time.
4. If you are using the miniature marshmallows as topping, remove the casserole from oven and stir gently to coat potatoes in syrup; then top with the marshmallows.
5. Bake, uncovered, additional 7 to 10 minutes or until the marshmallows are golden brown.
*Pork Chops with Apples, Candied Sweet Potatoes and Dinner Rolls
Day Six Easy Dinner Recipe
BACON STUFFED HAMBURGERS
PERFECT MASHED POTATOES
BUTTERED CORN
Bacon and burgers just go together, and when you elevate all that bacony goodness by stuffing it into the burger, it becomes a gourmet-worthy creation the whole family will love. Paired with mashed potatoes and buttered corn, this is simple fare that tastes like a restaurant meal.
Bacon Stuffed Hamburgers:
4 slices bacon
¼ cup chopped onion
1 can (4 ounces) mushroom pieces, drained and finely chopped
1 pound lean ground beef
1 pound bulk pork sausage
¼ cup grated Parmesan cheese
½ teaspoon pepper
¼ teaspoon garlic powder
2 Tablespoons steak sauce
8 hamburger buns, split and toasted
Directions:
1. In a large skillet, cook bacon over medium heat until crisp. Remove bacon and discard all but 2 Tablespoons drippings.
2. Sauté onions in drippings until tender. Crumble bacon; add with mushrooms to skillet and set aside.
3. Meanwhile, combine beef, pork, cheese, pepper, garlic powder, and steak sauce in a large bowl. Shape into 16 patties.
4. Divide bacon mixture and place over eight of the patties. Place remaining patties on top and press edges tightly to seal.
5. Grill over medium heat until well-done (pork sausage in burgers requires thorough cooking).
6. Serve on buns, with lettuce if desired.
Perfect Mashed Potatoes Ingredients:
4 pounds Yukon gold potatoes, peeled and cut into quarters
salt and pepper
2 cups heavy cream
3 Tablespoons butter
2 Tablespoons chopped chives
Directions:
1. Put the potatoes into a large pot, add 2 Tablespoons salt, and cover with cold water.
2. Bring to a boil over medium-high heat and cook until the potatoes are tender, about 20 minutes.
3. Drain well.
4. Heat the butter and cream in a small saucepan.
5. Mash the potatoes well with a potato masher until smooth and free of chunks.
6. Add the hot cream/butter mixture and season with salt and pepper. Mix well, adding the chives while mixing.
*Bacon Stuffed Hamburgers with Perfect Mashed Potatoes and Corn
Day Seven Easy Dinner Idea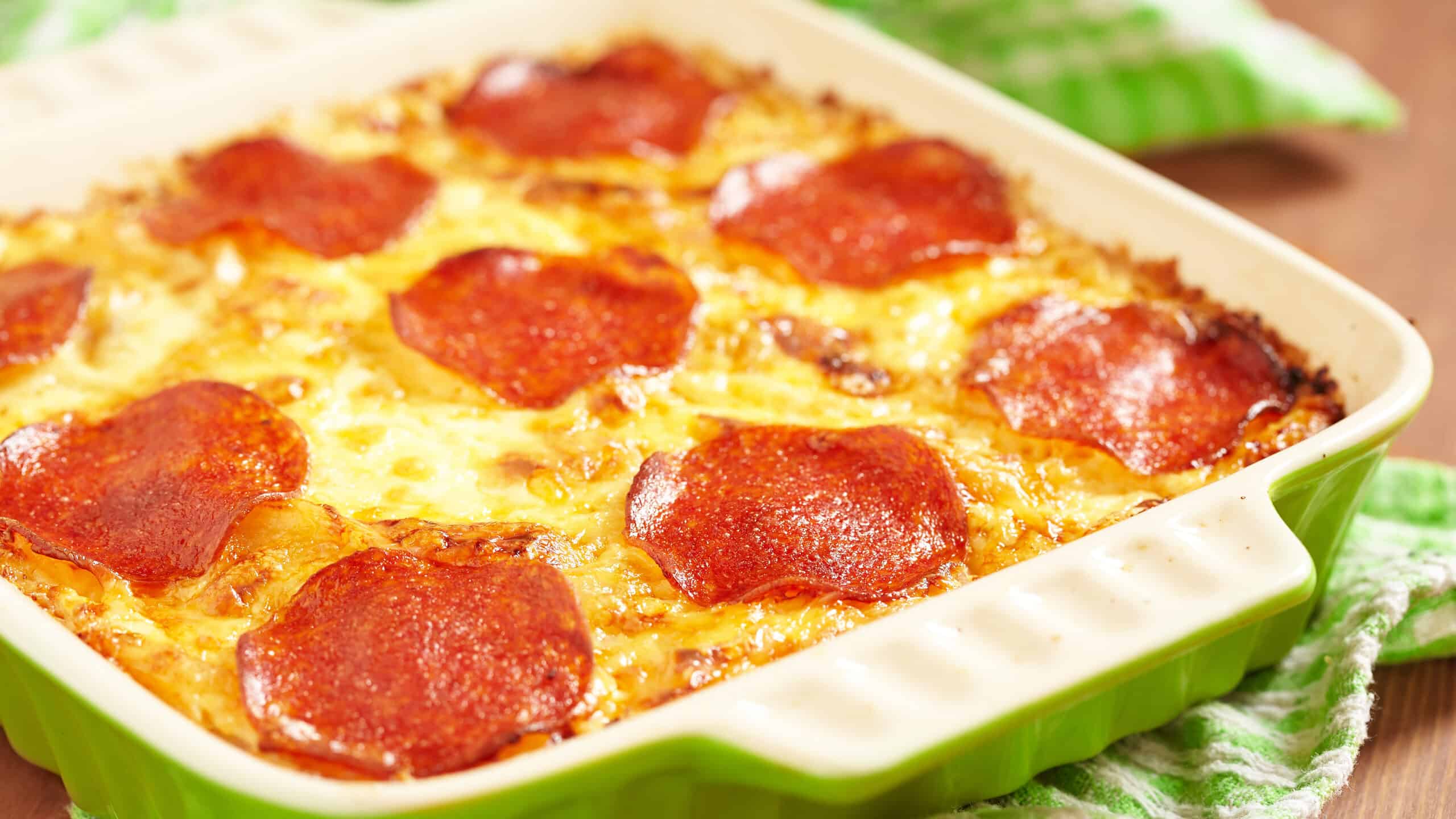 BISCUIT PIZZA CASSEROLE
This version of bubble pizza adds pepperoni and larger portions for the heartier eaters in your family. It's super quick and easy, the perfect Friday night casual family meal.
Ingredients:
3 ⅓ cups Bisquick
1 cup milk
2 cans (8 oz each) pizza sauce (2 cups)
1 package (8 oz) sliced pepperoni
2 cups shredded mozzarella cheese (8 oz)
Directions:
1. Heat oven to 375 degrees F. Spray 13×9-inch (3-quart) glass baking dish with cooking spray.
2. In medium bowl, stir Bisquick mix and milk until soft dough forms.
3. Drop half of dough by spoonfuls evenly over bottom of baking dish (dough will not completely cover bottom of dish).
4. Drizzle 1 can pizza sauce over dough. Scatter half of the pepperoni over sauce. Top with 1 cup of the cheese.
5. Repeat layers with remaining dough, pizza sauce, pepperoni and cheese.
6. Bake 20 to 25 minutes or until golden brown.
Tips for Cooking Dinner Efficiently
We've all been there. It's a busy week and you feel like you barely have time to cook dinner. These easy dinner recipes should help, but following these tips definitely will!
Try to plan your easiest recipes for the nights when you anticipate having the least amount of time. This can be a little hard to do, but sit down ahead of your busy week and think about everything you have to do.
If you can, have your kids give you a hand with cooking. It's important that they already have some cooking knowledge before helping you. Having to teach them how to do certain things will only add more time to your preparation and cook time.
Try to do as many things as you can at once, but don't overwhelm yourself. Doing too many things at once will cause you to make mistakes, which will only lead to dinner taking even longer. Pace yourself, but try to multitask if you can.
The image featured at the top of this post is ©Charles Brutlag/Shutterstock.com.