Easy Dinner Recipes
Week Seven
In the seventh week of easy dinner recipes we include easy dinner ideas ranging from super tasty chili dogs to breakfast for dinner ham and egg pizza. We also have the side dishes listed on each day's menu, making it seven more days of stress-free, mouthwatering dinners!
If you'd like to print the individual recipes (instead of the complete weeks' worth at one time), the link to each recipe is at the end of that day's recipe.
Day One Easy Dinner Idea
CHILI DOGS
POTATO SALAD
Chili dogs are ballpark and picnic fare, which makes them perfect for adding a little fun to the weekday dinner rotation. The chili is homemade but easy to make, the potato salad can be made the night before so half your dinner is already done.
Chili Dogs Ingredients:
1 pound ground beef
1 garlic clove, minced
1 cup tomato juice
1 can (6 ounces) tomato paste
2 Tablespoons chili powder
1 teaspoon hot pepper sauce
1 teaspoon salt
¼ teaspoon pepper
8 hot dogs
8 hot dog buns, split
Chopped onion and shredded cheddar cheese, optional
Directions:
1. In a large skillet, cook beef and garlic over medium heat until meat is no longer pink; drain.
2. Stir in the tomato juice, tomato paste, chili powder, pepper sauce, salt and pepper. Bring to a boil.
3. Reduce heat; simmer, uncovered, for 20 minutes. Keep hot until serving.
4. Grill or broil hot dogs until heated through. Place on buns; top with chili. Sprinkle with onion and cheese if desired.
Red Potato Salad Ingredients:
3 pounds unpeeled red potatoes
4 eggs
1 ½ cups mayonnaise
2 Tablespoons milk
2 Tablespoons distilled white vinegar
½ cup sliced green onions
½ teaspoon salt
¼ teaspoon ground black pepper
1 cup sliced celery
Directions:
1. Bring a large pot of salted water to a boil. Add red potatoes, and cook until tender but still firm, about 15 minutes.
2. Drain, cool and chop into 1 inch cubes. Place in a medium bowl.
3. Place eggs in a medium saucepan, and cover with cold water. Bring water to a boil, and immediately remove from heat.
4. Cover, and let eggs stand in hot water for 10 to 12 minutes.
5. Remove from hot water, cool, peel and dice.
6. In a small bowl, whisk together mayonnaise, milk, distilled white vinegar, green onions, salt and pepper.
7. Pour the mixture over the potatoes, and mix together with the eggs and celery. Cover, and chill in the refrigerator approximately 2 hours before serving.
Day Two Easy Dinner Recipe
CHICKEN AND BROCCOLI ALFREDO
BROWN AND SERVE DINNER ROLLS
This is one of our most popular recipes, folks use this as a go-to dinner. Alfredo is a cheesy kid-friendly favorite that gets a boost of protein and the goodness of green vegetables for a hearty family meal that's done in no time.
Chicken and Broccoli Alfredo Ingredients:
½ of a 1 pound package fettuccine
1 cup fresh or frozen broccoli flowerets
2 Tablespoons butter
1 lb. skinless, boneless chicken breast, cut into 1 ½-inch pieces
1 can (10 ¾ ounces) condensed cream of mushroom soup
½ cup milk
½ cup grated Parmesan cheese
¼ teaspoon ground black pepper
Directions:
1. Prepare the fettuccine according to the package directions in a 3-quart saucepan. Add the broccoli during the last 4 minutes of cooking.
2. Drain the linguine mixture well in a colander.
3. Heat the butter in a 10-inch skillet over medium-high heat.
4. Add the chicken and cook until it's well browned, stirring often.
5. Stir the soup, milk, cheese, black pepper and linguine mixture in the skillet.
6. Cook until the mixture is hot and bubbling, stirring occasionally. Serve with additional Parmesan cheese.
7. Serve with warm buttered brown and serve dinner rolls.
*Chicken and Broccoli Alfredo with Dinner Rolls
Day Three Easy Dinner
SKILLET TACO SUPPER
TORTILLA CHIPS
Tacos are fantastic but the extra steps of assembling them can make them time consuming when every minute counts. Putting everything into one skillet and serving it with tortilla chips gives you the flavor of a taco in every delicious bite.
Skillet Taco Supper Ingredients:
½ lb lean (at least 80%) ground beef
1 package (1 oz) taco seasoning mix
2 ¼ cups water
1 ½ cups uncooked wagon wheel pasta (5 ½ oz)
1 ½ cups frozen corn
1 can (15 oz) kidney beans or pinto beans, drained, rinsed
1 medium tomato, chopped (¾ cup)
½ cup sour cream
1 cup shredded Cheddar cheese (4 oz)
1 Tablespoon chopped fresh chives
Directions:
1. In 12-inch skillet, cook beef over medium-high heat 5 to 7 minutes, stirring frequently, until brown; drain.
2. Stir seasoning mix, water, uncooked pasta, corn, beans and tomato into beef. Heat to boiling; stir.
3. Reduce heat to medium-low. Cover; cook 10 to 15 minutes, stirring occasionally, until pasta is desired doneness and most of the liquid has been absorbed.
4. Stir in sour cream. Remove from heat. Sprinkle with cheese and chives.
5. Cover; let stand 2 to 3 minutes or until cheese is melted.
6. Serve with tortilla chips.
*Skillet Taco Supper with Tortilla Chips
Day Four Easy Dinner Idea
BAKED RAVIOLI
ITALIAN BREAD
Baked ravioli is a super easy, quick dinner for even the busiest nights. With pasta and cheese as the star ingredients it's the perfect answer to the picky kids "what's for dinner?" question.
Baked Ravioli Ingredients:
1 pound ground beef
½ (25 ounce) package frozen cheese ravioli
1 (14 ounce) jar spaghetti sauce
1 (14.5 ounce) can diced tomatoes, drained
1 cup shredded mozzarella cheese
1 cup shredded Monterey Jack cheese
1 Tablespoon grated Parmesan cheese
Directions:
1. Preheat oven to 450 degrees F.
2. Crumble the ground beef into a large skillet over medium-high heat. Cook and stir until no longer pink.
3. Drain grease, and then stir in the spaghetti sauce and tomatoes.
4. Spread ⅓ of the sauce in the bottom of an 11×7 inch baking dish. Arrange ½ of the ravioli over the sauce.
5. Sprinkle ½ of the mozzarella cheese and ½ of the Monterey Jack cheese over the ravioli.
6. Repeat layers, ending with the last of the sauce on top. Cover with aluminum foil.
7. Bake for 30 minutes in the preheated oven. Sprinkle Parmesan cheese over the top before serving.
8. Serve with warm buttered Italian bread.
*Baked Ravioli and Italian Bread
Day Five Dinner Recipe
CRISPY BAKED PORK TENDERLOIN
COUNTRY BAKED BEANS
Pork tenderloin gets a crispy coating of flavorful stuffing in this recipe. Paired with country baked beans, this recipe is a Sunday dinner on a weekday schedule.
Crispy Baked Pork Tenderloin Ingredients:
1 pork tenderloin (1 pound), cut crosswise into 1-inch medallions
¼ cup butter, melted
¼ cup mayonnaise
4 to 5 teaspoons prepared mustard
1 ¼ cups crushed herb-seasoned stuffing mix
Directions:
1. Flatten pork tenderloin pieces to ¼-in. to ½-in. thickness.
2. In a shallow bowl, combine butter, mayonnaise and mustard; dip tenderloin pieces, then roll in stuffing crumbs.
3. Place in a greased 13-in. x 9-in. baking pan.
4. Bake, uncovered, at 425 degrees F for 13-16 minutes or until juices run clear. Let stand for 5 minutes before slicing.
Country Baked Beans Ingredients:
1 large can pork and beans
1 teaspoon or more mustard
½ cup brown sugar
½ cup catsup
½ pound bacon
Directions:
1. Grease large baking pan.
2. Mix all ingredients except bacon, pour into baking pan.
3. Place strips of bacon on top.
4. Cook for 45 minutes or 1 hour at 350 degrees F.
*Crispy Baked Pork Tenderloin and Country Baked Beans
Day Six Easy Dinner Idea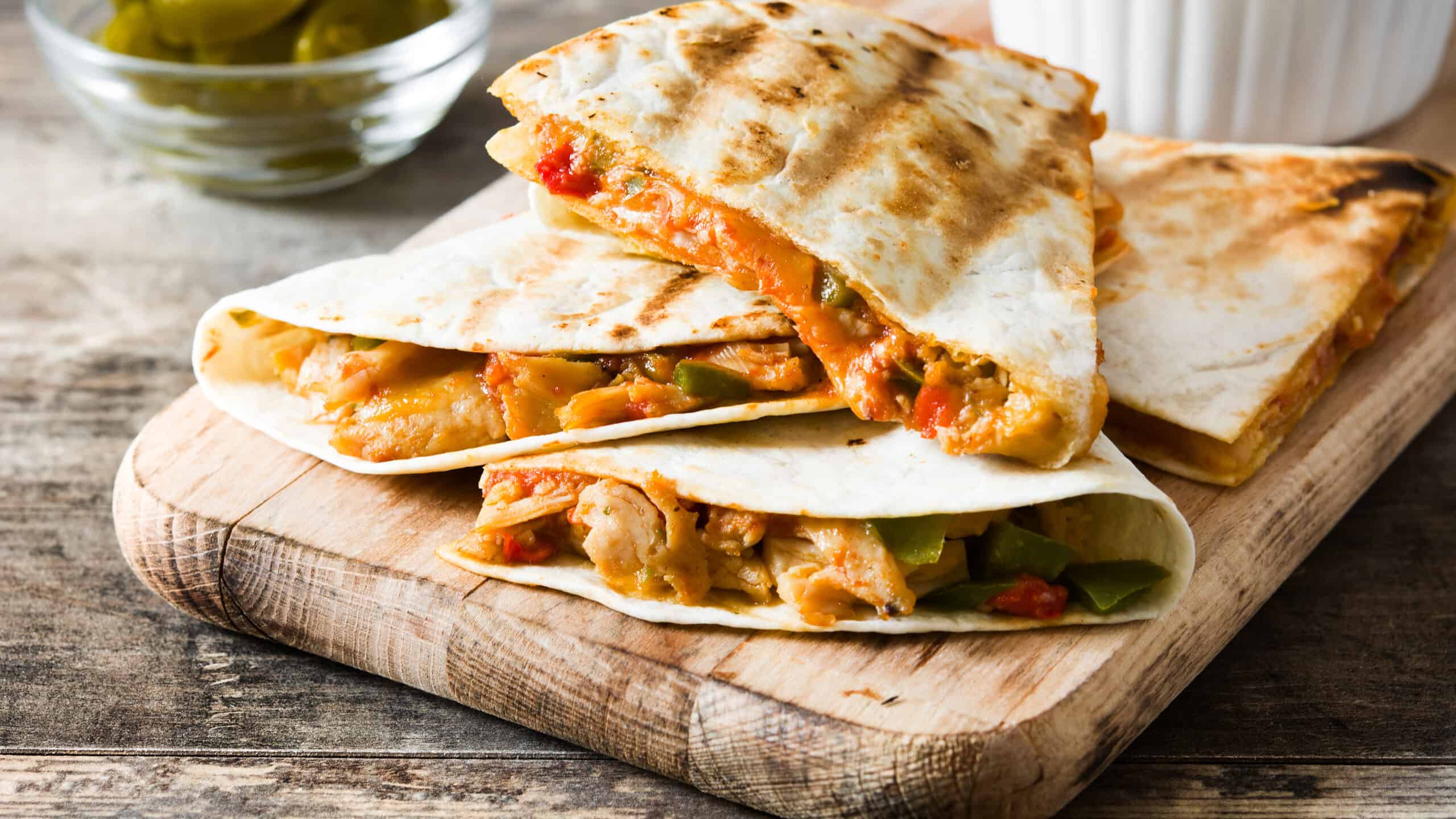 BACON CHICKEN CHEESE QUESADILLAS
WHITE RICE
Quesadillas are a hit anytime, but putting bacon and chicken into them takes them from appeteizer to a complete filling dinner that's done in under 30 minutes.
Bacon Chicken Cheese Quesadillas Ingredients:
2 10-inch flour tortillas
2 Tablespoons butter, softened
1 cup diced chicken
⅓ cup shredded Monterey jack cheese
⅓ cup shredded cheddar cheese
½ medium tomato, chopped
2 teaspoons diced onions
1 teaspoon diced canned jalapeno
1 slice bacon, cooked
¼ teaspoon finely chopped cilantro
1 dash salt
For serving as toppings:
Sour cream
Guacamole
Salsa
Directions:
1. Heat a large frying pan over medium heat. Spread half of the butter on one side of each tortilla.
2. Put one tortilla, butter side down, in the hot pan, then spread cheese and cut up chicken strips in the center of the tortilla, leaving about an each all the way around.
3. Sprinkle the tomato, onion, and jalapeno over the chicken and cheese.
4. Crumble the slice of cooked bacon and sprinkle it over the other ingredients.
5. Sprinkle the cilantro and a dash of salt over the other ingredients.
6. Top off the quesadilla with the remaining tortilla, being sure that the buttered side is facing up.
7. When the bottom tortilla has browned, after 45-90 seconds, flip the quesadilla over and grill the other side for the same amount of time.
8. Remove the quesadilla from the pan, and, using a sharp knife or pizza cutter, cut the quesadilla three times through the middle like a pizza, creating 6 equal slices.
9. Cover to keep warm while preparing additional quesadillas.
10. Serve hot with sour cream, guacamole, and salsa on the side and hot buttered white rice.
*Bacon Chicken Cheese Quesadillas and Rice
Day Seven Easy Dinner Recipe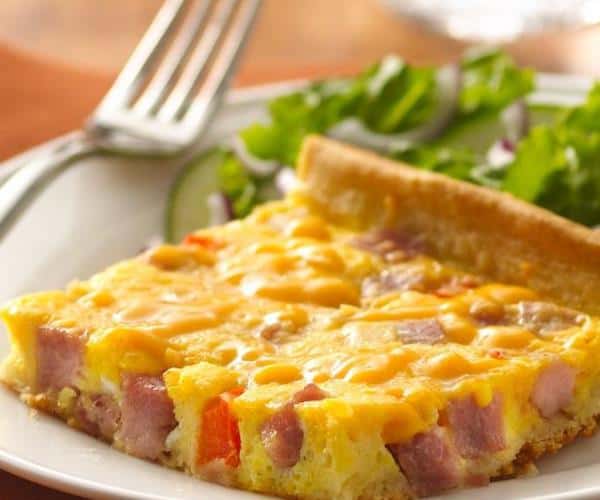 HAM AND EGG PIZZA
HOME FRIED POTATOES
Breakfast for dinner gets even easier when you can eat your eggs with your hands. Add a side dish of southern-diner-worthy home fries and you have a dinner everyone will love.
Ham and Egg Pizza Ingredients:
1 can (8 oz) refrigerated crescent dinner rolls
6 eggs
1 cup diced cooked ham
1/2 cup chopped red bell pepper
1 1/2 cups shredded cheddar cheese or Colby-Monterey Jack cheese blend (6 oz)
Directions:
1. Heat oven to 375°F. Unroll dough, and press into bottom and 1 inch up sides of ungreased 13×9-inch (3-quart) glass baking dish. Press perforations to seal. Prick all over with fork.
2. Bake 7 to 9 minutes or until dough is set but not browned.
3. In medium bowl, beat eggs; pour into dough-lined pan. Top with ham, bell pepper and cheese.
4. Bake 17 to 22 minutes longer or until eggs are set and crust browns. Serve with Home Fried Potatoes.
Home Fried Potatoes Ingredients:
4 red potatoes
1 Tablespoon olive oil
1 onion, chopped
1 green bell pepper, seeded and chopped
2 Tablespoons olive oil
1 teaspoon salt
¾ teaspoon paprika
¼ teaspoon ground black pepper
¼ cup chopped fresh parsley
Directions:
1. Bring a large pot of salted water to a boil.
2. Add potatoes and cook until tender but still firm, about 15 minutes.
3. Drain, cool cut into ½ inch cubes.
4. In a large skillet, heat 1 Tablespoon olive oil over medium high heat. Add onion and green pepper.
5. Cook, stirring often, until soft; about 5 minutes.
6. Transfer to a plate and set aside.
7. Pour remaining 2 Tablespoons of oil into the skillet and turn heat to medium-high.
8. Add potato cubes, salt, paprika and black pepper.
9. Cook, stirring occasionally, until potatoes are browned; about 10 minutes.
10. Stir in the onions, green peppers and parsley and cook for another minute.
*Ham and Egg Pizza with Home Fries