Easy Dinner Recipes
Week Six
The sixth full week of easy dinner recipes with entrees and side dishes. Our easy dinner ideas this week include a tasty alfredo baked ziti recipe, an easy to make crock pot recipe, and other home cooked favorites. It's another delicious week of dinners!
If you'd like to print the individual recipes (instead of the complete weeks' worth at one time), the link to each recipe is at the end of that day's recipe.
Day One Easy Dinner Recipe
SPICY SHRIMP AND BROCCOLI
WHITE RICE
This super easy dish can easily be adjusted so that little ones who don't like spicy foods will still love it. You can also leave out the peanuts if there are any allergy issues without sacrificing any of the amazing taste of this Oriental inspired dinner.
Spicy Shrimp and Broccoli Ingredients:
½ cup water
¼ cup sake, rice wine or chicken broth
1 Tablespoon cornstarch
2 Tablespoons hoisin sauce
1 Tablespoon oyster sauce
2 teaspoons soy sauce
2 teaspoons chili puree with garlic
1 Tablespoon vegetable oil
¾ pound fresh or frozen (thawed) uncooked medium shrimp, peeled and deveined
1 garlic clove, finely chopped
2 teaspoons finely chopped gingerroot
1 ½ cups broccoli flowerets
1 medium bell pepper, cut into strips
4 medium green onions, cut into 1-inch pieces
⅓ cup peanuts
4 cups hot cooked rice
Directions:
1. Mix water, sake, cornstarch, hoisin sauce, oyster sauce, soy sauce and chili puree.
2. Heat wok or 12-inch skillet over high heat. Add oil; rotate wok to coat side.
3. Add shrimp, garlic and gingerroot; stir-fry 1 minute.
4. Add broccoli, bell pepper and onions; stir-fry until shrimp are pink and firm.
5. Stir in sake mixture. Heat to boiling, stirring constantly. Boil and stir 1 minute.
6. Sprinkle with peanuts. Serve over rice.
*Spicy Shrimp and Broccoli with Rice
Day Two Easy Dinner
GARLIC FRIED CHICKEN BREASTS
OLIVE OIL & GARLIC PASTA (NOODLE RONI)
FRENCH BREAD
Garlic makes everything taste better, and this recipe is no exception. Chicken breasts are coated in a lightly crunchy outer coating that has just the right amount of garlic to turn bland chicken into a spectacular, flavorful meal.
Garlic Fried Chicken Breasts Ingredients:
2 teaspoons garlic powder, or to taste
1 teaspoon ground black pepper
1 teaspoon salt
1 teaspoon paprika
½ cup seasoned bread crumbs
1 cup all-purpose flour
½ cup milk
1 egg
4 skinless, boneless chicken breast halves – pounded thin
1 cup oil for frying, or as needed
Directions:
1. In a shallow dish, mix together the garlic powder, pepper, salt, paprika, bread crumbs and flour.
2. In a separate dish, whisk together the milk and egg.
3. Heat the oil in an electric skillet set to 350 degrees F.
4. Dip the chicken into the egg and milk, and then dredge in the dry ingredients until evenly coated.
5. Fry chicken in the hot oil for about 5 minutes per side, or until the chicken is cooked through and juices run clear.
6. Remove from the oil with a slotted spatula. Serve with a box of olive oil and garlic pasta and French bread.
*Garlic Fried Chicken Breasts with Olive Oil Pasta and French Bread
Day Three Easy Dinner Idea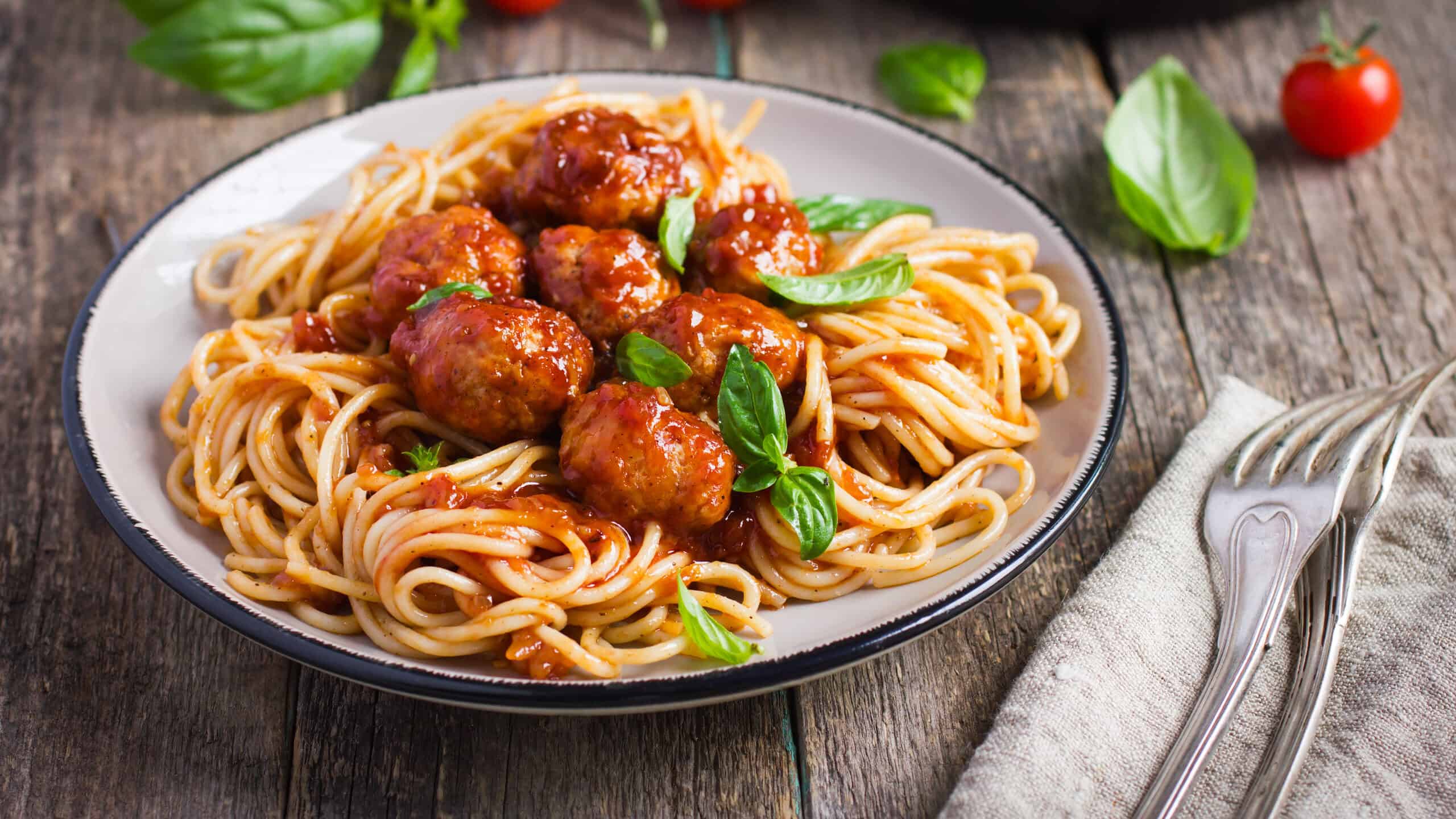 CHEESY STUFFED MEATBALLS & SPAGHETTI
Spaghetti and meatballs are always a family favorite, but they get kicked up a few notches with the addition of mozzarella cheese stuffed into the meatballs. Every bite is filled with cheesy goodness, making regular spaghetti dance with flavor.
Cheesy Stuffed Meatballs & Spaghetti Ingredients:
1 pound ground beef
1/2 cup Italian seasoned dry bread crumbs 1 egg
2 ounces mozzarella cheese, cut into 12 (1/2-inch) cubes
26 ounces Pasta Sauce
8 ounces spaghetti, cooked and drained
Directions:
1. 1. In medium bowl, combine ground beef, bread crumbs and egg; shape into 12 meatballs. Press 1 cheese cube into each meatball, enclosing completely
.
2. In 3-quart saucepan, bring Pasta Sauce to a boil over medium-high heat. Gently stir in uncooked meatballs.
3. 3. Reduce heat to low and simmer covered, stirring occasionally, 25 minutes or until meatballs are done. Serve over hot spaghetti. Sprinkle, if desired, with grated Parmesan cheese.
*Cheesy Stuffed Meatballs & Spaghetti
Day Four Dinner Recipe
FOUR CHEESE BAKED ZITI ALFREDO
TOSSED SALAD
ITALIAN BREAD
Four different cheeses melt perfectly throughout baked ziti to create the perfect Italian dinner. It's creamy, savory and super easy to make any night of the week.
Four Cheese Baked Ziti Alfredo Ingredients:
1 package (16 ounces) ziti or small tube pasta
2 cartons (10 ounces each) refrigerated Alfredo sauce
1 cup (8 ounces) sour cream
2 eggs, lightly beaten
1 carton (15 ounces) ricotta cheese
½ cup grated Parmesan cheese, divided
¼ cup grated Romano cheese
¼ cup minced fresh parsley
1-¾ cups shredded part-skim mozzarella cheese
Directions:
1. Cook pasta according to package directions; drain and return to the pan.
2. Stir in Alfredo sauce and sour cream. Spoon half into a lightly greased 3-qt. baking dish.
3. Combine the eggs, ricotta cheese, ¼ cup Parmesan cheese, Romano cheese and parsley; spread over pasta.
4. Top with remaining pasta mixture; sprinkle with mozzarella and remaining Parmesan.
5. Cover and bake at 350 degrees F for 25 minutes. Uncover; bake 5-10 minutes longer or until bubbly.
6. Serve with tossed salad and buttered Italian bread.
*Four Cheese Baked Ziti Alfredo with Salad and Italian Bread
Day Five Easy Dinner
BAKED BEANS WITH HAM
CORNBREAD
Instead of the minuscule amount of pork in regular baked beans, this recipe uses a hearty helping of ham to create a belly filling meal. The addition of brown sugar and molasses take an ordinary dish and make it memorable. Serve ladled over cornbread for sticky sweet and savory goodness in every mouthful.
Baked Beans with Ham Ingredients:
1 can (28 ounces) baked beans
2 cups cubed fully cooked ham
¼ cup tomato paste
2 Tablespoons molasses
1 Tablespoon brown sugar
1 Tablespoon Worcestershire sauce
1 teaspoon dried minced onion
1 teaspoon taco seasoning
1 teaspoon minced fresh cilantro
Directions:
1. In a 1-½-qt. microwave-safe bowl, combine all ingredients.
2. Cover and microwave on high for 3-5 minutes or until heated through, stirring once.
Cornbread Ingredients:
1 ½ cups cornmeal
2 ½ cups milk
2 cups all-purpose flour
1 Tablespoon baking powder
1 teaspoon salt
⅔ cup white sugar
2 eggs
½ cup vegetable oil
Directions:
1. Preheat oven to 400 degrees F (200 degrees C).
2. In a small bowl, combine corn meal and milk; let stand for 5 minutes.
3. In a large bowl, whisk together flour, baking powder, salt and sugar.
4. Mix in the cornmeal mixture, eggs and oil until smooth. Pour batter into prepared pan.
5. Bake in preheated oven for 30 to 35 minutes, or until a knife inserted into the center of the cornbread comes out clean.
*Baked Beans with Ham and Cornbread
Day Six Easy Dinner Recipe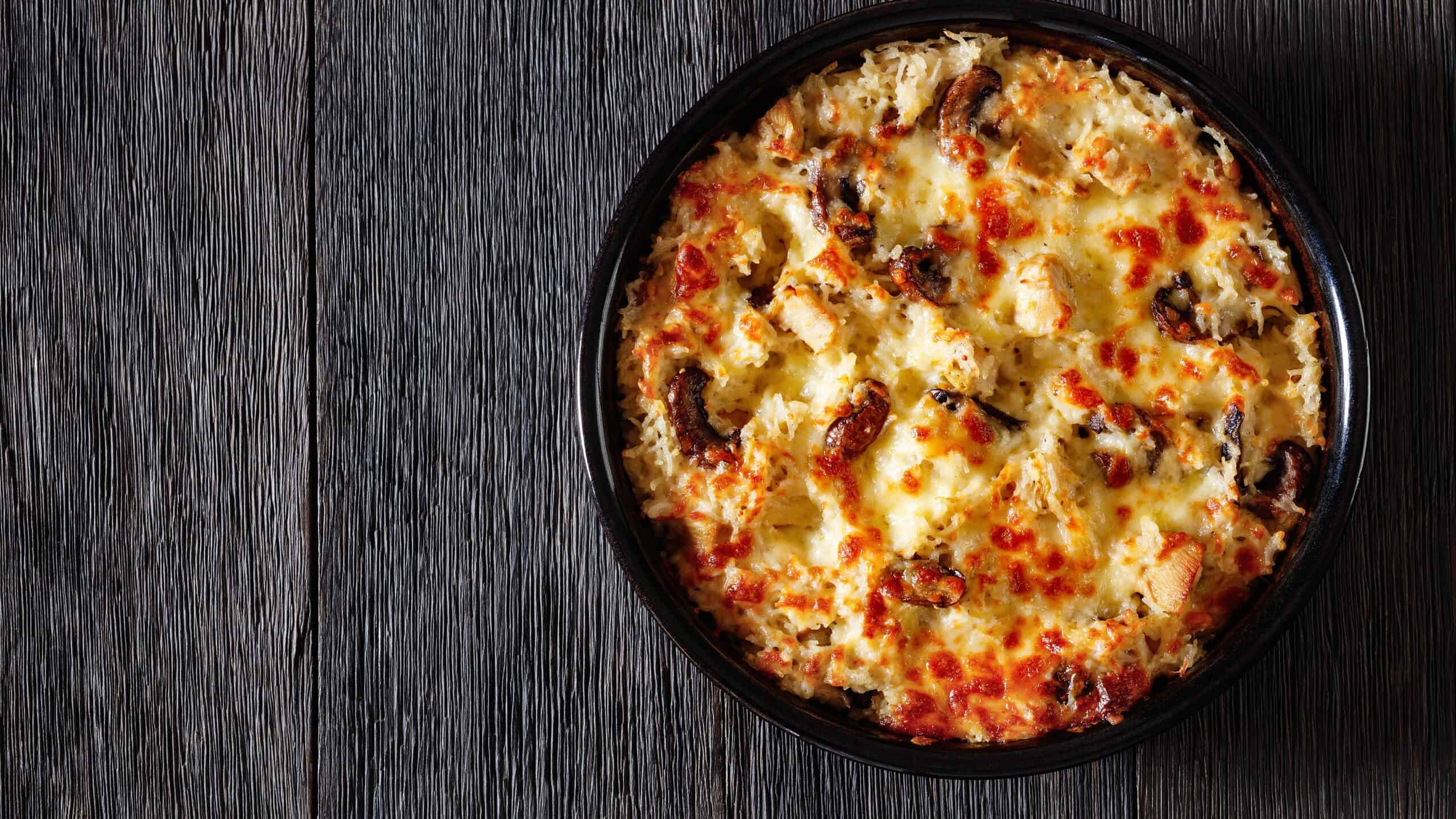 CHICKEN RICE CASSEROLE
BUTTERED CRESCENT ROLLS
Chicken and rice blend perfectly in casseroles and are always a family favorite. This one dish meal will make even picky eaters happy, and holds well for heating up leftovers (if you have any!).
Chicken Rice Casserole Ingredients:
6 Tablespoons butter
8 ounces mushrooms, sliced (3 cups)
¼ teaspoon dried rosemary
½ cup all purpose flour
2 cups chicken broth
1 ½ cups half and half or whole milk
4 cups chopped cooked chicken
3 cups cooked rice
½ cup dry bread crumbs
2 Tablespoons grated Parmesan cheese
1 Tablespoon melted butter
Directions:
1. Preheat oven to 400 degrees F. Grease a 9×13 baking pan.
2. Melt butter in a large saucepan over medium heat.
3. Stir in the mushrooms and rosemary, cook until softened (about 5 min.). Stir in the flour until well blended.
4. Slowly whisk in the chicken broth and the half and half or milk.
5. Bring to a boil, reduce heat and cook until sauce is thickened and smooth (about five minutes).
6. Mix in the chicken and the cooked rice, combine well. Pour into prepared pan.
7. Mix together the bread crumbs, Parmesan cheese and 1 Tbsp. melted butter, stir well. Sprinkle on top of the chicken and rice mixture.
8. Bake for 25-35 minutes, until the sauce is bubbling and the topping is golden brown.
9. Serve with warm buttered crescent rolls.
*Chicken Rice Casserole with Crescent Rolls
Day Seven Easy Dinner Idea
MEXICAN SHEPHERDS PIE
OVEN WARMED TORTILLA CHIPS
Traditional shepherd's pie is comfort food at it's finest, but when it gets a spice filled, cheese topped makeover it becomes comfort that's off the charts. Mexican Shepherd's Pie is a completely different flavor that makes a nice change from the usual fare.
Mexican Shepherd's Pie Ingredients:
1 package (6.6 ounces) instant home-style mashed potatoes
1 pound ground beef
1 medium onion, chopped
1 can (14-½ ounces) diced tomatoes, undrained
1 can (11 ounces) Mexicorn, drained
1 can (2-¼ ounces) sliced ripe olives, drained
1 envelope taco seasoning
1-½ teaspoons chili powder
½ teaspoon salt
⅛ teaspoon garlic powder
1 cup (4 ounces) shredded cheddar cheese, divided
Directions:
1. Prepare mashed potatoes according to package directions.
2. Meanwhile, in a large skillet, cook beef and onion over medium heat until meat is no longer pink; drain.
3. Add the tomatoes, corn, olives, taco seasoning, chili powder, salt and garlic powder. Bring to a boil; cook and stir for 1-2 minutes.
4. Transfer to a greased 2 ½ quart baking dish. Top with ¾ cup cheese.
5. Spread mashed potatoes over the top; sprinkle with remaining cheese.
6. Bake, uncovered, at 350 degrees F for 12-15 minutes or until cheese is melted.
7. Serve with warmed tortilla chips.
*Mexican Shepherds Pie with Warm Tortilla Chips