Mozzarella Chicken
Garlic Pasta
Italian Bread
Mozzarella Chicken smothered in gooey melted cheese and bathed in rich, flavorful tomato sauce is a simple weeknight dinner recipe. It's a one skillet chicken recipe that's ready in 30 minutes. The chicken is fully cooked through for safety, yet still makes a quick and easy meal.
Mozzarella Chicken Ingredients:
½ Tablespoon olive oil
4 skinless, boneless chicken breast halves
½ teaspoon ground black pepper
½ teaspoon minced garlic
¼ cup minced onion
½ cup chicken broth
4 cups spaghetti sauce
1 cup shredded mozzarella cheese
Directions:
1. Heat oil in a large skillet over medium high heat. Saute chicken breasts for 4 to 5 minutes each side, or until white.
2. Add pepper, garlic, onion and broth.
3. Cover and simmer over medium heat until broth cooks off, about 7 to 10 minutes.
4. Stir in spaghetti sauce, then cover and simmer another 10 minutes, or until chicken is cooked through and no longer pink inside.
5. Sprinkle cheese on top, cover and cook for another 2 to 3 minutes, or until cheese is melted.
Garlic Pasta Ingredients:
8 ounces fusili (spiral) pasta
6 tablespoons olive oil
2 cloves garlic, sliced
½ cup grated Parmesan cheese, divided
1 teaspoon chopped fresh parsley
Directions:
1. Bring a large pot of lightly salted water to a boil. Add pasta and cook for 8 to 10 minutes or until al dente. Drain, then return to pot.
2. Heat oil in a large heavy skillet over medium heat. Saute garlic for 5 minutes. Remove garlic slices, and discard.
3. Pour oil over pasta in pot, and toss to evenly coat.
4. Sprinkle ¾ of the Parmesan cheese onto pasta, and stir until evenly distributed.
5. Transfer to serving dish. Sprinkle with remaining Parmesan and parsley.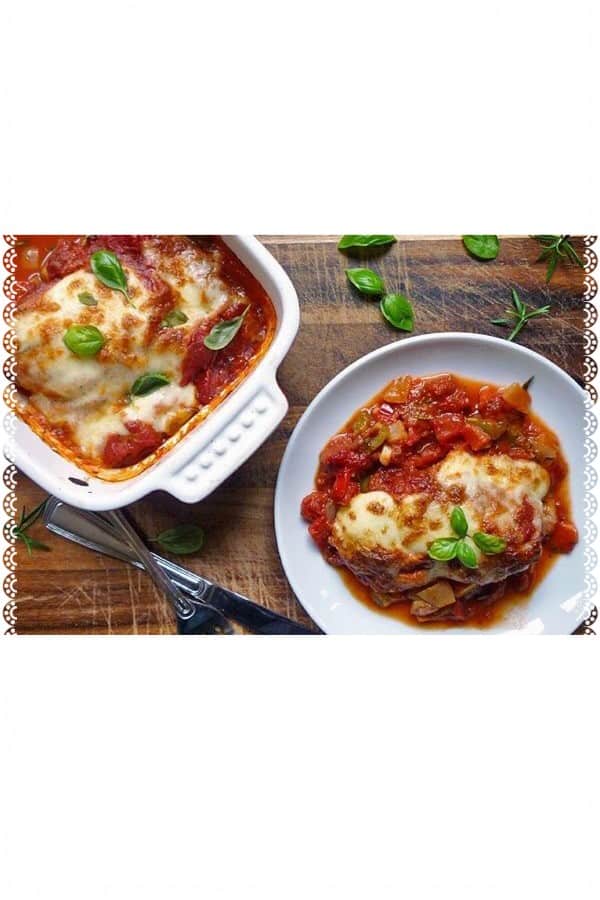 The image featured at the top of this post is ©Ezume Images/Shutterstock.com.