These are the perfect weeknight family dinners. They're the most popular of our quick and easy dinners to get out of the kitchen fast, but they don't skimp on taste (and even picky kids love them)!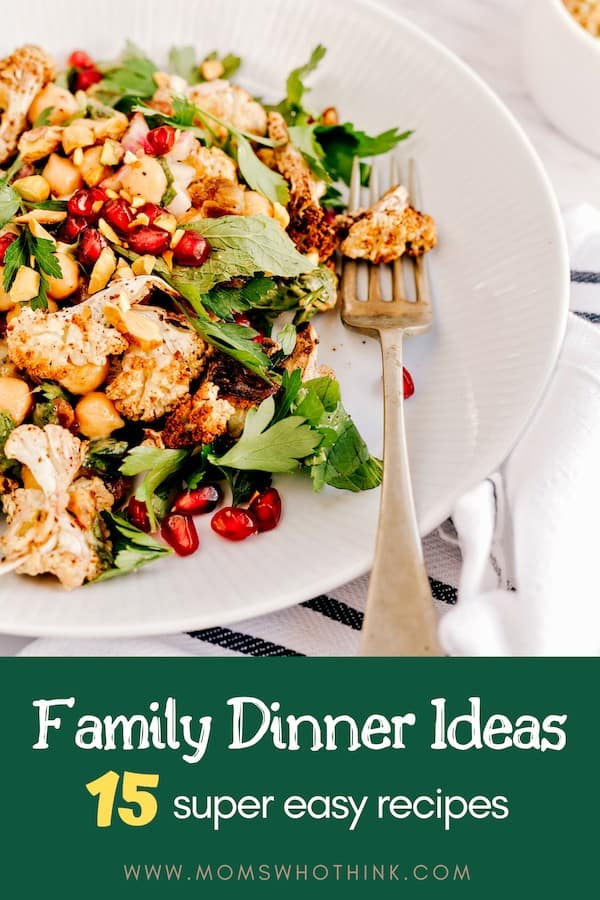 Cheese Steak Pockets
Cheesesteaks are delicious, but can be too heavy with the usual thick rolls. By using pita bread you get the full flavor of traditional cheesesteak with a lot less heavy carbs. The onion rings round this out to make it a complete dinner in 30 minutes.
Ingredients:
1 Tablespoon vegetable oil
1 medium onion, thinly sliced
14 ounces frozen beef or frozen chicken sandwich steak, separated into 8 portions
1 1/2 cups finely shredded cheddar cheese
1/2 cup sliced mushrooms (if using canned mushrooms, drain liquid before using)
4 pita breads (6-inch), warmed
large bag of frozen onion rings
Directions:
1. Prepare onion rings in oven according to package directions. Spray lightly with olive oil cooking spray, then lightly salt for crispier onion rings.
2. While onion rings are baking, heat oil in skillet. Add sliced onion and cook until tender.
3. Add sandwich steaks and cook until browned. Pour off fat.
4. Add cheddar cheese and mushrooms and heat through.
5. Turn off stove burner, then cover pan to keep steak mixture warm.
6. Place pita pockets into oven with onion rings during the last 2 minutes of baking.
7. Remove pitas and onion rings from oven.
8. Spoon cheese steak mixture into pita pockets. Serve with onion rings.
Easy Mexican Lasagna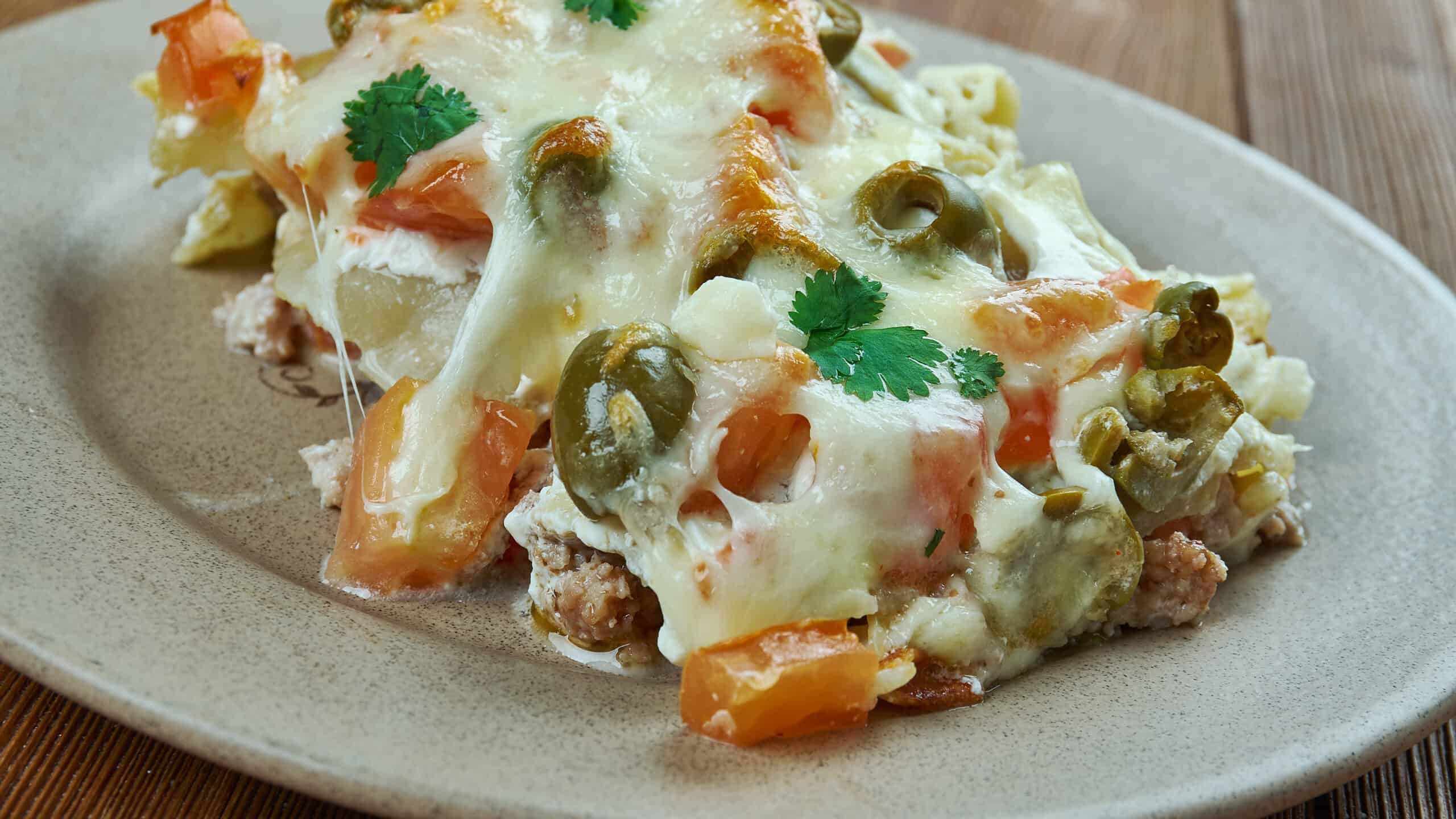 Mexican lasagna is a great change from regular Italian lasanga. Between the robust spices and the tortillas instead of lasagna noodles, this is a very filling dish that takes much less effort than traditional lasagna. If you like a little heat, go for medium or spicy picante sauce. For younger children stick with the mild.
Ingredients:
1 pound ground beef
1 large green pepper, chopped
2 cups Tomato Basil & Garlic pasta Sauce
1-1/2 cups picante Sauce
1 Tablespoon chili powder
8 flour tortillas, (6-inch)
16 ounces shredded Cheddar cheese
4 1/2 ounces sliced pitted ripe olives, drained
Directions:
1. Preheat the oven to 350°F.
2. Cook the beef and pepper in a 10-inch skillet over medium-high heat until beef is well browned, stirring to separate the meat. Drain any fat.
3. Add the pasta sauce, 1 cup picante sauce and chili powder. Heat to a boil.
4. Reduce the heat to low and cook for 10 minutes.
5. Spread the remaining picante sauce in 3-quart shallow baking dish. Arrange 4 tortillas in the dish.
6. Top with half of the beef mixture, half of the cheese and half of the olives. Repeat the layers.
7. Bake for 20 minutes or until it's hot and bubbling. Let stand for 5 minutes.
Grandma's Poor Do
This recipe gets it's name from the times when grandma had to make do with what was in the pantry, usually a day or two before payday. The name may say poor, but the taste is anything but! The kids love this, some may be picky about the onion though. If yours are, substitute a teaspoon of onion powder for the onion. You'll get the extra flavor without having the drama of onion pieces being picked out of their dinner.
Ingredients:
8 slices of bacon
1 stalk celery, chopped
1 onion, chopped
2- 15 ounce cans tomato sauce
16 ounce package bowtie pasta, cooked
Directions:
1. Sauté bacon, celery and onion until bacon is crisply cooked.
2. Pour in tomato sauce.
3. Heat through, gently fold in pasta, stirring well.
Crock Pot Meatless Sloppy Joes
No one will know that these are meatless unless you tell them. Not only do they have the tangy taste of sloppy joes, but they also have the texture of the traditional ground beef recipe.If you're trying to save money or just want to cut back on meat, give these a try.
Ingredients:
2 cups finely chopped onions
2 cups chopped green bell peppers
15 ounces canned kidney beans, drained and slightly mashed
8 ounces tomato sauce
2 Tablespoons ketchup
1 Tablespoon yellow mustard
2 cloves garlic, finely chopped
1 teaspoon chili powder
4 sandwich rolls, split
Directions:
1. Combine all Ingredients except rolls in crock pot.
2. Cover; cook on LOW 5 to 5-1/2 hours or until vegetables are tender. Serve on rolls.
Mozzarella Chicken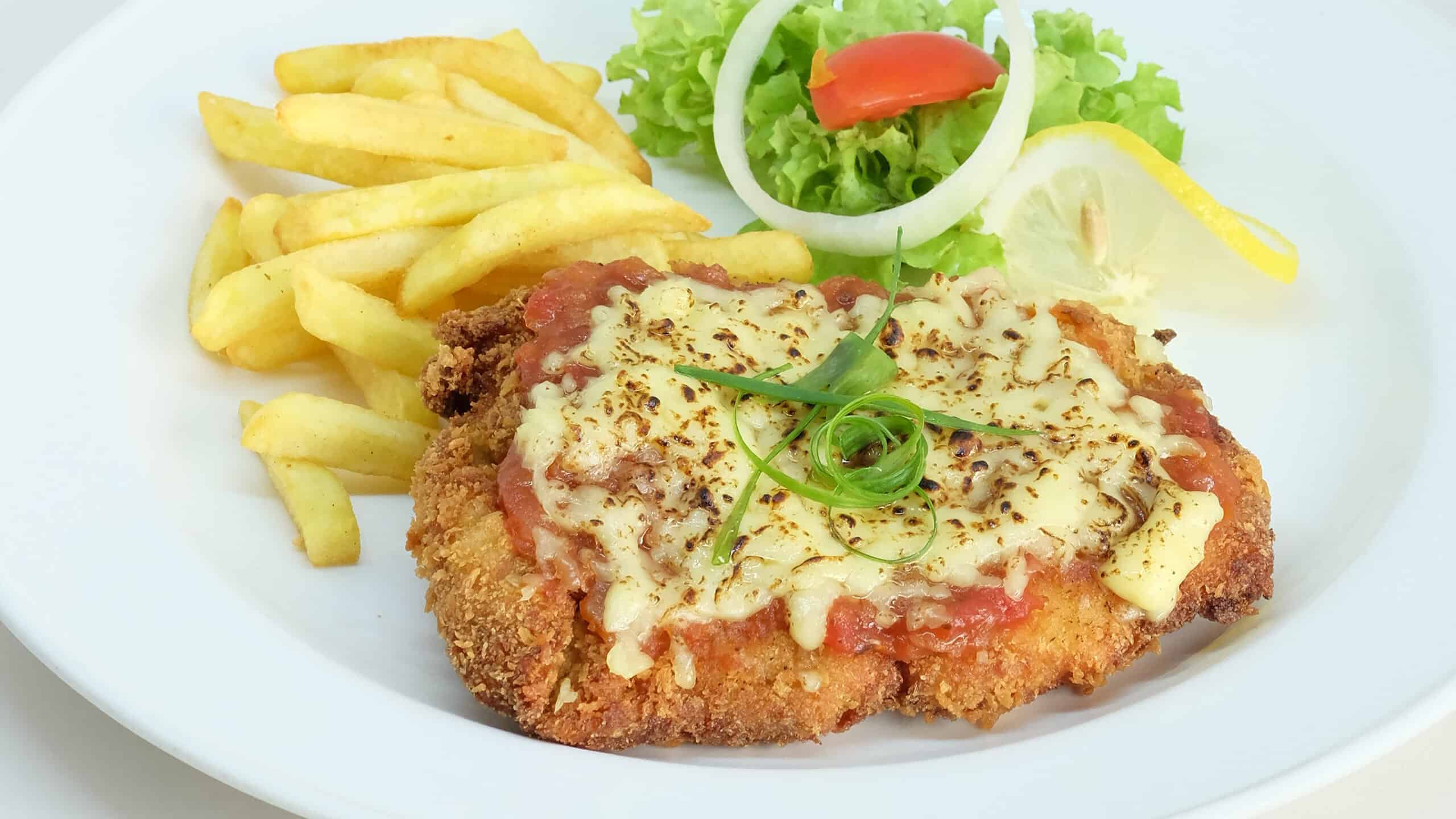 Plain chicken doesn't need to go through a 20 step process with a hundred ingredients to taste good. This recipe has only five ingredients but they work well together to deliver great taste in an easy weeknight dinner favorite. Perfect for all the cheese lovers in your family!
Ingredients:
4 whole chicken breasts (boneless)
4 eggs
Italian breadcrumbs
1 1/2 sticks butter (add more as needed, butter reduces with cooking)
1/2 lb. Mozzarella cheese
1/2 lb. fresh mushrooms (optional)
Directions:
1. Slice chicken breasts into serving size pieces. Place chicken in slightly beaten egg for 1 hour and refrigerate.
2. If using mushrooms, sauté and set aside.
3. Roll chicken pieces in breadcrumbs and fry in butter until brown (about 10 minutes). Add additional butter as needed for frying.
4. Place chicken in 9 x 13 dish and place mushrooms on top (if using).
5. Bake for 10 to 15 minutes in a preheated 325 degree oven.
6. Remove from oven, place Mozzarella cheese cheese on top.
7. Place chicken back in oven until cheese melts.
Cheesy Stuffed Meatballs and Spaghetti
Spaghetti and meatballs are a go-to meal on busy nights, but this recipe takes it up a notch with mozzarella stuffed meatballs. Using string cheese makes prep super easy and few ingredients make it super fast.
Ingredients:
1 pound ground beef
1/2 cup Italian seasoned dry bread crumbs
1 teaspoon garlic powder
1 egg
2 ounces mozzarella string cheese sticks, cut into 12 (1/2-inch) slices
26 ounces (1 jar) Italian style pasta sauce
8 ounces spaghetti, cooked and drained
Directions:
1. In medium bowl, combine ground beef, bread crumbs, garlic powder and egg; shape into 12 meatballs.
2. Press 1 cheese slice into each meatball, enclosing completely.
3. In 3-quart saucepan, bring pasta sauce to a boil over medium-high heat. Gently stir in uncooked meatballs.
4. Reduce heat to low and simmer covered, stirring occasionally, 20 minutes or until meatballs are done. Serve over hot spaghetti.
Beer-Glazed Pork Chops
The alcohol burns off as it cooks, leaving the flavor of stout to make these moist flavorful pork chops. Cut up some baby red potatoes, spray with cooking spray, sprinkle with garlic and oregano and toss into a pan to bake at 350 for 20 minutes (or until tender) while the pork chops are being prepped and cooked.
Ingredients:
4 boneless pork top loin chops, cut 1¼-inches thick (about 1¾ pounds)
1- 12 ounces bottle stout (dark beer)
¼ cup honey mustard
3 cloves garlic, minced
1 teaspoon caraway seeds
Directions:
1. Trim fat from chops.
2. Place chops in a self-sealing plastic bag set in a shallow dish.
3. For marinade, stir together the remaining ingredients; pour over chops. Close bag.
4. Marinate in the refrigerator for 6 to 24 hours, turning bag occasionally.
5. Remove chops; pour marinade into a small saucepan.
6. Bring to a boil; reduce heat.
7. Simmer, uncovered, about 15 minutes or until marinade is reduced by half.
8. In a covered grill arrange heated coals around a drip pan.
9. Test for medium heat above the pan.
10. Place chops on grill rack over drip pan.
11. Cover and grill for 30 to 35 minutes or until the juices run clear (160°F) brushing chops frequently with marinade during the last 10 minutes of grilling.
12. Discard any remaining marinade.
Basil and Tomato Pizza
This is a fresh, delicious alternative to greasy takeout pizza. Prep to table is about 15 minutes (quick and tasty)! You may want to double the recipe because the pizza lovers in the house are going to want seconds.
Ingredients:
1(10 ounce) thin-crust Italian bread shell
Olive oil flavored cooking spray
4 plum tomatoes, thinly sliced
1 teaspoon minced garlic
½ medium-size purple onion, thinly sliced
½ cup (2 ounces) crumbled Gorgonzola cheese
¼ cup chopped fresh basil
Directions:
1. Place bread shell on an ungreased baking sheet or pizza pan; coat crust with cooking spray.
2. Top with tomato and remaining ingredients.
3. Bake at 425°F for 7 to 8 minutes or until cheese melts. Cut into 8 wedges and serve immediately.
Serves 4
Olive Oil Garlic Chicken
Simple ingredients create a lightly crusted chicken dish that turns a weekday meal into something special. Get in and out of the kitchen in no tiime with this 5 ingredient family favorite.
Ingredients:
2 teaspoons crushed garlic
1/4 cup olive oil
1/4 cup dry bread crumbs
1/2 cup grated Parmesan cheese
4 skinless, boneless chicken breast halves
Directions:
1. Preheat oven to 425 degrees F.
2. Warm the garlic and olive oil together in a small pan to blend the flavors.
3. In a separate dish, combine the bread crumbs and Parmesan cheese.
4. Dip the chicken breasts in the olive oil and garlic mixture, then into the bread crumb mixture.
5. Place in a shallow baking dish.
6. Bake in the preheated oven for 30 to 35 minutes, until no longer pink and juices run clear.
Coca-Cola Chicken
Only four ingredients create a tender, tangy chicken dinner in no time. If you're watching your sugar, you can easily substitute diet soda (diet dr. pepper works well) for the regular Coca-Cola in this recipe. We always serve this with rice or lightly buttered noodles to get every last bit of the sauce from the plate.
Ingredients:
4 skinless, boneless chicken breast halves
1 12 oz. can Coca-Cola
1/2 cup ketchup
1/4 cup honey barbecue sauce
Directions:
1. Place all ingredients in a medium saucepan and bring to a boil.
2. Cover and turn heat to medium.
3. Cook for 30 minutes, stirring occasionally.
4. Uncover, and cook an additional 10 minutes until done.
Pizza Casserole Recipe
Pizza in a casserole doesn't get any easier. WIth all the flavor of a pizza pie, this super easy main dish is perfect for those Friday nights when you want pizza but don't want to spend money (or calories and fat) on takeout.
Ingredients:
6 ounce package shell macaroni, cooked
8 ounce jar pizza sauce
8 ounce carton riccota cheese
4 ounce package shredded mozzarella cheese
4 ounce package sliced pepperoni, halved
½ cup onion, chopped
½ teaspoon dried basil
1 Tablespoon grated Parmesan cheese
Directions:
1. In a 2 quart microwave-safe dish, combine all ingredients except Parmesan cheese. Blend well.
2. Sprinkle Parmesan cheese over top, cover and microwave on high for 7 to 9 minutes. Makes 4 servings.
Rotini with Broccoli in Alfredo Sauce
Meatless Mondays got a lot tastier with this cheesy pasta dish. Chock full of great tasting veggies and covered in a creamy alfredo sauce, this is a meal even the littlest picky eaters will love.
Ingredients:
1 (16 ounce) package dried rotini pasta
12 ounces broccoli, cut into bite-size pieces
1 small red sweet pepper, cut into bite-size strips
1 cup whipping cream
1 egg yolk
½ cup butter, melted
1½ cups finely shredded Parmesan cheese
Directions:
1. In a large pot, cook pasta according to package directions, adding the broccoli and sweet pepper for the last 4 minutes of cooking time.
2. Meanwhile, in a small bowl whisk together cream and egg yolk, set aside.
3. Drain pasta and return to pan.
4. Add cream mixture, butter, and Parmesan cheese.
5. Cook and stir over low heat for 2 to 3 minutes or until heated through. Makes 6 servings.
Brown Sugar Glazed Chicken with Sweet Potatoes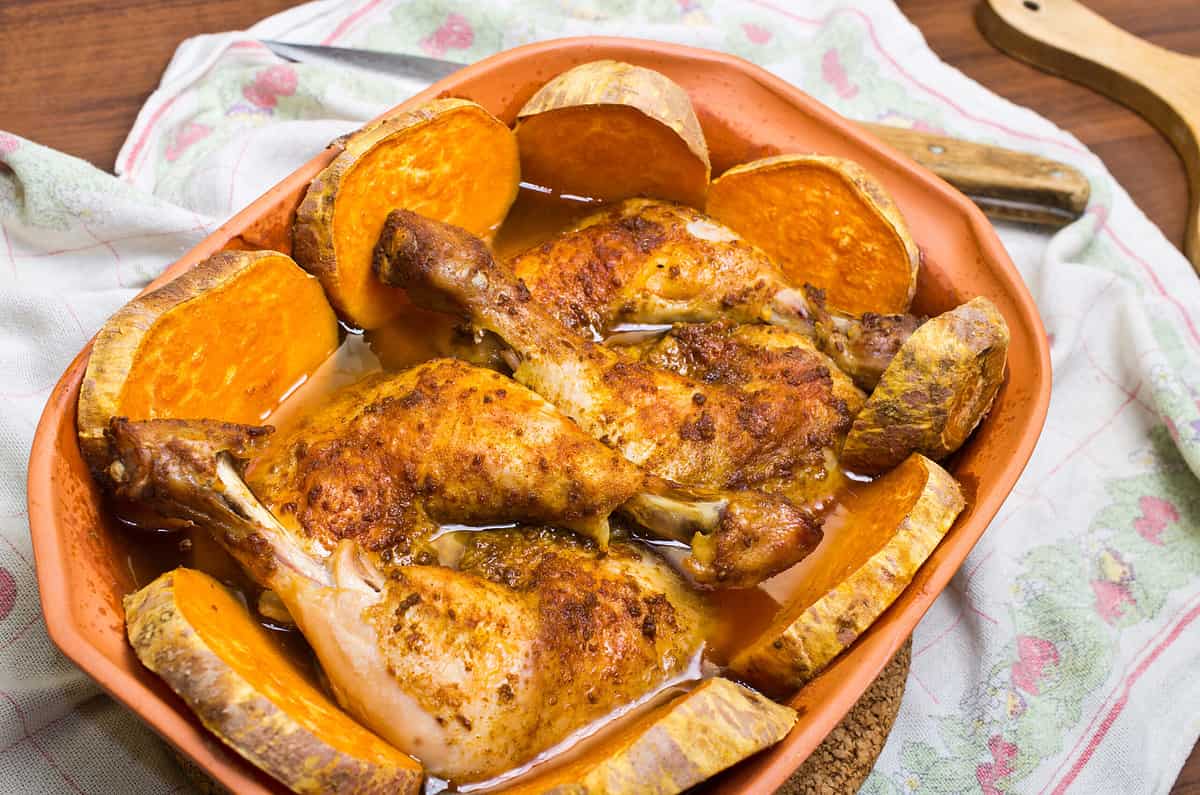 Sweet brown sugar is the base of the glaze on this incredibly delicious chicken. The recipe uses common pantry items, which makes this perfect for a weeknight dinner. Served with mashed sweet potatoes, this is a Sunday dinner in a 30 minute meal package.
Ingredients:
1 teaspoon paprika
1 teaspoon salt
½ teaspoon ground cinnamon
½ teaspoon ground cumin
½ teaspoon ground black pepper
4 bone-in chicken breast halves (about 2 ½ pounds), skinned
1/4 cup brown sugar
4 Tablespoons butter
1 large can yams in syrup, drained
cinnamon and butter for yams
Directions:
1. Preheat the oven to 500 degrees F. Coat a baking sheet with nonstick spray.
2. Combine the paprika, salt, cinnamon, cumin, and pepper in a bowl.
3. Rub the mixture over the chicken breasts and place them on the baking sheet.
4. Position the baking sheet in the upper one-third of the oven and bake 15 minutes.
5. Meanwhile, combine the brown sugar and butter in a small saucepan over low heat.
6. Cook, stirring, until butter melts and the mixture is well combined.
7. After the chicken has baked for 15 minutes, brush it with the brown sugar glaze and bake 5 minutes longer.
8. Brush the chicken again and bake until cooked through, about 5 more minutes.
9. Heat the yams in a saucepan until heated through. Mash with a fork then lightly coat with butter and sprinkle with cinnamon.
10. Serve the chicken with the yams while hot. Makes 4 servings.
Wagon Wheel Beef Pasta
This hearty pasta dish is extra flavorful with a homemade Italian-style sauce. Wagon wheels add a fun new shape to replace boring and messy long spaghetti, making it a perfect kid pleasing dinner.
Ingredients:
3/4 pound ground beef (85% lean)
1-3/4 cups (1 can) Vegetable Broth
1 Tablespoon Worcestershire sauce
1/2 teaspoon dried oregano leaves, crushed
1/2 teaspoon garlic powder
8 ounces stewed tomatoes
1-1/2 cups uncooked medium wagon wheel or corkscrew-shaped pasta
1 loaf Italian bread, sliced and warmed
Directions:
1. Cook ground beef in a 10-inch skillet over medium-high heat until well browned, stirring often to break apart the meat. Drain fat.
2. Stir the broth, Worcestershire sauce, oregano, garlic and tomatoes into the skillet and heat to a boil.
3. Stir in the pasta. Reduce the heat to low.
4. Cover and cook for 10 minutes, stirring often. Uncover.
5. Cook uncovered for 5 minutes longer or until the pasta is tender. Serve with buttered Italian bread slices.
Fried Potatoes, Green Beans, and Bacon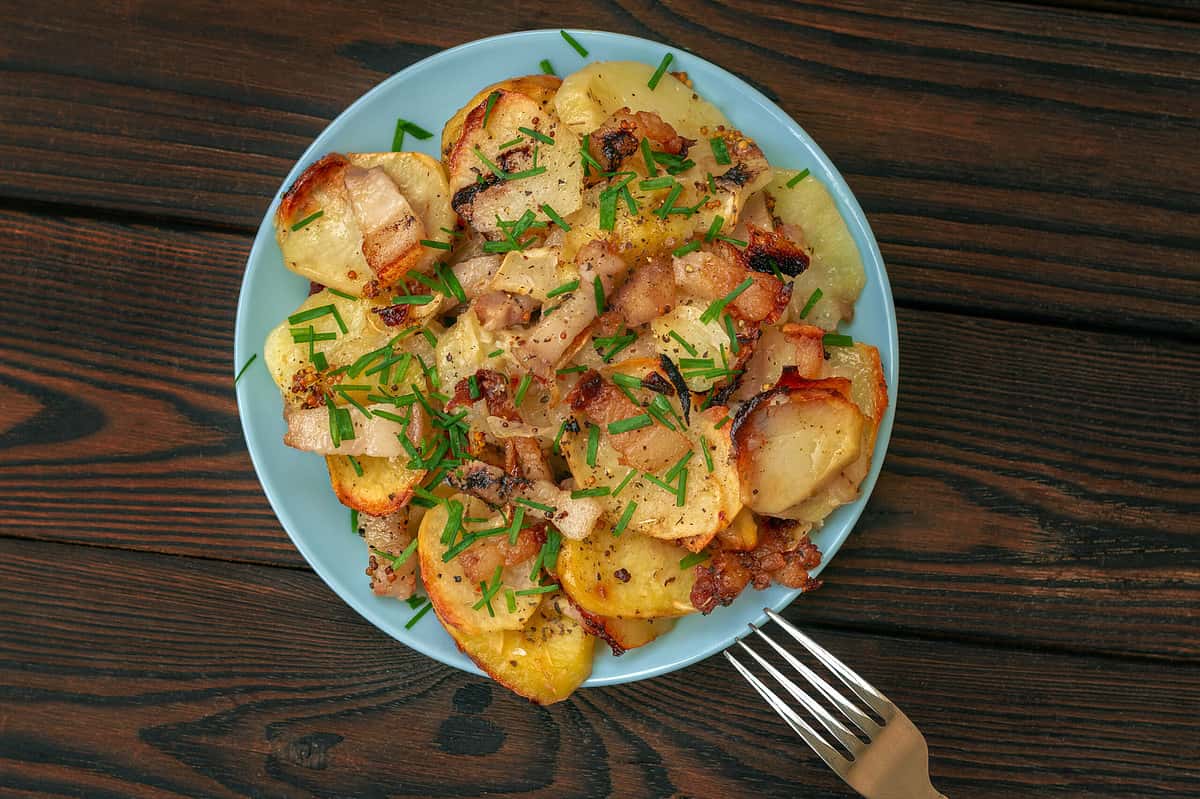 You can't beat a skillet meal for a quick and easy dinner. This is one of those thrown together dishes that becomes a family favorite…simple, good, hearty food is the stuff family meals are made of.
Ingredients:
½ pound bacon
½ cup onion, sliced
4 potatoes, peeled, parboiled, and sliced
1½ pounds green beans, cooked
salt and pepper to taste
Directions:
1. Cook bacon in a large skillet over medium heat until crisp.
2. Remove bacon from skillet, reserving drippings. Crumble bacon and set aside.
3. Add onion to skillet, cook until tender. Remove onion from skillet, set aside.
4. Add potatoes to remaining drippings; cook until fork tender.
5. Drain skillet, leaving 1 Tablespoon drippings in skillet.
6. Add bacon, onion, potatoes and cooked green beans to skillet; heat through.
7. Add salt and pepper to taste. Makes 4 servings
The image featured at the top of this post is ©JBryson/ via Getty Images.