Easy Dinner Recipes
Week Three
In the third week of easy dinner recipes we include easy dinner ideas ranging from elegant chicken cordon bleu to game day barbecued beef sandwiches. The side dishes are listed on each day's menu, making it seven more days of stress-free dinners!
If you'd like to print the individual recipes (instead of the complete weeks' worth at one time), the link to each recipe is at the end of that day's recipe.
Day One Easy Dinner Idea
BLUE RIBBON CHILI
BUTTERED CORNBREAD
This quick and easy chili uses chili seasoning mix and two kinds of kidney beans along with other convenient pantry staples to create a simple weeknight meal. Serve with cornbread for a hearty dinner that requires little prep.
Blue Ribbon Chili Ingredients:
2 pounds ground beef
½ onion, chopped
1 teaspoon ground black pepper
½ teaspoon garlic salt
2 ½ cups tomato sauce
1 (8 ounce) jar salsa
4 Tablespoons chili seasoning mix
1 (15 ounce) can light red kidney beans
1 (15 ounce) can dark red kidney beans
Directions:
1. In a large saucepan over medium heat, combine the ground beef and the onion and sauté for 10 minutes, or until meat is browned and onion is tender. Drain grease, if desired.
2. Add the ground black pepper, garlic salt, tomato sauce, salsa, chili seasoning mix and kidney beans.
3. Mix well, reduce heat to low and simmer for at least an hour.
Cornbread Ingredients:
1 ½ cups cornmeal
2 ½ cups milk
2 cups all-purpose flour
1 Tablespoon baking powder
1 teaspoon salt
⅔ cup white sugar
2 eggs
½ cup vegetable oil
Directions:
1. Preheat oven to 400 degrees F.
2. In a small bowl, combine corn meal and milk; let stand for 5 minutes.
3. In a large bowl, whisk together flour, baking powder, salt and sugar.
4. Mix in the cornmeal mixture, eggs and oil until smooth. Pour batter into prepared 13×9 inch pan.
5. Bake in preheated oven for 30 to 35 minutes, or until a knife inserted into the center of the cornbread comes out clean.
*Blue Ribbon Chili with Buttered Cornbread
Day Two Easy Dinner Recipe
PENNE AND VODKA SAUCE
TOSSED SALAD
ITALIAN BREAD
Savory pancetta is lightly sauteed then cooked in vodka, tomato sauce and cream to make a rich and velvety sauce to cover penne. It goes wonderfully with warm Italian bread and a salad, making an elegant meal without any fuss. Pancetta makes the dish and is available at most deli counters. The alcohol in the vodka sauce burns off during cooking, making this delicious dinner family-friendly.  
Penne and Vodka Sauce Ingredients:
1 (16 ounce) package penne pasta
2 Tablespoons butter
¼ pound thinly sliced pancetta bacon, chopped
⅓ cup vodka
½ cup heavy whipping cream
1 ½ cups tomato sauce
½ cup grated Parmesan cheese
Directions:
1. Bring a large pot of lightly salted water to a boil. Add pasta and cook for 8 to 10 minutes or until al dente; drain.
2. Meanwhile, melt butter in a large skillet over medium heat. Add pancetta, and sauté until lightly browned.
3. Add vodka and stir until it is reduced by half, about 4 to 5 minutes.
4. Stir in tomato sauce and cream. Simmer uncovered for 10 to 12 minutes. Stir every few minutes.
5. Stir in pasta, and heat through. Serve with Parmesan cheese, tossed salad and warm Italian bread.
*Penne in Vodka Sauce with Tossed Salad and Italian Bread
Day Three Easy Dinner
EASY CHICKEN CORDON BLEU
BUTTERED WHITE RICE
This easy chicken cordon bleu is created with chicken breasts rolled with ham and Swiss cheese. Coated in a smooth chicken gravy, this is the perfect dinner for nights you want something special without spending all night in the kitchen.  
Easy Chicken Cordon Bleu Ingredients:
1 cup milk
1 cup dry bread crumbs
6 skinless, boneless chicken breast halves – pounded to ¼ inch thickness
salt and pepper to taste
6 slices cooked ham
6 slices Swiss cheese
2 Tablespoons vegetable oil
1 (10.5 ounce) can condensed cream of chicken soup
½ cup heavy cream
Directions:
1. Preheat oven to 350 degrees F. Place milk and bread crumbs in two separate shallow bowls.
2. Season the chicken with salt and pepper. Place one slice of ham and one slice of cheese on each piece of chicken; roll, and secure with toothpicks.
3. Dip each chicken roll into milk, and then into breadcrumbs.
4. Heat oil in a large skillet over medium-high heat. Brown rolled chicken on all sides.
5. Arrange the chicken in a 9×13 inch baking dish.
6. In a small saucepan over medium heat, blend soup and cream; season with salt and pepper to taste.
7. Pour over the chicken. Bake in the preheated oven for 30 minutes, or until chicken is no longer pink and juices run clear.
*Easy Chicken Cordon Bleu with Buttered Rice
Day Four Dinner Idea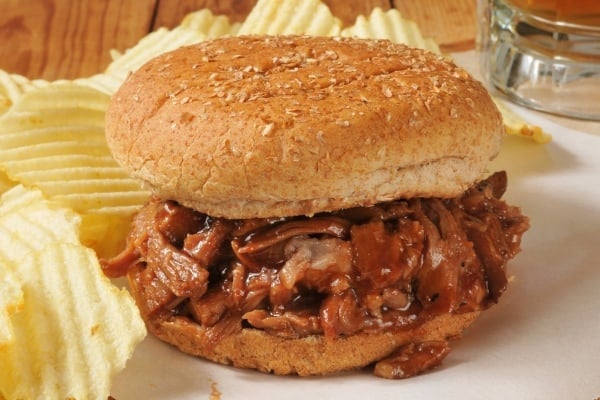 BARBECUED SHREDDED BEEF ON KAISER ROLLS
BAKED FRENCH FRIES
Beer, Worcestershire sauce, and seasonings create the base for this mouth-watering beef barbecue. Made from roast that falls apart when it's done, this recipe makes hearty sandwiches with just enough tangy sauce left over to dip your french fries into. 
Barbecued Shredded Beef Ingredients:
3 pounds beef roast
2 onions, chopped
2 (12 fluid ounce) cans or bottles beer
6 teaspoons Worcestershire sauce
2 teaspoons liquid smoke flavoring
2 teaspoons garlic powder
2 teaspoons ground black pepper
salt to taste
1 (18 ounce) bottle barbecue sauce
2 cups water
Directions:
1. Preheat oven to 275 degrees F. Place roast in a large roasting pan and scatter chopped onions over.
2. In a large bowl, combine Worcestershire sauce, liquid smoke, garlic powder, salt and pepper.
3. Pour in beer, stir and add to roasting pan. Add water to the top of beef.
4. Cover and cook in oven at 275 degrees F for 4 to 5 hours.
5. When meat is cooked, shred meat with 2 forks, add barbecue sauce and mix well.
6. Serve with baked French fries (made from frozen French fries).
*Barbecued Shredded Beef on Kaiser Rolls with Baked French Fries
Day Five Dinner Recipe
HONEY GLAZED HAM
BAKED CORN
DINNER ROLLS
Juicy bone-in ham gets a sticky glaze of brown sugar and honey, with savory undertones of mustard and cloves. This is an easy, yet amazing Sunday dinner especially when paired with baked corn. 
Honey Glazed Ham Ingredients:
1 (10 pound) fully-cooked, bone-in ham
1 ¼ cups packed dark brown sugar
⅓ cup pineapple juice
⅓ cup honey
⅓ large orange, juiced and zested
2 Tablespoons Dijon mustard
¼ teaspoon ground cloves
Directions:
1. Preheat oven to 325 degrees F. Place ham in a roasting pan.
2. In a small saucepan, combine brown sugar, pineapple juice, honey, orange juice, orange zest, Dijon mustard, and ground cloves.
3. Bring to a boil, reduce heat, and simmer for 5 to 10 minutes. Set aside.
4. Bake ham in preheated oven uncovered for 2 hours. Remove ham from oven, and brush with glaze.
5. Bake for an additional 30 to 45 minutes, brushing ham with glaze every 10 minutes.
Baked Corn Ingredients:
1 (15.25 ounce) can whole kernel corn, drained
1 (14.75 ounce) can cream-style corn
1 (8 ounce) container sour cream
¾ cup melted butter
2 eggs, beaten
1 (8.5 ounce) package dry corn muffin mix
Directions:
1. Preheat oven to 350 degrees F.
2. Combine the whole-kernel corn, cream-style corn, sour cream, melted butter, eggs and corn muffin mix.
3. Mix well and pour into one 9×13 inch baking pan.
4. Bake for 35 to 45 minutes.
*Honey Glazed Ham with Baked Corn and Dinner Rolls
Day Six Easy Dinner
IRISH CHICKEN AND DUMPLINGS
This is comfort food at it's finest. A creamy stew of chicken, vegetables, and potatoes surround dumplings made from biscuit dough to create a belly warming meal for chilly nights. 
Irish Chicken and Dumplings Ingredients:
2 (10.75 ounce) cans condensed cream of chicken soup
3 cups water
1 cup chopped celery
2 onions, quartered
1 teaspoon salt
½ teaspoon poultry seasoning
½ teaspoon ground black pepper
4 skinless, boneless chicken breast halves
5 carrots, sliced
1 (10 ounce) package frozen green peas
4 potatoes, quartered
3 cups baking mix
1 ⅓ cups milk
Directions:
1. In large, heavy pot, combine soup, water, chicken, celery, onion, salt, poultry seasoning, and pepper. 2. Cover and cook over low heat about 1 ½ hours.
3. Add potatoes and carrots; cover and cook another 30 minutes.
4. Remove chicken from pot, shred it, and return to pot. Add peas and cook only 5 minutes longer.
5. Add dumplings.
To make dumplings:
1. Mix baking mix and milk until a soft dough forms.
2. Drop by tablespoonfuls onto BOILING stew.
3. Simmer covered for 10 minutes, then uncover and simmer an additional 10 minutes.
Day Seven Easy Dinner Idea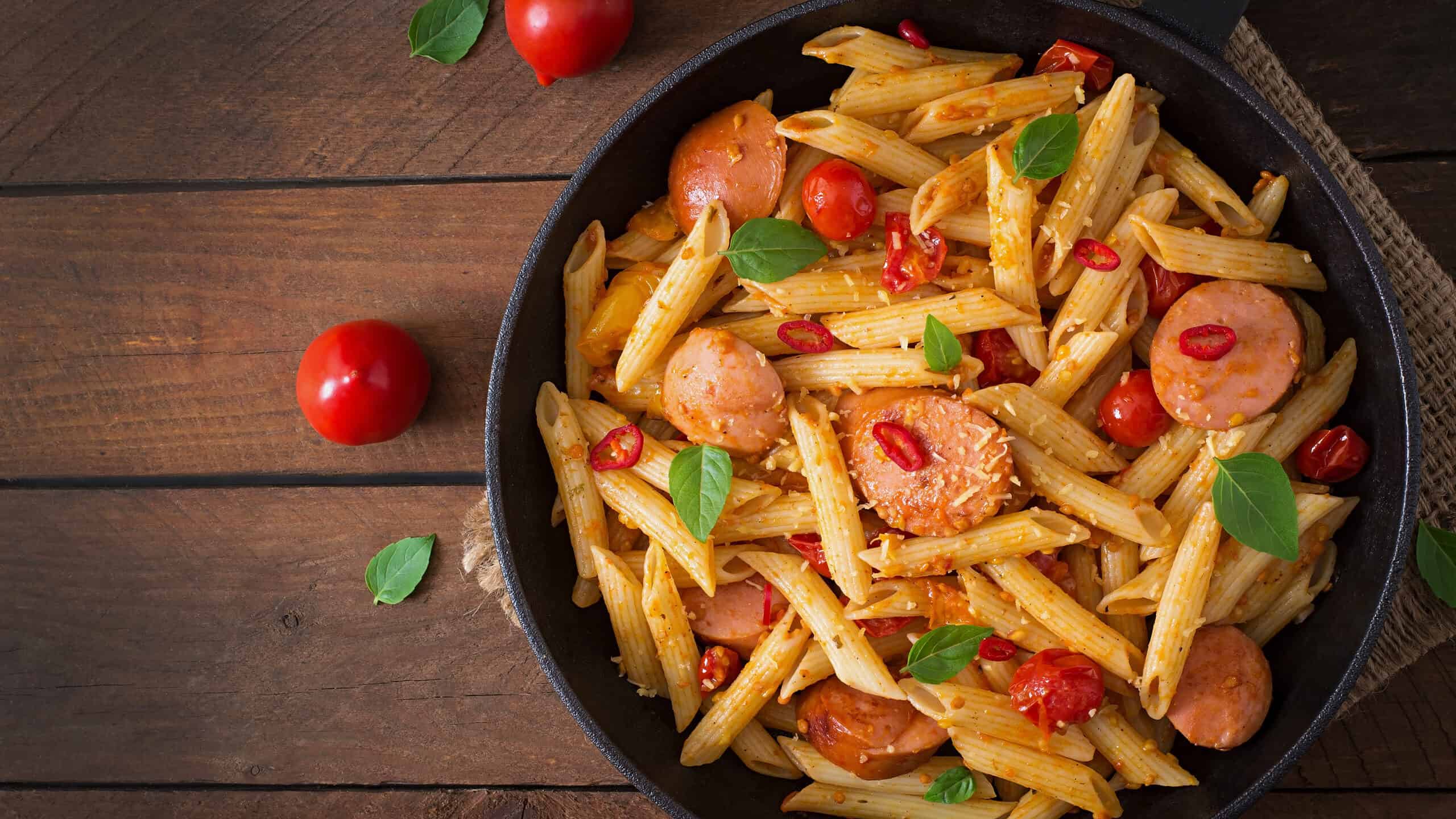 ITALIAN SAUSAGE PEPPERS AND ONIONS
PASTA WITH TRADITIONAL SAUCE
Sausage, peppers an onions are an easy and versatile family dinner. It's very easy to make, uses only a few ingredients, and can be served on rolls or over pasta. Pour traditional spaghetti sauce over the pasta and serve the sausage as a side or as a mix-in for a robust Italian meal. 
Italian Sausage Peppers and Onions Ingredients:
6 (4 ounce) links sweet Italian sausage
2 Tablespoons butter
1 yellow onion, sliced
½ red onion, sliced
4 cloves garlic, minced
1 large red bell pepper, sliced
1 green bell pepper, sliced
1 teaspoon dried basil
1 teaspoon dried oregano
¼ cup white wine
Directions:
1. Place the sausage in a large skillet over medium heat, and brown on all sides.
2. Remove from skillet, and slice.
3. Melt butter in the skillet. Stir in the yellow onion, red onion, and garlic, and cook 2 to 3 minutes.
4. Mix in red bell pepper and green bell pepper. Season with basil, and oregano. Stir in white wine.
5. Continue to cook and stir until peppers and onions are tender.
6. Return sausage slices to skillet with the vegetables. Reduce heat to low, cover, and simmer 15 minutes, or until sausage is heated through.
7. Serve with pasta with red sauce.
*Italian Sausage Peppers and Onions with Spaghetti