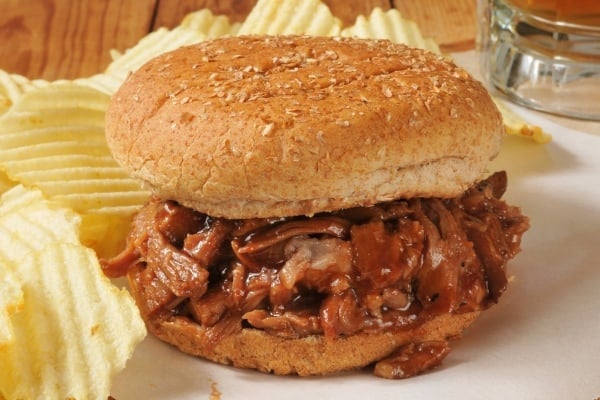 Barbecued Shredded Beef on Kaiser Rolls
Baked French Fries
Beer, Worcestershire sauce, and seasonings create the base for this mouth-watering beef barbecue. Made from roast that falls apart when it's done, this recipe makes hearty sandwiches with just enough tangy sauce left over to dip your french fries into.
Barbecued Shredded Beef Ingredients:
3 pounds beef roast
2 onions, chopped
2 (12 fluid ounce) cans or bottles beer
6 teaspoons Worcestershire sauce
2 teaspoons liquid smoke flavoring
2 teaspoons garlic powder
2 teaspoons ground black pepper
salt to taste
1 (18 ounce) bottle barbecue sauce
2 cups water
Directions:
1. Preheat oven to 275 degrees F. Place roast in a large roasting pan and scatter chopped onions over.
2. In a large bowl, combine Worcestershire sauce, liquid smoke, garlic powder, salt and pepper.
3. Pour in beer, stir and add to roasting pan. Add water to the top of beef.
4. Cover and cook in oven at 275 degrees F for 4 to 5 hours.
5. When meat is cooked, shred meat with 2 forks, add barbecue sauce and mix well.
6. Serve with baked French fries (made from frozen French fries).