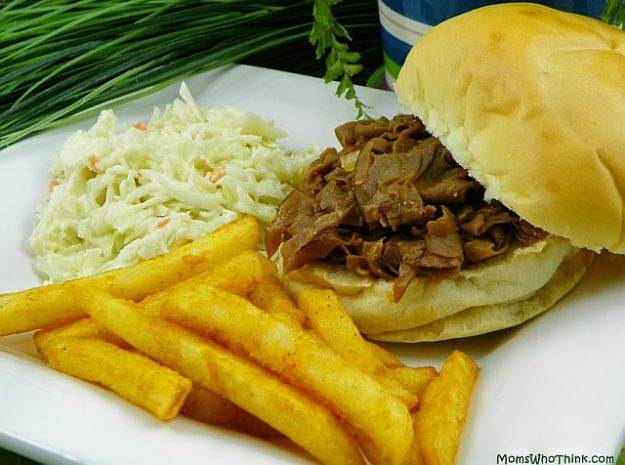 Barbecued Beef Sandwiches
French Fries
Cole Slaw
Let's Get Ready for Baby!
Sign up for our monthly pregnancy email series, and you'll get regular updates on your baby's development, helpful timelines to get ready for their arrival, must-have baby needs and so much more! PLUS, you'll get instant access to the MomsWhoThink "Ultimate Guide to Baby Naming in 2022."
CLICK HERE
to get started!
 
Barbecued Beef Ingredients:
Barbecue Sauce:
½ cup ketchup
3 Tablespoons white vinegar
2 Tablespoons chopped onion
1 Tablespoon Worcestershire sauce
2 teaspoons packed brown sugar
¼ teaspoon ground mustard
1 clove garlic, finely chopped
 
Sandwiches:
1 lb. thinly sliced cooked roast beef, cut into 1-inch strips (3 cups)
6 hamburger buns, split
 
Directions:
 
1. In 1-quart saucepan, heat all sauce ingredients to boiling over medium heat, stirring constantly; reduce heat.
2. Simmer uncovered 10 minutes, stirring occasionally.
3. Stir beef into sauce. Cover and simmer about 5 minutes or until beef is hot.
4. Fill buns with beef mixture. Serve with French fries (baked from frozen) and coleslaw.
 
 
 
KFC Coleslaw Recipe Ingredients:
1 cabbage, shredded
¼ cup sugar
1 cup carrots, shredded
½ teaspoon salt
¼ teaspoon pepper
½ cup milk
1 cup mayonnaise
½ cup buttermilk
½ teaspoon celery seed
2 drops Tabasco
3 Tablespoons onions, dry minced
 
Directions:
 
1. Slice cabbage paper thin, and toss lightly with sugar, shredded carrots.
2. Sprinkle with salt and pepper and drench it all with milk. Cover and refrigerate for about 15 minutes.
3. Meanwhile, combine mayonnaise (not salad dressing), buttermilk, celery seed, Tabasco and minced onion.
4. Mix well with cabbage mixture.
5. Refrigerate again at least an hour before serving.
6. Drain some of the dressing first and serve it separately at the table.