Salads are perfect for a baby shower. Having a salad on offer in your menu will give your more health-conscious guests or even you more options than just cake, bread, and drinks. More than just an appetizer but not as heavy as a full meal, if there are multiple dishes on offer, your guests can feel more full while still leaving room for a bite of everything sitting in the kitchen or at the party table. While there is no way we could cover everything thing possible, here are some great recipes to get you started!
Key Points of Salad at a Baby Shower
Try to choose a salad that will flow well with your other dishes. A seafood pasta salad may not go very well with a full BBQ menu.
Be aware of possible allergies and label your salad accordingly.
Take into account the time of year you are having your baby shower. A lemongrass and mint salad may not be well received in the winter.
---
AMBROSIA FRUIT SALAD
Ingredients:
1 (11 oz.) can mandarin oranges, drained
1 (13 oz.) can pineapple chunks, drained
1/2 cup miniature marshmallows
1 cup coconut
1/2 cup whipped cream, whipped
Directions:
Put together in bowl, let set overnight. Transfer ambrosia fruit salad to a salad mold and serve.
BANANA – NUT SALAD
Ingredients:
1 egg
1 cup sugar
2 Tablespoon flour
1/4 cup vinegar
3/4 cup water
2 Tablespoon butter
8 bananas
1 cup finely chopped nuts
Lettuce
Directions:
Beat eggs lightly in top of double boiler; stir in sugar and flour.
Add vinegar and water; cook stirring until thickened. Stir in butter; cool.
Peel bananas; dip into cooked dressing. Roll into nuts; arrange on lettuce-lined salad plates.
CLASSIC WALDORF SALAD
Ingredients:
2 cup diced apples
1 Tablespoon sugar
1/2 teaspoon lemon juice
Dash of salt
1 cup 1″ julienne celery sticks
1/2 cup chopped walnuts
1/4 cup mayonnaise
1/2 cup whipping cream, whipped
1 cup mini marshmallows (optional)
Directions:
Combine sugar, lemon juice and salt. Add apples, celery and walnuts.
Fold mayonnaise into whipped cream. Fold gently into apple mixture. Chill.
Serve in lettuce lined bowl. Makes 6 servings.
PINEAPPLE BOAT
Directions:
Cut a fresh pineapple lengthwise. Do not remove the leaves.
Remove the inner portion in sections, creating a hollow boat like shell.
Trim the sections and cut into chunks. Combine with other available fruits such as strawberries, grapes, cantaloupe, etc.
Return all fruit to the pineapple shell.
PINK PEAR SALAD
Ingredients:
1 (1 lb., 13 oz.) can pears
8 drops red food coloring
1/4 cup water
2 (3 oz.) pkgs. cream cheese, softened
1 Tablespoon finely chopped candied ginger
Stick cinnamon
Directions:
Drain pears, reserving syrup, dry on paper towel.
Add food coloring to 1/4 cup water; dab on pears to tint.
Combine 1 package of cream cheese with ginger, beat with enough reserved syrup to make fluffy.
Use cheese mixture to fill pears hollows and to seal two pear halves together.
Using other package of cream cheese in cake decorator, pipe ruffles around sealed edges of pears.
Add tiny pieces of cinnamon. Makes 4 servings.
CHEF'S SALAD BOWL
Ingredients:
1/4 lb. fully cooked ham
1/2 cup sliced radishes
1/2 cup reduced-calorie salad dressing
2/3 cup cherry tomatoes, halved
1 1/2 cup cauliflower flowerettes
1/2 cup sliced green onions
4 oz. low-fat Cheddar cheese, julienned
Directions:
Trim fat from ham – use a sharp knife to cut ham into julienne strips.
In a large mixing bowl combine cauliflower florwerettes, radishes and green onions – add salad dressing (flavor of your choice).
Toss to coat and set aside. To serve, arrange cauliflower mixture on top of bed of salad greens and top with ham, cheese and cherry tomatoes. Makes 4 servings.
MOLDED CHICKEN SALAD
Ingredients:
1 Tablespoon Knox Gelatine
1/2 cup cold water
1 cup boiling hot chicken broth
2 Tablespoons minced green onions (optional)
1/4 teaspoon garlic powder
pinch of celery seed (optional)
2 cups cooked chicken, diced
1/2 cup celery, finely chopped
1 cup mayonnaise
1/4 cup chopped pimientos
Directions:
In a small bowl, soak gelatine in 1/2 cup cold water for 5 minutes. Stir in 1 cup boiling hot chicken broth, garlic powder, and green onions and celery seed (if using).
Combine with mayonnaise, chicken, celery and pimientos.
Pour mixture into 8 individual sized moulds (silicone works well) or 1 large one. Chill for at least 3 hours.
Just before serving, dip mould into hot water for less than 10 seconds, then invert onto serving dish. Serve with hot biscuits.
TACO SALAD
Ingredients:
1 lb ground beef
1 envelope taco seasoning
1 10 oz. can kidney beans
1 cup grape tomatoes, halved
1 head lettuce, shredded
1 12 oz. pkg. shredded cheddar cheese
1 12 oz. bag nacho cheese flavored Doritos, crushed
1 16 oz. bottle Italian salad dressing
Directions:
Brown ground beef and add taco seasoning. Simmer according to directions. Place in large bowl and refrigerate until cool. Add beans, tomatoes, lettuce, cheese, and Doritos. Mix well.
Cover with salad dressing. Mix again. Serve almost immediately.
MACARONI SALAD
Ingredients:
1 1/2 lb. box of elbow macaroni
1/2 bunch of green onions – chopped
1/2 teaspoon salt (or more to taste)
1/2 ea. red, orange, green and yellow peppers. total: 2 whole peppers
2 tsp Dijon mustard (generous)
1 1/2 cups Hellman's Mayonnaise
celery salt
Directions:
Cook Macaroni in salted water. Drain noodles. While noodles are still hot, mix in mustard and mayonnaise in large bowl.
Mixture should be wet, but not creamy. Stir in Onions and peppers and salt. Mix well.
Taste for salt and mayonnaise content. Add more if needed. Coat top of salad with a sprinkling of celery salt and stir in.
Cover and refrigerate a few hours to allow onion and pepper flavors to permeate.
Serve cold.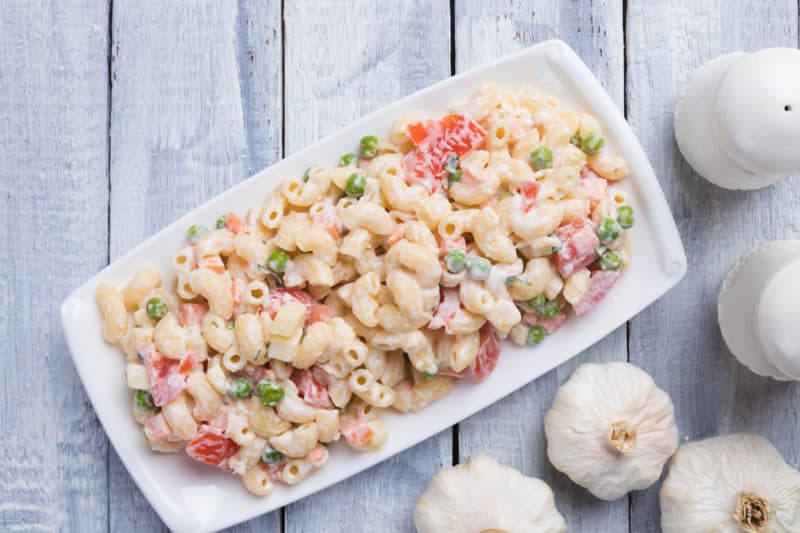 PASTA AND SEAFOOD SALAD
Ingredients:
2 cup multi-colored pasta twirls
10 oz. crab meat or lobster, cooked (imitation kind if fine)
3 stalks celery
1 sm. can (2 to 3 oz.) sliced black olives
4 or 5 green onions (scallions)
1/2 sm. green or yellow pepper
6 oz. shredded cheese (optional)
1/2 cup "Good Stuff" Salad Dressing (see recipe)
1 teaspoon lemon juice
Salt and pepper to taste
Directions:
Cook pasta until tender. Wash thoroughly with cold water and drain.
While pasta is cooking chop, celery, scallions and pepper into small pieces. Place in large bowl.
Cut seafood into small pieces and add. Drain olives and add. Add cooled and drained pasta, salad dressing and lemon juice. Toss gently.
Add more salad dressing if desired.
Salt and pepper to taste. Sprinkle cheese on salad, if desired or garnish with cherry tomatoes, parsley or whatever.
Chill in refrigerator for at least one hour before serving.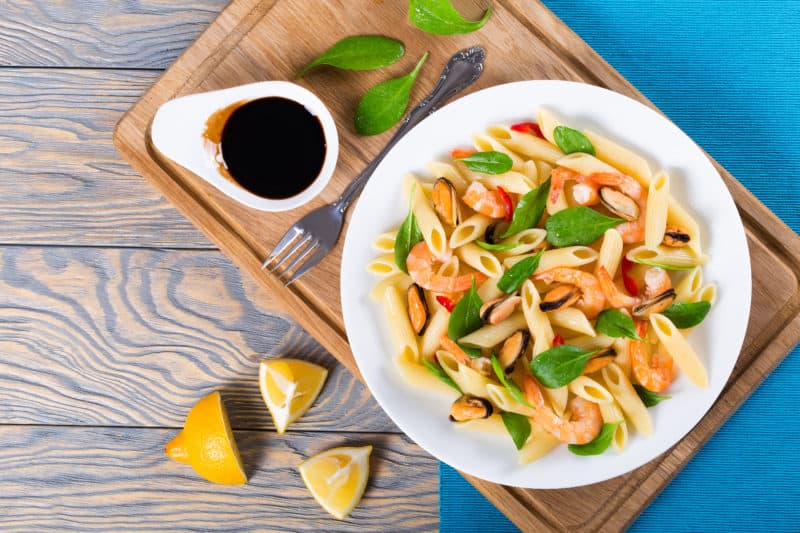 TUNA PASTA SALAD
Ingredients:
2 (6 1/2 oz.) cans tuna
1 (8 oz.) pkg. tortellini pasta, filled with Parmesan cheese
4 boiled eggs, chopped
Small onion, chopped
1/2 cup sweet salad cubes
1/2 cup chopped celery
Mayonnaise
Directions:
Cook pasta in 2 1/2 quart boiling salted water, according to package directions. Drain and cool.
Add all other ingredients to pasta. Mix with mayonnaise to taste.
PERFECT POTATO SALAD
Ingredients:
2 lbs. potatoes (about 6 medium)
1/4 cup onion, finely chopped
1/2 to 3/4 cup mayonnaise
3 to 4 hard cooked eggs, cut up
Salt to taste
Pepper to taste

Directions:
Cut up potatoes and cook 30 to 35 minutes or until tender. Drain and cool.
Combine potatoes with onion, mayonnaise, eggs, salt, and pepper. Stir all ingredients well.
BROCCOLI SALAD
Ingredients:
1 cup celery
3 cup raw broccoli, chopped
4 hard boiled eggs, chopped
8 slices of bacon fried and crumbled
1/2 cup raisins
Dressing:
1 cup mayo (not salad dressing)
1/4 cup sugar
2 teaspoon vinegar
Directions:
Combine all the salad ingredients in a mixing bowl.
Prepare the dressing, pour over the salad mixture and stir.
.
COLESLAW
Ingredients:
6 cups shredded cabbage
1/2 cup sugar
1 cup shredded carrots
1/2 teaspoon salt
1/4 teaspoon pepper
1/2 cup buttermilk
DRESSING:
2 tablespoons vinegar
1 cup Miracle Whip Salad Dressing
1/2 teaspoon celery seed
3 tablespoons onions, chopped
Directions:
Add sugar, salt, pepper, and buttermilk to dressing.
Pour dressing over cabbage mixture and mix well. Refrigerate at least 2 hours.
Makes 12 servings.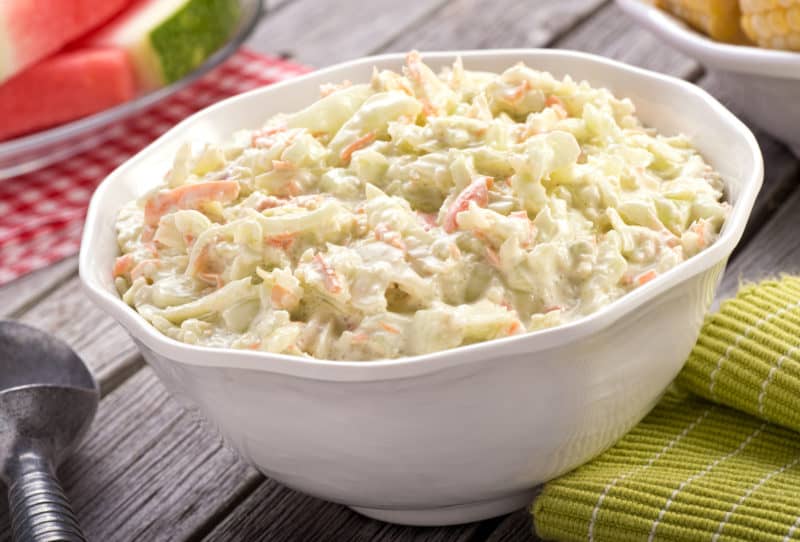 ITALIAN TORTELLINI SALAD BOWL
2 cup loose-pack frozen mixed broccoli, carrots, cauliflower
4 oz. Provolone cheese or mozzarella cheese
1 (2 1/4 oz.) can sliced pitted black olives
4 or 5 cup torn mixed salad greens
1 pt. (2 cup) deli marinated tortellini salad
1 (3 1/2 oz.) pkg. sliced pepperoni
1/4 cup finely shredded Parmesan cheese
1 bottle clear Italian salad dressing
Directions:
Place frozen vegetables in a colander. Run hot water over vegetables until just thawed. Drain well.
While vegetables are draining, cut Provolone or mozzarella cheese into 1/2 inch cubes. Drain olives.
In a large salad bowl combine drained vegetables, cheese cubes, olives, salad greens, undrained tortellini salad, and pepperoni slices.
Toss lightly to coat. If necessary, add enough of the Italian dressing to coat. Sprinkle with shredded Parmesan cheese. Serves 4.
CUCUMBERS IN SOUR CREAM
Ingredients:
2 medium cucumbers, thinly sliced
1 medium onion, thinly sliced
1/2 cup dairy sour cream
1 Tablespoon sugar
1 Tablespoon vinegar
Directions:
Combine the cucumbers and onion. Stir together sour cream, sugar, vinegar and 1/2 teaspoon salt; toss with vegetables.
Cover and chill.
COBB SALAD
Ingredients:
1 1/2 cup cubed, cooked chicken
2 eggs, hard cooked, coarsely chopped
6 slices bacon, crisply cooked, crumbled
4 cup torn salad greens
1 lg. tomato, chopped
1/4 cup sliced green onion
1 avocado, peeled, sliced, tossed in lemon juice
1 cup crumbled blue cheese
1/2 – 1 cup Thousand Island dressing
Directions:
To serve, arrange all ingredients except dressing in rows on large serving platter or in 13″x9″ baking dish or arrange single serving on lettuce lined plates.
Spoon dressing over salad.
SEVEN LAYER NOODLE SALAD
Ingredients:
2 8-ounce cartons dairy sour cream
1 cup bottled peanut sauce
1/4 teaspoon cayenne pepper (optional)
1 6 to 7 ounce package rice sticks, broken
2 cups fresh snow pea pods, trimmed
8 cups shredded napa cabbage
1/2 of a medium daikon, cut into thin bite-size strips (1 cup)
4 cups packaged shredded broccoli (broccoli slaw mix)
1 cup fresh cilantro leaves
1/2 cup coarsely chopped peanuts
Directions:
In a medium bowl combine the sour cream, peanut sauce and, if desired, cayenne pepper; set aside.
Prepare rice sticks according to package directions. Drain. Rinse with cold water; drain well. Set aside.
Cook pea pods, covered, in a small amount of boiling salted water for 2 minutes until crisp-tender. Drain. Rinse with cold water; drain well. Set aside.
In a 4-1/2- to 6-quart clear glass bowl or two 3-quart rectangular baking dishes layer the napa cabbage, rice sticks, pea pods, daikon, shredded broccoli, and cilantro.
Carefully spread the sour cream mixture over the cilantro. Sprinkle the peanuts over the sour cream mixture.
Cover and chill until ready to serve or up to 8 hours. If serving in a large bowl, toss before serving. If serving in baking dishes, cut through mixture with knife into serving-size portions. Makes 12 to 16 servings.
RIGATONI WITH EGGPLANT AND DRIED TOMATO PESTO
Ingredients:
1 medium onion
2 Tablespoons olive oil
1 medium eggplant (about 1 pound)
6 ounces dried rigatoni or other short pasta (such as penne or fusilli)
1/3 recipe Dried Tomato Pesto (recipe follows)
1/4 teaspoon freshly ground black pepper
2 Tablespoons crumbled chevre (goat cheese) or feta cheese (optional)
Fresh Italian parsley
Directions:
Cut onion into 8 wedges. Place in a 13x9x2-inch baking pan; brush with 1 tablespoon of the olive oil.
Roast in a 425 degree F oven for 10 minutes.
Cut stem end off eggplant; discard. Cut eggplant in half lengthwise. Brush with remaining olive oil.
Stir onion; place eggplant in pan, cut sides down. Continue roasting for 15 minutes more or until onion is golden brown and eggplant is just tender.
Meanwhile, cook pasta according to package directions; drain well. Toss the cooked pasta with Dried Tomato Pesto and pepper.
Transfer pasta to a serving bowl; keep warm.
Transfer eggplant to a cutting board; using a serrated knife, cut into 1/2-inch-thick slices. (Use a fork to steady eggplant as you slice.)
Toss eggplant and onion with pasta; season to taste with salt. Top with cheese and Italian parsley, if desired.
Makes 6 to 8 side-dish servings or 4 main-dish servings.
Dried Tomato Pesto:
Drain 3/4 cup oil-packed dried tomatoes (about 3/4 of a 7-ounce jar), reserving oil.
Add olive oil to equal 1/2 cup; set aside.
In a food processor bowl or blender container, combine the drained tomatoes; 8 cloves garlic, chopped; 1/4 cup pine nuts or slivered almonds; 1/4 cup snipped fresh basil or 1 tablespoon dried basil, crushed; and 1/2 teaspoon salt.
Cover and process or blend until finely chopped. With machine running, gradually add the 1/2 cup oil, processing or blending until almost smooth and stopping to scrape down sides as needed.
Divide pesto into thirds. Use a third for Rigatoni with Eggplant and refrigerate the remaining 2 portions up to 3 days or freeze up to 1 month.
Makes approximately three 1/3-cup portions.
ASPARAGUS PASTA SALAD
Ingredients:
• 6 oz cut macaroni or shell pasta (2 cups dry)
• 16 oz can asparagus drained and diced
• 1/2 cup shredded carrot
• 8 oz carton (1 cup) plain nonfat yogurt
• 1 can (2.25 oz) sliced ripe olives, drained
• 2 cups leftover ham, diced
• 1/8 teaspoon dried tarragon, crushed
• 1/8 teaspoon dried basil, crushed
Directions:
Cook pasta as directed and drain. Place all ingredients into large salad bowl and toss well.
Chill for one hour before serving. If pasta seems dry add 1/2 cup additional yogurt. Makes 4 to 6 servings.
ORZO SALAD
Ingredients:
• 1 cup orzo, cooked and drained
• 1 ear corn, husk and silk removed
• 1 shallot, chopped
• 1 small garlic clove, minced
• 1 medium red or yellow sweet pepper, halved and seeded
• 6 Tablespoons extra virgin olive oil, divided
• 2-3 Tablespoons fresh lemon juice
• 1 Tablespoon fresh basil, chopped
• Salt and fresh ground black pepper to taste
Directions:
Heat grill pan on medium heat. Drizzle corn and pepper with 2 Tablespoons olive oil.
Grill until lightly brown on all sides and remove from heat. Cut corn off cob and chop pepper in small pieces about size of corn.
Meanwhile, heat 1 Tablespoon olive oil in small sauce pan. Saute shallot and garlic for 2 minutes.
Add to corn and pepper mixture. Toss cooked orzo with mixture, 3 Tablespoons olive oil, lemon juice and basil.
Salt and pepper to taste. Makes 4 servings.
CHICKEN PISTACHIO PESTO SALAD
Ingredients:
• 4 boneless, skinless chicken breasts
• 6 small garlic cloves
• 1/2 cup shelled natural pistachio nuts
• 1/2 cup grated Parmesan cheese
• 1/3 cup olive oil
• 1/2 cup packed fresh basil leaves
• 1 1/2 tablespoons soy sauce
• 1 teaspoon Tabasco sauce (or to taste)
• 1 pound bow tie pasta
• Garnish: green onion sprigs and cherry tomatoes
Directions:
In a large pot boil chicken breasts covered in water for 15 minutes or until cooked through.
Drain, and set aside chicken to cool. Chop into bite size pieces. In a food processor, chop the garlic finely.
With motor running, add pistachios, Parmesan, oil, basil, soy sauce and Tabasco until it reaches a smooth puree.
In a large pot of boiling water, cook the bow tie pasta approximately 11 minutes or until al dente. Drain well.
In extra large bowl, toss the pasta with the pesto. Stir in chicken. Let salad cool about 30 minutes, garnish and serve.
Makes 8 servings.
DILL BOWTIE SALAD
Ingredients:
• 1 box bowtie pasta
• 2 cucumbers, peeled and seeded
• 8 Italian sweet peppers
• 1 bunch green onions
• 1 can reduced-sodium (LeSeur brand) peas
• 1 bag shredded carrots
• 1 large bunch fresh dill weed
• 1 1/2 to 2 cups of Miracle Whip or mayonnaise
• 1 package grape tomatoes
Directions:
Cook bowtie pasta to desired tenderness. Drain, rinse and cool completely.
Peel and seed cucumber and peppers, and dice into bite sized pieces. Clean and chop green onions.
Drain peas. Toss all together with cooled pasta and shredded carrots; add Miracle Whip and mix well.
Chop desired amount of dill weed and add to salad. Wash tomatoes and use them to top salad. Chill well before serving.
Makes 6 to 8 servings.
MAC AND CHEESE SALSA RANCH SALAD
Ingredients:
• 1 7-oz box macaroni and cheese, prepared as directed on package, but omitting butter or margarine
• 1 cup diced tomatoes, seeds removed and well drained
• 1 cup peeled, seeded, & diced cucumber, drained on paper towels for a few minutes
• 1/4 cup finely chopped red onion
• 1 4-oz can sliced black olives, drained
• 1/2 cup fat-free ranch salad dressing
• 4 or 5 curly (leaf) lettuce leaves
Directions:
Cool macaroni and cheese to room temperature.
Meanwhile, stir remaining ingredients, except lettuce leaves, together in a large bowl.
Fold in macaroni and cheese. Cover and chill one hour.
Arrange lettuce leaves on a serving platter. Spoon salad on top. Serve immediately. Makes 4 to 5 servings.
BLT PASTA SALAD
Ingredients:
• 1 box spiral noodles
• 1 head romaine lettuce
• 1 lb bacon
• 2 tomatoes
• 1 cup mayo
• 1 cup sour cream
• 1 Tbsp ground black pepper
Directions:
Boil pasta until tender. Cook bacon until crisp, drain; crumble while hot.
Mix together mayo, sour cream and pepper. Cut lettuce into bite-sized pieces.
Dice tomatoes. Mix together pasta and dressing. Add tomato and bacon.
Chill at least 2 hours. Add lettuce just before serving. Makes 10 servings
BLT POTATO SALAD
Ingredients:
8 all-purpose potatoes (about 3 pounds)
8 strips bacon
Dressing:
1/2 cup each mayonnaise and sour cream
1/4 cup water
2 tablespoons Dijon mustard
1 teaspoon salt
1/2 teaspoon black pepper
1 cup chopped celery
1/2 cup sliced red onion
1/2 cup finely chopped sweet gherkins
1 medium head romaine lettuce, cut crosswise in 1/2-inch wide strips
1 pint cherry tomatoes, halved
Directions:
Peel potatoes and cut in 1 inch pieces. Put into a large saucepan with cold water to cover.
Bring to a boil over high heat. Reduce heat and simmer 12 minutes or until firm tender. Drain and let cool slightly.
Meanwhile cook bacon in a skillet or microwave until crisp. Cool, then cut in 1/2 inch pieces. (Wrap and refrigerate at this point if making ahead.)
Whisk Dressing ingredients in a large bowl until well blended.
Add warm potatoes, celery, red onion and sweet gherkins and mix gently. Let cool. (Cover and refrigerate at this point if making ahead.)
CALIFORNIA SHRIMP BOWL
Ingredients:
1 1/2 pounds unshelled medium shrimp
1 Tablespoon pickling spice
2 celery tops (or more)
Salad greens
2 tomatoes, cut into wedges
2 Tablespoons capers
2 hard-cooked eggs, sliced
3 Tablespoons oil and vinegar dressing (bottled or homemade)
Directions:
Drop shrimp into boiling salted water to cover and add pickling spice and celery tops. Bring again to boil and cook, uncovered, 2 to 3 minutes.
Drain, peel and devein shrimp. Place in bowl, cover tightly and chill several hours.
Line serving bowl with greens. Arrange shrimp and tomato wedges in bowl. Sprinkle with capers and garnish with sliced eggs. Sprinkle with dressing and serve at once.
Yield: 6 servings
CHICKEN TACO SALAD
Ingredients:
8 chicken breast tenders
4 cups shredded lettuce
1 (16 ounce) can chili beans, drained (reserve liquid)
1/2 cup shredded Cheddar or Monterey jack cheese
1 tomato, chopped
1 avocado, chopped
2 scallions, sliced
1/4 cup salsa
Sour cream
Tortilla chips
Directions:
Prepare chicken according to package instructions.
Combine lettuce, beans, cheese, tomato, avocado and scallions; top with chicken.
ANTIPASTO PASTA SALAD
Ingredients:
1/2 cup vegetable oil
3 Tablespoons red wine vinegar
1 clove garlic, minced
1 teaspoon dried basil
1/8 teaspoon crushed red pepper flakes
1 teaspoon salt
6 ounces macaroni
1/4 cup grated Parmesan cheese
2 cups broccoli florets
4 ounces sliced pepperoni sausage
10 cherry tomatoes, halved
1/2 cup shredded mozzarella
Directions:
Cook pasta in a pot of boiling salted water until al dente. Drain.
In large bowl, stir together oil, vinegar, garlic, basil, and salt and pepper. Toss with warm macaroni to coat well.
Toss with Parmesan. Cover, and refrigerate 2 to 3 hours.
Add broccoli, pepperoni, and tomatoes; toss well. Sprinkle with mozzarella cheese, and serve.
Combine salsa and reserved chili bean liquid.
Serve with salsa dressing, chips and sour cream.
Makes 6 servings