The sixth full week of healthy dinner recipes combine a touch of elegance and a hearty portion of home style cooking. Each day has something the whole family can enjoy; from molasses-glazed pork roast to chicken pot pies.
The great thing about the recipes we provide you with here, and on other healthy week articles, is that you can mix and match them how you please. Like some of the recipes from weeks five and six? Combine them into one week! It's really up to you how you choose to go about having these recipes.
If you want to change anything in these recipes, we recommend waiting to do so until you've made each of them at least once. Changing a recipe before you've even tried it isn't usually a good idea, since you have no idea what the original recipe tastes like. The only exception is if you need to make an alteration for a food allergy or insensitivity.
With all of that being said, let's dive into these healthy recipes. Be sure to bookmark this page so you can return to it throughout the week. Happy cooking!
Healthy Dinner Recipes
Healthy Dinner Recipes Week Six
Day One Healthy Dinner Recipe
LINGUINE WITH SHRIMP AND SCALLOPS
CAESAR SALAD
Linguine with Shrimp and Scallops Recipe:
Makes 8 servings
Each serving of the linguine with shrimp and scallops contains:
369 calories
29g protein
48g carbohydrate
6g total fat
Ingredients:
1 pound linguine
2 Tablespoons olive oil
½ cup diced shallots
2 (14.5 ounce) cans reduced sodium or no salt added diced tomatoes
1 pound shrimp, shelled and deveined
1 pound sea scallops, cut in half lengthwise
¼ teaspoon cayenne
½ cup slivered fresh basil plus sprigs for garnish
Directions:
1. Cook the pasta to al dente as the package label directs, omitting salt and oil, reserving 1 cup pasta cooking water. Keep the pasta warm in the pot.
2. Meanwhile, heat the oil in a large nonstick skillet over medium-high heat and sauté the shallots until tender, about 4 minutes. Add the tomatoes and heat to boiling. Add the shrimp and cook for 1 minute, then add the scallops and cayenne and cook for 1 minute.
3. Add the seafood mixture to the pasta and toss to coat. Heat until the shrimp and scallops are cooked through, about 1 minute.
4. Add the basil and toss to mix, adding enough reserved pasta cooking water to make the sauce juicy. Garnish with the basil sprigs and serving with a side Caesar salad.
Day Two Healthy Dinner Recipe
MOLASSES GLAZED PORK ROAST
ROASTED POTATOES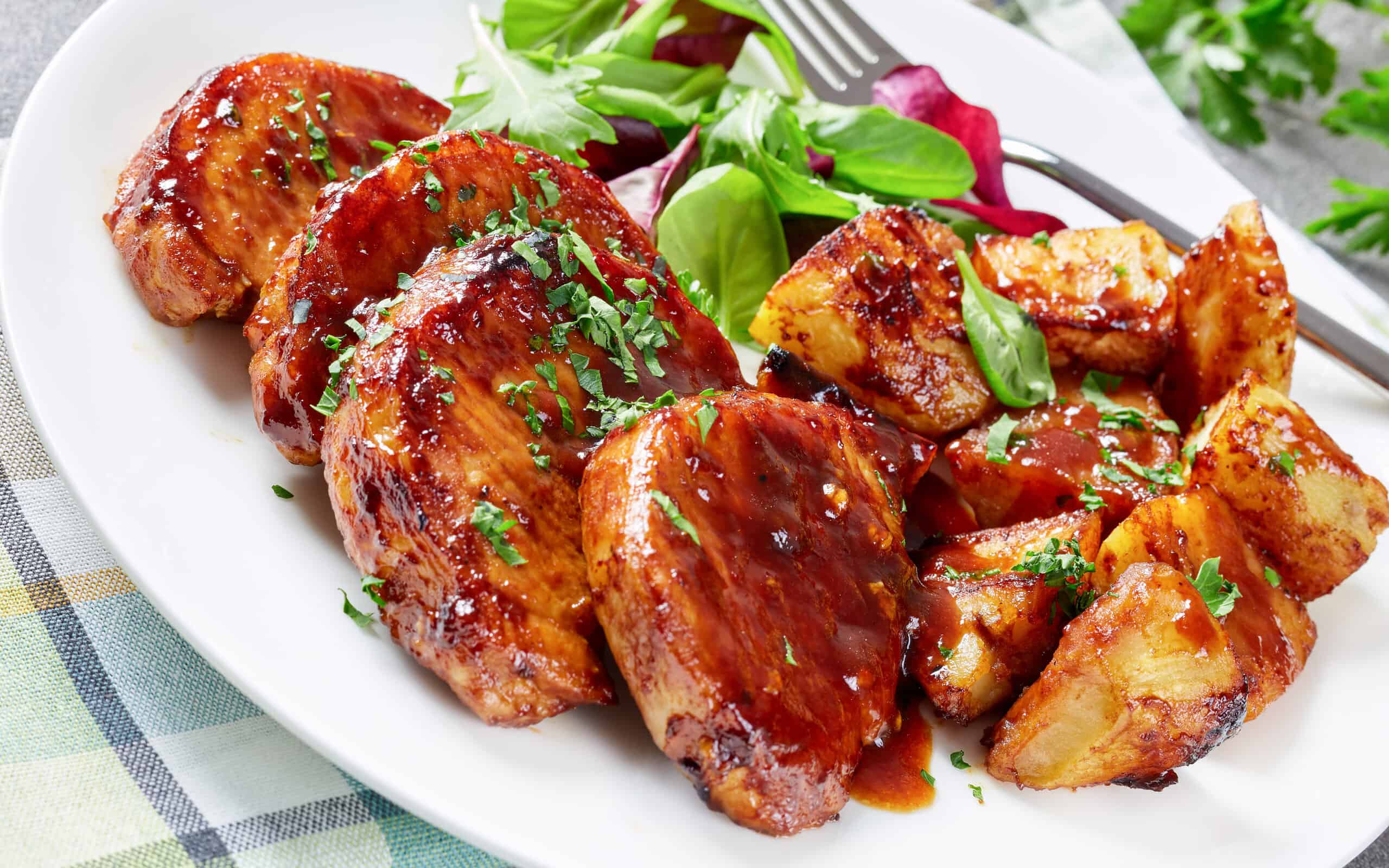 Molasses Glazed Pork Roast Recipe:
Makes 8 servings
Each serving of the molasses-glazed pork roast contains :
259 calories
23g protein
4g carbohydrate
16g total fat
Ingredients:
1 (2 pound) lean boneless pork rib roast or loin, all visible fat removed
2 Tablespoons uncultured molasses
2 Tablespoons water
1 teaspoon dry mustard
1 Tablespoon coarse ground pepper
1 Tablespoon minced garlic
1 Tablespoon white sesame seeds
Directions:
1. Preheat the oven to 475 degrees F. Place the pork roast in a shallow aluminum foil lined baking pan. Combine the molasses, water, mustard, and garlic and pepper in a small bowl and mix until blended.
2. Spread the mixture over the pork and bake for 20 minutes. Sprinkle with the sesame seeds and reduce the oven temperature to 350°F.
3. Bake, tenting the roast with foil if it is browning too much, until an instant read thermometer inserted in the center registers 140 degrees F and the juices are not cloudy when the thermometer is taken out, about 10 minutes longer.
4. Remove the roast from the oven and cover loosely with aluminum foil. Let stand for 10 minutes. Slice and serve with roasted potatoes.
Day Three Healthy Dinner Recipe
CHICKEN POT PIE
MIXED GARDEN SALAD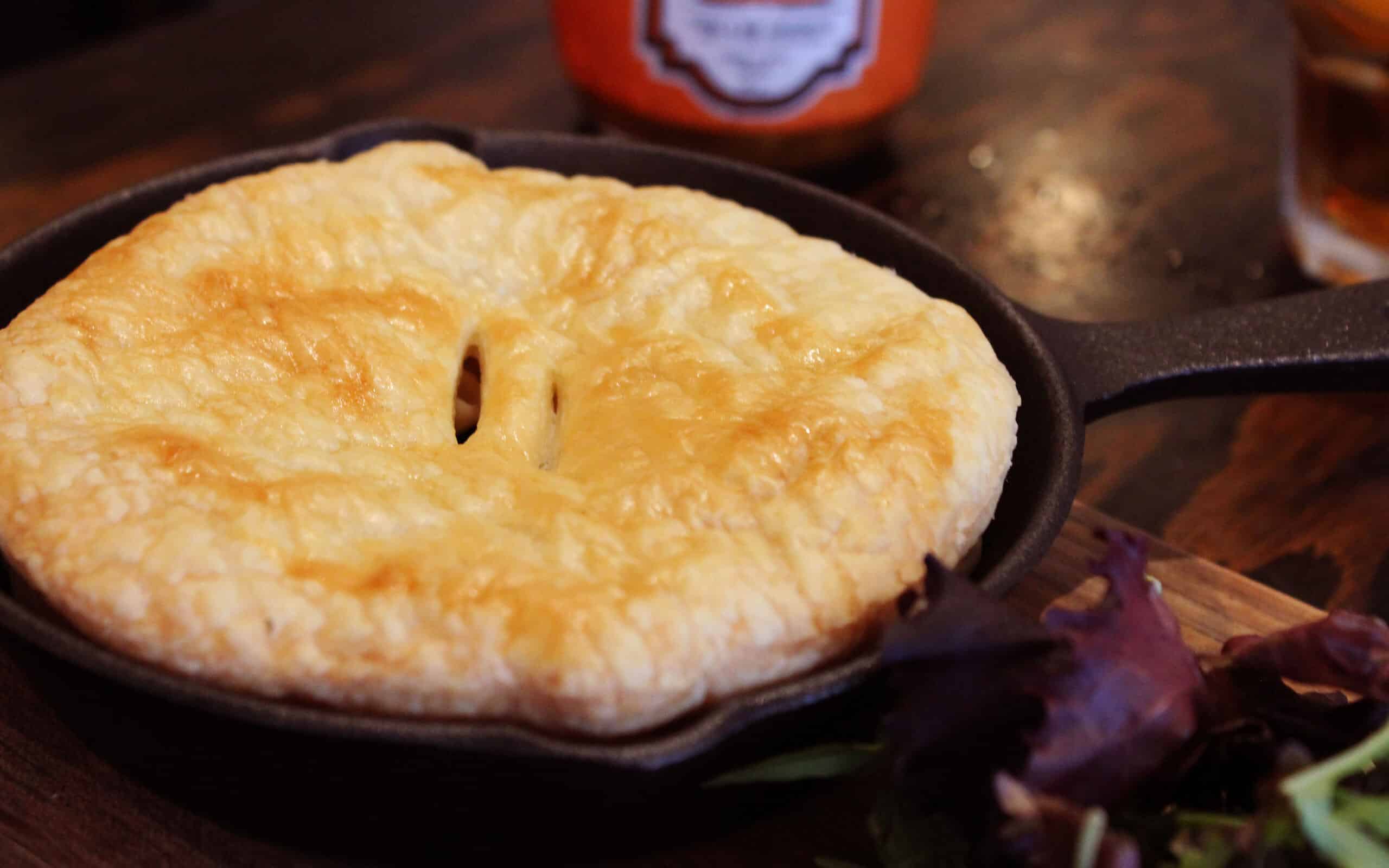 Chicken Pot Pie Recipe:
Makes 8 servings
Each serving of chicken potpie contains :
285 calories
31 grams protein
19 grams carbohydrate
8 grams total fat
Ingredients:
1 bag (12 ounce) frozen mixed vegetables
3 Tablespoons all-purpose flour
1/2 teaspoon salt
1/4 teaspoon poultry seasoning
1/4 teaspoon pepper
1 1/4 cups 1% milk
1/2 cup finely chopped onion
1 can (10 3/4 oz) condensed 98% fat-free cream of chicken soup
1/4 cup light sour cream
4 boneless skinless chicken breasts, cooked, cut into bite-size pieces (about 4 cups)
1 refrigerated pie crust (from 15-oz box), softened as directed on box
Directions:
1. Cook and drain vegetables as directed on package.
2. Preheat oven to 375°F. In a medium saucepan, mix flour, salt, poultry seasoning, pepper and milk with wire whisk until blended.
3. Stir in onion. Cook over medium heat 4 to 6 minutes, stirring constantly, until thickened.
4. Stir in soup and sour cream. Add chicken and cooked vegetables; mix well.
5. Cook, stirring frequently, until thoroughly heated. Pour mixture into an ungreased 2-quart round casserole.
6. Unroll pie crust; place over hot filling. Seal edge by pinching crust at 1/2 inch intervals. Cut slits in several places in crust.
7. Bake 35 to 40 minutes or until crust is golden brown and mixture is bubbly. Let stand 10 minutes before serving.
Day Four Healthy Dinner Recipe
VEGGIE-FILLED BURGERS
OVEN FRIES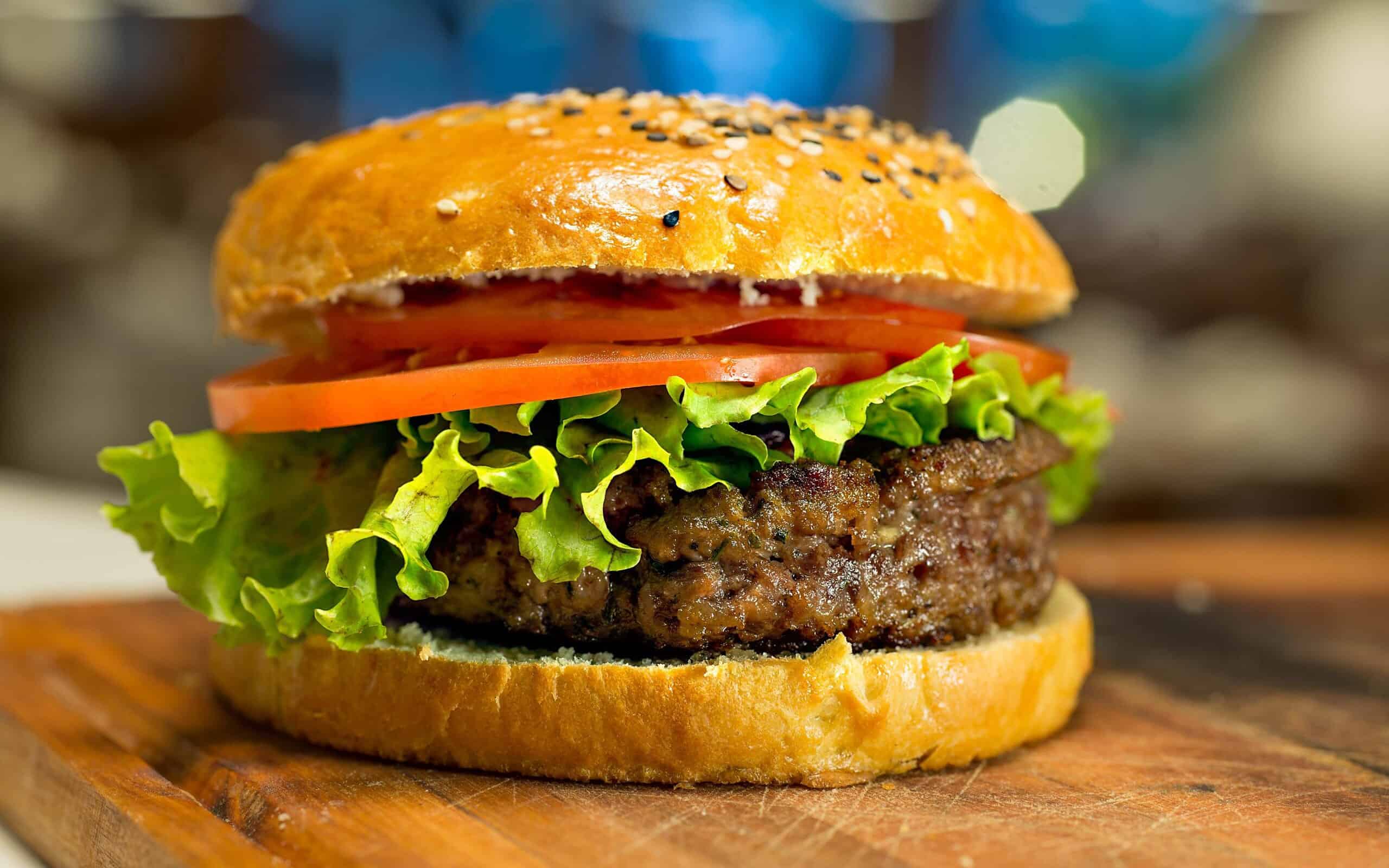 Veggie-Filled Burgers Recipe:
Makes 4 servings
Each serving of veggie-filled burgers contains :
257 calories
20g protein
24g carbohydrate
9g total fat
Ingredients:
2 tablespoons milk
½ cup finely shredded carrot
¼ cup thinly sliced green onion
¼ cup soft whole wheat bread crumbs
¼ teaspoon dried Italian seasoning, crushed
¼ teaspoon garlic salt
⅛ teaspoon black pepper
¾ pound lean ground turkey or chicken
¼ cup Dijon-style mustard
½ teaspoon curry powder
4 whole wheat hamburger buns, toasted
4 lettuce leaves
½ cup shredded zucchini
1 medium sliced tomato
Directions for veggie-filled burgers:
1. In a medium bowl, stir together, milk, carrot, green onion, bread crumbs, Italian seasoning, garlic salt, and pepper.
2. Add ground turkey; mix well. Shape into four ½-inch-thick patties.
3. For a gas grill, grease rack and preheat grill. Reduce heat to medium-hot. Place patties on grill rack; cover and grill patties about 12 minutes or until internal temperature reads 165°F, turning once.
4. Meanwhile, stir together mustard and curry powder. Serve patties on buns. Top with lettuce leaves, shredded zucchini, sliced tomato, and mustard mixture.
Day Five Healthy Dinner Recipe
DIJON ROAST BEEF
GARLIC POTATOES AND CARROTS
Deviled Roast Beef Recipe:
Makes 8 to 10 servings
Each serving of the deviled roast beef with sauce contains :
217 calories
28g protein
5g carbohydrate
9g total fat
Ingredients:
1 2- to 2½-pounds beef eye of round roast
¼ cup Dijon-style mustard
¼ teaspoon coarsely ground pepper
2 cups sliced fresh mushrooms
1 cup beef broth
1 small onion, cut into thin wedges
¼ cup water
2 cloves garlic, minced
1 teaspoon Worcestershire sauce
¼ teaspoon dried thyme, crushed
½ cup fat-free milk
3 tablespoons all-purpose flour
Directions for deviled roast beef:
1. Trim fat from beef. In a small bowl, stir together 2 tablespoons of the Dijon-style mustard and the pepper; rub onto the beef.
2. Place the beef on a rack in a shallow roasting pan. Insert a meat thermometer. Roast beef in a 325°F oven until thermometer registers 140°F for medium-rare (1½ to 2 hours) or 155°F for medium (1¾ to 2¼ hours).
3. Cover with foil; let stand for 15 minutes before carving. (The temperature will rise 5° during standing.)
4. Meanwhile, for sauce, in a medium saucepan combine the mushrooms, beef broth, onion, water, garlic, Worcestershire sauce, and thyme. Bring to boiling; reduce heat.
5. Simmer, covered, about 5 minutes or until vegetables are tender.
6. In a small bowl stir together milk and remaining Dijon; gradually stir into flour. Add to mushroom mixture in saucepan.
7. Cook and stir over medium heat until thickened and bubbly. Cook and stir for 1 minute more.
8. To serve, thinly slice beef across the grain. Arrange on serving platter. Spoon some of the sauce over beef. Pass remaining sauce.
Garlic Potatoes and Carrots Recipe:
Makes 4 servings
Each serving of the garlic potatoes and carrots contains :
138 calories
4g protein
23g carbohydrate
3g total fat
Ingredients:
1 20-ounce package refrigerated country-style or regular mashed potatoes
1 teaspoon olive oil
1 cup finely shredded carrots
2 teaspoons minced roasted garlic
⅛ teaspoon pepper
Directions for garlic potatoes and carrots:
1. Prepare potatoes according to package directions, except use olive oil in place of any butter or margarine.
2. Stir in the carrots, garlic, and pepper. Heat through.
Day Six Healthy Dinner Recipe
TOMATILLO-PINEAPPLE CHICKEN
STEAMED WHITE RICE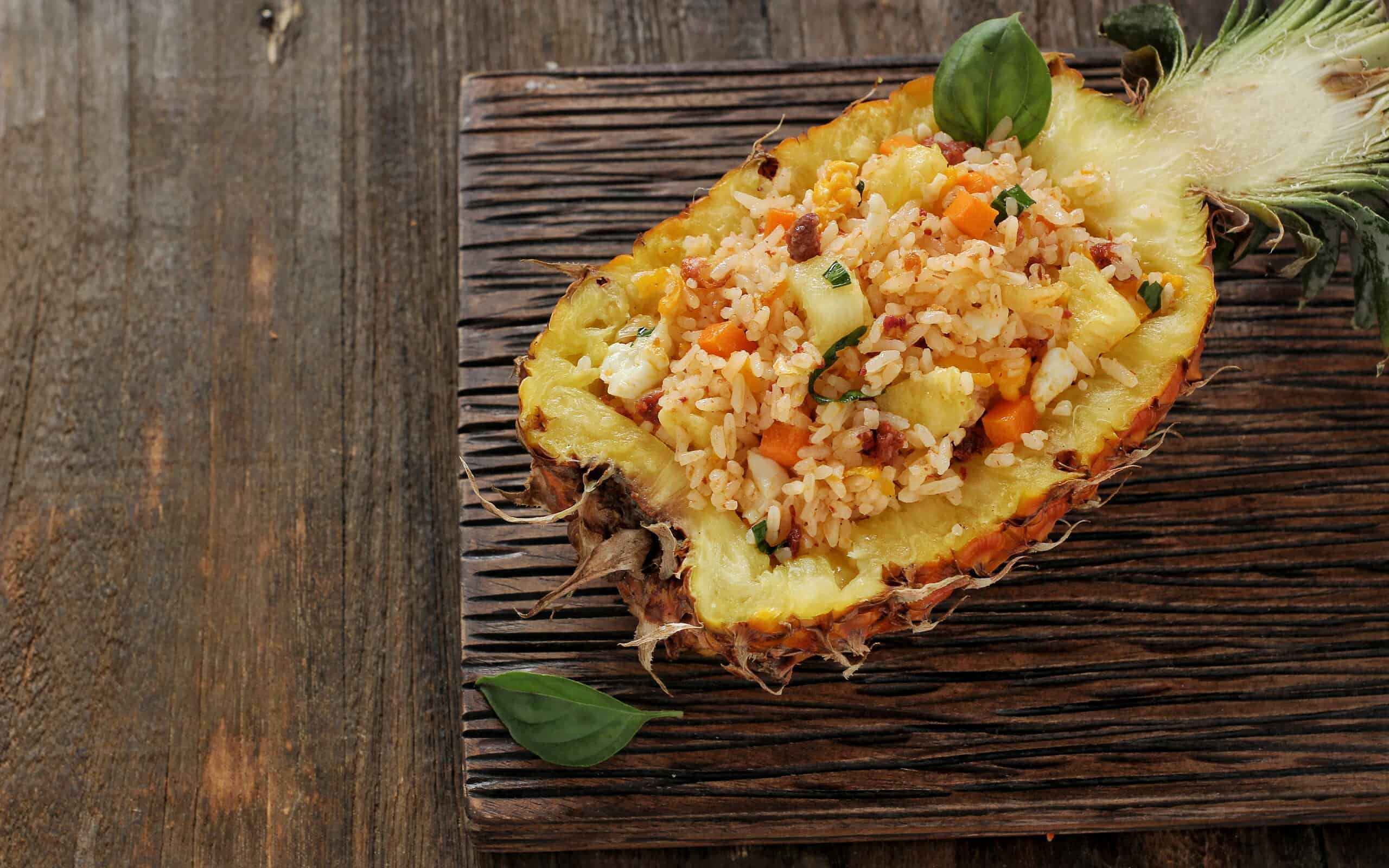 Tomatillo-Pineapple Chicken Recipe:
Makes 4 servings
Each serving of the tomatillo-pineapple chicken contains :
312 calories
53g protein
7g carbohydrate
7g total fat
Ingredients:
8 ounces fresh tomatillos, husked
1 canned chipotle chile in adobo sauce or 2 hot jalapeno chile peppers, quartered
½ small onion, quartered
¼ cup loosely packed fresh cilantro leaves
1 ¼ teaspoons salt
1 teaspoon ground cumin
½ teaspoon dried oregano leaves, crushed
½ teaspoon freshly ground black pepper
4 (6 ounce) boneless, skinless, chicken breast halves
2 teaspoons canola oil
1 garlic clove, crushed through a press
1 green onion, finely chopped
2 teaspoons cornstarch
1 cup crushed pineapple (canned or fresh) with its unsweetened natural juices
Directions:
1. Place the tomatillos in a small saucepan with enough water to cover. Heat to boiling over high heat and simmer until they turn a dull green, about 10 minutes. Drain and place in a blender.
2. Add the chile, onion, cilantro, and ¼ teaspoon salt and blend until an even or chunky texture, not runny. Taste and add more chile or adobo sauce if desired. Set aside.
3. Mix the remaining 1 teaspoon salt, the cumin, oregano, and pepper in a cup and sprinkle over the chicken.
4. Grease a large nonstick skillet with nonstick cooking spray and heat over medium-high heat until hot but not smoking. Add the oil and swirl the pan to coat.
5. Add the chicken and brown on both sides, 4 to 6 minutes in all.
6. Add the garlic and green onion in the last minute or so until sizzling and fragrant.
7. Remove the chicken and garlic-onion mixture to a plate and keep warm.
8. Mix the cornstarch with a little of the pineapple juice to blend and combine with the remainder of the pineapple mixture. Pour into the skillet and cook, stirring, until thickened and clear.
9. Add the chicken and garlic-onion mixture and juices from standing to the skillet and stir to blend and coat.
10. Cover and steam the chicken until it is hot and cooked through, when an instant-read thermometer inserted in the thickest part registers 160 degrees F, about 4 minutes, turning after 2 minutes.
11. Serve the chicken with the pineapple sauce spooned on top and drizzled with the tomatillo sauce and a side of white rice.
Day Seven Healthy Dinner Recipe
FETTUCCINE ALFREDO
TOSSED GREEN SALAD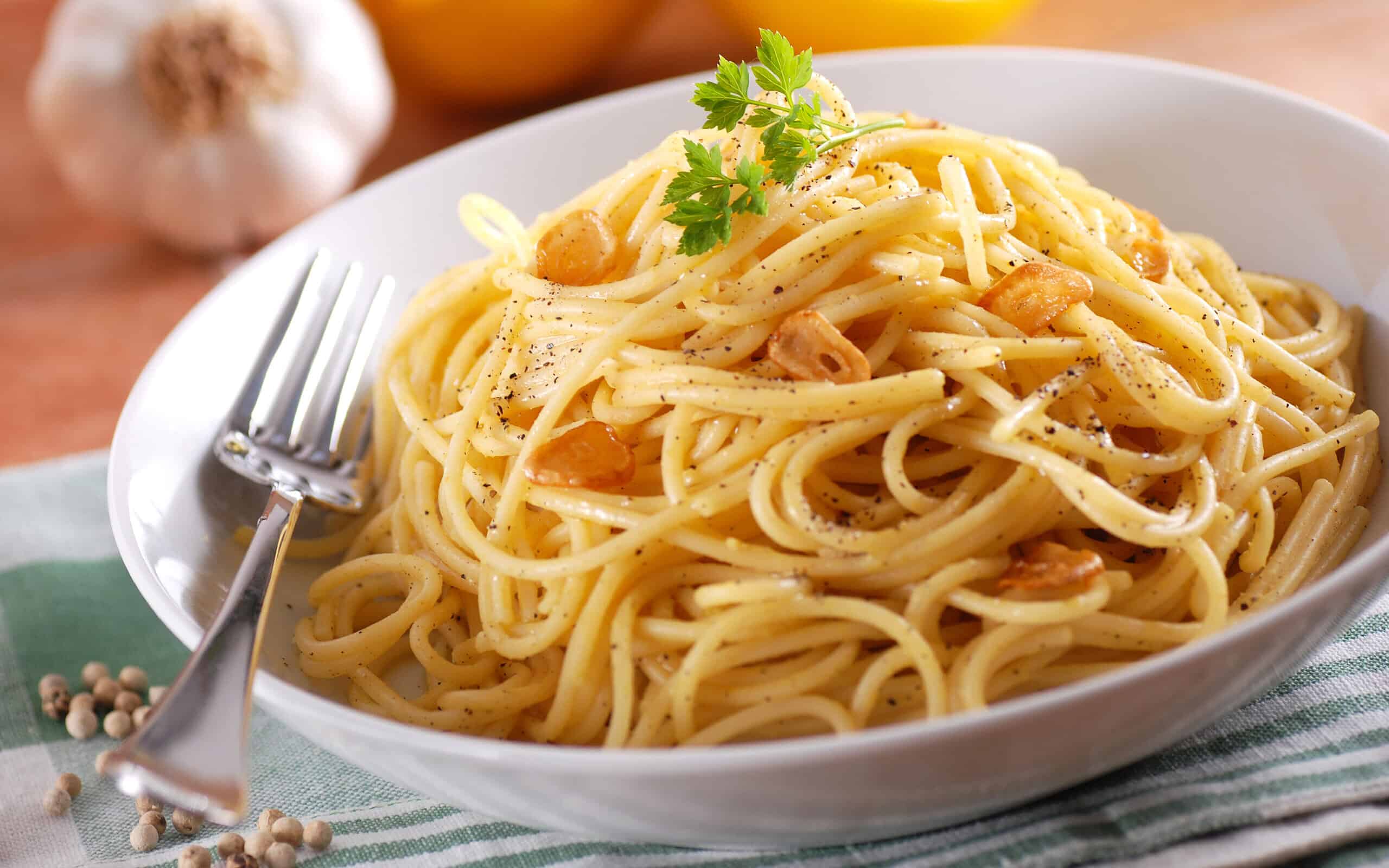 Fettuccine Alfredo Recipe:
Makes 6 servings
Each serving of fettuccine alfredo contains :
286 calories
17g protein
31g carbohydrate
10g total fat
Ingredients:
1 cup fat free evaporated milk
1 teaspoon butter
¼ cup reduced fat cream cheese
8 ounces dried fettuccine
2/3 cup freshly grated Parmigiano-Reggiano cheese
½ teaspoon freshly ground black pepper
Directions:
1. Combine the milk and butter in a large saucepan and heat to simmering over medium heat.
2. Add the cream cheese and whisk until the cream cheese melts and the mixture is smooth, 3 to 4 minutes. Cover and remove from the heat.
3. Meanwhile, cook the pasta to al dente as the package label directs, omitting the salt and oil. Drain the pasta thoroughly, shaking out the excess water, and add to the milk mixture.
4. Cook over low heat, tossing the fettuccine until well coated, about 1 minute.
5. Add the Parmigiano-Reggiano cheese and pepper. Toss lightly to combine.
6. Remove from the heat; cover and let stand 1 to 2 minutes so the pasta can absorb some of the sauce. Serve immediately with a tossed green salad.
The image featured at the top of this post is ©haireena/Shutterstock.com.