The eighth week of healthy dinner recipes has everything from steak lover's tasty fare to Italian favorites like pasta and meatballs. This eighth week of menus wraps up a second month of delicious and satisfying healthy recipes!
You can tailor these recipes to your liking, but keep in mind that these are intended to be healthy recipes! Whether your goal is weight loss, maintaining your current weight, or simply eating healthier, all of these recipes can lend a helping hand.
We recommend trying each of these recipes once as-is, and then making adjustments from there as you please. Trying to make adjustments to a recipe before you've even tried it can really throw the taste off. On that note, here are our recipes for week eight!
Healthy Dinner Recipes Week Eight
Day One Healthy Dinner Recipe
CHEESE STUFFED CHICKEN BREASTS
GREEN BEANS
Cheese Stuffed Chicken Breasts Recipe:
Makes 4 servings
Each serving of cheese stuffed chicken breast contains:
141 calories
13g protein
1g carbohydrate
7g total fat
Ingredients:
4 (6 ounce) boneless, skinless chicken breast halves
4 (½ ounce) slices reduced fat Jarlsberg or other Swiss cheese
4 thin slices prosciutto di Parma or reduced fat and reduced sodium ham
1 Tablespoon olive oil
½ cup dry white wine
½ teaspoon freshly ground black pepper
½ teaspoon dried thyme leaves, crushed
Directions:
1. Cut a pocket in the thick side of each chicken breast, being careful not to cut through the sides. Fold the cheese slices in half, with a slice of prosciutto in the middle of each slice. Insert the cheese-prosciuto slices into the chicken. Wrap a piece of chicken to cover the cut side, and secure with a wooden pick.
2. Grease a large nonstick skillet with nonstick cooking spray, add the oil, and heat over medium high heat until hot but not smoking. Add the chicken, rounded sides up, to the pan and cook until lightly browned, about 1 minute.
3. Turn the chicken over, pour the wine onto the chicken, and sprinkle with the pepper and thyme.
4. Cover and cook over medium low heat until an instant read thermometer inserted in the chicken registers 165 degrees F and the chicken is cooked through, about 20 minutes. Serve with a side of green beans.
Day Two Healthy Dinner Recipe
BAKED WAGON WHEEL CASSEROLE
CUCUMBER SALAD
Baked Wagon Wheels Recipe:
Makes 6 servings
Each serving (1/6 of total recipe) contains:
437 calories
26g protein
47g carbohydrate
12g total fat
Ingredients:
4 cups uncooked wagon wheel pasta
4 strips turkey bacon, diced
8 ounces 95% lean ground beef
1 medium onion, finely chopped
2 medium green bell peppers, finely chopped
1 cup sliced fresh mushrooms
2 cloves garlic, minced
3 cups fat-free spaghetti sauce
1/8 teaspoon black pepper
1 Tablespoon Italian seasoning
1 cup shredded part-skim Italian-style mozzarella and Parmesan cheese blend
Directions:
1. Preheat oven to 350°F.
2. Cook pasta according to package directions, drain. Return pasta to saucepan.
3. Meanwhile, heat medium nonstick frying pan over medium-high heat.
4. Fry the bacon until just browned (about 5 minutes). Drain excess grease.
5. Add beef, onion, bell pepper, mushrooms, and garlic; cook and stir (break the beef into crumbles while stirring) for 3 to 5 minutes or until beef is no longer pink and vegetables are crisp-tender. Drain.
6. Add beef mixture, spaghetti sauce, Italian seasoning, and black pepper to pasta in saucepan; mix well.
7. Spoon mixture into 2½ quart baking dish. Sprinkle with cheese.
8. Bake 15 minutes or until heated through and cheese is melted.
Day Three Healthy Dinner Recipe
CARAMEL APPLE PORK CHOPS
BAKED SWEET POTATOES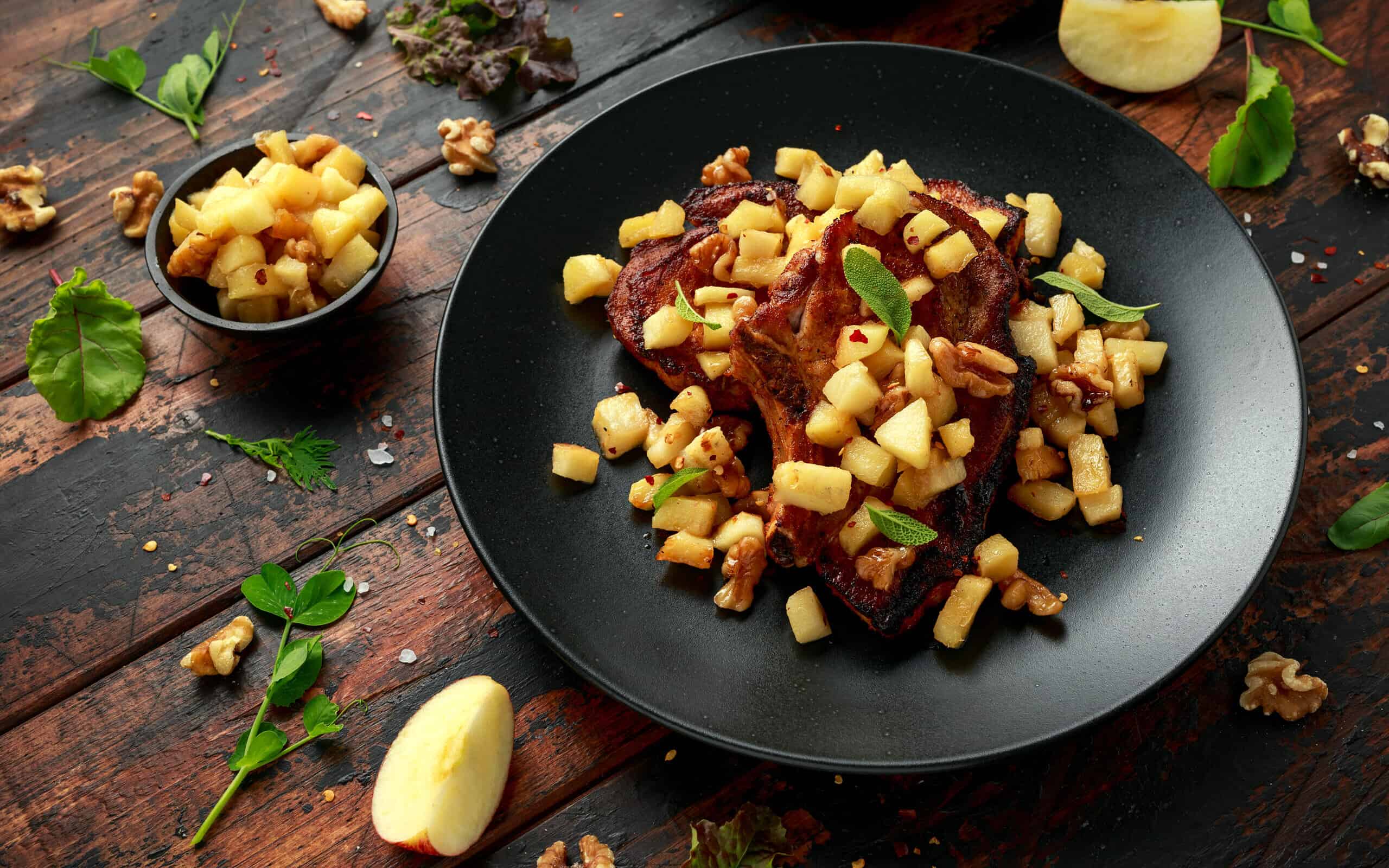 Caramel Apple Pork Chops Recipe:
Makes 4 servings
Each serving of caramel apple pork contains:
330 calories
30g protein
12g carbohydrate
18g total fat
Ingredients:
4 top loin pork chops, 3/4 inch thick
3 Tablespoons brown sugar
¼ teaspoon salt
1/8 teaspoon pepper
¼ teaspoon cinnamon
¼ teaspoon nutmeg
2 Tablespoons butter
2 medium tart red apples, cored and sliced into half inch wedges
3 Tablespoons finely chopped pecans
Directions:
1. Heat skillet over medium-high heat.
2. Sauté chops, 8 minutes, turning occasionally, until internal temperature on a thermometer reads 145 degrees F.
3. Let rest for 3 minutes before removing from pan. Cover and keep warm.
4. In a small bowl, combine brown sugar, salt, pepper, cinnamon and nutmeg.
5. Add butter to skillet; stir in brown sugar mixture and apples.
6. Cover and cook for 3-4 minutes or just until apples are tender.
7. Remove apples with a slotted spoon and arrange on top of chops; keep warm.
8. Continue cooking mixture in skillet, uncovered, until sauce thickens slightly.
9. Spoon sauce over apples and chops. Sprinkle with pecans and serve with baked sweet potatoes.
Day Four Healthy Dinner Recipe
FETTUCCINE WITH SCALLOPS, ASPARAGUS AND LEMON
CAESAR SALAD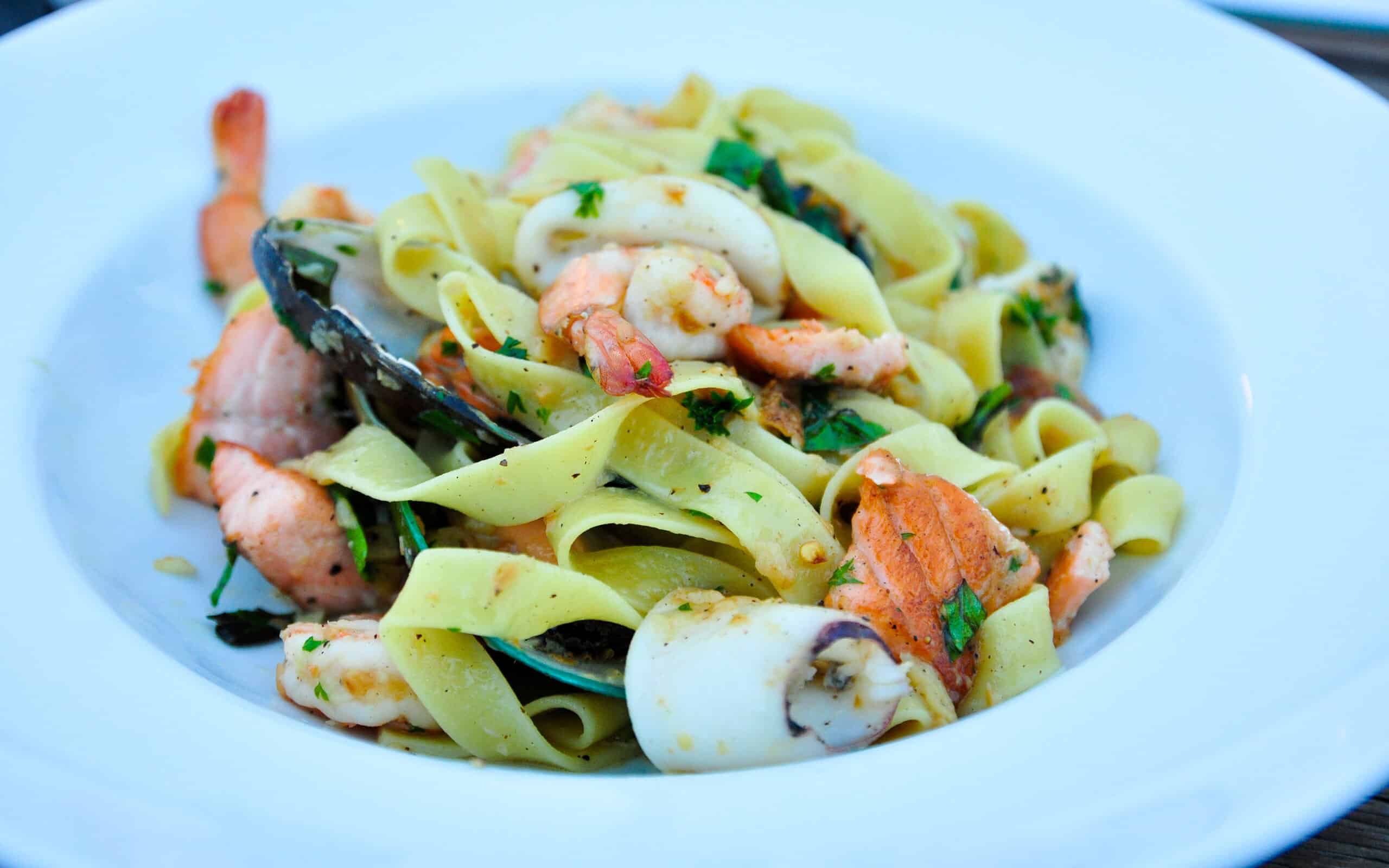 Fettuccine with Scallops, Asparagus, and Lemon Recipe:
Makes 4 servings
Each serving of fettuccine with scallops, asparagus, and lemon contains:
388 calories
27g protein
51g carbohydrate
9g total fat
Ingredients:
8 ounces fresh fettuccine
2 Tablespoons olive oil
1 lemon, zested and juiced
1 pound sea or bay scallops (sea scallops cut crosswise into thirds)
2 plum tomatoes, chopped
1 bunch asparagus, trimmed and cut diagonally into 1-inch pieces
6 fresh basil leaves, freshly shredded
Directions:
1. Cook the pasta to al dente in boiling, salted water as the package label directs.
2. Meanwhile, heat the oil in a large skillet over medium high heat until hot. Add the lemon zest and scallops and brown on all sides, about 20 seconds each side. Transfer the scallops to a small bowl.
3. Add the tomatoes and asparagus to the pan and sauté until the asparagus is bright green and tender, about 1 minute.
4. Drain the pasta and add to the skillet with the asparagus. Toss to mix.
5. Add the scallops and toss to mix. Sprinkle with the basil and toss to mix. Serve with a side Cesar salad.
Day Five Healthy Dinner Recipe
GRILLED MARGARITA FLANK STEAK
CORN ON THE COB
Grilled Margarita Flank Steak Recipe:
Makes 4 servings
Each serving of grilled margarita flank steak contains:
320 calories
36g protein
5g carbohydrate
14g total fat
Ingredients:
½ cup fresh lime juice
¼ cup tequila or agave nectar
1 (½ pound) flank steak, all visible fat removed
2 teaspoons crush black peppercorns
1½ teaspoons kosher salt
Directions:
1. Combine the lime juice and tequila (or agave) in a zip top plastic bag and add the flank steak. Seal the bag and turn to coat the steak. Place the bag in a baking dish and marinate the steak in the refrigerator for up to 1 hour, turning occasionally.
2. Prepare a grill for barbecuing and grease the grill rack with nonstick cooking spray, or preheat the broiler and line a baking sheet with aluminum foil. Combine the pepper and salt in a cup.
3. Drain the steak and press the pepper mixture onto the steak. Grill the steak, covered, over hot coals, or broil the steak 4 inches from the heat source, until desired doneness, 6 to 8 minutes for medium rare, turning once.
4. Let stand for 10 minutes before slicing. Serve with corn on the cob.
Day Six Healthy Dinner Recipe
CHICKEN WITH EASY HOMEMADE PESTO
ANGEL HAIR PASTA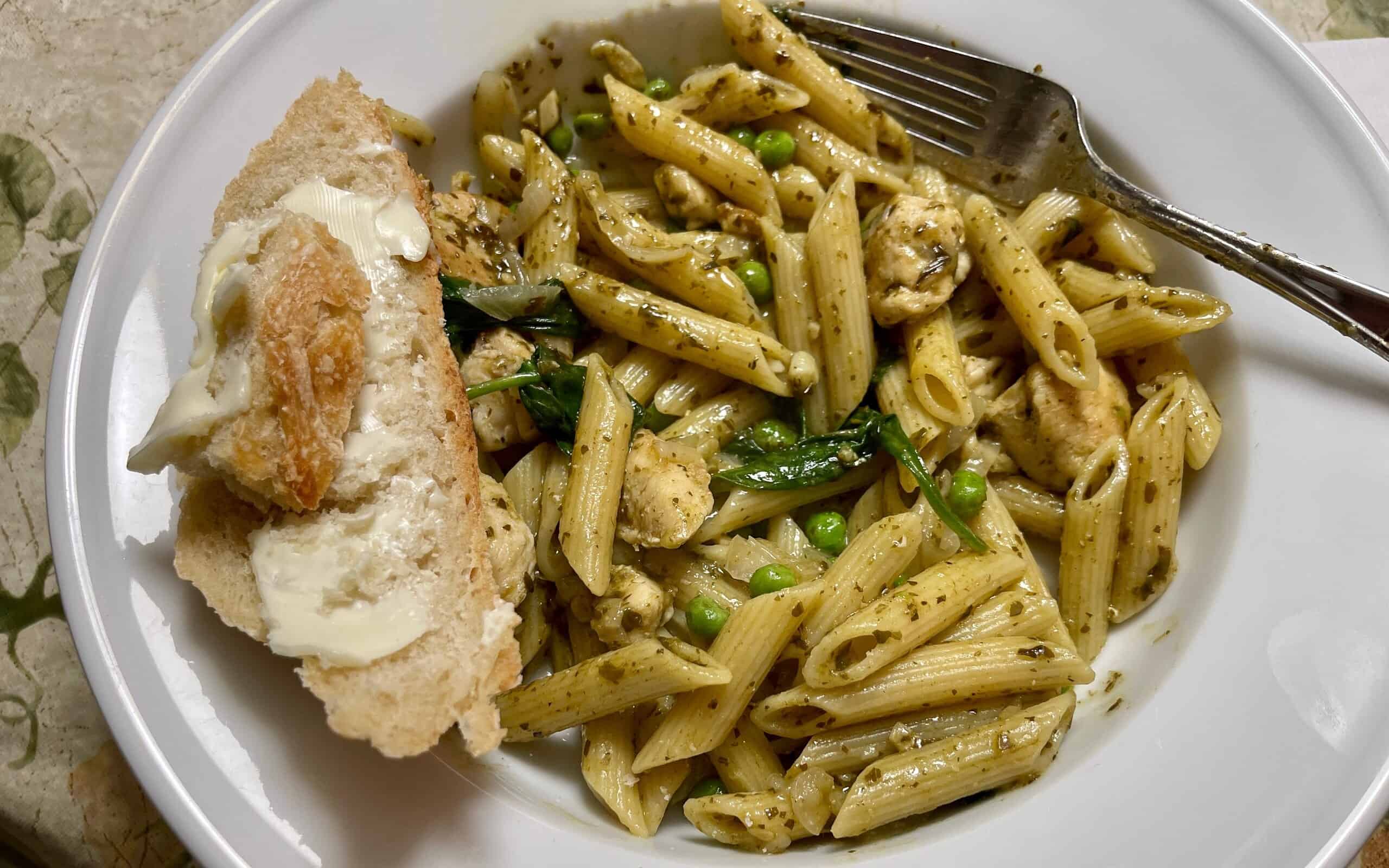 Homemade Chicken Pesto Recipe:
Makes 6 servings
Each serving of pesto chicken contains:
317 calories
20g protein
42g carbohydrate
9g total fat
Ingredients:
1 cup packed, fresh basil leaves
½ cup toasted chopped hazelnuts
2 cloves garlic chopped
2 Tablespoons olive oil
1 Tablespoon water
¼ cup grated Parmesan cheese
½ cup low sodium chicken broth
12 ounces boneless skinless chicken breasts
1 (12 ounce) package angel hair pasta
Directions:
1. Bring a large pot of salted water to a boil.
2. In a blender or food processor, combine basil, hazelnuts, and garlic.
3. Blend or process until very finely chopped.
4. Add olive oil and water; blend until a paste forms.
5. Slowly add Parmesan cheese to the blender. Set aside.
6. In a large skillet, bring chicken broth to a simmer over medium heat.
7. Cut chicken into strips and add to broth.
8. Cook for 4 minutes, then add the pasta to the boiling water.
9. Cook pasta for 3-4 minutes according to package directions, until al dente.
10. Drain and add to chicken mixture. Cook and stir for 1 minute until chicken is thoroughly cooked.
11. Add basil mixture, remove from heat, and stir until a sauce forms.
Day Seven Healthy Dinner Recipe
CARAMELIZED BROWN SUGAR PORK MEDALLIONS
BUTTERED GREEN BEANS
APPLESAUCE
Caramelized Pork Slices Recipe:
Makes 4 servings
Each serving of caramelized pork contains:
200 calories
24g protein
11g carbohydrate
6g total fat
Ingredients:
1 pork tenderloin (1 pound), cut into 1-inch slices
2 teaspoons canola oil
2 garlic cloves, minced
3 Tablespoons brown sugar
2 Tablespoon orange juice
2 Tablespoon molasses
1/2 teaspoon salt
1/4 teaspoon pepper
Directions:
1. Flatten pork slices to 1/2-in. thickness.
2. In a nonstick frying pan, brown pork in oil over medium-high heat.
3. Remove, and In the same skillet, sauté garlic for 1 minute.
4. Stir in the brown sugar, orange juice, molasses, salt and pepper.
5. Return pork to pan; cook, uncovered, for 3 to 4 minutes or until pork is no longer pink.
The image featured at the top of this post is ©Ivan Danik/Shutterstock.com.