This week of easy dinner recipes includes family favorites that are sure to please. Enjoy a full week worth of easy dinner ideas including entrees and side dishes.
Week One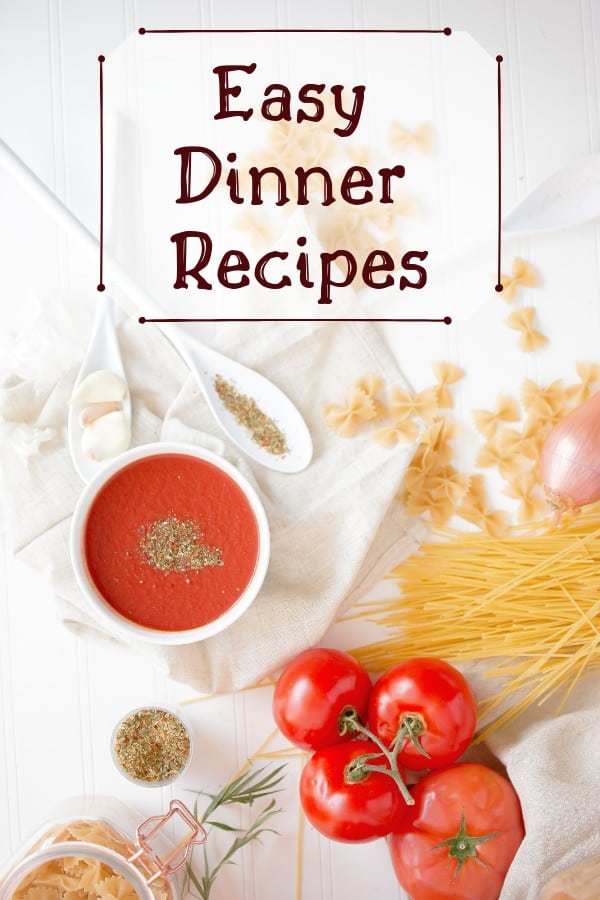 Day One Easy Dinner Recipe
CHICKEN NOODLE CASSEROLE
Turn macaroni into a delicious, belly-filling homemade casserole. The cream of celery soup adds a hint of flavor beyond the traditional chicken soup used in most casseroles. This is a fantastic weeknight dinner that uses simple pantry ingredients and comes together in a flash.
Ingredients:
2 cups macaroni
1 can Campbell's Cream of Celery Soup
1 can chicken breast
1 small package cream cheese
½ teaspoon garlic
½ teaspoon dry mustard
¼ cup milk
1 small onion, chopped
¼ cup seasoned bread crumbs
2 Tablespoons butter
1 cup shredded cheddar cheese for topping (optional)
Directions:
1. Cook macaroni per package directions.
2. In casserole dish mix cream of celery, softened cream cheese, and milk until smooth.
3. Add chicken, garlic, dry mustard, and onion. Stir in cooked macaroni.
4. Melt butter and mix bread crumbs into the butter. Spread mixture over top of casserole.
5. Bake in 375 degree oven for 45 minutes.
6. Ten minutes before casserole is done, remove from oven and sprinkle with the cheddar cheese if using. Return to oven until done.
Day Two Easy Dinner
BAKED PESTO CHICKEN
ANGEL HAIR PASTA WITH HERBS
FRENCH BREAD
This is an elegant dinner that's so easy to make you can use it for special occasions or a quick and easy weeknight meal. Serve with angel hair pasta and a crusty bread for a complete dinner that's ready in under 30 minutes.
Baked Pesto Chicken Ingredients:
4 boneless skinless chicken breasts
½ cup basil pesto
2 plum tomatoes
Shredded mozzarella cheese
Directions:
1. Preheat oven to 400 degrees F. Cover cookie sheet with foil.
2. Put pesto and chicken in bowl. Toss until chicken is covered.
3. Place chicken and pesto sauce on cookie sheet, evenly distributing the sauce. Bake for 20-25 minutes.
4. Place slices of tomato on top of chicken and sprinkle with cheese.
5. Bake another 3-5 minutes.
6. Serve with a box of angel hair pasta and herbs and French bread.
*Baked Pesto Chicken with Angel Hair Pasta and French Bread
Day Three Easy Dinner Idea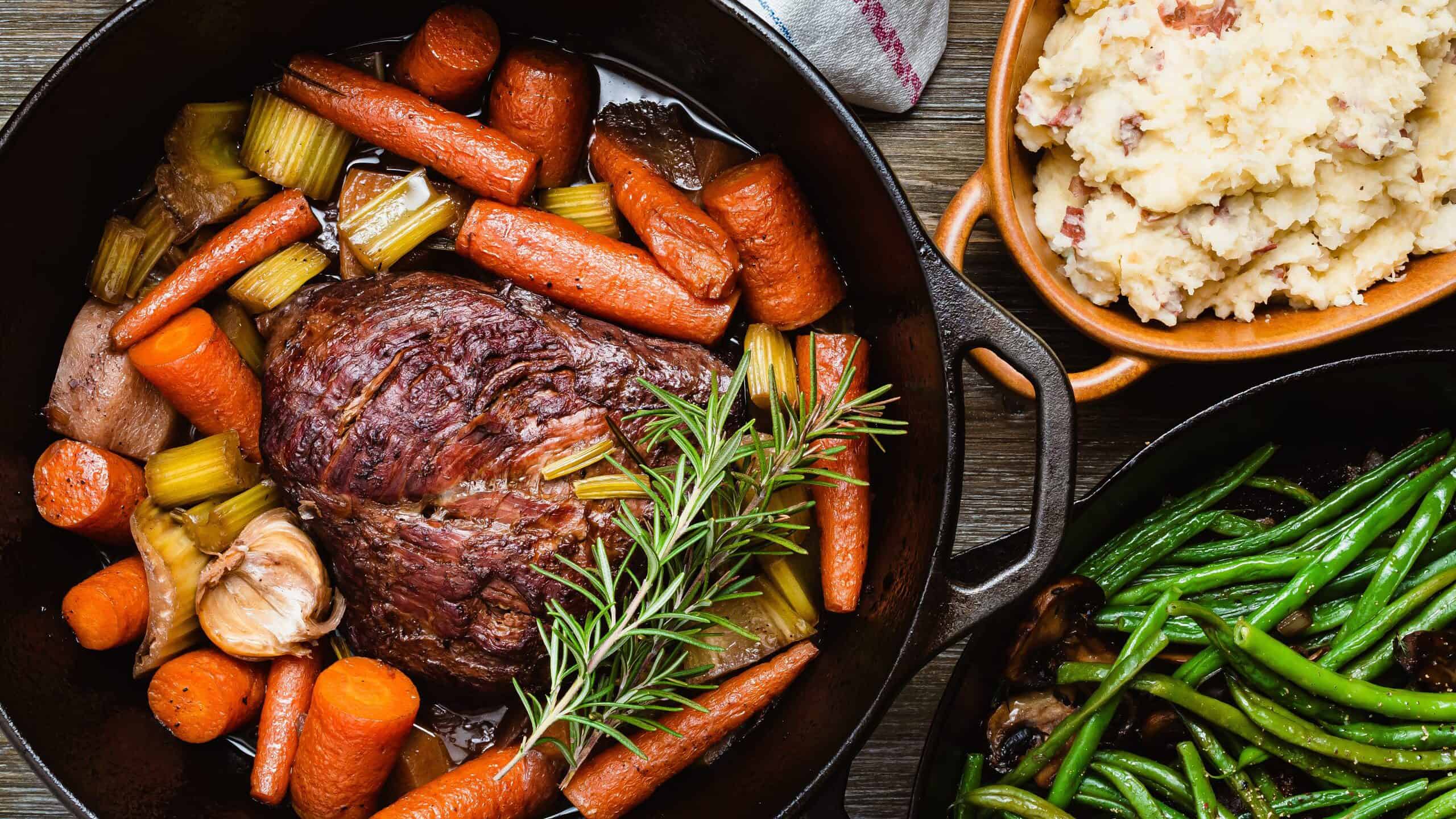 CHILI COKE ROAST
MASHED POTATOES
GARLIC GREEN BEANS
The perfect mix of sweet and savory, this easy chili Coke roast recipe uses a crockpot which makes the meat so tender and juicy it falls apart. Spoon it over mashed potatoes to soak up all the deliciousness of the Coca-Cola infused gravy.
Chili Coke Roast Ingredients:
1 beef roast, 3-4 lbs.
1 can Coca-Cola
1 package onion soup mix
1 bottle chili sauce
Directions:
1. Place all ingredients in crock-pot and cook for 7-10 hours depending on size of roast.
2. The meat will flake apart when done. Serve over mashed potatoes.
Garlic Green Beans Ingredients:
2 cans regular green beans, drained
1 teaspoon garlic powder
2 Tablespoons butter
Directions:
1. Heat green beans in saucepan with garlic powder and butter.
*Chili Coke Roast with Mashed Potatoes and Garlic Green Beans
Day Four Dinner Recipe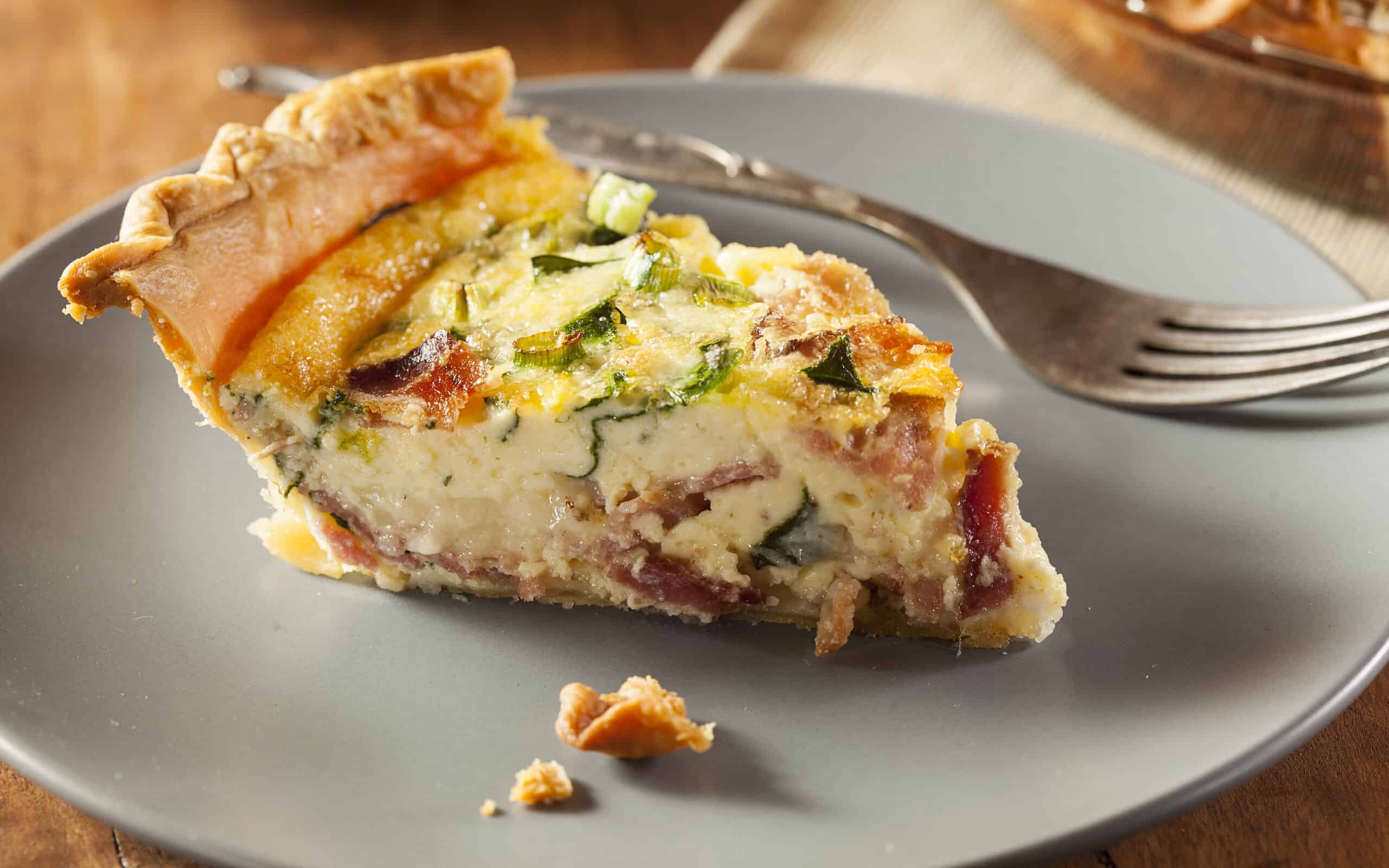 BACON AND CHEESE QUICHE
HOME FRIED POTATOES
Bacon and cheese quiche can be served as an easy yet exquisite dinner. Filled with bacon and plenty of cheese, this is a family favorite. Serve with home fries for a comfort food feast.
Bacon and Cheese Quiche Ingredients:
1 9-inch pie crust, unbaked
1 Tablespoon butter
12 bacon slices, crumbled
1 bag Italian blend shredded cheese (or mozzarella cheese)
4 eggs
2 cup heavy cream
¾ teaspoon salt
Directions:
1. Preheat oven to 425 degrees F. Spread crust into pie plate or quiche plate.
2. Spread crust with butter. Sprinkle bacon and cheese on crust.
3. Beat eggs with rest of ingredients. Pour into crust.
4. Bake 15 minutes. Turn down to 325 degrees and bake 40 more min. Let stand 10 minutes.
Home Fried Potatoes Ingredients:
4 red potatoes
1 tablespoon olive oil
1 onion, chopped
1 green bell pepper, seeded and chopped
2 tablespoons olive oil
1 teaspoon salt
¾ teaspoon paprika
¼ teaspoon ground black pepper
¼ cup chopped fresh parsley
Directions:
1. Bring a large pot of salted water to a boil. Add potatoes and cook until tender but still firm, about 15 minutes. Drain, cool cut into 1/2 inch cubes.
2. In a large skillet, heat 1 tablespoon olive oil over medium high heat.
3. Add onion and green pepper. Cook, stirring often, until soft (about 5 minutes).
4. Transfer to a plate and set aside.
5. Pour remaining 2 tablespoons of oil into the skillet and turn heat to medium-high.
6. Add potato cubes, salt, paprika and black pepper.
7. Cook, stirring occasionally, until potatoes are browned; about 10 minutes.
8. Stir in the onions, green peppers and parsley and cook for another minute.
*Bacon and Cheese Quiche with Home Fried Potatoes
Day Five Easy Dinner Idea
HONEY PECAN PORK CHOPS
BAKED SWEET POTATOES
BUTTERED BROCCOLI
Honey and pecans form a glaze to enrobe and elevate average pork chops. This recipe looks elegant and difficult, but it's easy enough for a tantalizingly tasty weeknight meal. Serve with sweet potatoes and buttered broccoli for a dinner to remember.
Honey Pecan Pork Chops:
1 ¼ pounds boneless pork loin, pounded thin
½ cup all-purpose flour for coating
Salt and pepper to taste
2 Tablespoons butter
¼ cup honey
¼ cup chopped pecans
Directions:
1. In a shallow dish, mix together flour, salt and pepper. Dredge pork cutlets in the flour mixture.
2. In a large skillet, melt butter over medium-high heat. Add chops, and brown both sides. Transfer to a warm plate.
3. Mix honey and pecans into the pan drippings. Heat through, stirring constantly.
4. Pour sauce over cutlets. Serve with fresh baked sweet potatoes and buttered broccoli.
*Honey Pecan Pork Chops with Baked Sweet Potatoes and Buttered Broccoli
Day Six Easy Dinner Recipe
EASY CHICKEN STROGANOFF
ITALIAN BREAD
TOSSED SALAD
Chicken breasts get the royal treatment when they're prepared with a simple blend of butter, sour cream, and creamy mushroom soup to create a velvety sauce. It envelops tender chicken breasts and mushrooms, then gets blended with egg noodles for delectable comfort in every bite.
Easy Chicken Stroganoff Ingredients:
2 Tablespoons butter
1 lb. chicken breast, cut in strips
2 cups mushrooms
1 medium onion, chopped
1 can cream of mushroom or cream of chicken soup
1/2 cup sour cream
4 cups cooked egg noodles
Directions:
1. Cook chicken in 1 tablespoon butter. Remove.
2. Add remaining tablespoon of butter along with the mushrooms and onions to the pan and cook through.
3. Stir in soup and sour cream. Heat until boiling.
4. Return chicken to the pan. Heat thoroughly.
5. Serve over noodles, with a tossed salad and buttered Italian bread.
*Easy Chicken Stroganoff with Tossed Salad and Italian Bread
Day Seven Easy Dinner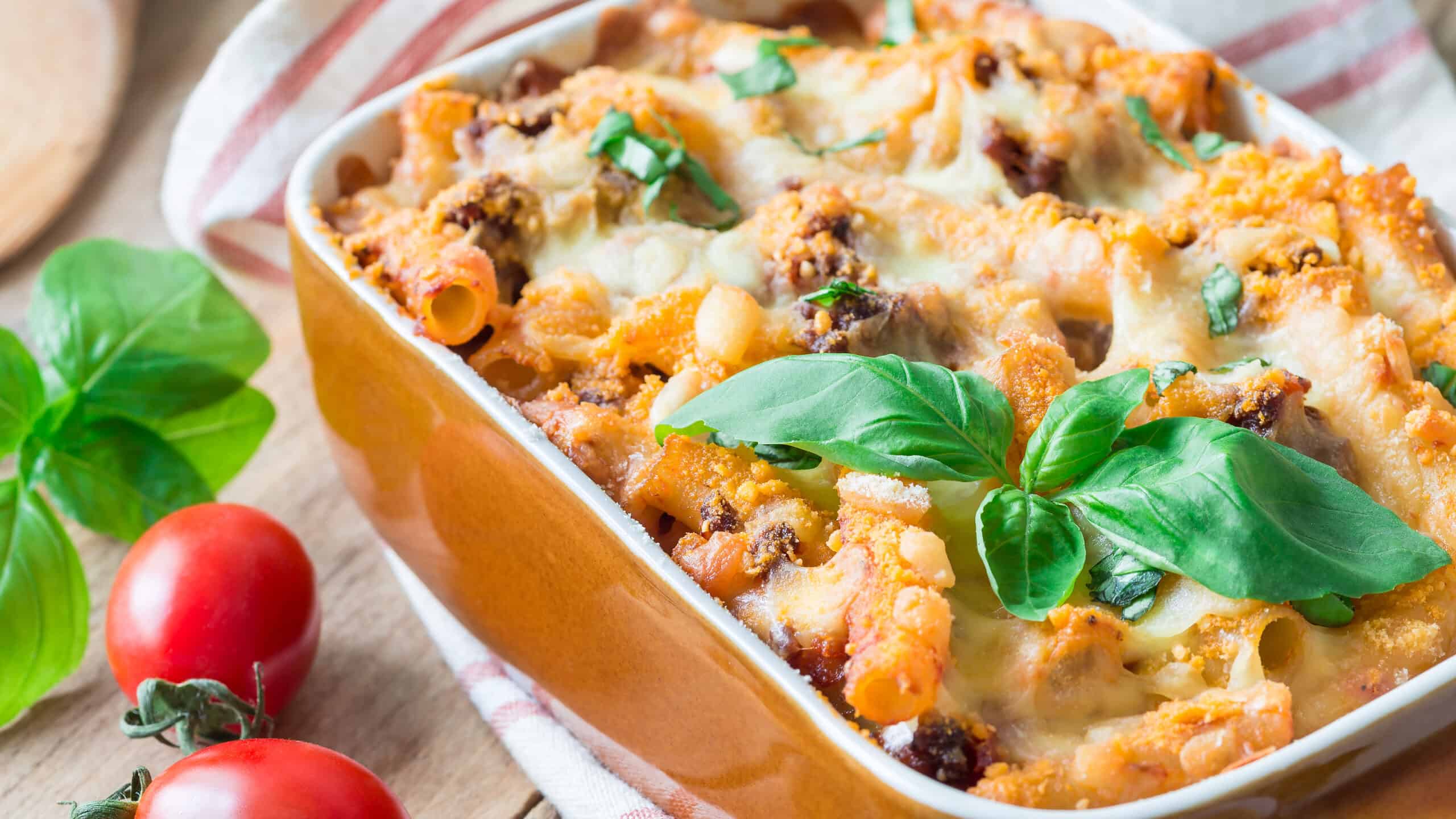 BUBBLE PIZZA
Bubble pizza is a super quick and easy way to make pizza at home. The recipe uses biscuits to form the crust, ground beef simmered in pizza sauce, and two cheeses as topping to make it a hearty meal. Kids love this, and you can't beat the savings over takeout pizza. While it's filling enough to be a meal on it's own, oven baked French fries go perfectly with it. Salt the frozen French fries before baking to pull out the moisture and make them crispier.
Ingredients:
1 ½ lb. ground beef
1 jar pizza sauce
2 tubes refrigerator biscuits
1 ½ cups shredded mozzarella cheese
1 cup shredded cheddar cheese
Directions:
1. Brown the beef in a skillet and drain.
2. Stir pizza sauce into browned hamburger and simmer until heated through.
3. Quarter the biscuits and place in a 13-in x 9-in x 2-in greased baking dish. Top with beef mixture.
4. Bake uncovered at 400 degrees F for 20 minutes.
5. Sprinkle with cheeses and bake 5-10 more minutes.
Serve with oven baked French fries if desired. Salt the frozen French fries before baking to make them crispier.
Easy Dessert Ideas
No dinner is complete without a dessert to come after it! Here are some suggestions for dessert that you can pair with these meals.
Chocolate poke cake. You might remember having this as a child yourself! It involves baking a chocolate cake, poking holes into it with a wooden skewer or similar, and then pouring your topping of choice over the cake! Then, frost with Cool Whip. You can make this with a homemade cake, or with a boxed cake mix to make it extra easy.
Skillet cookie. If you've got a cast iron skillet, this is the perfect dessert recipe. This dessert involves making a giant cookie in your cast iron skillet, and then topping it with whatever you please! Some suggestions include hot fudge, ice cream, and nuts.
Brookies. These cookies are a blend of brownies and cookies into one! If your family loves both brownies and cookies, then why not give them the best of both worlds? Serve warm with ice cream for added deliciousness.
Chocolate chip cookies. These are a go-to classic. There are thousands of chocolate chip cookie recipes out there, or if you want to keep it easy you can just buy the pre-made dough from the store. Pop them in the oven while you eat dinner, and enjoy!
Pudding. There are so many different varieties of boxed pudding out there! This is a very quick and simple dessert to make that's perfect for a busy night. It'll satisfy everyone while also not breaking your wallet. Try chocolate or vanilla for a classic pudding, or go with something different like butterscotch or banana cream.
The image featured at the top of this post is ©iStock.com/rebeccafondren.