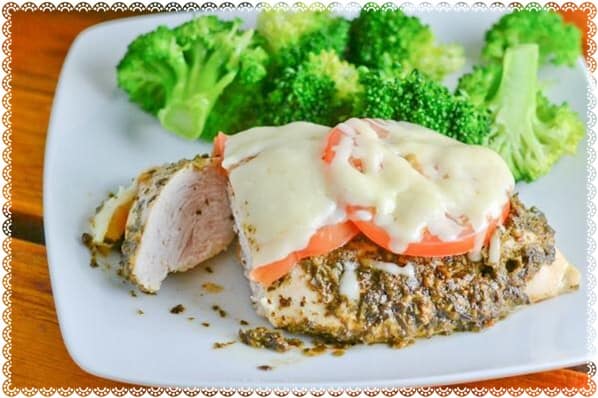 Baked Pesto Chicken
Angel Hair Pasta with Herbs
French Bread
This is an elegant dinner that's so easy to make you can use it for special occasions or a quick and easy weeknight meal. Serve with angel hair pasta and a crusty bread for a complete dinner that's ready in under 30 minutes.
Baked Pesto Chicken Ingredients:
4 boneless skinless chicken breasts
½ cup basil pesto
2 plum tomatoes
shredded mozzarella cheese
Directions:
1. Preheat oven to 400 degrees F. Cover cookie sheet with foil.
2. Put pesto and chicken in bowl. Toss until chicken is covered.
3. Place chicken and pesto sauce on cookie sheet, evenly distributing the sauce. Bake for 20-25 minutes.
4. Place slices of tomato on top of chicken and sprinkle with cheese.
5. Bake another 3-5 minutes.
6. Serve with a box of angel hair pasta and herbs and French bread.