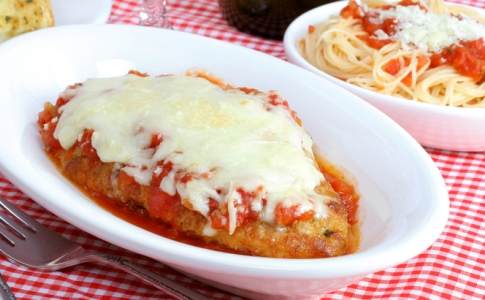 Chicken Parmesan Recipe
Bisquick was always in our cabinet growing up, my mom used it for various recipes and everything she made was always good. She was a big fan of Impossible Pies because all 6 kids actually liked them. As the years have gone by, I really didn't get into the habit of keeping it in my pantry, and had pretty much forgotten about using it in recipes.
When I stumbled across this recipe in her recipe box I knew I had to give it a try, nostalgia is strong when it comes to food I had as a kid. I discovered that it's very tasty as a coating, and makes this Chicken Parmesan recipe incredibly delicious.
The flavors of traditional Italian chicken Parmesan are still there, but the bisquick enrobes the chicken perfectly to accept the seasonings and sauce without falling apart or turning to goo. This one is definitely a keeper, an easy home cooked meal to create your own memories with.
Chicken Parmesan
Ingredients:
3/4 cup Bisquick baking mix
1 teaspoon dried Italian seasoning
2 Tablespoons grated Parmesan cheese
1 egg
4 boneless skinless chicken breasts (4 oz each)
3 Tablespoons olive or vegetable oil
2 cups tomato pasta sauce (from 26-oz jar)
1/4 teaspoon dried basil
1/4 teaspoon dried oregano
1/8 teaspoon garlic powder
1 cup shredded Mozzarella cheese (4 oz)
Directions:
1. In shallow dish or pie plate, mix Bisquick mix, Italian seasoning and Parmesan cheese.
2. In another shallow dish or pie plate, beat egg. Coat chicken with Bisquick mixture, then dip into egg, and coat again with Bisquick mixture.
3. In 12-inch nonstick skillet, heat oil over medium heat. Add chicken; cook 4 to 6 minutes, turning once, until golden brown.
4. Cover; cook 8 to 10 minutes longer, turning once, until juice of chicken is clear when center of thickest part is cut (170°F). Remove from skillet to plate.
5. Add pasta sauce to skillet. Add basil, oregano and garlic to sauce, stir well. Heat for 1 minute.
6. Place chicken on top of sauce. Sprinkle with Mozarella. Cover; cook 2 to 3 minutes or until bubbly and cheese is melted.
You might also like: