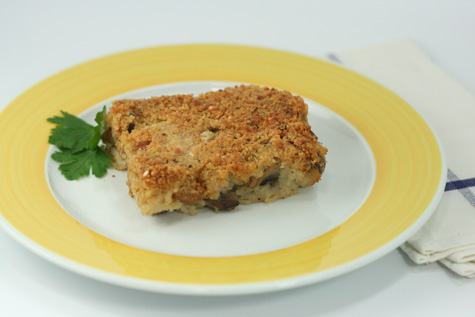 Chicken and Rice Casserole Recipe
A good chicken rice casserole is typical homemade "mom food". The kind of food we grew up with, came home from college looking forward to eating as a home-cooked meal, and what we want to serve when memories of family meals are made.
This recipe doesn't have the usual suspects…creamed canned soups. The time it takes to make the real sauce that serves as the base of this dish is a few minutes longer than popping open a can the premade soups. The difference in taste is definitely noticeable.
Easy to make and wonderfully simple, tasty food is a treasure. Serve this up when you want a nostalgic chicken casserole and a cozy family dinner.
Chicken Rice Casserole
Ingredients:
6 Tablespoons butter
8 ounces mushrooms, sliced (3 cups)
1/4 teaspoon dried rosemary
1/2 cup all purpose flour
2 cups chicken broth
1 1/2 cups half and half or whole milk
4 cups chopped cooked chicken
3 cups cooked rice
1/2 cup dry bread crumbs
2 Tablespoons grated Parmesan cheese
1 Tablespoon melted butter
Directions:
1. Preheat oven to 400 degrees F. Grease a 9×13 baking pan.
2. Melt butter in a large saucepan over medium heat.
3. Stir in the mushrooms and rosemary, cook until softened (about 5 min.). Stir in the flour until well blended.
4. Slowly whisk in the chicken broth and the half and half or milk.
5. Bring to a boil, reduce heat and cook until sauce is thickened and smooth (about 5 min.).
6. Mix in the chicken and the cooked rice, combine well.
7. Pour into prepared pan.
8. Mix together the bread crumbs, Parmesan cheese and 1 Tbsp. melted butter, stir well. Sprinkle on top of the chicken and rice mixture.
9. Bake for 25-35 minutes, until the sauce is bubbling and the topping is golden brown.
Try one of our fan-favorite chicken recipes: