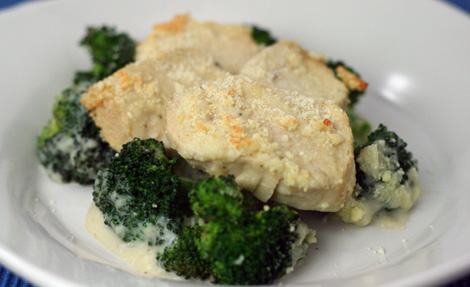 Chicken Divan Recipe
This is Chicken Divan the way it was meant to be made, with a real cream sauce. In the age of "canned soup is the main ingredient", this throwback to the 1950s is the version that would have been served at The Divan Parisien Restaurant in New York and Chicken Divan was its specialty. The chef wanted this dish to signify continental elegance, and this version certainly does the job.
It is not a five minute recipe, but a great dining experience rarely involves throwing a few processed ingredients into a pan. This chicken divan recipe, like all the recipes that replace quickie shortcuts to once-great dishes, takes only a few minutes longer to make than a speedy version but is incredibly delicious.
You'll feel like you've gone back in time as you savor each bite, back to an era of fine dining and relaxing dinners. White tablecloth and vintage candlesticks are optional, but recommended every once in a while…you deserve the best!
Chicken Divan
Ingredients:
2 heads broccoli, tops only, cut into florets
2 cooked chicken breast halves – bones and skin removed, cut into 1/4 inch slices
1/4 cup butter
1/4 cup all-purpose flour
2 cups whole milk
1/4 teaspoon ground nutmeg
3 Tablespoons sherry
1/2 teaspoon Worcestershire sauce
1/2 Tablespoon fresh lemon juice
1/2 cup heavy cream
1 teaspoon ground black peppercorns
1 teaspoon salt
1/2 cup grated Parmesan cheese
Directions:
1. Preheat oven to 350 degrees F (175 degrees C).
2. In a small to medium saucepan, melt butter over medium heat. Stir in flour with a wire whisk. Let bubble for about 2 minutes.
3. Remove from heat and wait for the bubbling to stop. Beat in milk all at once. Return pot to heat and stirring constantly with the whisk, bring mixture to a boil, at which point it should be thickened and smooth. Stir in nutmeg, sherry and Worcestershire sauce. Simmer another minute. Stir in lemon juice. Cover and keep hot over very low heat.
4. Bring a large pot of salted water to a rolling boil. Cook broccoli until tender, about 5 minutes. Drain, then arrange it in one layer in a 9×13 baking dish.
5. Sprinkle broccoli with about half the grated cheese. Arrange chicken meat on top of the broccoli.
6. Whisk heavy cream into the white sauce. Season with salt and pepper. Pour sauce over chicken and broccoli. Sprinkle with remaining grated cheese.
7. Bake in preheated oven for 20 minutes or until heated through, then broil for a few minutes until top has turned golden brown.
Try one of our fan-favorite chicken recipes:
Click for more Chicken recipes