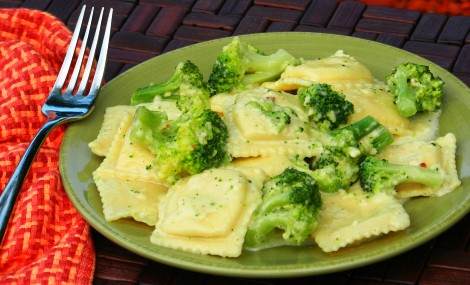 Ravioli with Broccoli Cream Sauce
Let's Get Ready for Baby!
Sign up for our monthly pregnancy email series, and you'll get regular updates on your baby's development, helpful timelines to get ready for their arrival, must-have baby needs and so much more! PLUS, you'll get instant access to the MomsWhoThink "Ultimate Guide to Baby Naming in 2022."
CLICK HERE
to get started!
Looking to dress up the ravioli you have in your freezer tonight?
This ravioli recipe is wonderful, and will definetly do the trick. When you sit down to this great pasta dish with your family, you'll be glad you spent a little extra time to make the broccoli sauce – instead of just the usual shredded parmesan cheese and calling it complete.
Ingredients:
1/4 cup olive oil
4 garlic cloves, finely chopped
salt and pepper to taste
1 teaspoon dried red pepper flakes (add more if you like a spicier sauce) *see note below
1 cup heavy cream
1 1/2 lb. fresh broccoli
3/4 cup grated Parmesan cheese
15 oz. package frozen cheese ravioli, cooked
Directions:
1. Heat oil in medium saucepan. Add garlic, salt, pepper and red pepper.
2. Saute until garlic is lightly browned, 5-7 mins.
3. Add cream; cook 20 min. to thicken, stirring occasionally.
4. Meanwhile, cut broccoli into 1-1/2″ flowerettes. Place in separate pan, cover with water and cook until tender, drain and set aside.
5. Add Parmesan cheese to sauce mixture, stir to blend.
6. Prepare broccoli as directed, drain. Add broccoli to sauce and pour over ravioli.
* The original recipe we had used called for 1/4 cup red pepper flakes; we used dried sweet pepper flakes. Unfortunately we just found out that McCormick discontinued it in 2011. This is a makeover of that recipe using the spicy red pepper flakes, with the adjusted amount to use (you can use more or less depending on your taste). The family liked it just as much as the sweet pepper recipe, we hope you do too!