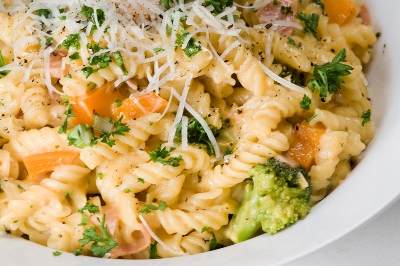 Pasta Twists with Broccoli Sauce
Let's Get Ready for Baby!
Sign up for our monthly pregnancy email series, and you'll get regular updates on your baby's development, helpful timelines to get ready for their arrival, must-have baby needs and so much more! PLUS, you'll get instant access to the MomsWhoThink "Ultimate Guide to Baby Naming in 2022."
CLICK HERE
to get started!
Ingredients:
3 cloves garlic
1 medium onion
2 medium stalks broccoli
1 large red bell pepper
¾ pound pasta twists (about 4½ cups)
2 Tablespoons olive oil
¾ teaspoon oregano
½ teaspoon salt
black pepper to taste
1 cup heavy cream
½ cup grated Parmesan cheese
Directions:
1. Bring a large pot of water to a boil.
2. Finely chop the garlic and onion.
3. Separate the broccoli tops from the stems, cut the stems and tops into bite-size pieces. Coarsely chop the red bell pepper.
4. Add the pasta to the boiling water and cook until Al Dente, 10 to 12 minutes, or chording to package directions.
5. While pasta is cooking, in a large skillet, warm of 1 Tablespoon of the oil over medium-high heat until hot but not smoking.
6. Add the garlic onion mixture and stir-fry until browned, about 5 minutes.
7. Add the remaining 1 Tablespoon oil, the broccoli tops and stems, the bell pepper, oregano, salt, and black pepper.
8. Stir fry until vegetables are crisp-tender, about 5 minutes.
9. Add the heavy cream and Parmesan and bring the mixture to a gentle boil over medium heat.
10. Cook, stirring, until the mixture thickens slightly, 2 to 3 minutes.
11. Drain the pasta and toss with the vegetables and sauce. Serve with warm Italian bread.
Try one of our favorite 30 Minute Meals: