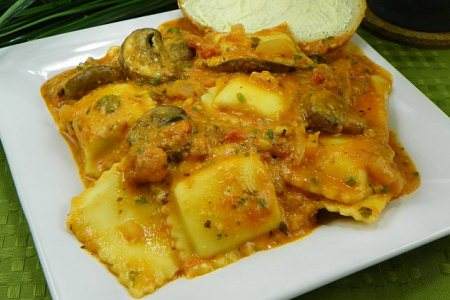 Ravioli with Tomato-Alfredo Sauce
Ingredients:
2 packages (9 ounces each) refrigerated dried tomato or cheese filled ravioli
1 package (8 ounces) sliced mushrooms
1 large onion, coarsely chopped (1 cup)
1 jar (28 ounces) spaghetti sauce
½ cup half-and-half
¼ cup grated Parmesan cheese
¼ cup chopped fresh parsley
Directions:
1. Cook and drain ravioli as directed on package, keep warm.
2. Spray same saucepan with cooking spray, heat over medium heat.
3. Cook mushrooms and onion in saucepan about 5 minutes, stirring frequently until onion is crisp-tender.
4. Stir in spaghetti sauce and half-and-half. Heat to boiling, reduce heat.
5. Stir in ravioli, cheese and parsley. Serve with warm buttered Italian bread. Makes 6 servings.
Try one of our favorite 30 Minute Meals: