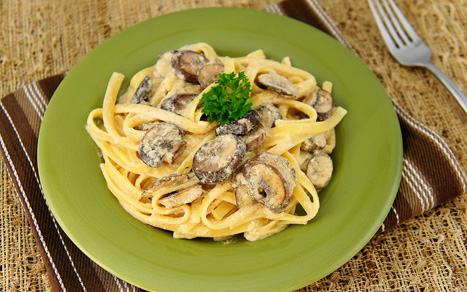 Mushroom Fettuccine Alfredo
Ingredients:
32 ounces cremini mushrooms, cut into thirds
1/2 teaspoon salt
1/4 teaspoon black pepper
1/4 teaspoon garlic powder
16 ounces cream cheese, cut into chunks
1 1/2 cups Parmesan cheese, plus additional for garnish
1 1/2 cups whole milk
1 cup butter, cut into pieces
1 pound fettuccine
chopped fresh Italian parsley
Directions:
1. Lightly coat 5-quart slow cooker with nonstick cooking spray.
2. Arrange mushrooms evenly in bottom of slow cooker. Sprinkle with salt, pepper and garlic powder.
3. Combine cream cheese, Parmesan cheese, milk and butter in medium saucepan over medium heat.
4. Whisk constantly until smooth and heated through. Pour over mushrooms.
5. Cover; cook on LOW 4 to 5 hours or on HIGH 2 to 2-1/2 hours.
6. Cook fettuccine according to package directions; drain. Add to slow cooker; toss to coat then serve.