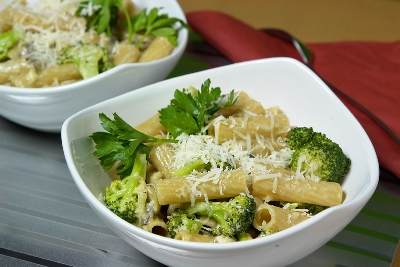 Chicken and Broccoli Alfredo
Ingredients:
6 ounce package fettuccine, uncooked
2 cups frozen, chopped broccoli
10-¾ ounce can cream of mushroom soup
½ cup milk
¾ cup grated Parmesan cheese
3 cups cooked chicken, cubed
¼ teaspoon pepper
Directions:
1.  Prepare fettuccine according to package directions.
2.  Add broccoli last 5 minutes of cooking; drain.
3.  In a large skillet over medium-high heat, mix soup, milk, cheese, chicken, pepper and fettuccine mixture.
4.  Cook until warm, stirring often.  Serve with refrigerated-type, flaky buttermilk biscuits. Makes 4 servings.
Try these similar recipes: